You may have been drawn to the west coast of Tasmania because you wanted to visit somewhere a bit more remote and untouched. Tullah is even more remote and untouched than Strahan and many of the other west coast townships. It's so fresh, quiet and pretty that it'll draw you in with curiosity. If you're coming from a city, you'll find yourself in unfamiliar but yet intriguing territory.
Tullah in Tasmania's west coast was once a mining town which pivoted to becoming a hydro-electricity town with the formation of Lake Rosebery. There are many things to do in Tullah such as fishing, kayaking, walking, mountain bike riding and the Wee Georgie Wood Railway.
During the 1800's the town was known as Mount Farrell, due to its location at the base of Mount Farrell and the edge of Lake Rosebery. During these times it was so remote it could only be accessed via horse, foot or tramway.
The hydro-electricity boom saw the village increase in size to 2500 people. Now the population sits at approximately 165 people. On a walk through the village you can spot signs of what was built in the mining boom and what was built in the hydro boom.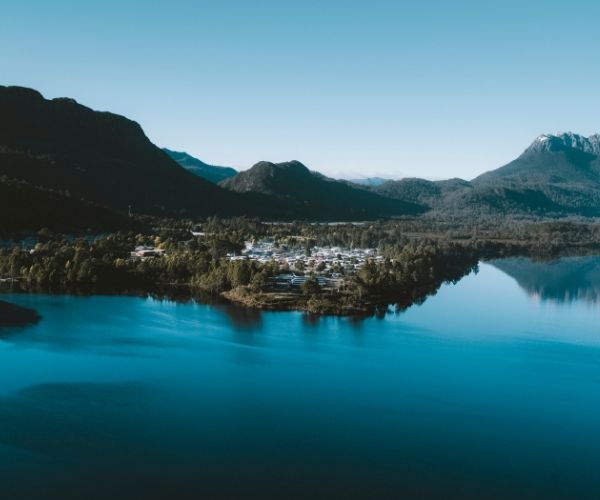 Key Travel Information
Getting to Tullah
Hobart to Tullah is approximately a 4.25 hour (315km) drive through central Tasmania. You'll be greeted into the west through the windy roads leading into Queenstown and from here you'll turn north along the Zeehan Highway, then take Anthony Road into Tullah.
Launceston to Tullah is approximately 2.5 hours. Take the inland road through Deloraine, Sheffield, Moina and Cradle Mountain and return via the northern coast to give you a bit of variety in your trip.
As you get into the rugged west, take your time and enjoy the scenery and photo opportunities.
Weather
It's not quite as cold as nearby Zeehan, but it's still a cold place for most of the year. Bring suitable clothing for cold weather and rain in any month of the year.
Average summer temperature is 21 degrees celsius
Average autumn temperature is 17 degrees celsius
Average winter temperature is 11 degrees celsius
Average spring temperature is 16 degrees celsius
Best Known for
Tullah is best known for not being very well known! Even many Tasmanians haven't been to this remote part of the west coast. That's not a bad thing – think of it as a hidden away treasure that's yet to be commercialised. Come and enjoy the authenticity!
Attractions in Tullah Tasmania
Lake Rosebery & Lake Mackintosh
When you visit Tullah, both Lake Rosebery and Lake Mackintosh will grab your attention. The village of Tullah is situated on the edge of Lake Rosebery, while the larger Lake Mackintosh is only a 5km drive away.
Both are surrounded by tall, natural timbers such as Myrtle and Sassafras, beautiful timber that's mostly only found nowadays in the most remote parts of Tasmania.
There are some excellent fishing opportunities here with both lakes stocked with brown and rainbow trout. A licence is required to fish for trout in Tasmania, this can be organised with an approved licence seller or the Inland Fisheries Commission.
There are boat ramps and at Lake Rosebery most people prefer to fish from a boat due to the steep edges. Lake Mackintosh is also a great place to water ski, particularly in summer.
Both are great places to have a picnic, with Lake Mackintosh also have barbeques for public use.
Hiking Mt Farrell, Lake Herbert & Mount Murchison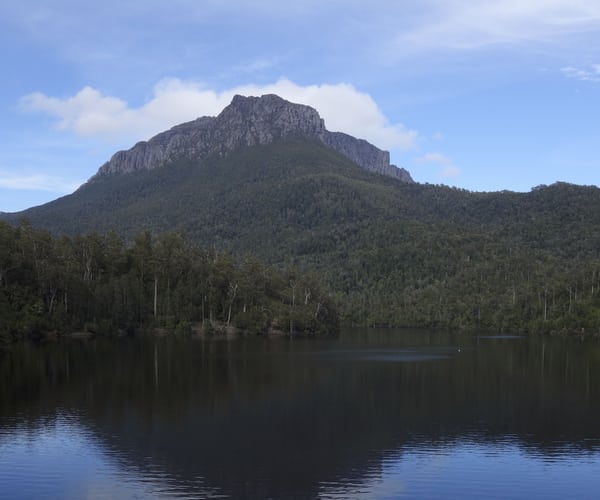 Tullah has some great walks which offer excellent opportunities to explore the beautiful timbers, lakes and views. Tullah is situated at the base of Mount Farrell, and it's a great hike for those with a keen sense of adventure.
This 6km walk takes about 3-4 hours and is suited for those with decent fitness levels. The first 40 minutes are steep with plenty of rock scrambling. The remaining walk can get rather wet and muddy while you make your way through parts of forest which are overgrown. For capable walkers this adds another layer of excitement and reward. You'll see some great views of Tullah, Lake Rosebery and Lake Mackintosh. You can also add a further 2.7 kilometres onto the walk by taking the side trail to Lake Herbert. This section of the walk is easier and leads you to a small lake surrounded by alpine vegetation. On a clear day you can see the top of Cradle Mountain which is a lot closer than most people think.
Another rewarding hike is Mount Murchison. This 5km walk takes about 5 hours and is full of a variety and challenges. You'll start under a sheltered forest canopy which opens up about 20 minutes into the walk. As you start climbing higher you'll be more exposed to harsh winds, some people will find this uncomfortable on windy days. There is a steep section where you'll be assisted by a rope and in some parts you'll be walking close to cliffs edges with no safety barrier.
Mountain Bike Riding – Sterling Valley Trail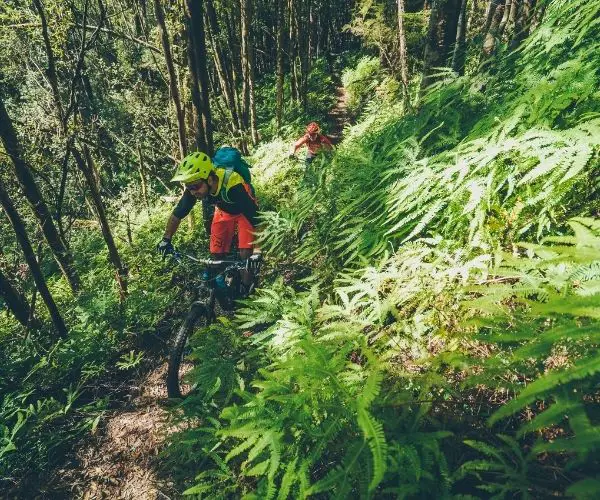 Walking isn't the only way you can see Mount Murchison. For those looking for a faster alternative, mountain biking is your option. The Sterling Valley trail is one of a handful of mountain bike only tracks on the west coast that takes you on a technical and highly challenging journey through some rugged rainforest. There is a 9km short loop and a 21km long loop, both of these are for highly experienced mountain bike riders. It's slippery, there are large tree roots that can throw you off balance and if you fall, there's lots of trees for you to land on and hurt yourself. The trak isn't used often so keep your eyes peeled for new branches which have grown at head height or for trees that might have fallen down. Make sure someone knows you're here in case you get injured.
Despite these challenges, if you're experienced and motivated, it'll be a memorable adventure.
Wee Georgie Wood Railway
This is one of the more relaxing and family-friendly things to do in Tullah. Tasmania doesn't have many railways anymore, however Tullah have held on and embraced theirs. This 2ft gauge railway was until the 1960's, the only vehicle access to Tullah.
Visitors can enjoy the 20 minute ride and take in views of the beautiful rainforest and Tullah village.
Accommodation & Places to Eat in Tullah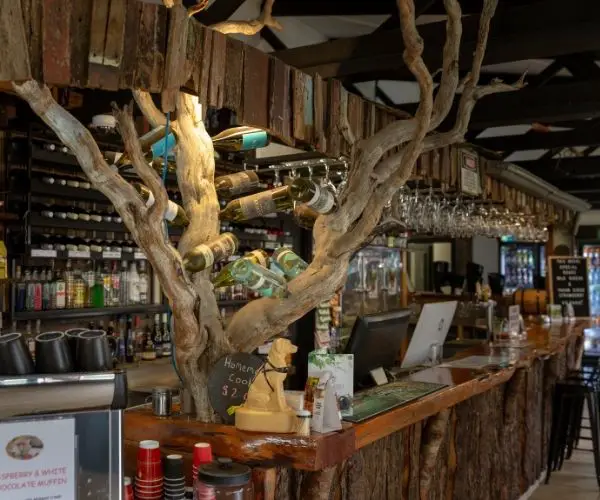 Tullah Tavern has been a longstanding pillar of the community in Tullah. The bar is the longest bar in Tasmania, and at one end you'll see the famous 'car in the bar'. They also do cosy pub food and offer basic but clean accommodation.
Tullah Lakeside Lodge is an excellent place to stay if you're planning on spending a few days in Tullah. They have a range of rooms available from budget to premium, with some rooms looking over Lake Rosebery with amazing views. At the lodge you'll find The Lakeside Bar & Grill which offers some of the best food in Tullah, in a cosy and scenic venue with log fires when it's cold. You can also rent a kayak from the lodge and explore Lake Rosebery.
Header and Mount Murchison photos from Peter Boer