About a one hour drive south-east of Hobart is the beautiful Tasman Peninsula. This place is full of natural beauty and raw, preserved history. From blowholes and stunning cliffs, wild animals and a convict penal settlement, there's lots to see here.
For many people, the first attraction that comes to mind is Port Arthur. However there are lots of things to do in the Tasman Peninsula such as Eaglehawk Neck, Tessellated Pavement, the blowholes, Fortescue Bay and the Three Capes Track. Port Arthur is at the bottom of the peninsula, so take your time and enjoy a variety of wild and sheltered coastlines, bush walks, native animals and quirky towns. Because of this, many tourists love visiting the Tasman Peninsula as there is so much more to see than they initially expected.
Key Travel Info
Getting to the Tasman Peninsula
Unless you're on a coach tour, you'll need to drive to visit the Tasman Peninsula. The peninsula starts at Eaglehawk Neck which is a one hour drive from Hobart. It's an easy drive, once you drive over the Tasman Bridge, follow the Tasman Highway to Sorell, where you'll turn right and take the Arthur Highway the rest of the way.
Port Arthur is another half hour from Eaglehawk Neck, and is still easily reachable on the Arthur Highway.
Weather
Weather here is fairly typical of weather in south-east Tasmania, but usually a couple of degrees cooler than Hobart. The east-facing coastline can sometimes be exposed to strong winds at times, particularly in places such as Eaglehawk Neck. It's best to bring clothes for all seasons.
Average Summer temperature: 19 degrees celsius
Average Autumn temperature: 16 degrees celsius
Average Winter temperature: 11 degrees celsius
Average Spring temperature: 14 degrees celsius
Best Known For
Port Arthur, Tessellated Pavement, blowholes, and a favourite place amongst Tasmanians to walk and camp is Fortescue Bay. Keen bushwalkers will aspire to conquer the Three Capes Track.
Top Attractions on the Tasman Peninsula
Eaglehawk Neck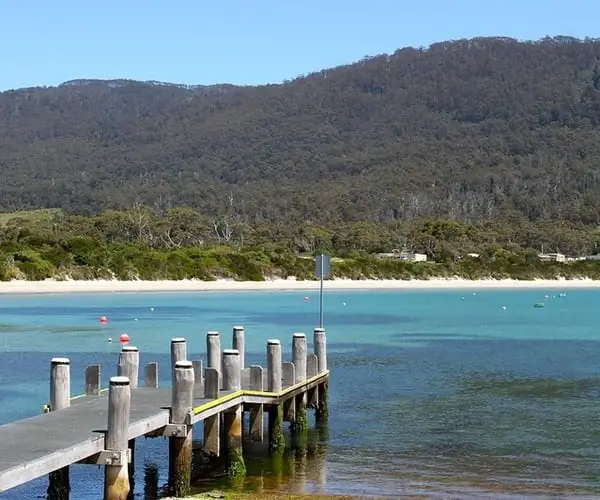 You'll enter the Tasman Peninsula at Eaglehawk Neck. This thin isthmus contains a great sandy beach on the eastern side that's great for surfing or just walking and relaxing after driving from Hobart. The most narrow part of the neck is about 30 metres wide and in convict times was known as 'The Dogline'. This geographic feature was fiercely guarded to catch any convicts who escaped from the Port Arthur penal settlement.
Tessellated Pavement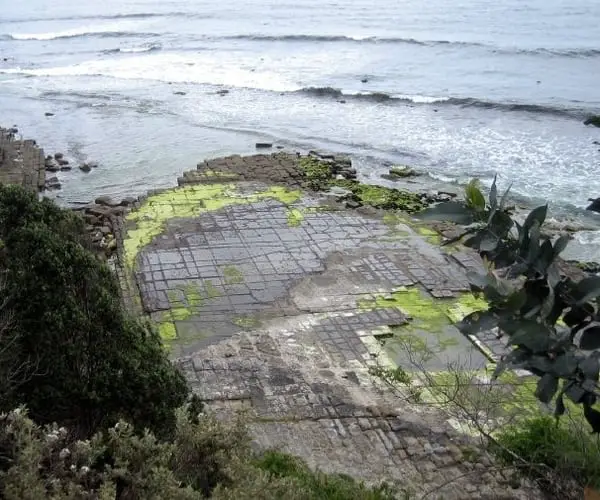 At the northern end of Eaglehawk Neck, take the side road to Pirates Bay lookout. this you'll see the Tessellated Pavement. Be amazed at how this large, flat, paved-looking sheet of rock was formed from salt crystals. See the waves crashing at the sides and take in the great views.
Doo Town
This place really sums up the laid-back Tassie sense of humour! If you're a lover of bad puns, you'll get a laugh out of it too! Take a detour off the Tasman Highway and visit the charming village of Doo Town. Most of the houses and holiday homes have some clever variation of the word 'Doo' in their name, a cheeky in-joke with the locals which has captured the imagination of tourists and put the little town on the map. You've been warned!
Blowholes
Just past Doo-Town you'll see some amazing natural formations at the Tasman Arch, as well as Devils Kitchen and Blowhole. Walk up close to these and see the strong waves crashing through the naturally formed arch and blowhole.
Tasman Arch looks like a natural rock bridge and is actually the left over roof of a sea cave or tunnel. It's current shape was formed from approximately 6000 years of wave impact.
The power of the waves crashing is a site to behold. This is part of the Tasman National Park, which protects much of the peninsula's greatest nature.
Fortescue Bay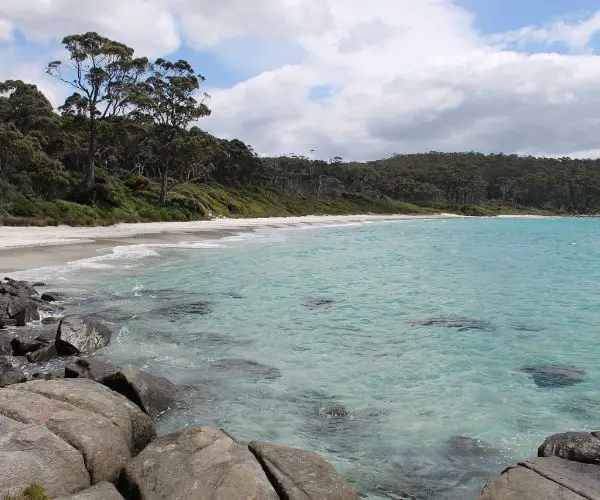 Another amazing part of the Tasman National Park is Fortescue Bay. This is a favourite amongst Tasmanians and tourists for camping. Apart from being visually stunning, there's just so much to do here. It's more sheltered than Eaglehawk Neck, providing a safe place for children and adults to swim, kayak, snorkel or scuba dive. It's great for fishing and for bushwalking there are many options to explore some scenic and rare coastline sites. 
Keen bushwalkers and photographers should take the Cape Huay Track, a 2 hour walk which starts at Fortescue Bay and takes walkers to the stunning totem pole – a tall, thin rock formation between two cliffs (words don't do it justice).
Three Capes Track
This is as good as it gets for overnight bushwalking. Compared to other popular bushwalks, this track is much newer and has been designed in mind to compare with the great walks in Australia and on an international level.
The Three Capes Track is a 4 day, 48km grade 3 track. Start the walk at Port Arthur Historic Site where you'll take a boat cruise across the bay to the start of the walk You'll follow coastline and climb small mountains along to the end of Cape Pillar and then walk along the east coastline to Cape Hauy, then going on to complete the walk at Fortescue Bay. There are three huts along the way to sleep in, huts which by bushwalking standards you'll be very impressed with, containing mattresses, heating and gas cooktops. To protect the environment and enable you to enjoy a crowd-free experience, numbers are capped and walkers are required to book ahead and pay a fee.
Cape Raoul Lookout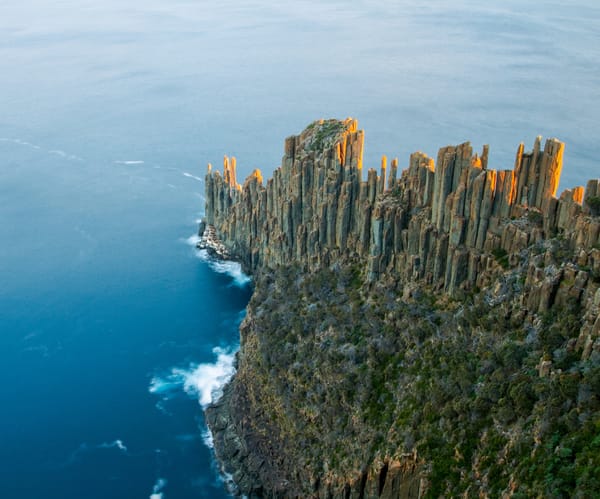 If a multi-day walk sounds a bit much, try the short walk to Cape Raoul Lookout. There are some spectacular coastal views and tranquil bush surroundings.
Tasmanian Devils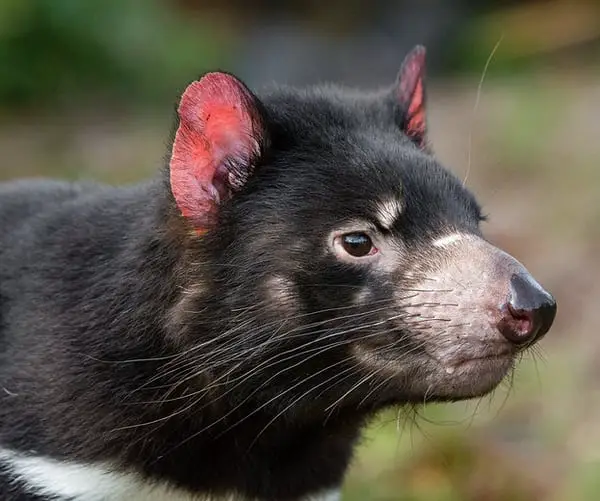 The Tasman Peninsula is fortunate enough to host one of the few places where you can be guaranteed to see a Tasmanian Devil at Tasmanian Devil Unzoo. Time your trip to see the devils at feeding time! Don't think of this like a regular zoo, after all that's why it's called Unzoo! The aim here is to display wildlife without cages, with animals being given expansive areas to roam and do what they would normally do in the wild. For Tasmanian Devils, it's actually been a great place to keep safe and help preserve the species during what has been a difficult few years.
The Quiet Western Side of the Tasman Peninsula
The locals with their quiet holiday homes may prefer we kept this side a secret, but if you have time, you should really turn off the Arthur Highway and check out the western side of the Tasman Peninsula. Often tourists follow the main highway down from Eaglehawk Neck down to Port Arthur and return the same way. There are a few nice beaches, nice scenery and hidden gems here which are worth a look.
These include the wavy Roaring Beach and the calmer White Beach at Nubeena, and the calm Sloping Main with views across the peninsula towards Cremorne. Lime Bay offers a nice place to camp with a tent or caravan, with clear blue waters and beautiful surrounding bush making for a great experience. The Saltwater River Coal Mines has ruins of the first mine in Tasmania, a tortuous job for the worst behaved prisoners from Port Arthur. There are also some great short coastal walks here to enjoy.
Port Arthur Lavender Farm
Those who love the garden will enjoy the Port Arthur Lavender Farm. It's free to enter and walk through the beautiful, aromatic property. Enjoy lunch here and enjoy some lavender ice-cream or drinks.
Port Arthur Historic Site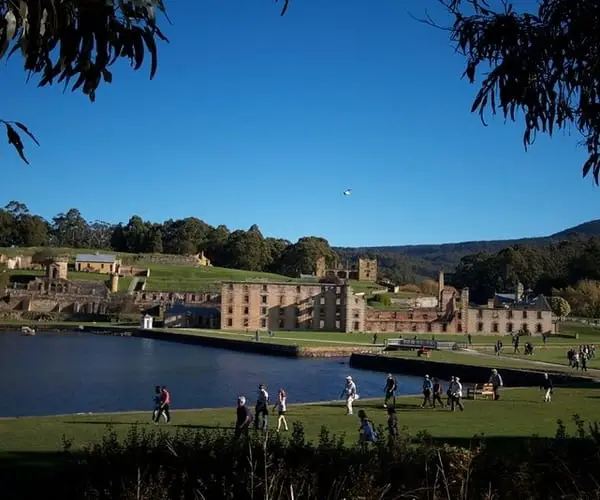 At the bottom of the Tasman Peninsula you'll find the Port Arthur Historic Site. Port Arthur is close to the top of many people's things to do in Tasmania lists, and for good reason. This is a UNESCO World Heritage-listed site and arguably the best preserved convict sites in Australia. Walk through the expansive grounds and see a mix of preserved original ruins, carefully restored properties and impeccably maintained lawns and gardens. It's a great place to learn the harsh life of a convict and the challenges faced by early settlers in Tasmania.
This isn't the kind of place you pop in and out for an hour. You'll need at least half a day here but really to enjoy and take it all in we recommend allocating close to a day.
If you're there at night, take the famous ghost tour. This isn't something cheesy, it's professional and insightful, focussing on an informative and interesting experience.
Best Places to Eat on the Tasman Peninsula
A nice restaurant with great waterfront and bush views is On the Bay Restaurant at Stewarts Bay Lodge in Port Arthur. Sunny in summer and warm fires in winter, it's a great place to grab a seafood platter and have a long lunch or relax with a drink or coffee.
For something sweet, you must visit Federation Chocolate at Taranna, just before Port Arthur. Try some unique flavours such as apple and cinnamon chocolate, blood orange and Peruvian organic cacao.
If you've got a designated driver, drop in to McHenry Distillery. They produce some of Tasmania's finest Gins, Whisky and Vodka and even hold distilling lessons. The cool-moist-maritime environment provides the right conditions for maturing spirits to develop in wooden barrels. This isn't some mass produced factory, it's a family business producing small batches of high quality product.