Honeymoon Bay, in Tasmania's Freycinet National Park, is a beautiful, appropriately called beach. This charming little bay is surrounded by eucalyptus trees and set between two rocky headlands, offering spectacular views of the Hazards mountains. Swimming in the shallow, sapphire-coloured water, snorkelling, or simply relaxing and staring out to sea are all options. The Freycinet Visitor Centre is a short walk from Honeymoon Bay.
It's a nice hidden gem nestled away from Richardsons Beach. The quiet and sheltered environment often means it's a great spot to see local animals such as wallabies and birdlife during the day and possums at night.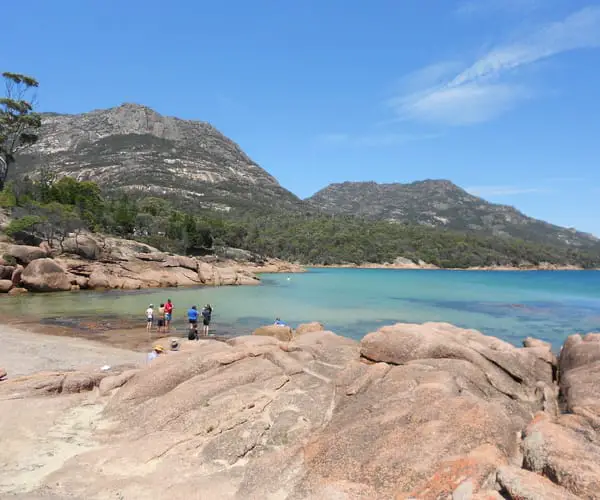 For young families, Honeymoon Bay provides a nice sheltered, enclosed area where you can keep an eye on young children or take them swimming or kayaking in shallow, calm water.
For the adults, it's a great place to sit on top of the granite boulders at night with a glass of bubbly and watch the sunset. It's also a good spot for rock fishing. If you're there at the right time it can be a great place to catch Flathead.
Key Things to Know About Honeymoon Bay
Best Time of Year to Visit
If you're visiting Honeymoon Bay for the day, the weather here is moderate enough for visiting at any time of the year. However with that being said, if you're looking to sun bake or swim without a wetsuit, we recommend visiting during the warmer months, from October to April.
If you're visiting to camp, we would also recommend camping in these warmer months. This way you can sit outside during most evenings without feeling too cold. January is the busiest time of year for camping and day visitors, so you can enjoy the area with slightly less people we recommend visiting outside the school holidays, such as October (excluding Hobart show long weekend), November, second half of February, March and April.
Other Key Tips for Visitors & Campers
Bring mosquito repellant, particularly to use during warm evenings. Bring a hat and sunscreen, you'll be tempted to spend long amounts of time outside in this beautiful place.
Bring bottled water or be prepared to boil your own water. The tap water at Coles Bay comes from a reservoir, which isn't dirty but isn't treated either.
Honeymoon Bay is part of the Freycinet National Park, which means there are certain rules to abide by to protect the environment, native animals and enable others to enjoy their visit too.
Please avoid the following:
Bringing pets into the national park
Feeding the animals (incorrect food can be harmful, the animals also need to know how to source their own food)
Removing or harming the trees or other parts of the environment
Playing loud music
Leaving rubbish behind
Honeymoon Bay Tasmania Camping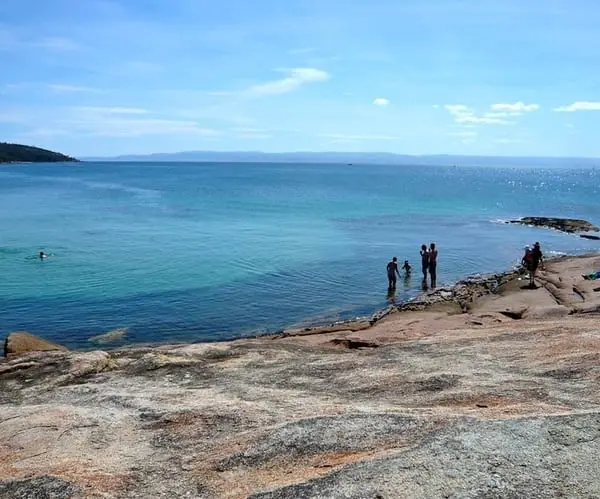 Early in August, a vote is taken to assign locations for the summer season (18 December – 10 February) as well as Easter. For Christmas, each family/group is granted one entry, and for Easter, another entry is allowed. During this time, each site has a maximum stay of 10 nights for up to 6 persons. The ballot draw will be announced as soon as practicable following the draw, usually within two weeks.
Outside of the ballot season, campsites can be pre-booked through the visitor centre. Payment in full is required at the time of booking. Outside of the tourist center's opening hours, a display board with booking and other information can be found.
Per site, the maximum length of stay is 14 nights for up to 6 persons. If you plan to come a day late, let the visitor centre know. All reservations that are not filled by the first night will be considered a no-show and will be cancelled.
Individual tent-only camping nodes set atop a granite knoll with a view of Honeymoon Bay. The sites are only open during the summer holidays and Easter, and the amenities are a bit of a walk away. This location has electric barbecues, picnic tables, untreated water, and restrooms.
Due to its dryness and vulnerability to fire, Freycinet is a fuel stove only region. No fires are permitted at Honeymoon Bay, except for gas and fuel stoves, however during a total fire ban these are also restricted. On these days, you can cook with the electric barbecues supplied at the Ranger Creek and Honeymoon Bay picnic spots.
Near the powered sites, campers can find recycling and trash bins. There are no laundry facilities or a way to dispose of black water (the nearest black water dump point is at Bicheno or Swansea).
Attractions Close to Honeymoon Bay
For those keen to explore, you can walk north along the coastline to Richardson's Beach drive for five minutes south-west to the walking tracks carpark where you can depart for Wineglass Bay.
Banner image source: optische_taeuschung