If you're driving to Cradle Mountain, you'll be lucky enough to see some beautiful scenery on your trip. As the road gets higher in altitude you'll become surrounded by some luscious forest and semo-alpine vegetation. Instead of zooming through we recommend taking your time and enjoying some of the great sites along the way. One of these we recommend visiting is Champagne Falls.
The beautiful scenery and walk to Champagne Falls is located at Moina, about 20 kilometres from Cradle Mountain. It's a gorgeous waterfall approximately 15 metres high, with a tiered section and lots of moss on the main vertical wall and the large rocks at the bottom. It's surrounded by forest and is a great addition to your trip, particularly when Cradle Mountain is busy and you're keen to escape crowds.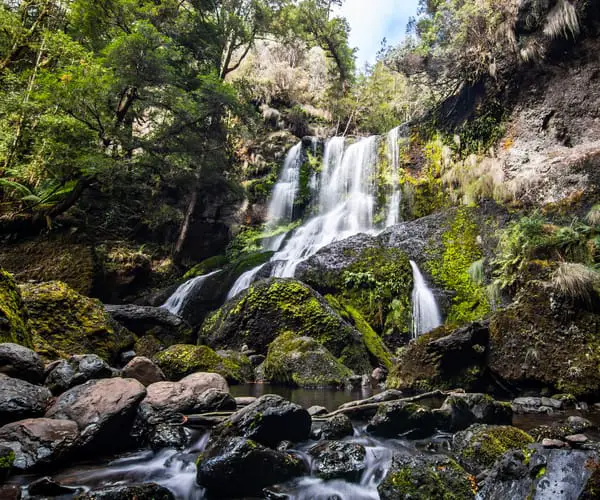 The walk is 1 hour and 45 minutes, however many people combine this with the neighbouring Bridal Veil Falls. These falls both share a steep section at the beginning, this combined with the remote location makes it worthwhile to walk to both of these waterfalls in the same trip if time permits. The Champagne Falls Bridal Falls loop takes 3.5 hours.
This track has some parts which are steep and throughout most of the year it can be slippery. It's suited for walkers with moderate ability, not those with walking sticks, wheelchairs, limited mobility or toddlers. For grip, we recommend hiking boots and for your comfort and safety we recommend rain coats and warm clothing.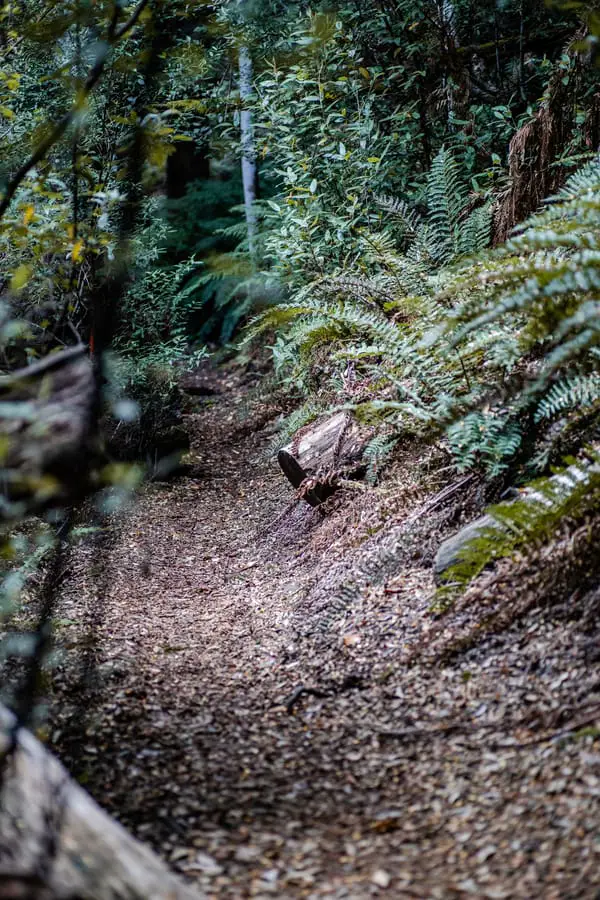 Directions
If you're traveling to Champagne Falls from Launceston, it's a 128km 1 hour and 45 minute drive. Follow the Bass Highway south-west until Elizabeth Town where you'll take a left onto Railton Road. At Kimberley take a left onto Bridle Track Road, then a left at Sheffield onto Claude Road (which becomes Cethana Road). This ends at a 'T' junction where you'll take a left onto Cradle Mountain Road, then drive through Moina and take a left onto Bull Creek Road.
Best Time of Year to Visit
For warmer and less wet conditions it's best to visit in summer (December, January and February) or the surrounding warmer months. However, it's higher altitude and very shaded amongst the trees here, so expect it to be far colder than places like Launceston and Devonport.
During winter you can visit, however come prepared and ready for rain and possibly snow. Whichever time of the year you visit, bring warm clothing, a rain coat and hiking boots.
Nearby Attractions
With so much amazing natural scenery in the area, there is enough here to keep you busy for several days. About 20km west is the Cradle Mountain – Lake St Clair National Park, with a variety of short walks, long walks and accommodation.
Within a one hour drive there are also a number of stunning caves you can visit in the Mole Creek area. These include King Solomons Cave, Mole Creek Caves and Honeycomb Cave.