Oatlands is one of Tasmania's oldest communities, and it contains the biggest number of sandstone buildings of any Australian town, with over 150. Its preserved Georgian townscape, primarily built by convicts in the early 1800s, provides a full depiction of early European settlement in Australia's architecture, urban design, and cultural history.
Many of its ancient buildings are now used as cafes, antique stores, lodging, and attractions, rewarding visitors with a passion for Tasmanian products and antiques, arts, and crafts.
Explore the streets of Oatlands to learn more about the town's fascinating history, which includes magnificent churches, heritage buildings, and educational signs about sheep farming, convicts, bushrangers, and local characters including Tasmania's most dreaded hangman.
Callington Mill is the most obvious silhouette on the Oatlands skyline from the highway. This Lincolnshire tower mill, built in 1837, is the only one of its kind functioning in the Southern Hemisphere.
Lake Dulverton, on the outskirts of town, is a popular fishing and recreation location with beautiful trails and picnic facilities.
Oatlands is a working town that is quickly becoming one of Tasmania's most popular day excursions and stopover destinations. It's well worth the little trip off the Midland Highway for all of this and more.
Key Facts About Oatlands
Directions to Oatlands
Unless you're on a coach tour, it's best to drive your own vehicle to Oatlands and the nearby Midlands attractions. The drive from Hobart to Oatlands takes one hour and is 84km long. It's a fairly straightforward drive along the Midlands Highway.
The drive from Launceston to Oatlands also follows the Midlands Highway, and is 1.25 hours (116km).
Oatlands Weather
The weather in Oatlands is fairly warm and dry in summer, but in winter it's surprisingly cold for a place that's not on a mountain, with fog in the morning and night. The poor sheep must be tough!
Average summer temperature is 21 degrees celsius
Average autumn temperature is 16 degrees celsius
Average winter temperature is 10 degrees celsius
Average spring temperature is 15 degrees celsius
Best Known for
Having more historic sandstone buildings than any other village in Australia. A quiet, peaceful place to stroll through and explore things which take your interest.
Is it worth visiting Oatlands?
Oatlands is a great place to visit if you're interested in history, colonial architecture and exploring quiet, interesting little villages.
If you're driving from Hobart to Launceston or Launceston to Hobart, we recommend taking the short detour off the Midlands Highway and exploring Oatlands. Let's face it, the Midlands Highway drive can be a bit bland at times, and places like Oatlands are a nice way to spice up your trip. If you stopped in here 20 years ago and thought that the food options weren't great, you'll be surprised, there are some great new options now that'll impress you.
History of Oatlands Tasmania
Governor Macquarie named Oatlands after an English town in the county of Surrey in 1821, making it one of Tasmania's oldest settlements. Because of its central location between Hobart and Launceston, it was constructed as a military camp for the supervision and management of prisoners. In addition to working on public buildings, roads, and bridges, convicts were assigned to surrounding farms and holdings.
Oatlands and the surrounding areas were heavily involved in the Black War (early settlers vs. local aborigines) and ex-convict Solomon Blay, Tasmania's most dreaded hangman, lived in Oatlands. The Callington Mill and St Pauls' Church, for example, are both unique landmarks in Oatlands. The mill, which was established in 1837 and was restored to functional condition in June/July 2010, was designed by Augustus Welby Pugin, the father of Gothic Revival architecture, and the Catholic Church was designed by Augustus Welby Pugin, the father of Gothic Revival architecture.
Oatlands is home to Australia's biggest collection of sandstone buildings in a village setting. 87 historic sandstone buildings line the town's main street, reflecting the town's authentic colonial heritage. The stone for their building was quarried near Lake Dulverton.
Oatlands Tasmania – Things to do
See 150+ Sandstone Buildings Still Standing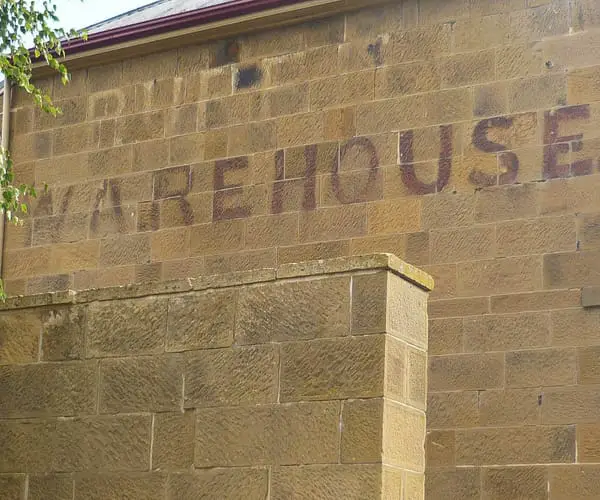 In Oatlands, there are about 150 sandstone structures. This is one of Tasmania's oldest settlements, with Georgian architecture that hasn't changed much through the years. Much of the town was created with free convict labour in the early 1800s, and despite its small size, it is rich in history.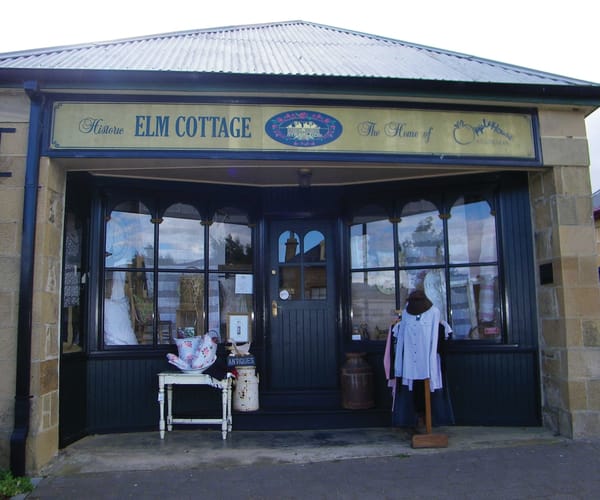 You'll be able to explore several of these sandstone structures, which are now used as shops, cafés, and lodging. And because Oatlands is surrounded by some of Tasmania's most fertile terrain, you'll be able to eat exceptionally fresh cuisine. After you've filled up on a big dinner, take a stroll about town to soak up some of the city's history.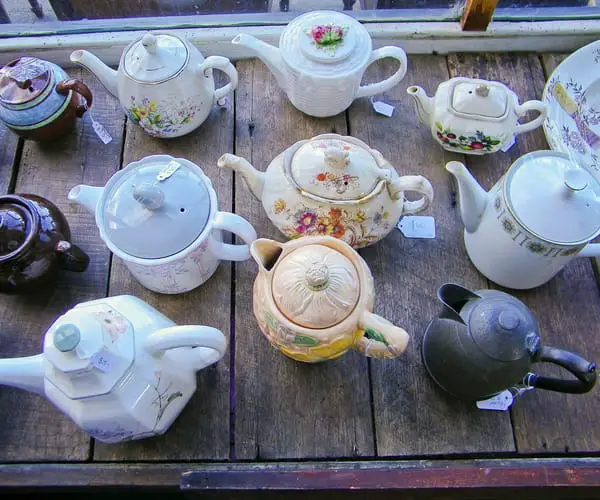 Oatlands is littered with educational signs about Tasmanian history. You'll be able to read about outlaw bushrangers, prisoners, and Georgian-era farmers, as well as Tasmania's most deadly hangman. The walk will take you past the town's most recognisable structure, the Callington Mill. This Tower Mill, which was built in 1837 and is the only one of its kind in the Southern Hemisphere, is still in service.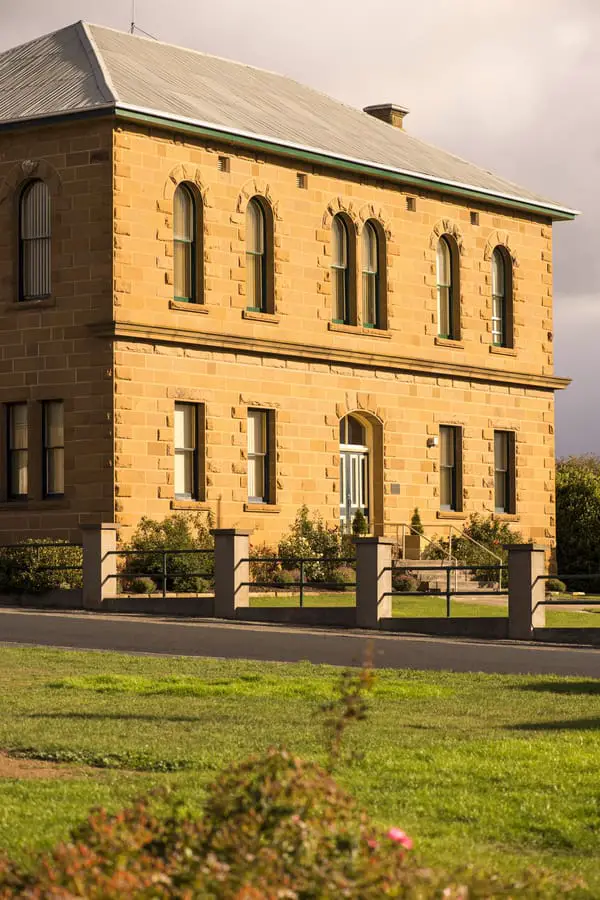 Other properties worth seeing include:
Oatlands Wood Cottage
Holyrood House
Commandant's House
Elm Cottage
Oatlands Lodge
Lake Frederick Inn
Callington Mill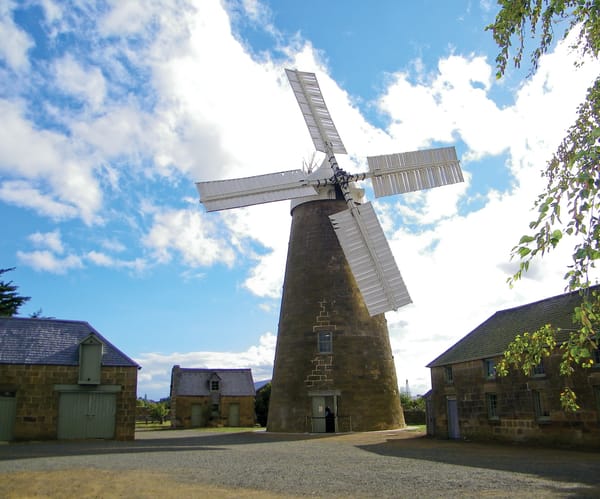 Callington Mill is the continent's third-oldest windmill, and one of Tasmania's most popular tourist attractions. John Vincent built this Tower Mill in Lincolnshire in 1837. Renovations have brought this mill back to life, and it is currently the only one of its kind running in the southern hemisphere. 
The internal steps can be climbed for a perspective of the town and its magnificent natural surroundings. And it's a beautiful vista. Oatlands is the country's largest complete Georgian cityscape. A granary, barn, cottage, and home are all on the property.
The mill is proudly available to visitors, but tours must be scheduled in advance. In town, there are a number of tours that include a visit to the Callington Mill. If you're lucky, you'll catch a miller milling wheat into flour while you're there.
While you explore the mill, you will ascend four different floors. The bagging floor is on the ground level, while the stone floor is on the second level. The bin floor is the third storey, while the dust floor is the top story. A friendly guide will explain each part of the mill and walk you through the full flour-making process. Keep an eye on your step. The stairs are extremely narrow, and some may mistake them for ladders.
The visitor centre is located within the same complex as the mill. The mill building also has a gift shop where you can buy locally ground flour. You'll also find artisan baked items to satisfy your sweet craving. The Mill Keepers Café is open daily from 9 a.m. to 4:30 p.m. and serves devonshire tea and excellent scones.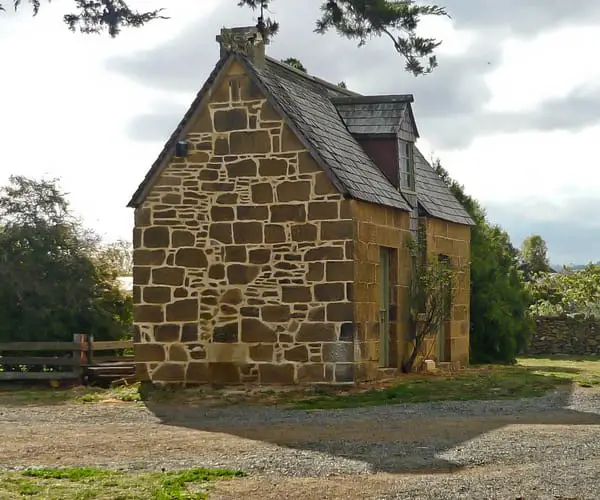 The Military Precinct including the Oatlands Courthouse
The Oatlands Gaol, Commissariat Store, a guard house, Court House, and the Commandant's Quarters were built by professional tradesmen from the Royal Staff Corps in 1826. Military Precinct – A town built to become Van Diemen's Land's interior capital – is a thorough pamphlet that lists the locations of eleven localities that formed the military station's nucleus. Unfortunately, many of the structures have been demolished. Their stories are still fascinating, and the ruins and buildings that remain are significant in Tasmania's convict and military history. Among the remaining structures, the following are worth visiting:
The Commissariat Store
The oldest structure in the Military Precinct, it was built in 1827. Whereas most of the other buildings were made of logs, this one was made of stone to secure the stores that were placed within the structure from robbery.
Oatlands Gaol
The construction of the first gaol began in 1827, with timbers being brought to the site by bullock teams. It had a bad reputation, according to history, with the first gaoler being ousted for sexually harassing the sentries. The second gaoler was fired for "carrying female convicts into the bush." The third gaoler has been fired because of his corruption and avarice. And the final gaoler at the log gaol, Joseph Masters, was sacked because his wife was throwing wild, drunken parties with some of the detainees.
In 1834, construction on a new gaol, designed by architect John Lee Archer, began. It took two years, 2,000 tonnes of stone, and up to 68 convicts to finish. Between 1844 and 1860, it was a cruel location where 18 persons were hung. Until 1856, when the hangings were transferred within the gaol, they were a popular public event, with thousands gathered to watch the execution.
In 1863, the gaol was closed and the property was turned over to the Municipal Council. The majority of it was demolished in the 1930s. Only the gaol arch (which was moved and subsequently returned to its original location), some of the reduced walls, and the gaoler's residence are still standing. Today, the gaoler's mansion has an interpretive display about the site's history, as well as some wonderful images taken before it was demolished.
Oatlands Courthouse
On the junction of Campbell Street and The Esplanade is the Courthouse. It is the oldest structure in town and a unique specimen of Georgian architecture, having been constructed with prison labour in 1829. With an elegant wagon-headed ceiling and 12 pane windows, it became a remarkable example of a Georgian public building – be sure to look at these.
As the Supreme Court, it presided over numerous convictions that resulted in floggings and even the death penalty being handed down by justices. The National Trust bought it in 1977, and the Southern Midlands Council has held it since 2005.
Oatlands Golf Course
In the Tasmanian Midlands, the Oatlands Golf Course is a public nine-hole course. On the Midlands Highway, Oatlands is one hour north of Hobart and 90 minutes south of Launceston.
The greens, tees, and fairways of Oatlands Golf Club are all well-watered. This is an attractively laid-out course that attracts a lot of birds. New members and green fee guests are welcome, and there are frequent competitions, such as a weekend mixed competition and a Wednesday afternoon chicken run. The inaugural B Grade Amateur Championship of Tasmania was held at the Oatlands Golf Club in 2006.
9 holes, par 70, 5,414 metres, and a 67 Australian Course Rating.
Oatlands – Best Places to Eat & Drink
Oatlands Pancake & Crepe Shop
This charming cafe with its heritage charm is set amongst the excellent Georgian sandstone houses of Oatlands Tasmania, and is a popular dining stop for travellers travelling between Hobart and Launceston Tasmania.
Housemade daily bakery goodies, signature pancakes and crepes with a selection of sweet, savoury, and vegetarian alternatives, a variety of delicious light lunches, and Devonshire teas are just a few of the tempting options.
Oatlands Pancakes and Crepes, with a brilliant chef at the helm, now has function rooms at 85 High St Oatlands, Tasmania. Visit our website for bookings, inquiries, and regular updates.
Excellent cuisine, coffee, exquisite teas, and beverages, as well as a friendly welcome and attentive service. Special dietary needs, gluten-free options, and tiny portions are available upon request.
The Imbibers
The Imbibers is a 'wine, cheese and spirit merchant' that's all about showing you some of the best tasting, local food. You're encouraged to try a selection of sharing and small plates with tasty food such as chooses, cured meats, olive oils. There's great drinks on offer with local Midland wines, craft beer and ciders, and whiskey.
A visit to The Imbibers isn't somewhere you drop in for a quick feed, it's a sensory experience! Sit back and take your time, it's cosy and inviting and a great place to relax with great food, drinks and company.
The Kentish Tasmania
This rustic old pub has recently been tastefully renovated and is becoming a real destination for those travelling from Hobart on a daytrip or staying the night. It's got plenty of warmth, old fashioned charm without the dark and dingy feeling that some old pubs have. It's bright, inviting and comfortable.
Enjoy a pub meal, a beer or local wine. Sit at the bar, a table with friends or relax in a comfy couch.
Oatlands Tasmania – Accommodation
Oatlands Lodge
Oatlands Lodge Colonial Accommodation (c.1837) is a beautiful mansion in Oatlands that offers bed and breakfast lodging.
As you stroll up the stone pathway amid colourful flowers, the grand two-story Georgian sandstone convict-built home sparkles in the sun. The convict labourers' thumbprints can be seen on some of the hand-made bricks in the interior walls.
The exquisite colonial style furniture add to the historic aura of this fully renovated National Trust listed house. The guest rooms all have ensuite bathrooms, and the parlour has a warm wood fire. In the magnificent dining area, generous English-style breakfasts are offered.
Robinsons Cottage
These are three colonial cottages, owned by the team who own The Imbibers, these people know how to look after guests!
If you have a company of fewer than seven people, Robinson Cottage can be partially hired (the maximum number for the whole property). It's located in the heart of Oatlands, a small town little over an hour's drive from Hobart International Airport, and the interior has been elegantly designed with a combination of antique furniture and art, as well as some contemporary pieces.
Lake Dulverton Conservation Area is a short distance from the cottage, and other attractions include the Heritage Highway Visitor Centre, Oatlands Gaol House, Casaveen Woolen Knitting Factory, and Callington Mill.
Nearby Places to Visit
If you're travelling north on the Midlands Highway, spend some time at Ross and see the historic Ross Bridge. Further north is Campbell Town, where there are plenty of lunch options as well as galleries and antique shops.
South west of Oatlands is Bothwell where you can enjoy fine whisky, golf and classy heritage properties.