In north east Tasmania, in a quiet corner that's a bit further north than where most campers and tourists venture, lies a great little beach and campsite. If you're looking for somewhere scenic, yet quiet we recommend taking that extra step beyond the usual east coast favourites and visit Little Musselroe Bay.
Little Musselroe Bay is a lovely bay with views of Furneaux Island (Flinders Island, Cape Barren Island) and a plethora of birds and wildlife. Like the Bay of Fires, the sand is very clean and white and the water has a rich blue colour. You can take amazing photos here on a sunny day.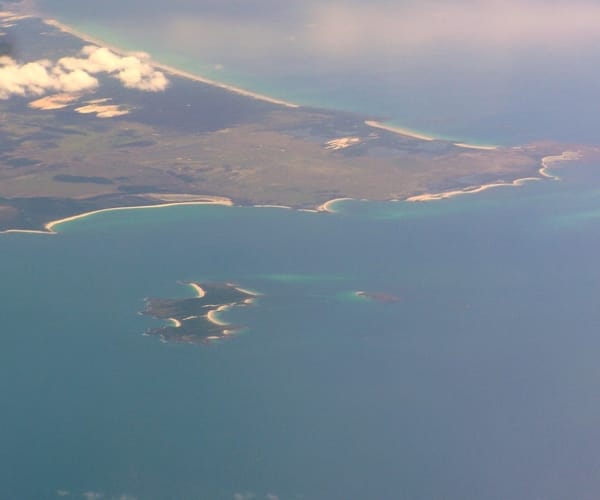 Camping at Little Musselroe Bay
Little Musselroe Bay offers free camping near Cape Portland on Tasmania's extreme north east coast, not far from Mt William National Park. You'll need to bring your own firewood and drinking water with you. This campground is only for the summer and surrounding warmer months, closing each year after Anzac Day and reopening on November 1st.
This campground is only suitable for tent camping and small vehicles. This secluded coastline conservation area provides excellent camping opportunities. The maximum length of stay is four weeks. There is just a pit toilet at the Little Musselroe Bay campground, so bring your own firewood and drinking water. Please clean up after yourselves and show respect to the local shack owners.
Where camping is prohibited, there are clear signs. All sites are unpowered, and reservations are not available at Musselroe Bay's camp. First-come, first-served camping is available. The campgrounds are level, provide some shade, and are located right next to the beach. Please note that dogs are not permitted. This campground does not accept generators, and automobiles are not permitted on the beach. 
Fishing at Little Musselroe Bay & the Surrounding Area
There are some great opportunities at Little Musselroe Bay for Bream fishing, however like Ansons Bay it's worth being careful of reefs and rocks. Strong currents from Bass Strait can make circumstances difficult when the current and the wind are going in opposite directions. Swan Island is roughly four kilometres offshore, and it's a favourite fishing spot for pike, flathead, Australian salmon, and kingfish anglers.
Directions
Drive to the township of Gladstone, then drive down Cape Portland Road for about 27 kilometres from the little town of Gladstone. Look for the marker on your right and turn left to enter the sheltered bayside camping area, which is about 1km away.
Nearby Attractions
If you drive for about half an hour back through Gladstone and a few minutes south you can enjoy the unusual but beautiful sight on Little Blue Lake.
A nice one hour trip from Little Musselroe Bay is Eddystone Point Lighthouse and Ansons Bay.