The historic Campbell town is a place renowned for its impressive selection of colonial buildings, and masses of antique & specialty shops, all in the heart of the serene, unruffled waters of the Elizabeth River. 
Besides it being an early coaching stop and the main route between Launceston and Hobart, this popular roadside destination serves as more than the perfect pitstop for a picnic with the family.
The town's enthralling history has the most captivating sights of structures & buildings such as the quintessential Victorian manor, the Grange, and the Grand Foxhunters Return – described by The National Trust as nothing short of outstanding. This colonial Georgian inn, still stands with all its original outbuildings intact from the time it was built in 1833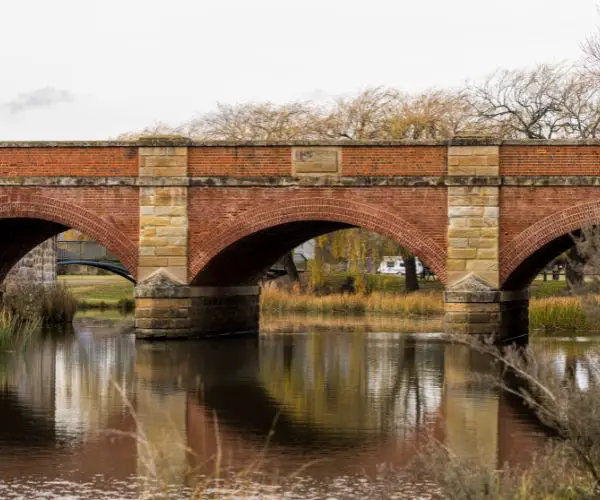 Australia's oldest surviving brick arch bridge, the famous Red Bridge is an unmissable masterpiece that is truly admirable to look at, and if you enjoy leisurely walks as much as the town's history then the Convict Brick Trail is a sure way to truly submerge yourself back in time & discover the secrets of Tasmania's convicts. 
Whatever you decide to do here it will leave you with a lot of interesting stories to share with friends & family back home.
Key Visitor Information for Campbell Town
Directions to Campbell Town
The cheapest way to get to Campbell Town is by car. The journey from Hobart will take you about an hour and a half (133km) and 45 minutes from Launceston (68km). 
The best route from Hobart is to go through National Highway 1. Head South-East on Murray st towards Bidencopes Ln for 280m. Turn left onto Macquarie St/A6 for 750m. Use the left 2 lanes to turn left onto National Highway 1 for 290m.
At the roundabout, take the 2nd exit and stay on National Highway 1 for 6.8km. Continue straight on National Highway 1 for 11.4km. At the roundabout take the 2nd exit and stay on National Highway 1 for 2.3km.
From the roundabout again take the 1st exit for 9.4km, then take the 2nd exit for 78.5km. Stay on National Highway 1, continue straight on to national Highway 1 for 23.6km and you're at Campbell Town.
From Launceston, head South-West on Brisbane st/A3 & continue to follow A3 for 600m. Head straight to George st for 400m, turn right onto Canning st. Go through the two roundabouts for 550m, then turn left onto National Highway 1 for 450m. Keep right to stay on National Highway 1 for 187km. At the roundabout take the 1st exit & stay on National Highway 1 for 48.2km until you arrive at Campbell Town.
Weather At Campbell Town
Campbell Town experiences high humidity levels in the summer months with relatively moderate humidity levels in the spring, autumn, and winter months. 
The coldest month of the year is July which has an average maximum temperature of 13 degrees celsius, so it's unlikely you'll experience any snow. Rainfall is common all year round here with most months experiencing 4 to 6 days of high precipitation per month. 
The hottest month is January when the average maximum temperature is 26 degrees celsius. These warm and pleasant temperatures usually continue till April but fall to temperatures between 17 & 22 degrees celsius.  
Average Autumn temperature: 15 degrees Celsius 
Average Winter temperature:  12 degrees Celsius 
Average Spring temperatures: 17 degrees Celsius 
Average Summer temperature: 22 degrees Celsius
Best Known For
The town's rich convict history and convict-built Red Bridge; Australia's oldest surviving brick arch bridge. This masterpiece attracts millions of travelers every year. 
History Of Campbell Town
Campbell Town before European settlement was home to traditional custodians of the Tyerrernotepanner aborigines. In 1811 Governor Lachlan Macquarie stopped by through his travels from Hobart to Launceston and named the river that is now known as the Elizabeth River after his wife Elizabeth. 
In 1821 on Lachlan's second tour of Van Diemen's Land named the town in honor of his wife Elizabeth, after her family name Campbell. One of the town's first European settlers was Thomas Kenton, a constable, who had built a cottage amongst other structures and buildings in the 1820s. 
The town is known as one of the four garrison towns that linked Hobart & Launceston and were established as a town in 1826.
The foundation of the town's Police District Headquarters and commercial center paved the way for change from the agricultural economy of peasant farming to the capital-intensive land-grant system.
The most notable historical influence, that draws tourists to visit this town is its early infrastructure which was facilitated largely by convicts. From the oldest bridge, the famous Red Bridge built by convict James Blackburn to the Foxhunters Return, which housed convicts in its cellars working on the Red Bridge. 
 The darkest and most heartbreaking is the story of the Convict Brick Trail. Its Red bricks tell the sad story of every convict that was transported to Tasmania and their crimes, in some cases what happened to them too. 
Things To Do in Campbell Town
The Red Bridge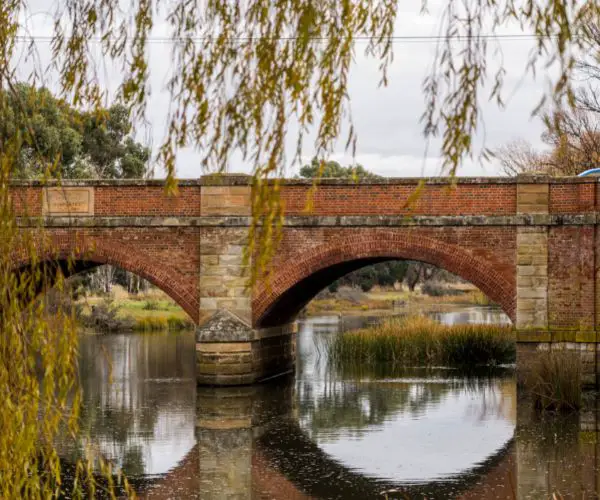 Spend a day exploring Australia's oldest surviving brick arch bridge, the famous Red Bridge, built by the architect and convict James Blackburn in 1838. S
Constructed by 1,250,000 handmade bricks convicts built as a result of forced labor, a requirement many prisoners had to undertake as part of their sentence. It has received recognition as The Engineering Heritage National Marker from Engineers Australia.
The Grange 
The Grange is another of James Blackburn's creations, built-in 1847 for the keen astronomer Dr. William Valentine, and provides an exceptionally lavish dining experience. Relax & unwind and have a coffee outdoors in the courtyard's café or barbeque. Alternatively, you can wine & dine Indoors in the grand dining room or the stunning glass conservatory immersed with beautifully garnished grapevine.  
The Convict Brick Trail
This Trail uncovers a sad and heart-breaking past, a memorial site dedicated to the 200,000 convicts that came and resided in Australia and Tasmania between 1788 & 1868. Every brick includes details of the convicts' name, age, and crime committed, which ranges from petty theft to murders.
The Book Cellar
​​If you're keen for some more reading you'll find what the reviews say is one of Tasmania's best book shops, The Book Cellar. It's one of those cosy little hideaways where you can have a coffee and a cookie and find the kind of interesting book you wouldn't normally find in a regular book store.
Gallery 81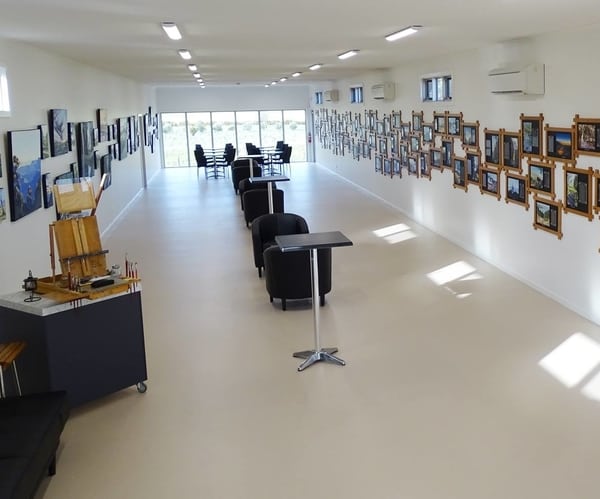 At Gallery 81 you can admire 81 beautiful paintings with accompanying reflections, all painted by local artist in residence Luke Harvey. It's a nice relaxing environment where you can enjoy a glass of wine, craft beer or some Tasmanian cheese, talk to the artist and escape the world.
Accommodation
A selection of the best affordable places to stay, close to Campbell town, so you're never too far from the town's historical colonial buildings, structures, and great local amenities.
Ivy on Glenelg
Enjoy the natural scenery from your bedroom window in this delightfully luxurious cottage. Closely situated by the farm where you'll be able to see sheep, chickens, and alpacas. Accommodation features include an exceptional full continental breakfast, well-equipped kitchen, TV, coffee machine, and BBQ, perfect if you want to share a meal with the family in the garden. The historic Convict Brick trail is just a 5-minute walk with the center less than a mile away. 
Colonial Cottage of Ross 
If you want to experience how it was like living in the 1800s, then this beautiful cottage is a perfect choice. Built by convicts in 1830, it features a full kitchen with tea and coffee making facilities, a TV and washing machine, a woodfire, and warm & comfy seats. Pretty gardens where you can listen to songbirds and watch ducks swim by. Close to the famous Ross Bridge (3 min walk away) and a 12-minute drive away from Campbell Town.
Ross B&B Accommodation 
This lovely 1927-built B&B is in the heart of Ross just a 12-minute drive away from Campbell Town and 3 minutes away from the famous Ross Bridge. There are excellent facilities included such as a TV, sunroom, guest lounge, garden, patio, heated rooms, and electric blankets so, you can feel warm & cozy during those cold months of traveling. An incredible bakery across the road. All this without spending too much!