If you're looking for a beachside holiday location that's quiet and ultra laid-back, Ansons Bay on Tasmania's north east is worth taking a look at. You won't see bus loads of tourists, souvenir shops or anything commercialised.
Imagine near-isolated beaches, one or two people throwing their fishing lines out of a dingy. One, maybe two groups camping in the summer. This sums up Ansons Bay.
This doesn't mean it's dull here! There are many things to do in Ansons Bay such as exploring quiet beaches, fishing, Eddystone Lighthouse, the Bay of Fires Walk and camping. It's semi-isolated location in the north-east corner of the Tasmania means it's often overlooked for places down the coast such as Bay of Fires, St Helens and Scamander. 
Getting to Ansons Bay
If you're travelling from one of the main cities, Ansons Bay is a 2 hour (165km) drive from Launceston and 3 hours 40 minutes (296km) drive from Hobart. For those already visiting the northern end of the east coast, it's not too far being only a 42 minute (43km) drive from St Helens. 
Weather
Like most of the east coast, the weather at Ansons Bay is some of the best in Tasmania. However remember that you're on the coast in Tasmania. While it's no windier than other coastal destinations, being in Tasmania it's worthwhile dressing prepared for wind, cold nights and rain.
Average temperature in summer is 21 degrees celsius
Average temperature in autumn is 18 degrees celsius
Average temperature in winter is 13 degrees celsius
Average temperature in spring is 17 degrees celsius
Well Known for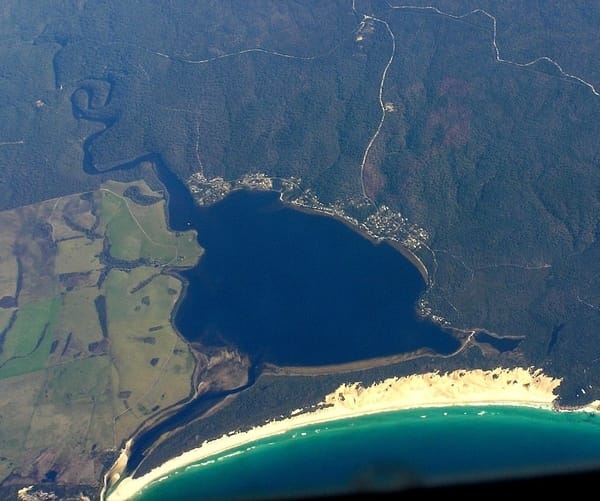 That's the point – Ansons Bay isn't very well-known. We're sharing a spot that's mostly only known by the locals (we'll get in trouble for this!).
For those who do know Ansons Bay, it's known for being a quiet, peaceful place to escape for a few days. The camping, beaches and fishing make it a destination loved by those who wish to avoid crowds, party-goers and excessive development.
Things to do in Ansons Bay
Ansons Bay Beaches
The bay is rather sheltered being an almost oval shape with a small opening leading out to the ocean. This makes it a great place to get out with a dinghy or kayak. If you're keen to enjoy a great white sandy beach, there is one on the eastern side. This faces the ocean so at times it will be rough and windy, at other times it's calm and gentle.
Ansons Bay Fishing
Fishing at Ansons Bay, particularly for Bream and Salmon, is some of the best in Tasmania. October is the best time. For Black Bream, the locals tell us to try early in the morning (the first two hours of sunlight) or the last couple of hours before the sun disappears in the evening. The river mouth and Rocky Point are known hot-spots. Use a strong 6kg line (the Bream will put up a fight) with a light sinker and one hook to avoid snagging.
If you're lucky you might also catch some Trevally, Flounder or Flathead. For Salmon, check out the nearby Anson River.
Eddystone Point & Mount William National Park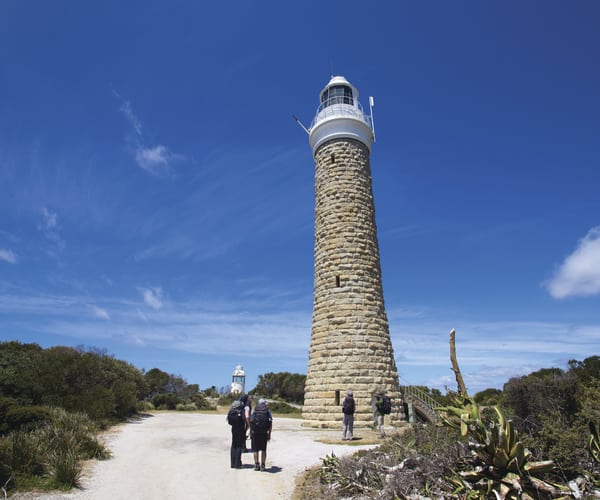 Just 18km north of Ansons Bay is Eddystone Point, inside the Mount William National Park. The land here is protected, not only for it's sheer beauty but for its significance to the Aboriginal community. The Eddystone Point Lighthouse is a key attraction here, the 35 metre tall structure constructed in the late 1800's to reduce the numerous shipwrecks at the bottom of the tall cliffs.
The walk up Mount William is also a great attraction, with stunning views from the relatively short 90 minute return walk. At only 216 metres in height, Mount William offers great views. Enjoy sights of the Furneuax Group of islands in Bass Strait, between mainland Tasmania and Victoria. Enjoy nature sightings including wedge-tailed eagles, wombats and wallabies.
Bay of Fires Walk
The Bay of Fires Walk explores the northern and often less seen parts of the Bay of Fires, finishing at Ansons Bay. It's not your regular multi-day hiking trip, it's a well thought out eco-adventure experience. Care has been made to minimise participants' impact on nature, while providing an enjoyable and rewarding experience that lets you focus on enjoying the scenery without the heavy lifting and hassles.
There are three and four day options which involve staying in eco-conscious accommodation, while your guides provide fine Tasmanian local produce and transport your backpack..
Ansons Bay Camping
A popular Ansons Bay camping site is Policemans Point, at the southern side of Ansons Bay. It's especially popular for those who enjoy fishing, ideally located close to the mouth of the bay. No payment is required and no booking necessary – it's first in best dressed. There are some clean new toilets but no powered sites or other facilities here. There are also smaller campsites further south at the popular Bay of Fires beaches and north in Mount William National Park including at Little Musselroe Bay.
Ansons Bay Accommodation
The standout here is the Bay of Fires Lodge, nestled just inside the Mount William National Park. This property will make you say "wow" and feel completely amazed! It's located on a hilltop 40 metres above the water, overlooking the waves crashing into the rocks and sand. You're surrounded by bush, with no other civilization for another 20 kilometres. This property is a leader in the new trend of eco-lodges, being carefully constructed in a way that has as little harm as possible for the environment. There are floor to ceiling glass windows and shade sails to let you relax and enjoy the views.
Banner image sourced from Alice Hansen.