For a small village on the east coast of Tasmania, Bicheno offers so much for tourists. It's a beach-town at heart, but the village offers enough depth to keep visitors staying here for a few days, even a week.
Apart from enjoying the amazing beaches, there are many things to do in Bicheno, such as enjoying penguin and animal sightings, visiting wineries and enjoying the best food on the east coast, particularly seafood.
Key Travel Information
Getting to Bicheno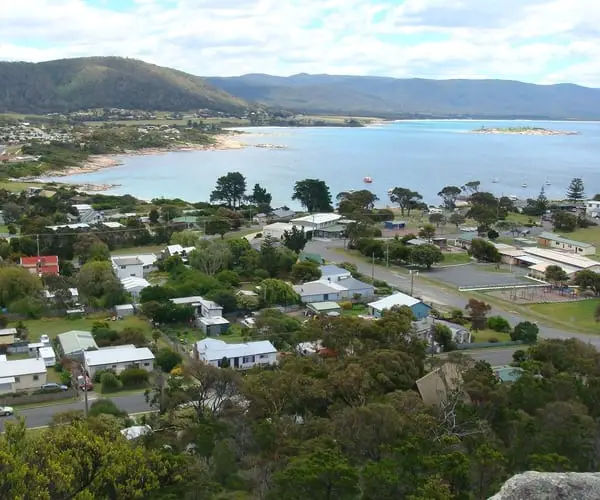 Bicheno is on Tasmania's east coast, roughly two-thirds of the way up. The drive from Hobart to Bicheno is approximately 2.5 hours (182km), following the Tasman Highway up the coast. Realistically the drive will take you much longer, as one you pass Orford there's lots of amazing coastline to see. In the second half of this drive you'll also come across some fine vineyards such as Devils Corner.
If you're already on the east coast it's quite reachable with the drive from Swansea to Bicheno only 45 minutes (50km) and St Helens to Bicheno 1 hour (72km).
Launceston to Bicheno is a 2 hour (166km) drive, heading south on the Midlands Highway until Campbell Town, where you'll head east along the Lake Leake Highway and join onto the Tasman Highway.
Weather
Bicheno is on the sunny side of Tasmania, pack your sun and sunscreen and enjoy. However, remember that Tasmania can be a windy place, and on the east coast you're often quite exposed.
Average summer temperature is 22 degrees celsius
Average autumn temperature is 19 degrees celsius
Average winter temperature is 14 degrees celsius
Average spring temperature is 17 degrees celsius
Best Known for
A great coastal holiday destination enjoyed equally by Tasmanians as well as interstate and overseas travellers. Beaches, penguins and a number of other eco-tourism opportunities.
Attractions in Bicheno
Bicheno Village and Beaches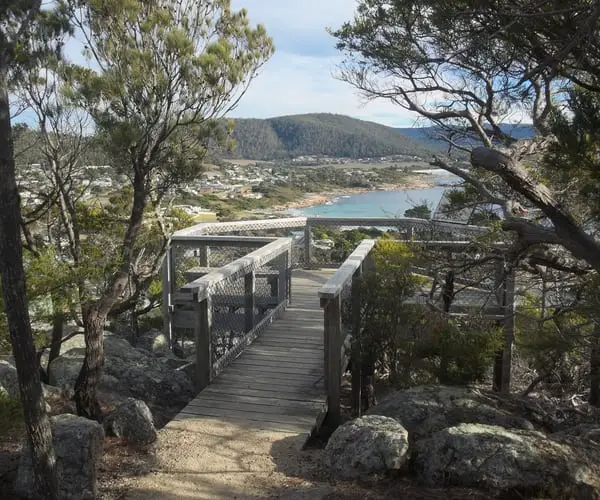 The village of Bicheno is surrounded by large, white sandy beaches and rocky boulders. It's easy to navigate and has a nice laid back feel that's typical of east coast Tasmania. Take a short climb to the top of Whalers Lookout to take in the views of the immediate coastline of Denison Beach. The beach is a great place for a long stroll, for swimming, fishing, family time, and in calmer conditions kayaking and stand-up paddleboarding. On the east side of the village you can also enjoy the high splashes of water from Bicheno Blowhole.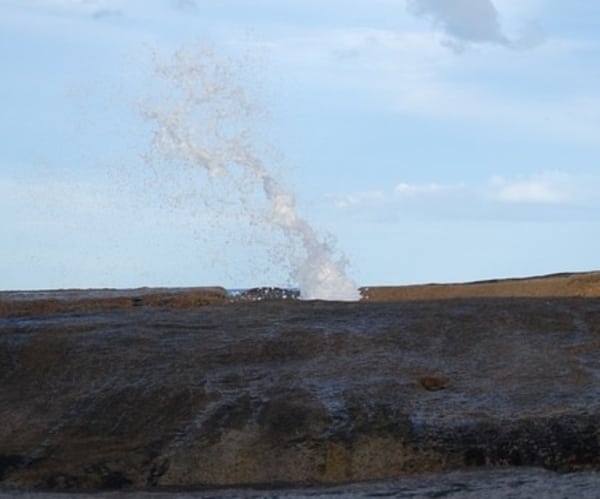 East Coast Natureworld & Devils in the Dark
This isn't a park where animals are kept in small cages and enclosures. East Coast Natureworld is a vast area, spread across 150 acres of natural bush and lagoons. It's suitable for everyone with accessible paths for wheelchairs and prams. Enjoy native animals such as Cockatoos, Wallabies, Wombats and Tasmanian Devils.
One of the best things to do in Bicheno is experience Devils in the Dark. You'll get to visit during the evening and watch the Tasmanian Devils roam and interact while enjoying a glass of wine and a cheese platter.
Penguins
The sand dunes of the Bicheno beaches are nesting grounds for a number of penguins who swim to the beach and waddle up to the sand dunes each night. It's a truly remarkable site, however it's important that visitors remember to view from a safe distance and avoid shining bright torches, camera flashes or loud noises.
Bicheno Penguin Tours can take you to see the penguins in a small group, providing an intimate experience without disturbance.
Bicheno Glass Bottom Boat
Operating during the warmer months of September to April, the Bicheno Glass Bottom Boat is a great way to get close and see underwater creatures in their natural habitat without getting wet. It's the only glass bottom boat tour in Tasmania and provides visitors the chance to see stingrays, starfish, squid and even some seals. The guide Maitreya is very passionate and knowledgeable, providing tourists of all ages with fascinating insights. The groups are small, so there are no crowds and everyone can enjoy the scenery.
Wineries
There are many great wineries at Bicheno and along the east coast of Tasmania. The east coast was one of the earlier regions to achieve success in wines, which helped cement Tasmania's reputation as a producer of fine wines and led to further growth throughout the state.
Freycinet Vineyards was one of these early pioneers, planting their first vines in 1979 and is now into their second generation of family management. Drop in for a wine tasting, it's a nice relaxing spot known for excellent service and looking after guests well.
If you want to sample all the wines Bicheno and Tasmania's east coast has to offer, come to The Farm Shed East Coast Wine Centre. There are more than 90 wines here from 22 wineries. It's a great place with natural yet modern architecture. You can also choose from Tasmanian whisky and gin.
Best Places to Eat & Stay in Bicheno
One of the best things to do in Bicheno is eat, for a small village there are so many great places to eat here! For great pizza, pasta, burgers and seafood, try Food and Brew. For seafood try the Lobster Shack Tasmania, Sealife Restaurant and Cafe, or Tasmanian Coastal Seafoods. For great cafe food and ice cream, try The Pondering Frog.
For accommodation, Sandpiper Ocean Cottages and Bicheno by the Bay have great simple, but clean and highly rated cabins with water views. Diamond Island Resort is also a popular option, and offers a free private penguin viewing show at night for guests.
Things to do near Bicheno
There are many things to do near Bicheno as it's placed approximately in the middle of the east coast tourist strip. Drive south and you've got beaches and hiking at Coles Bay and Freycinet National Park. Keep driving a bit further south and there are a number of vineyards, you could do a trip solely visiting wineries (with a designated driver of course).
If you're heading north, you'll continue following amazing beaches and coastline through Scamander and Beaumaris, which are great places if you want somewhere quiet to enjoy long white beaches and stunning views. St Helens is a great place to base yourself while exploring the northern end of the east coast, taking in the orange granite boulders of the Bay of Fires National Park.