A trip to the Midlands region of Tasmania wouldn't be complete without a trip to the cute, quiet historic village of Ross. And when you're visiting Ross, one of the town's best attractions is the Ross Bridge.
It doesn't take long to see that Ross Bridge is different to other bridges. The bridge was built by convicts over several years and completed in 1836. It's the third oldest sandstone bridge in Australia and is in excellent condition for it's age. From afar, it's a handsome piece of architecture and is surrounded by beautiful riverbanks and the steeples of historic churches. But what makes Ross Bridge really intriguing is the tiny details. There are 186 small, intricate carvings, each one telling a story.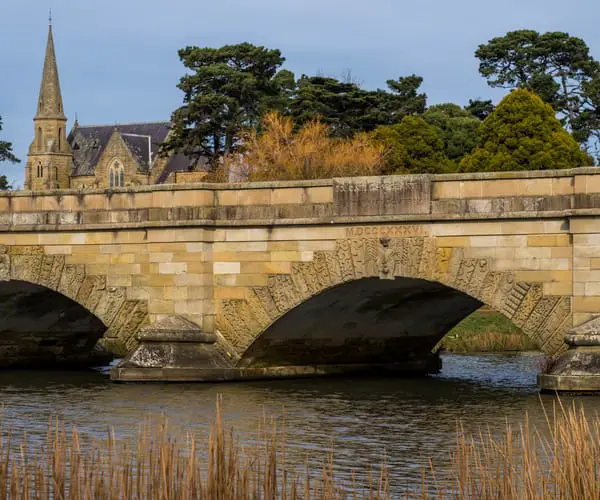 History of Ross Bridge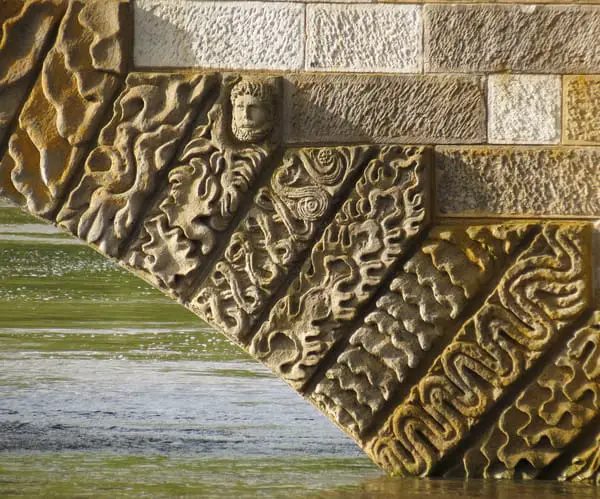 The exquisite carvings on Australia's third oldest bridge were created by Englishman Daniel Herbert, a convicted highway robber who arrived in Van Diemen's Land in December 1827. He remained in Ross until 1868, when he died a free man – he was buried in the local cemetery on a hill not far from the bridge – and he would have praised Ross Bridge for his freedom, as it was his efforts on its construction that earned him a pardon and release. A pardon was also granted to James Colbeck, another stonemason who worked on the bridge with Herbert.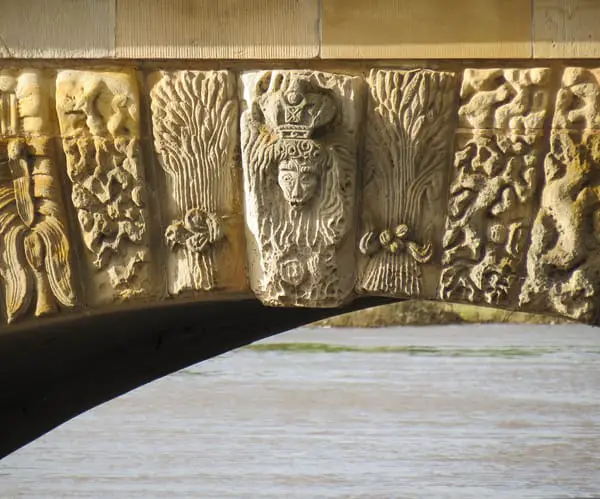 Convicts Daniel Herbert and James Colbeck are mostly responsible for its construction. They lay all the stones as workers' supervisors, while Herbert did the most of the sculpting. The bridge displays astonishingly little wear and tear now, 170 years after its joyous debut. Its foundations have not moved since it was built on a rock plate. The stonework's joints are extremely precise, with no visible flaws. The roadway was repaired in 1976/77, and an under-floor elastomeric seal and drainage system were installed.
What You Can See at Ross Bridge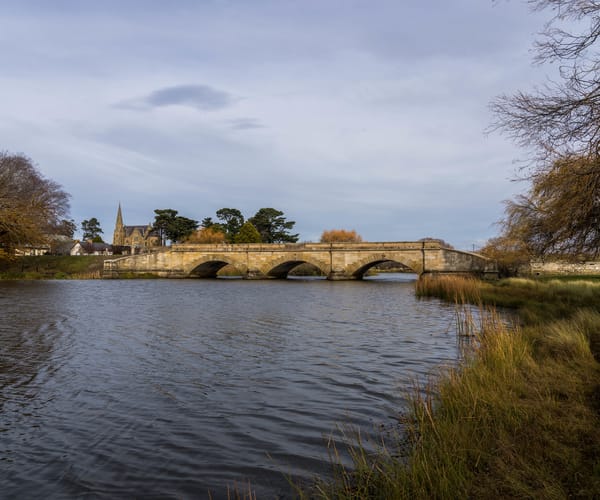 Tourists from all over the world visit the bridge to photograph it and marvel at the 186 carvings on the sandstone panels, which depict abstract shapes such as animals, birds, insects, plants, Celtic Gods and Goddesses, and the heads of friends and foes, including the Governor of the day, George Arthur. 
The name of the then Lieutenant Governor, George Arthur, and the year the bridge was finished are engraved on each wall or parapet. On the bridge, there are two milestones: on the northern parapet, the distance to Launceston is 48 miles, while on the southern parapet, the distance to Hobart town is 69 miles, which is not true, Hobart is 74 miles away.