Many would say that Tasmania in its entirety is unique, however within this diverse state there are a number of attractions which stand out and are truly different from anything else. There are many unique things to do in Tasmania such as meeting a beer drinking pig, relaxing in a floating sauna, chasing the southern lights, doing a legalised nude run at Dark Mofo, doing a ghost tour and visiting ghost towns. Here are a number of our favourites.
Meet the Unique Beer Drinking Pig at Pub in the Paddock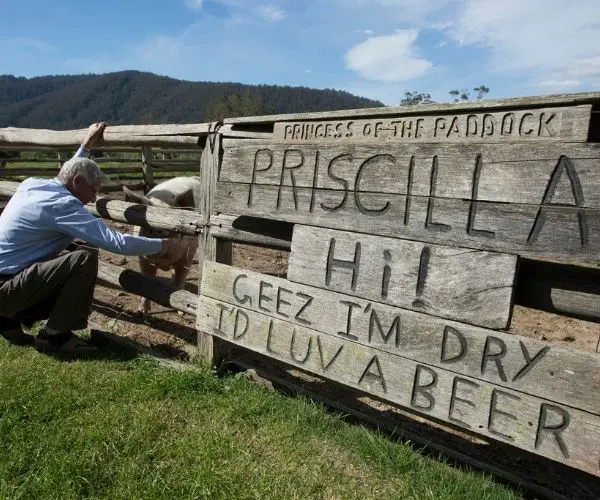 Priscilla the beer drinking pig is a bit of a local legend in these parts. Visitors can feed a beer to this jumbo sized pig who is very thirsty! This unique attraction really sums up the laid-back larrikin, likable country-boy sense of humour that you'll find plenty of in Tasmania.
Even without a beer drinking pig, the Pub in the Paddock at Pyengana is well worth the visit. It's one of Tasmania's oldest pubs, being licenced since 1880. After you've had a beer with Priscilla, enjoy a hearty meal and enjoy the quiet country scenery.
Relax in Tasmania's Most Scenic Bathtub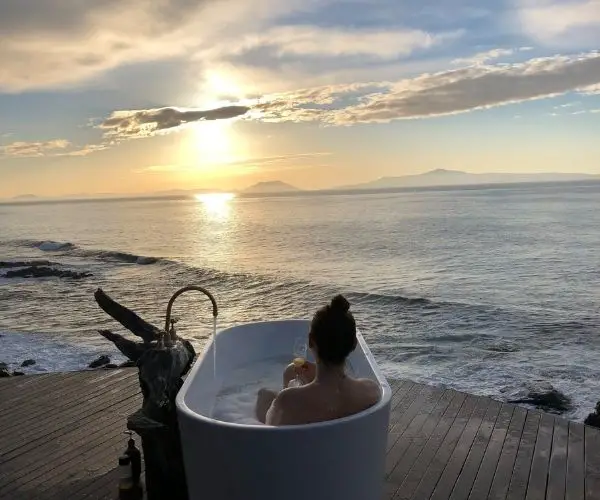 Go off the grid and enjoy amazing east coast views all from your own outdoor bathtub. Thalia Haven, near Swansea, is set on a private 130 acre property facing the water. The property has a new-age rustic feel to it with large windows, stone from the local area and recycled timber beams. The highlight is a deck facing the ocean with your own open private bathtub! Sit back with a glass of sparkling wine and enjoy some of the best views in Tasmania!
Aurora Australis – Chase the Southern Lights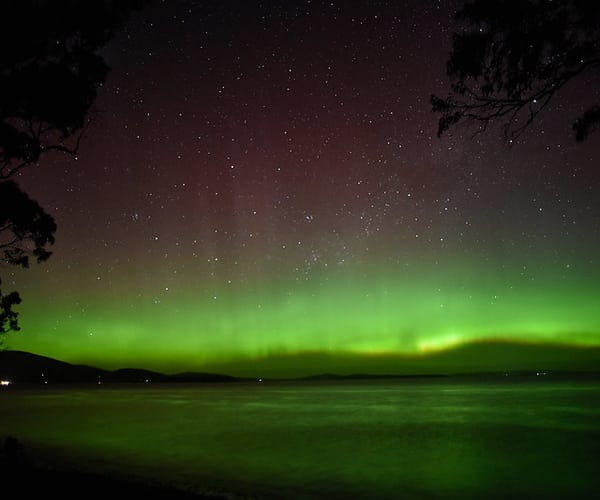 The Aurora Australis lights occur when fully charged particles burst from the sun, which creates a solar wind. There's not many places in the world where you can see this, only a handful of locations in the very northern and southern hemisphere. Ideal conditions are during winter, where it's recommended that you look for a location where you can look south, viewing a broad horizon and with little/no light pollution. These are hard to see with the naked eye, often your photos will show far greater effects than what the naked eye can see. Keep an eye out on the Aurora Australis Tasmania Facebook for the best times to see these.
See the Sea Sparkle Blue
Another amazing and rare light sighting is the blue bioluminescence. This can occur in the ocean at night at various beaches, such as Howrah Beach in Hobart and in the Freycinet National Park on the east coast.
Bioluminescence is caused by Noctiluca Scintillans, an algae that creates a bright blue flash to warn off other sea creatures which are seen as a threat. It's a pretty special and unique sight for anyone lucky enough to experience it. If you go out looking for it you might be unlucky, it's probably best to check the Facebook groups for recent sightings.
Open Your Eyes to Dark Mofo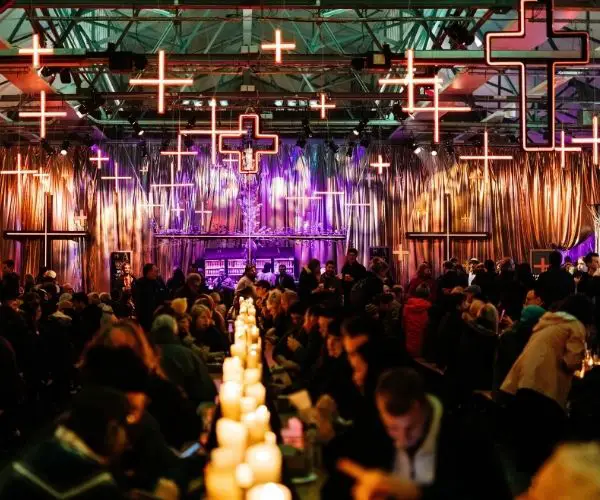 Dark Mofo goes completely out of it's way to be unique. It's the anti-normal, a contemporary festival where some parts are fun and different, and others have been known to be slightly disturbing. For this it always draws the attention of tourists and locals alike. It's artistic, bohemian and will make you think.
The festival runs in the lead up to winter solstice each year in Hobart. Most attractions are based in the Salamanca waterfront area, however others are scattered at various locations throughout the city. Common events include live music, theatre, the winter feast and a nude swim.
Derby Floating Sauna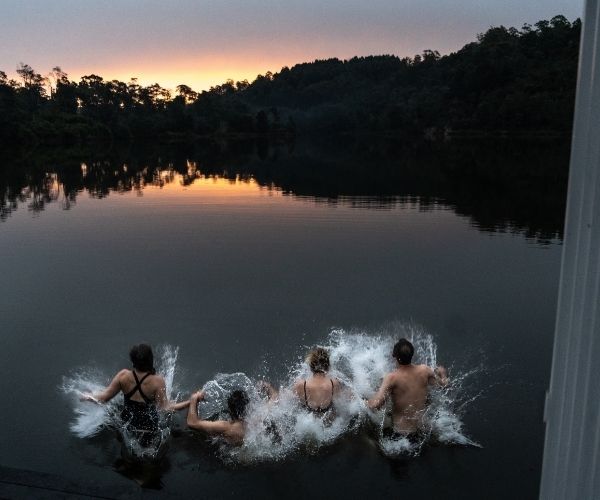 The Derby Floating Sauna is a Scandinavian-inspired floating sauna on top of the quiet, scenic Lake Derby. You'll feel like you're in your own universe here, it's so quiet and pretty. The floating timber sauna has a small deck so you can sit down before or after the sauna and relax, dunk your feet in the water or jump in for a quick swim. To visit the sauna, you must book in, with bookings capped at five people at a time. If you want to enjoy it all for yourself you can pay a bit extra and take it all!
Elephant Pass Pancakes – A Hidden Gem
As you drive north along the east coast, the coast road divides into two, giving you the option to veer left and drive up a tight mountainous road known as the Elephant Pass. It's an interesting road and those who have a sense of adventure can reward themselves at the top with a visit to the famous Mount Elephant Pancakes.
The pancake parlour is somewhat of a surprise for the unsuspecting. The menu is large and exciting, with a huge variety of savoury and sweet pancakes to choose from.
Try a Curried Scallop Pie
The Tasmanian version of the meat pie is the curried scallop pie. It's legendary, unique and rugged like the state itself. For the curry, it's not like an Indian or Thai curry, think of a mild Keen's Curry. And as for the scallops, like all Tasmanian seafood you know they'll be good! A good place to try the unique curried scallop pie is at The Richmond Bakery in Richmond.
Look Up at the Tall Trees at Mount Field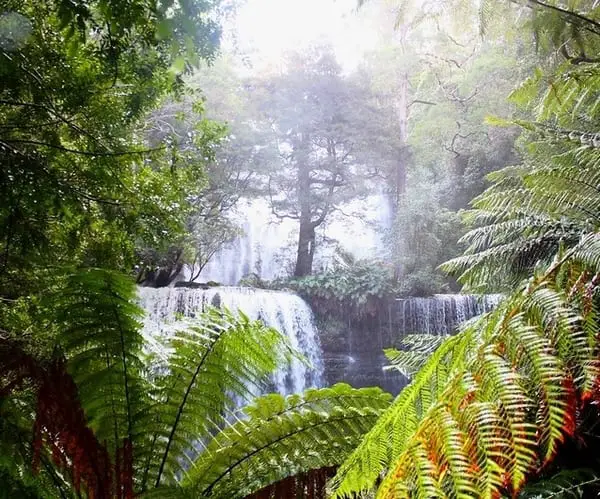 This isn't any rainforest. The tallest eucalyptus trees here are almost 80 metres tall! There are short walks here, with walks as short at 10 minutes to Russell Falls, and some several hours long. Take your pick and enjoy the scenery. Make sure you have your photo taken standing next to a tall tree or inside a fallen stump.
See the Brightest Colours at Table Cape Tulip Farm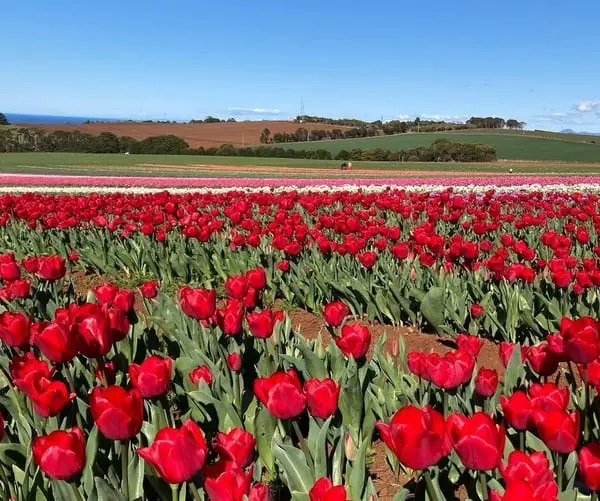 Wynyard is home to Table Cape, one of Tasmania's most spectacular agricultural attractions. This plateau sits at 180 metres high, where you'll see the remains of a 12 million year old volcano, a beautiful tulip farm with rows of rich, bright colours and views all across Tasmania's north-west coast. It's a rare sight you won't see elsewhere, where man and nature combine to make the most picture-perfect scenery.
Climb a Nut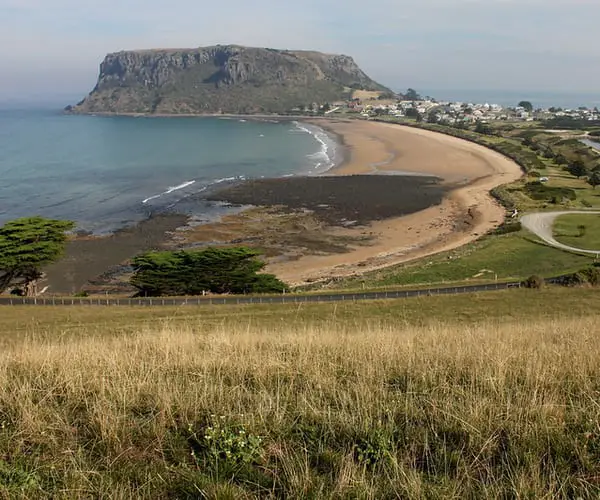 Normally you eat nuts, in Tasmania you climb up them! The Nut, in the north-west village of Stanley, is a flat topped, former-volcanic mountain'. Walk or take the chairlift up and enjoy this unique and picturesque experience. The Nut sticks out from mainland Tasmania, being positioned at the northern tip of a small isthmus. On a clear day you'll see excellent views of the northern Tasmanian coastline.
See Unique Aqua Blue Water at Little Blue Lake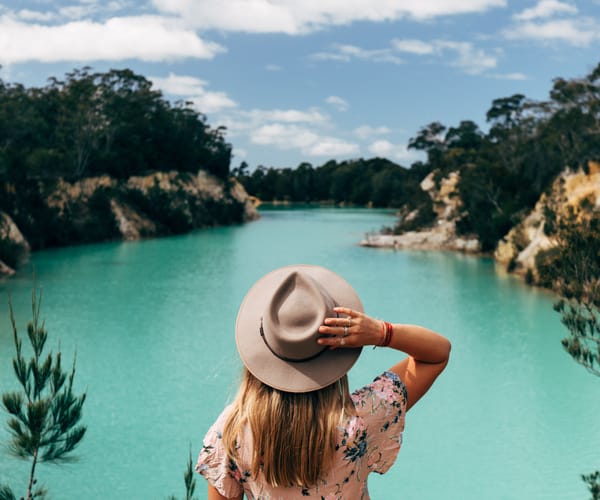 The rich blue of Little Blue Lake was formed from high levels of minerals in the soil, caused from mining which previously occurred in the area. It's an interesting occurrence, even though this has been indirectly caused by man's involvement, we view this lake as a site of beauty.
Most people who visit Little Blue Lake enjoy sitting and admiring the amazing rich colour, surrounded by white, sandy and clay filled steep banks and gum trees. It's a unique site that's also enjoyable due to its peacefulness. It's recommended that you don't swim here, but it's still worth visiting to have a picnic, go for a walk or relax.
Doo Town – Have You Ever Seen So Many Bad Puns?
If you're into bad puns, you must drive through Doo-Town when visiting the Tasman Peninsula. Most of the houses and holiday homes have some clever variation of the word 'Doo' in their name, a unique in-joke with the locals which has captured the imagination of tourists and put the little town on the map.
Visit Switzerland in Tasmania
Grindelwald is a Swiss-themed village located 15 minutes north of Launceston. The buildings and streets are built in traditional Swiss style, with an 18 hole mini golf course, ten hole public golf course, a lake with canoe and paddle boat hire, shopping arcade and places to eat.
Go for a Ghost Tour
Tasmania's European settlers built Tasmania's villages from the efforts of harsh convict labour. This led to many tales of adversity being passed on over the years and numerous sightings of ghosts. One of the most famous ghost stories is that of George Grover at Richmond Bridge. The story goes that the convict flagellator George was pushed off the bridge while intoxicated, with his ghost still haunting the area at night.
Ghosts are also known to haunt Port Arthur Historic Site and the Hobart Convict Penitentiary. All three of these locations have ghost tours, which are known to provide more substance and historical information rather than trying to spook people.
Visit a Ghost Town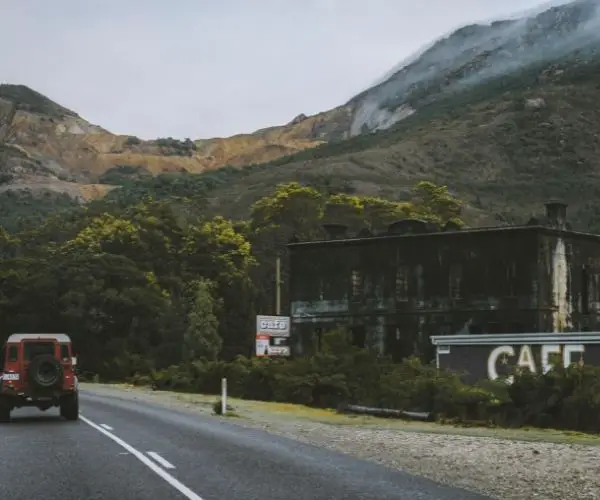 There are many ghost towns in Tasmania, particularly in former mining regions of the semi-isolated west coast and north east regions. These towns were once thriving communities during the late 1800's and early 1900's when mining booms and hydroelectricity power station developments employed thousands of men and created thriving communities. With many of these buildings left to their own devices, these villages have a quiet eerie feel, reminding you of something you would see in a movie. Examples of these ghost towns include Gormanston, Linda, Poimena, Mathinna, and Waddamana.
See the Moonscape at Queenstown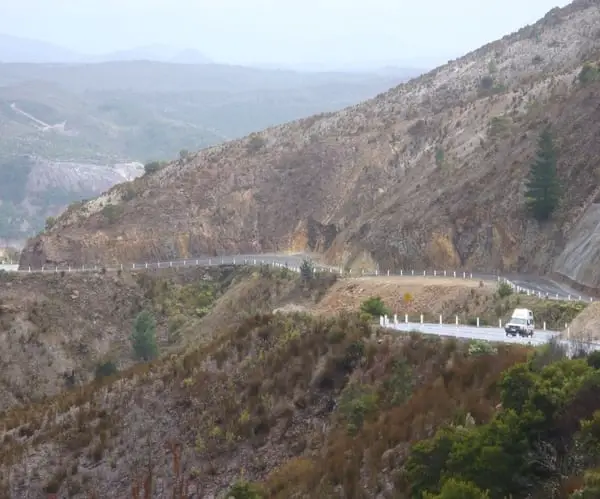 There's moonscape here, it doesn't get much more unique than that! Queenstown was built from copper mining and logging in the early 1900's, which has resulted in a 'moonscape' of rocky, bare hills. You'll particularly notice this on the '90 bends' drive in and out of the town. The town is raw, unpretentious and has a sense of intrigue. There is an underground mine tour, and some excellent lakes for fishing. Just outside of Queenstown you'll see the Iron Blow Lookout, where you'll see the effects of the mining at a high level.
Abseil Down Gordon Dam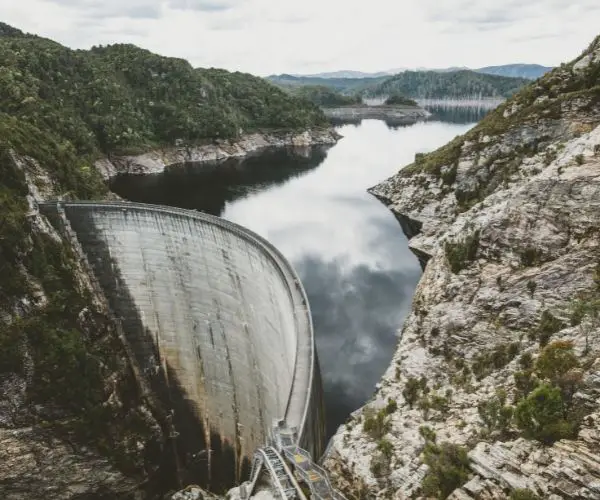 At Strathgordon in Tasmania's rugged south-west, you've got the opportunity to abseil down the hydro-electricity dam wall at Gordon Dam. This massive dams stands at 140 metres tall and arches horizontally and vertically. It's surrounded by amazing forests and beautiful waters, and makes for a great photo. The dam is visited by engineering enthusiasts, nature lovers and adrenaline fans who abseil down the towering dam wall.