Unlike most parts of Tasmania, you might not call Queenstown beautiful, yet it's a must see attraction while visiting Tasmania. It's captivating, interesting and like nothing you've ever seen before. One thing visitors appreciate is how genuine it really is. While there are tourist attractions, there are no 'tourist traps' here.
The best things to do in Queenstown Tasmania include viewing the 'moonscape' of the bare hills, learn about the history at the old copper mine and galley museum, and admire the surrounding wilderness by rafting, four-wheel driving, a train ride or a bushwalk.
Key Travel Information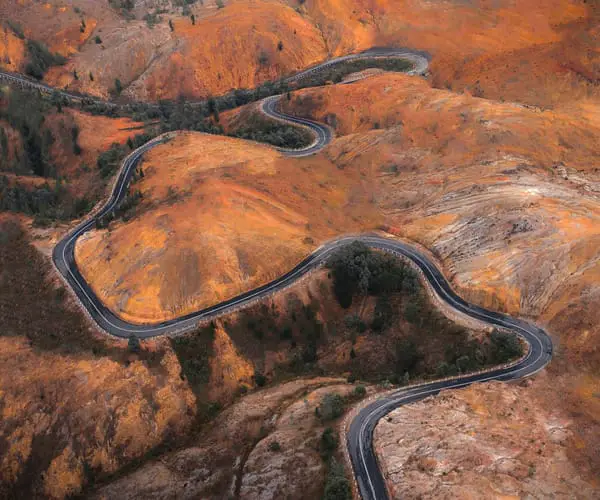 Getting to Queenstown
Your journey to Queenstown will be memorable and equally as exciting as visiting the town itself. Situated in the far west of Tasmania, an area that is remote and far less populated than the south-east and northern regions. If you're driving from one of the cities it will be a long, but rewarding drive. Take your time and enjoy the scenery, we'll elaborate on the sites you can enjoy in this article.
The drive from Hobart to Queenstown is 260km, however as the later part of this drive is very windy, it takes at least 3.5 hours. There are no multi-lane or high speed highways coming into this area, up until the 1930's if you wanted to visit this area from Hobart you came on a boat to Macquarie Harbour and made your way from the west coast!You should allow for more time in wet conditions and even in the dry we recommend allowing for a whole day so you can enjoy the sites on the way.
The drive from Launceston to Queenstown is 244km and takes a bit over 3 hours in dry conditions.
Weather
The weather here is a little colder than the east and northern sides of Tasmania and often experiences more rainfall. Bring clothes for the cold and rain, even in the summer.
Average Summer Temperature: 21 degrees celsius
Average Autumn Temperature: 17 degrees celsius
Average Winter Temperature: 12 degrees celsius
Average Spring Temperature: 16 degrees celsius
Best Known For
The moonscape, the mining history, windy roads and for being a raw, honest and genuine destination.
History of Queenstown
The mining industry has long been a part of Queenstown's history. In 1862, this rugged region was first explored. Alluvial gold was discovered at Mount Lyell several years later, leading the formation of the Mount Lyell Gold Mining Company in 1881. The mine began looking for copper in 1892.
Until the 1990s, the town served as the headquarters of the Queenstown council, which was merged with other west coast councils. The town featured a variety of hotels, churches, and schools in its peak years, but most of these have closed since the Mount Lyell corporation closure.
Many years of mining has had an adverse effect on the landscape, which has lead to hills which are brown are bare of plantlife. This was caused mostly from a combination of high sulphur levels and the removal of trees which caused the dirt to wash away in the high levels of rainfall.
Attractions in Queenstown
The Moonscape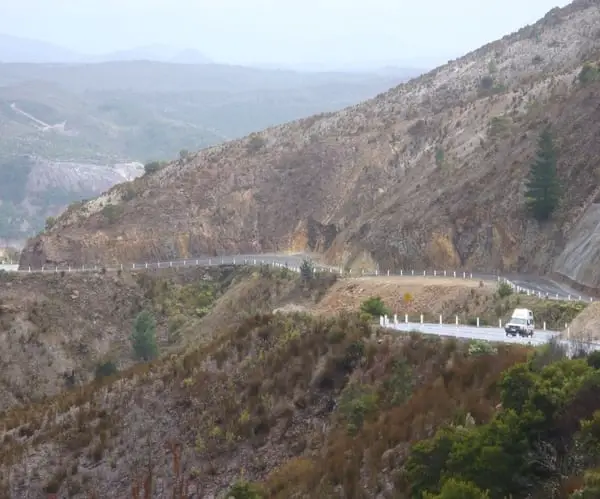 As you approach Queenstown, you'll notice the hilly landscape here is a little different. Most of the hills are brown and lack grass, trees or other plant life. This is due to the extended periods of copper mining in the area from the Mount Lyell mine. A number of factors have caused this appearance. The trees surrounding Queenstown were chopped down to fuel the mine's furnaces, which at the copper mining peak used over 2000 tonnes of wood each week. The copper smelters expelled huge amounts of sulphur into the atmosphere which caused almost any plants to die. Another element was the high levels of rainfall which are common in the west of Tasmania, which washed away the topsoil on the bare hills.
It's a sad reminder of what can happen when man prioritises profits ahead of the environment. However these days it's seen as part of the character and intrigue of the village, a point of interest amongst tourists.
Copper Mines of Tasmania Tours
Queenstown and the surrounding villages were built from mining, which for many years was a highly lucrative business which created a booming economy in the area. Gold was originally mined here in the late 1800's until there was no gold left in 1891. The Mount Lyell Mining Company was formed in 1895 which led to the township of Queenstown being built in 1896.
Copper Mines of Tasmania (CMT – Mount Lyell) offers two tours and it's one of the most popular things to do in Queenstown. There is a one hour tour above the ground and a 3.5 hour tour for those interested in venturing underground. The underground tour has some restrictions such as no children under 12 and group sizes from two to six.
Eric Thomas Galley Museum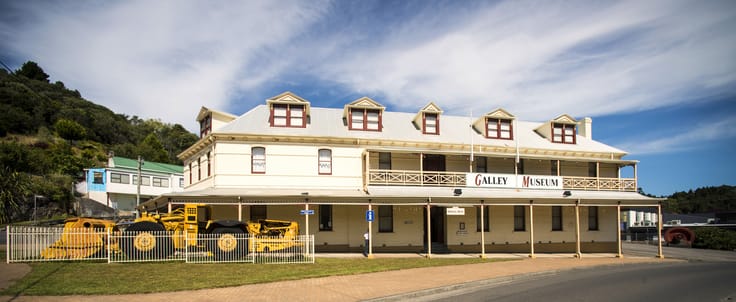 You're bound to pick up snippets of information here and there, but the Eric Thomas Galley Museum will give you the most extensive overview of history in Queenstown and the surrounding mining villages. Houses in the old Imperial Hotel, this collection spans across approximately 30 rooms.
You can enjoy over 1000 photos plus a range of mining artifacts, gems, minerals, household items, emergency services equipment and more.
This museum exists mostly from the kind work of volunteers and the entry price is very reasonable.
Outdoor Adventures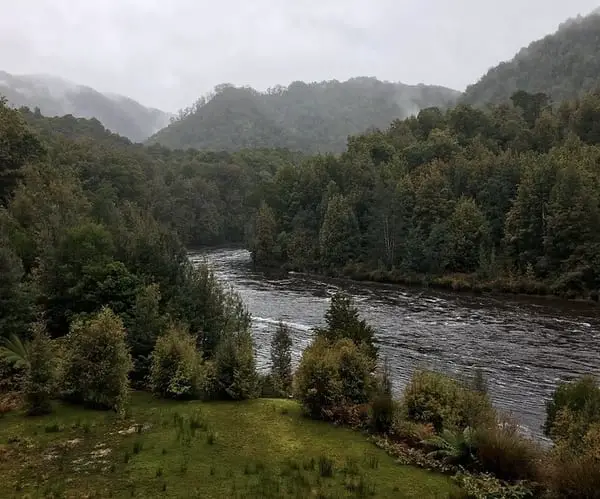 The nearby western ranges offer some great views and outdoor activity opportunities. There are 4×4 tours with RoamWild Tasmania, where you can enjoy views of Queenstown as well as other popular national parks such as Cradle Mountain – Lake St Clair and the Franklin-Gordon River. These tours can take you to the top of Mount Owen, you may even find you're up here experiencing the views by yourselves!
King River Rafting offers some spectacular adventures, such as a 20km six hour rafting trip. Tourists meet in Queenstown and are taken from Newall Creek past the famous Huon Pine trees, platypus pools, and places where you can see evidence of the west's mining history. Most of this river is surrounded with beautiful forest, a nice break from the bare moonscape! You'll experience a variety of conditions from grade three rapids to some serene and tranquil waterways.
West Coast Wilderness Railway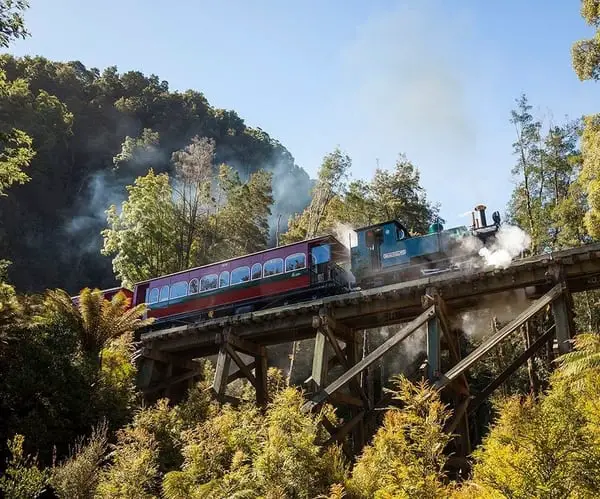 The West Coast Wilderness Railway is one of Tasmania's most acclaimed tourist attractions and one of the best things to do in Queenstown and the west coast of Tasmania. From Queenstown can experience half day rides into the rainforest, or you can experience 9 hour return rain trip between Queenstown and Strahan. You'll stop at historic train stations, admire the King River, see areas of historic significance and learn from your expert guide.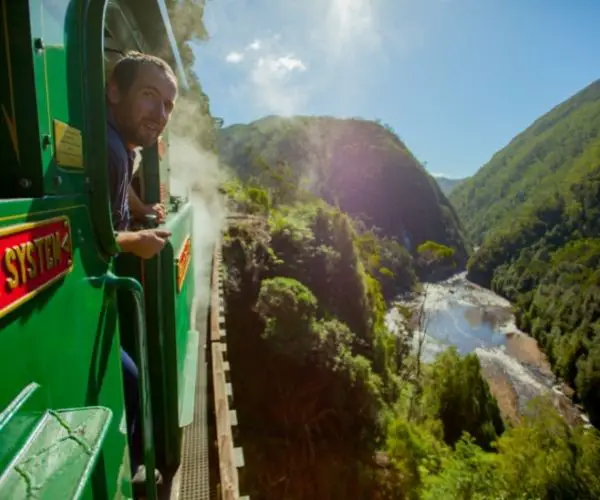 Those who want to do it in style can buy a ticket for the wilderness carriage and enjoy sparkling wine and a range of gourmet Tasmanian food. Those keen on a bit of adventure can do the Raft and Steam – starting with a King River rafting experience and finishing with a railway ride.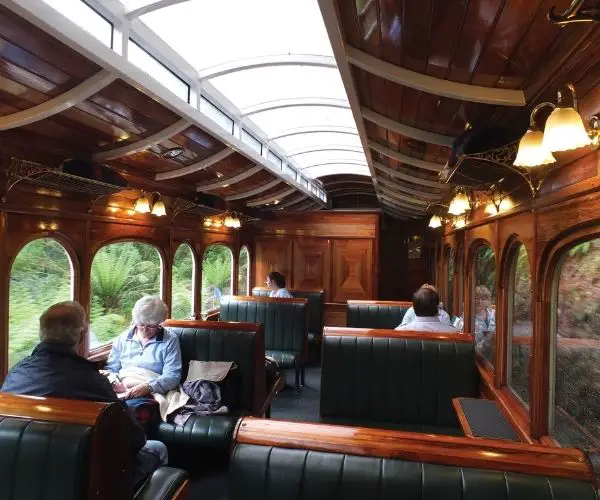 Spion Kopf Lookout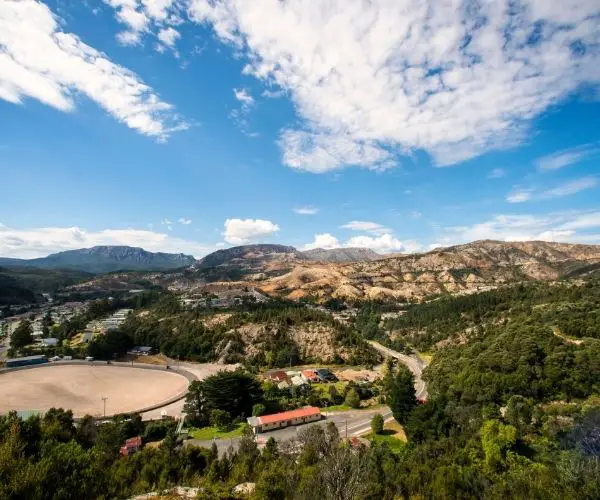 The short walk to Spion Kopf Lookout starts at the northern end of Queenstown village, taking you to a lookout where you can observe 360 degree views of the village and it's surrounds.
Places to Eat in Queenstown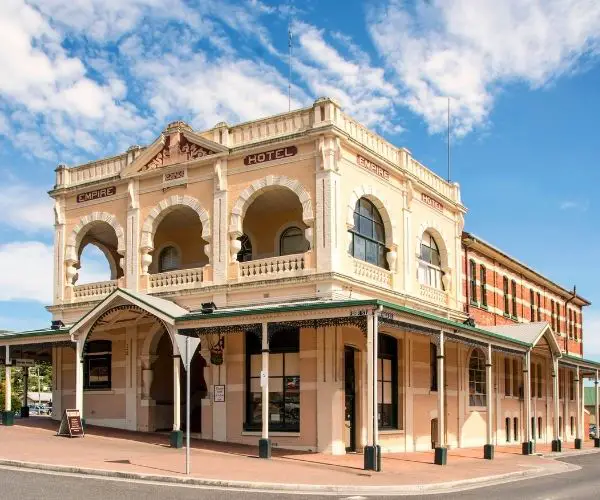 Interesting fact – there were once 14 pubs in Queenstown! There are far less now, but one you should definitely visit is the Empire Hotel. This pub does great food and has been tastefully restored from it's glory days. One feature you must admire on your trip is the blackwood staircase, you don't see staircases like this anymore.
Smelters Restaurant is another favourite, check out the ribs, they're great. There are many other places to choose from on Orr Street. JJ's Coffee Lounge has great coffee, burgers and pies. Rusty Iron is a great choice for Thai food.
The Paragon Theatre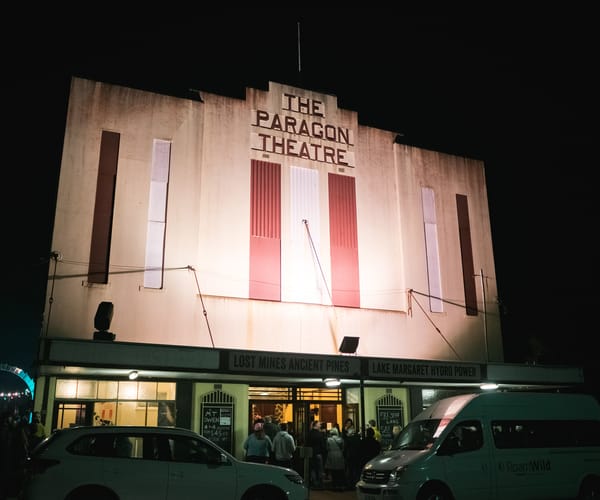 This place is a real experience and a must see attraction for those interested in film and the arts. Unlike most theatres, the building and atmosphere of The Paragon Theatre with it's Art Deco style, is as much of an experience as the films itself. They have a small selection of films including their own featurette 'Forever Wild'.
Things to do on the drive to Queenstown
There are lots of things to do on the drive from Hobart to Queenstown. You'll need at least a full day to do this, if possible do this over a couple of days and enjoy the sites.
Attractions worth seeing include the old hydro-electricity town of Tarraleah, Lake St Clair. Take a short 30 minute walk at Franklin River, stop in at Iron Blow Lookout and admire all 90+ bends as you drive into Queenstown.