The best views of Ben Lomond and the surrounding area are from the top of Jacobs Ladder, a twisting route that leads to Ben Lomond's summit. The Jacobs Ladder route to the summit of Ben Lomond is reputed to be one of Australia's most terrifying journeys, when covered in snow.
The official snow season runs from June's Queen's Birthday weekend through to the last weekend in September. July and August are traditionally the coolest months, and this is when the majority of snow occurs. During these months, vehicles must have snow chains, and it's recommended to bring a four wheel drive.
These are critical as Jacobs Ladder has a series of sharp, hairpin turns which even when driving slowly can cause you to lose grip. Snow chains can be obtained from Launceston's Autobarn. If your chains are not used and uponened, they will accept returns.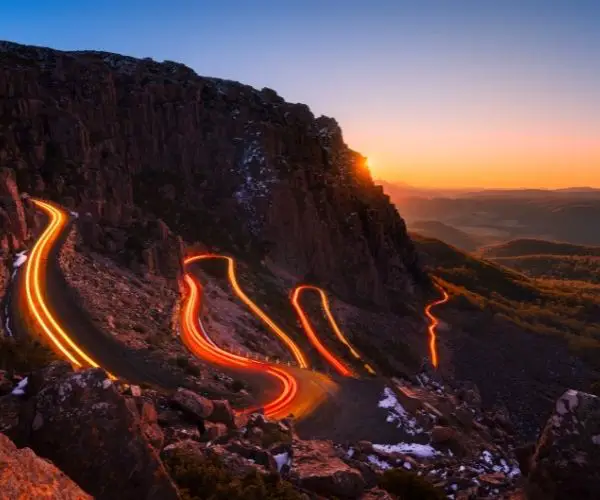 Don't exceed the 30 km/h speed limit; anything else could result in disaster. If you come across a car travelling downhill, give way since driving uphill is easier than driving downhill. When driving downhill, shifting into a low gear allows you to engage your engine brake.
If you're visiting in warmer months, you won't need chains and with care you can handle this road in a regular two-wheel drive vehicle. While some people think of Jacobs Ladder and Ben Lomond as a winter ski destination, it's also a great place to visit in summer. The views at the top of Jacobs Ladder on a clear day are amazing. The bushwalks near the top of Ben Lomond also make the trip worthwhile.
Once you've reached the summit, take a moment to admire the view of the road below. You may get a beautiful view of the surrounding landscape from a windswept viewing platform.
Once you've reached the summit of Jacob's Ladder, the road will take you all the way to the Ben Lomond Plateau, where you'll find Tasmania's sole ski resort. The winter season is short due to the low elevation of the mountains. Also, because the slopes are short and not very hard, the mountain is more suited for amateurs and occasional skiers and snowboarders.