Just 18km north of Ansons Bay is the Eddystone Point Lighthouse, inside the Mount William National Park. The land here is protected, not only for it's sheer beauty but for its significance to the Aboriginal community. The Eddystone Point lighthouse is a key attraction here.
History of Eddystone Point Lighthouse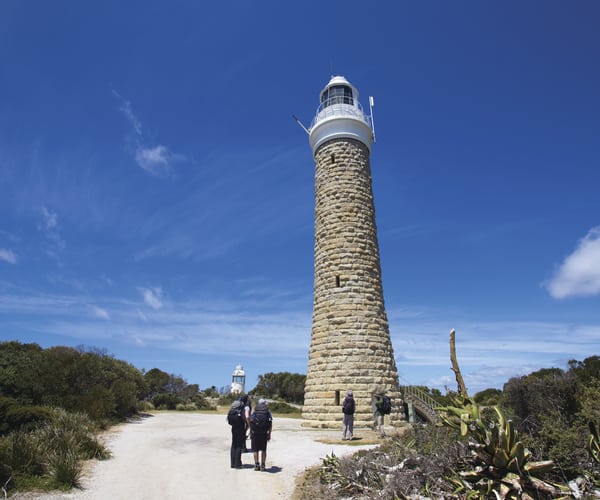 ​​Despite the fact that the primary lights of Cape Otway, Cape Wickham, and Deal Island had been constructed in the dangerous Bass Strait, northbound ships were still being wrecked by coming in too near to Tasmania's north-east coast. The most dangerous features were Victoria Rocks, Georges Rocks, and Black Reef.
Captain Riddle, who was well-versed in sailing the coast and was instrumental in the placement of several lights, was also wrecked on Black Reef.
When a dangerous rock was discovered just below the sea level at St Helens Point in 1875, it was decided to build a lighthouse.
Eddystone Point or Georges Rocks were the options. Even though a light on Georges Rocks would be preferable, Eddystone Point would be easier to reach and erect, would cover the entire region better, and therefore was chosen.
The local granite was evaluated and confirmed to be appropriate for tower building. By 1879, blueprints had been drafted, and the colonies had reached an agreement on cost sharing. Despite the fact that the crashes persisted for another ten years, nothing was done.
In 1889, the tower was completed and shown for the first time.
Eddystone Point is known as Larapuna to the aboriginal population, and the Tasmanian Government gave a 40-year lease for the Larapuna grounds surrounding the spectacular lighthouse in 2006.
Visiting Eddystone Point Lighthouse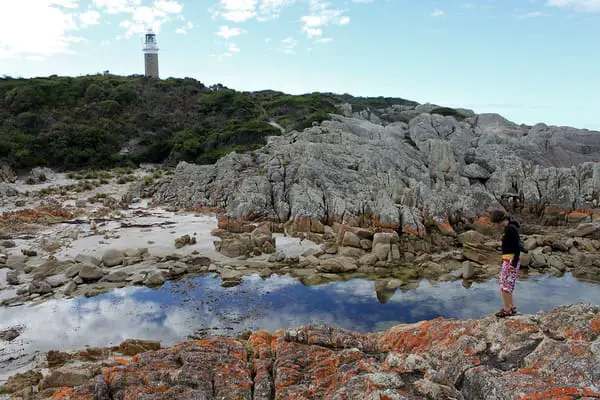 Eddystone Point, located inside the Mt William National Park, has a lovely picnic spot as well as beautiful quiet beaches. The huge crystal lenses of the 35-metre-tall granite lighthouse cast a beam 26 nautical miles out to sea. The lighthouse protects the entrance to Banks Strait and directs ships around the offshore hazards of Victoria and Georges Rocks. Unfortunately visitors are unable to go inside the lighthouse, but can still get close outside and enjoy the site of the lighthouse, the beautiful scenery and the water views.
Camping Near Eddystone Point Lighthouse
Within the Mount William National Park there are six designated camping areas, with one of these being at Eddystone Point. This is a basic, but enjoyable campground more suited for tents or small caravans and motorhomes.
All sites include some picnic tables and pit toilets. At Stumpys Bay (campground No. 4 alone), there is a day shelter with gas grills and a small non-treated water tank (seasonal only).
Bore water is accessible in Stumpys campgrounds 1 and 3, as well as Deep Creek campsite, for washing purposes only.
Unlike some of the larger campgrounds on the east coast there are no bookings made here. There is a small fee which camper must pay, this is left in a deposit box at the campground, so don't rely on eftpos or someone being there to give change. National Park entry fees are also applicable to campers and day visitors.
Nearby Attractions
The walk up Mount William is also a great attraction, with stunning views from the relatively short 90 minute return walk. At only 216 metres in height, Mount William offers great views. Enjoy sights of the Furneaux Group of islands in Bass Strait, between mainland Tasmania and Victoria. Enjoy nature sightings including wedge-tailed eagles, wombats and wallabies. Nearby Ansons Bay and the Bay of Fires beaches provide a great place for walks, picnics, swimming and fishing.