If there's one thing that everyone who visits Bruny Island can agree upon, it's that Adventure Bay is one of the best attractions on the island. It's a key part of the island where many people choose to stay for a few nights for the great accommodation choices, calm and scenic beach and range of close activities.
Adventure Bay Bruny Island is known for its beautiful 7km long, east facing beach. It has a sheltered feel with many large gum trees surrounding the beach and the cliffs of Fluted Cape on the southern end. It's got a real relaxed Australian beach town feel, and unlike many of these towns, it's managed to keep this vibe without becoming commercialised.
There are many things to do in Adventure Bay Bruny Island such as watersports, fishing, bushwalking, scenic boat cruises and visiting the delicious raspberry farm. The caravan, shacks and relaxed, safe beach make it ideal for young families.
Adventure Bay also has a place in early Tasmanian history. Tobias Furneaux, a British ship captain, was the first to anchor in Tasmania in 1773 with his ship 'The Adventure'. 
Key Travel Information
Getting to Adventure Bay
Region: South-East Tasmania
If you're travelling from Hobart, drive south along the Southern Outlet and Channel Highway to the village of Kettering. From here you'll catch the ferry to Bruny Island, arriving at the port at Roberts Point in the island's north-west. Drive 30 minutes along Lennon Road which curves south into Bruny Island Main Road. Shortly after passing over The Neck, you'll turn left onto Adventure Bay Road which takes you right into the village, driving alongside the beach.
Weather
The weather here is some of the best in Tasmania, which is one of the reasons Adventure Bay has become so popular. It's calm and sheltered from most winds.
Average Autumn Temperature: 17 degrees celsius
Average Winter Temperature: 12 degrees celsius
Average Spring Temperature: 16 degrees celsius
Average Summer Temperature: 20 degrees celsius
Best Known for
Beautiful scenery, a great family holiday destination, nice walks on Fluted Cape.
Things to do at Adventure Bay, Bruny Island
Adventure Bay Beach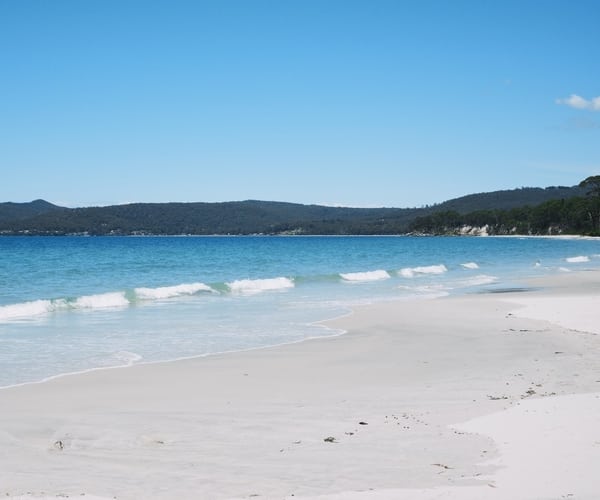 It's a rarity in Tasmania for a beach as long as Adventure Bay to be so calm for most of the year. This means it's ideal for nice, relaxing walks, sunbaking in warmer weather, kayaking, stand up paddleboarding, or teaching your children to swim.
During the summer, most of spring and early autumn you'll find the water to be warm enough for swimming. You might find a wetsuit more comfortable during winter and during colder days in spring and autumn.
There is a boat ramp for those looking to head out for a day of fishing.
The Caravan Park and most shacks are directly behind the beach, most things here are within walking distance of the water.
Bruny Island Cruises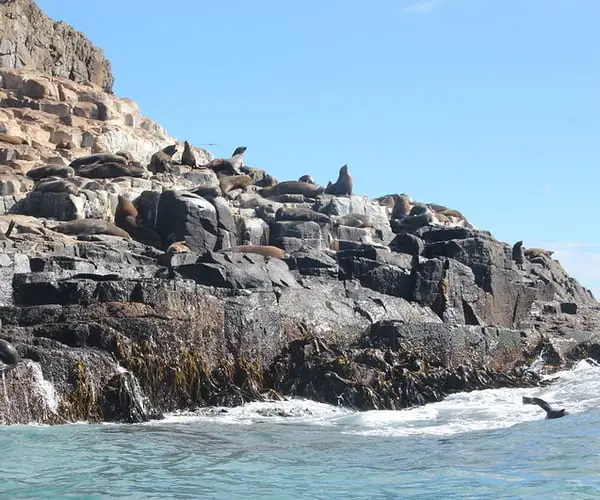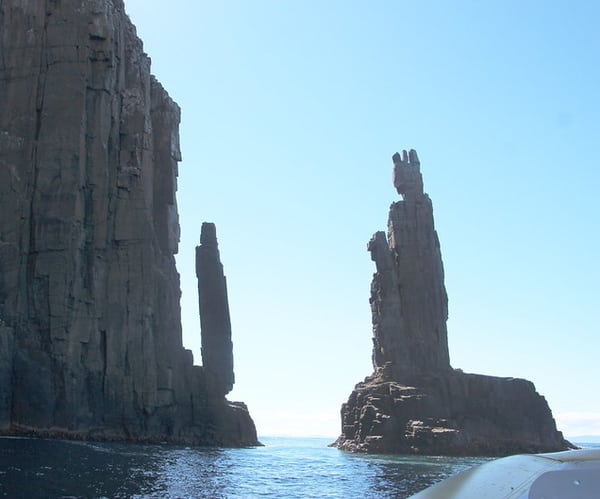 See Bruny Island from a different angle with a wilderness boat cruise. Bruny Island Cruises are a three hour cruise which shows you some of the highest and stunning cliffs, towering crags, sea caves, and one of Bruny Island's most famous sites, 'The Monument'.
It's also great for viewing wildlife that's often hard to get up close to such as seals, dolphins, whales and a variety of sea birds that you don't always see on land.
This cruise is highly reputable, winning 'Australia's Best Tourist Attraction' in 2013, 2014 and 2015. The boats are modern, safe and comfortable, being designed for tourism use.
Bruny Island Raspberry Farm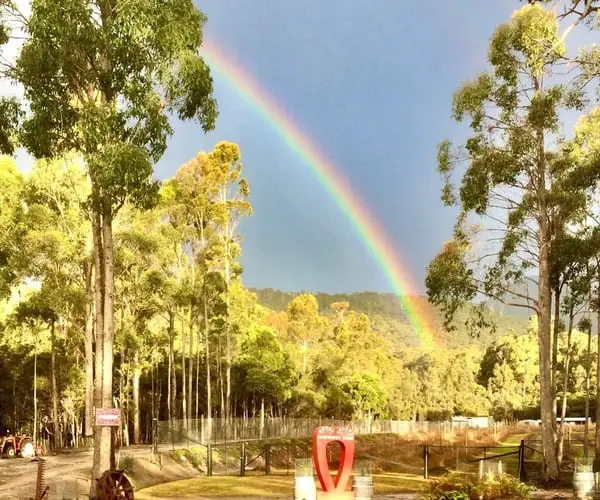 This is a delicious and fun attraction if you're visiting Adventure Bay during the warmer months. It's a delightful old-fashioned style berry farm where you can wander through and pick your own raspberries, strawberries, blackberries, blueberries, youngberries and boysenberries.
There's also a cafe where you can enjoy fresh berry desserts such as berries and ice cream, pancakes, scones with jam and cream, while enjoying a coffee.
Bruny Island Raspberry Farm is only open during berry season, which most years is from November to March, if you're visiting close to the start and end of season we recommend checking open times and berry availability.
Bruny Island Chocolate Co
Make this one of your first stops as you drive along Adventure Bay Road. When you visit Bruny Island Chocolate Co, you're tasting decades of chocolate and fudge expertise. Founder and chef Michael Carnes acquired his fudge recipe over 40 years ago while working as a pastry chef in the UK. Over time he's perfected the recipe with the addition of high quality Tasmanian dairy products to make the best handmade fudge.
Bligh Museum of Pacific Exploration
With Adventure Bay's place in early Tasmanian history, it makes sense to have a museum on the first explorers here. It's built from thousands of convict bricks, which hold an extensive collection of artefacts from south pacific explorers including Captain William Bligh, Captain James Cook, Tobias Furneaux, Matthew Flinders and Admiral Joseph-Antoine Bruny D'Entrecasteaux.
Fluted Cape Walk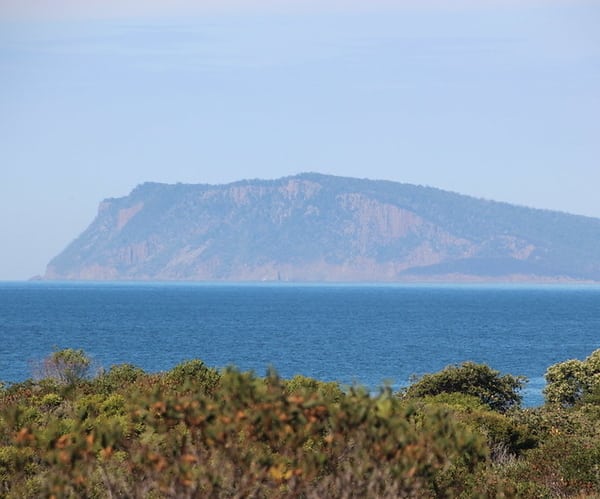 At the east end of Adventure Bay there are some high cliffs where you can enjoy the Fluted Cape Walk. This 4km, 2.5 hour circuit walk is located within the South Bruny National Park. You'll start on the sandy beach walk through a dry eucalyptus forest, a thicker Sheok forest to Grass Point where you'll see relics from where the area was used for whaling in the early 1800's. The trail then becomes steeper and you can enjoy the views of the tall dolerite cliffs and views across the water.
Adventure Bay Accommodation
There are accommodation options across Bruny Island, however Adventure Bay is one of our favourites due to its picturesque scenery and close proximity to the beach and numerous attractions. There are a variety of accommodation choices from top-end eco tourism operators to low budget family stays.
43 Degrees Bruny Island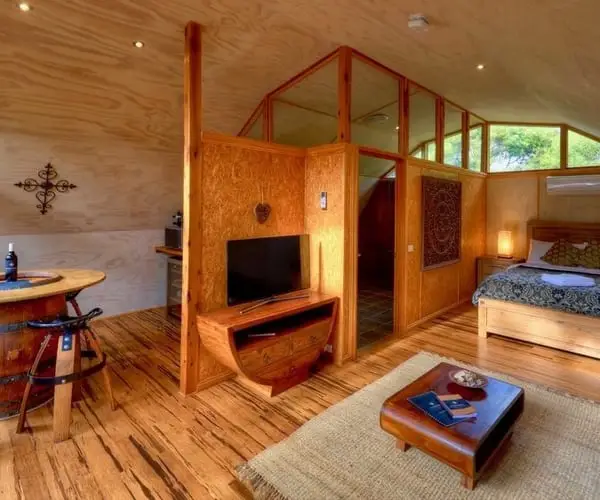 These boutique environmental spa apartments are located only 50 metres from Adventure Bay Beach. They have a warm sense of luxury with extensive use of natural materials and natural light, creating a cosy and relaxing vibe. This accommodation is great for couples looking to relax.
Adventure Bay Retreat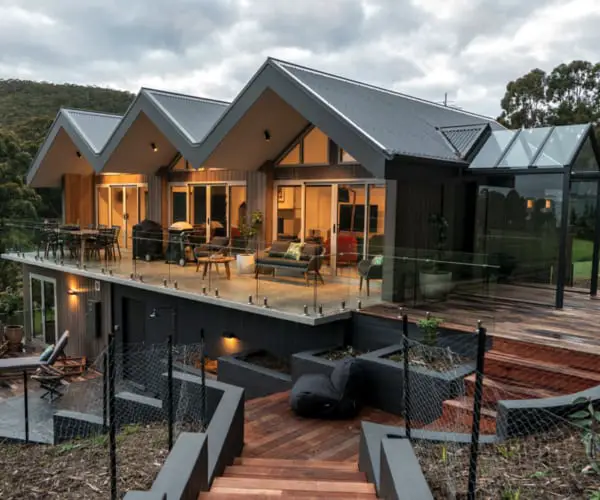 Adventure Bay Retreat offers not one but 4 stunning properties, ranging from couples cottages to large-scale homes. These are not regular beach shacks, they're beautifully built properties ranging from rustic cottages to modern, contemporary properties. Whichever you pick you'll feel comfortable, cosy and enjoy warmth and natural light. Some properties contain a spa, but whichever you pick you'll be amazed.
Bruny Spa Retreat
Bruny Spa Retreat is a nice home-style property that's only a five minute walk from the beach, yet offers privacy and peace from it's bush surroundings. It's slightly raised offering views of the beach and roaming wallabies during the evening. Sleeping four people it's ideal for both couples and small families.
Caravan Park – Captain Cook Holiday Park
There's nothing more Australian than a nice beachside caravan park, Captain Cook Holiday Park is up the top of the list. There's a range of accommodation options ranging from unpowered sites, powered sites, on-site caravans, one bedroom cabins, two bedroom cabins and two bedroom cabins with wheelchair accessibility. It's only a stones throw from the beach and all local attractions, making it a great place to base yourself while exploring Bruny Island.
To check accommodation availability at Adventure Bay, click here.