There are many amazing beaches on Tasmania's East Coast, unfortunately it's easy to run out of time to enjoy them all. Visitors to Freycinet National Park in particular are spoiled for choice.
One beach that is amazing is Hazards Beach, Tasmania's great underrated beach walk destination. Nearby Wineglass Bay commands a lot of attention, in this article we'll show you how you can enjoy both of these beaches in one day.
Key Facts About Hazards Beach
Getting there
There are no roads that go directly to Hazards Beach, so for most people the only way to get here is via the walking tracks. Start at the walking tracks carpark at the end of Freycinet National Park and remember to check in and check out in the walker registration book.
Walkers have two options – the circuit Wineglass Bay & Hazards Beach Walk or walk directly to Hazards Beach. Most people choose the circuit Wineglass Bay & Hazards Beach Walk, it offers an amazing cross section of views at two of Tasmania's best beaches (more info on this walk further down the page). However if you would prefer a walk that's flatter with little elevation, you may prefer to walk directly to Hazards Beach.
Things to Remember
We should note that there are no lifeguards at this beach. There are also no public toilets at Hazards Beach or on the walk, the closest are located at the walking tracks start/end point. Wear sunscreen and a hat, there's little shade out here. Bring your own drinking water and food, there are no shops, or drinking water facilities along the way.
To visit the Freycinet National Park, you'll need a Tasmanian National Parks Pass. A single day pass costs $40, or for $80 you may get an 8-week pass that covers all of Tasmania's National Parks (all prices in Australian Dollars as of 2021). Dogs and bicycles are not permitted, but hiking Wineglass Bay and Hazards Beach Circuit does not require a permit, so get out and enjoy!
Best Known for
One of the nicest beaches in Freycinet and Tasmania's East Coast. A place you can really enjoy without the crowds.
Hazards Beach Walk
Duration: 4-5 hours – longer if you want to have a picnic and a swim.
Distance: 11km
Difficulty level: Medium. Over the years there have been improvements to the track, however there are still some areas where you need to be careful. However it's still enjoyable for most people and for children of about 8 years of age and older.
Facilities: There are no toilets on this walk except for at the start/finish point.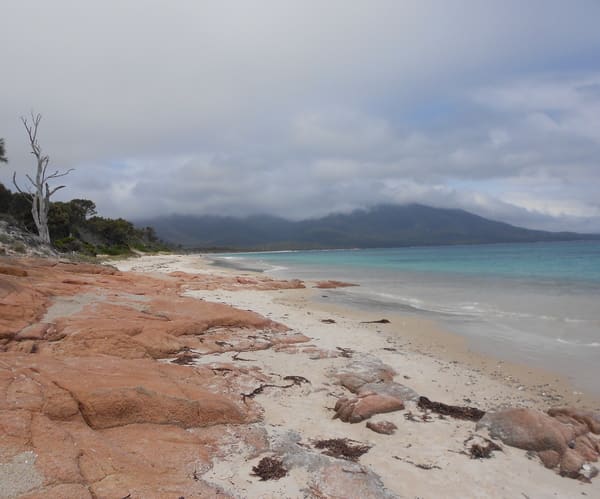 Wineglass Bay is one of Australia's best beaches and a popular hiking destination in Freycinet National Park. Hiking the Wineglass Bay and Hazards Beach Circuit is a terrific opportunity to see Wineglass Bay and the gorgeous beach on the opposite side of the peninsula. This loop is 11.5 kilometres (7.15 miles) long, or slightly longer if you walk out along Wineglass Bay's coastline and take a few of side trails to spectacular views. This pleasant hike around the Freycinet Peninsula will take you at least 12 kilometres.
If you follow Hazards Beach Track down the west coast of the peninsula in a counterclockwise (anti-clockwise) manner, you'll get views of Coles Bay and Great Oyster Bay on your way to Hazards Beach. Wineglass Bay, where a crescent-shaped light-sand beach is shielded by rocky points, is reached by walking down this gorgeous stretch of sand and crossing the peninsula on the Isthmus Track. The bay takes on the shape of a wine glass from above, and you may enjoy its curves from Wineglass Bay Lookout, a viewpoint off the track returning to the car park.
Between the beaches and the highest point of the loop at Wineglass Bay Lookout, this climb encircle Mount Mayson, one of the Hazards Mountains on the Freycinet Peninsula, gaining 213 metres (700 feet) in elevation. Hike Wineglass Bay and Hazards Beach Circuit on Tasmania's east coast to get some exercise and discover a gorgeous peninsula.
Begin at the car park at the end of Coles Bay Road, south of Coles Bay Township, in Freycinet National Park. The car park has restrooms and water taps. Before you go, make sure you have enough of drink and use the restrooms offered here, as this hike can take several hours and there are no restrooms on the trails.
Wallabies will most likely be seen at the parking lot and on the trail, asking for food and attention from humans. The wallabies are very cute but try to avoid feeding or petting them. Keep your distance from these cute animals to help keep them wild (you may see tourists snapping pictures with the wallabies, but don't be one of them).
At the trail's start, there's a kiosk where hikers can sign up for overnight excursions, as well as information panels. Examine the map, register your trekking plans, and begin hiking up the trail.
Because this is a circular trek, you can go in any way. Wineglass Bay is regarded as one of Australia's most beautiful beaches, so save it for the second half of the hike and start at Hazards Beach. To do so, keep right through a couple of early crossroads and follow the signs for Hazards Beach. On the left, you'll see signs for Mount Amos and Wineglass Bay, which is the loop's return path. Turn right to stay on Hazards Beach Track after a third of a kilometre, passing a track on the left that ascends to Coles Bay Lookout (seen later).
There are no more crossroads on the path to Hazards Beach from here, but it is a 5-kilometre hike. Ascend stone stairs to a granite ledge with magnificent coastline views as the walk progresses. Take a seat on the bedrock and take in the view, which looks north towards Coles Bay and west across Great Oyster Bay's waters.
Hazards Beach is another 3.3 kilometres from the unapproved viewpoint. While the walk is seldom far from the ocean, the views can be partially blocked from time to time as you pass large boulders, trees or enter dips in the track.
With about 0.6 kilometres to go, look through a grove of thin trees towards a little cove on the coast. Continue along the trail; this isn't Hazards Beach. A third of a kilometre before Hazards Beach, you'll come upon another little cove with appealing blue water beyond an orange sand beach between orange stones. This is a lovely tiny cove, but just beyond lies a much wider beach.
Hazards Beach Track reaches the north end of Hazards Beach after 5.7 kilometres. This is a long, beautiful beach that runs the length of the Freycinet Peninsula's west coast. Looking out from the beach, you can see a little island backed by Great Oyster Bay not far from the shore. This is a nice spot for a picnic around the loop.
Walk south along the beach, keeping an eye on the sand beneath your feet for crabs washed up on the shore. The Hazards Mountains, which are located at the peninsula's southern end, are visible from the coast.
After walking down the beach for 0.7 kilometres, you'll come to a crossroads with Isthmus Track, which crosses a modest land bridge at a tight spot on Freycinet Peninsula. Those on overnight hikes might continue down Hazards Beach to Peninsular Track and explore the Freycinet Peninsula further. Turn left on Isthmus Track to access the Wineglass Bay and Hazards Beach Circuits. To get to a boardwalk that traverses through a marshy area on the peninsula, climb a set of stairs and over a sand dune. Hazards Lagoon is a pair of pools of water located immediately south of the route.
You can walk for two kilometres along a mostly flat, boardwalk track to Wineglass Bay, return the way you came on the Hazards Beach track, or head south along Hazards Beach towards Cooks Beach. But make sure you take some time to enjoy Hazards Beach. At the northern end of the beach there are large rocks to sit on and relax in the sun or sit back on the stunning white sand. If you're hot from the walk, take a quick swim and cool off, the water is beautiful!