Nubeena and White Beach are tranquil, picturesque places on the Tasman Peninsula near the Port Arthur Historic Site. It's a favourite holiday destination for Tasmanians, a great place to relax and enjoy water activities like fishing, surfing or simply strolling on the beach.
If you're keen to explore the Tasman Peninsula, Nubeena and White Beach are close to several popular destinations such as Port Arthur, Cape Raoul, Tessellated Pavement, Tasman Arch and Saltwater River.
Nubeena has a strong marine history, as it is surrounded by a network of inlets encircling Parsons Bay. For many years, the settlement was an important convict farming colony and was initially an outstation of Port Arthur.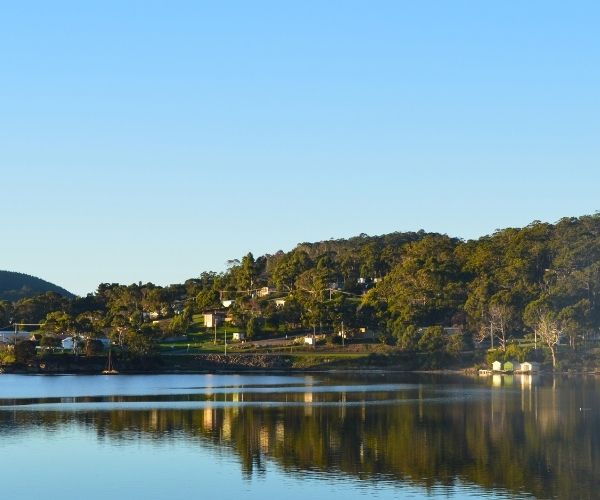 White Beach offers walks and aquatic activities, while Roaring Beach offers tough waves for surfers. Surfers go to Nubeena because of the constantly fantastic and challenging waves at Roaring Beach and White Beach, which are also popular bathing and camping spots. Roaring Beach is surrounded by a coastal reserve with breathtaking views of Storm Bay.
The area around Nubeena has some of the best living conditions in the region. In the unpolluted waters, there are plenty of fish to be had. The pristine waters of the bays, which are washed out to deep water on each tide, are used by a small local farmed salmon industry.
Camping and caravanning are available in and around Nubeena, as well as holiday cottages, motels, and Bed & Breakfast.
Key Visitor Information for Nubeena
Nubeena Weather
The average temperature at Nubeena is only 1-2 degrees colder than Hobart. In the Nubeena and White Beach village area the weather usually more sheltered than parts like Roaring Beach which are more exposed and open to winds.
The average temperature in summer is 20 degrees celsius
The average temperature in autumn is 17 degrees celsius
The average temperature in winter is 12 degrees celsius
The average temperature in spring is 15 degrees celsius
Directions to Nubeena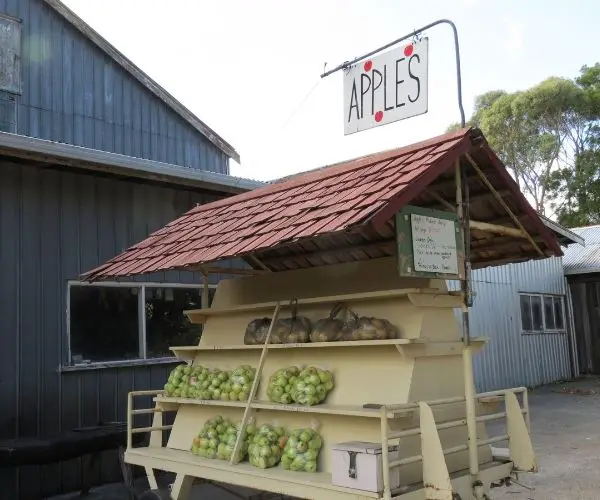 Nubeena is a 101km 1.5 hour drive from Hobart, the nearest city.
Unless you're on a coach tour, it's best to drive to Nubeena. Drive over the Tasman Bridge, following the Tasman Highway to Sorell, then turn right and take the Arthur Highway the rest of the way. At Taranna take a right onto Nubeena Road and you'll soon end up at Nubeena and White Beach. Enjoy the drive, you'll see some beautiful scenery on the way. We especially recommend stopping at Eaglehawk Neck to see Tessellated Pavement, Tasmans Arch and Devils Kitchen, and Doo Town.
Best Known for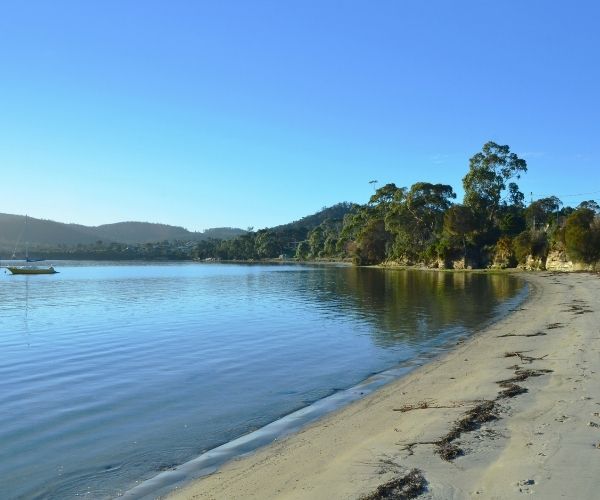 Being a bit of a secret. As many visitors to Tasman Peninsula don't venture far from the Arthur Highway, many see the Eaglehawk Neck attractions and Port Arthur and miss out on Nubeena, one of the most underrated destinations on the Tasman Peninsula.
History of Nubeena
Nubeena was founded as a Port Arthur outpost and was a significant convict farming colony for many years. The local Aboriginal word for crayfish is Nubeena. The original name for this settlement was Wedge Bay, and it was located on the opposite side of the bay from the current town. Today, the ruins of what was supposed to be a thriving village can be seen: a weatherboard brick and stone police station, a walled garden, and hospital foundations. Before instructions came through to concentrate all out-stations at Port Arthur, trenches were dug for the foundations of a number of buildings and streets were built. An attempt was made to finish the settlement rapidly, but it failed.
Attractions & Things to do in & Around Nubeena
Roaring Beach
This wild and rugged beach faces the south west and is an amazing sight. As you approach the beach, you'll walk through large, sandy dunes. The beach often receives large waves and swimmers should be careful as there are rips. Some experienced surfers will brave the water and enjoy the waves in this stunning location.
White Beach
White Beach is the more calmer of the local beaches, being located in a more sheltered location in the bay. It can be walked to easily from the Nubeena and White Beach shops and accommodation. It's a great place to go for a calm walk, relax on a hot day and is a nice spot to take the family. If you're there on the right night you may even get to witness bioluminescence or the Southern Aurora. This occurs when certain types of algae or plankton are in the area at night, causing parts of the water to glow a rich blue colour.
Clarks Cliffs
Unlike the peninsula's famous coastline treks, the Clarks Cliffs trail takes walkers interior for a different and distinct experience. The trek includes damp eucalypt forests with abundant plant life and cliff top views of the peninsula. The track conditions change throughout the 8-kilometer circuit walk, making it a fascinating challenge at times.
Nubeena Accommodation
Storm Bay Bed & Breakfast
Storm Bay B&B features three guest rooms and a private room for the hosts. Each room has its own bathroom, a lovely soft bed, free Wi-Fi, and a smart TV with Netflix.
There is a community room with a fireplace as well as a huge deck with breathtaking views.
Views across Wedge Bay, Storm Bay, and Bruny Island to the Hartz Mountains and the extreme south west wilderness area reach as far as the eye can see. The vistas are frequently said to as the most breathtaking in Southern Tasmania.
The big terrace also allows you to enjoy afternoon visits from the local wallabies and other wildlife that have made Storm Bay B & B their home.
Harpers on the Beach
Casa Harpers is a one-of-a-kind spot to relax, with waves crashing on 35 metres of direct beach access. A two-bedroom beach hut with a Mexican theme has been refurbished. (Casa Harpers) was constructed and will be available for bookings starting in late 2021. We outfitted the 60-year-old cabin with a mix of modern technology, handcrafted Oaxacan textiles, and original artwork.
Larus Waterfront
Larus Waterfront Cottage is called after the enormous gulls that may be seen resting on the waters of Wedge Bay, Larus Pacificus.
White Beach is a charming portion of the spectacular Tasman Peninsula, and this delightful contemporary villa is located there. The historic location of Port Arthur, great seaside beautiful places, huge national park, and enchanting native animals are all within easy reach. Or just relax and take in the changing moods of the bay and views of Mount Wellington all day.