Halls Falls is a small but beautiful waterfall in Tasmania's north-east corner. This may not possess the well-known reputation of waterfalls like Russell Falls, however the locals will tell you this hidden gem is a must see when in north-east Tasmania. The calm beauty, peaceful and lush forest surroundings and lack of crowds make Halls Falls a memorable attraction.
Visiting Hall Falls doesn't require much of a detour if you're touring the state's north east region. It is near to Pyengana and its famous cheese factory, the beer drinking pig at Pub in the Paddock, as well as the popular St Columba Falls. It's also not far off the major route that runs between St Helens and Scottsdale, connecting the inland of north-west Tasmania to the east coast.
The Halls Falls walking track is accessed from Anchor Road, which runs off the Tasman Highway in Pyengana (north east Tasmania). Drive about one kilometre north on Anchor Road and look out for a small sign.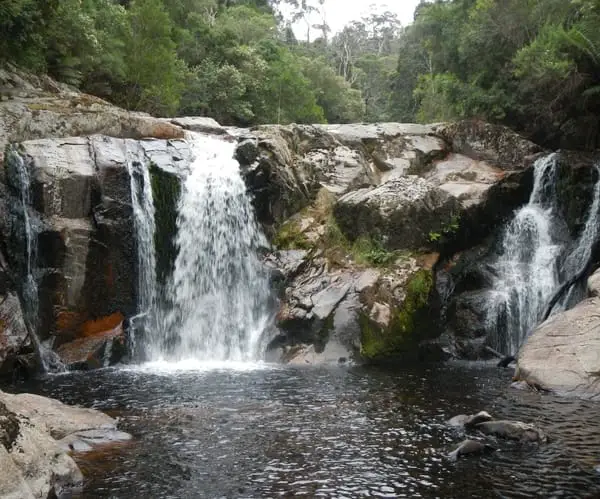 The Halls Falls walk is a one hour return walk, suited for most abilities and age groups. This short trek from the woodland to the waterfall is steeped in history and filled with the serenity of flowing water. Dogs are not allowed, and for the quiet enjoyment of others, drones are not allowed.
At first sight, it may appear to be your typical lush Tasmanian forest… yet they're not all the same. The rainfall in the north east is significantly lower than in the western and southern woods, and this is reflected in the slightly different appearance of the vegetation.
The Groom River is home to Halls Falls, which is fed by a hand-built nineteenth-century weir upstream. The weir was built while Chinese miners were looking for tin in the region's rich mineral veins. Pots, pans, candleholders, oil lamps, and lanterns were all made of tin in the 1880s. Food preservation in cans began as a status symbol among civilians during the Napoleonic Wars, but its popularity expanded throughout the nineteenth century.
This mostly flat trail runs above and below Halls Falls and its picturesque rock pools, providing plenty of photo possibilities. The only part of the hike that is steep is the short descent to the base of the Falls. Like many waterfalls, it's great to visit shortly after a moderate or heavy rainfall for maximum water flow, but even after long periods of no rain in the summer, you'll see a decent level of water here. You'll never miss out!
Above the falls, sidetracks along the Groom River and into the adjacent forest lead to a number of other scenic attractions.