Tasmania's excellent variety of national parks offer multi day hikes to suit those of average to advanced hiking and expedition abilities. These enable you to spend time in some of the most scenic and unspoilt coastal, forest and mountain environments.
Three Capes Track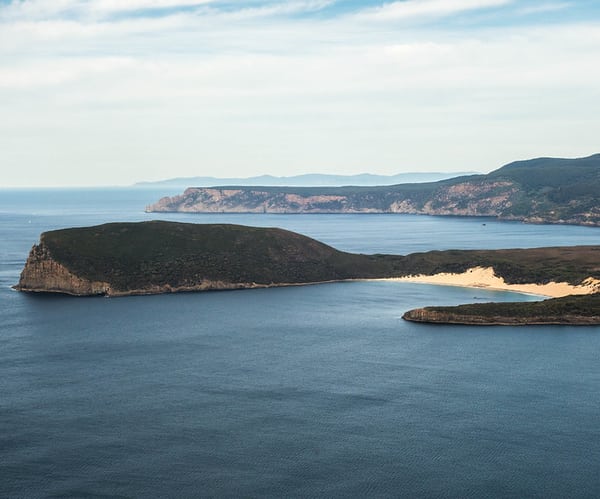 The Three Capes Track is like the Mercedes-Benz of walking tracks. Compared to other popular bushwalks, this track is much newer and has been designed in mind to compare with the great walks in Australia and on an international level.
It's been designed to allow walkers with a more intimate experience with nature while also reducing the impact of tourism in the area. numbers are capped and walkers are required to book ahead and pay a fee. As of November 2020, the fees are adult $495, concession $396, children $396.
But don't let the cost put you off. It's a unique and amazing experience. The 4 day, 48km grade 3 track. It's been designed to a dry-boot standard and can be tackled by anyone who is capable of doing a four day walk and carrying sufficient supplies. You'll truly feel like you're the only humans in the world here, being surrounded by beautiful forest and coastline.
Start the walk on the Tasman Peninsula near Port Arthur Historic Site where you'll take a boat cruise across the bay to the start of the walk You'll follow coastline and climb small mountains along to the end of Cape Pillar and then walk along the east coastline to Cape Hauy, then going on to complete the walk at Fortescue Bay. There are three huts along the way to sleep in, huts which by bushwalking standards you'll be very impressed with, containing mattresses, heating and gas cooktops. To protect the environment and enable you to enjoy a crowd-free experience.
Cape Pillar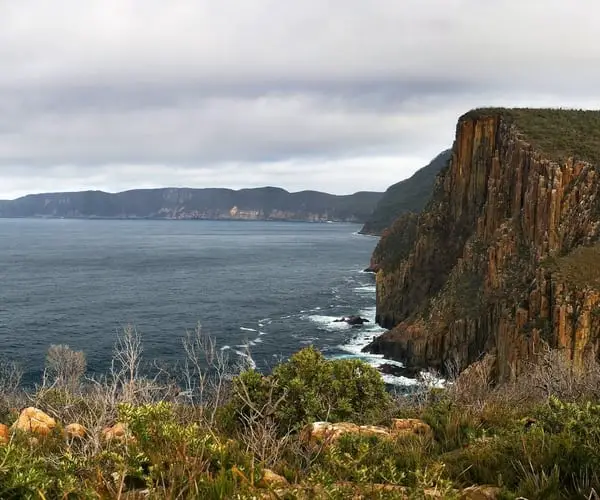 This is another great walk on the Tasman Peninsula that crosses paths in one section with the Three Capes Track. It's a 2-3 day return walk that has some short steep sections but nothing too challenging for most hikers.
Start at the south end of Fortescue Bay and walk on a track that starts inland, guiding you through a narrow path through the forest heading south. This track of varying sites and vegetation will take you out onto the more rugged Cape Pillar where you'll reach one of the most southern points of the Tasman Peninsula, with great views of Tasman Island. If you want to take the long route back, you can return via Mount Fortescue and Cape Hauy, where you can enjoy even more stunning cliff top views.
Overland Track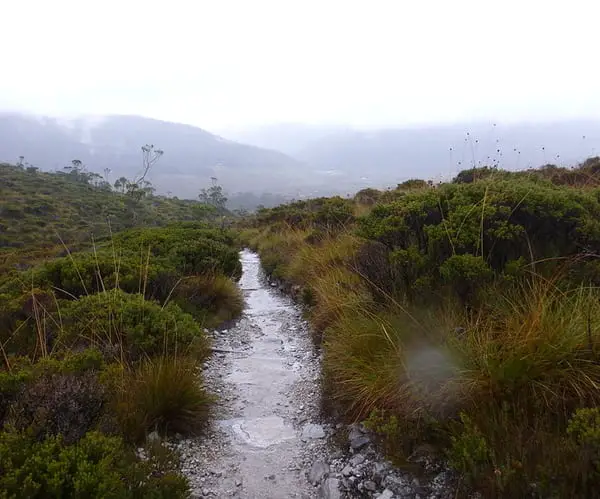 This is probably the most famous multi day hike in Tasmania, a walk that's truly unique and spectacular on a global level. The one way hike takes at least 6 days throughout the Cradle Mountain Lake St Clair National Park. At one end is Cradle Mountain, the other end Lake St Clair, with many amazing sites in between in this world heritage listed area.
The default 6 day 65km walk is amazing in it's own right, but experienced walkers may wish to spend a few more days and take in some of the side walks where you can enjoy stunning waterfalls, Cradle Mountain Summit and Tasmania's highest peak Mount Ossa. You can also extend your trip by walking the 17.5km length of Lake St Clair, or do what make hikers to and book a place on the ferry.
There are huts along the way however during peak periods these can become full, it's a good idea to carry a tent. Most of the walk is at above 1000m in altitude, so even in summer you'll need to carry clothes which are warm and waterproof, as well as grippy, comfortable hiking shoes. As this part of Tasmania is very remote, some hikers will also carry a Personal Locator Beacon, incase of a life-threatening emergency.
Freycinet Peninsula Track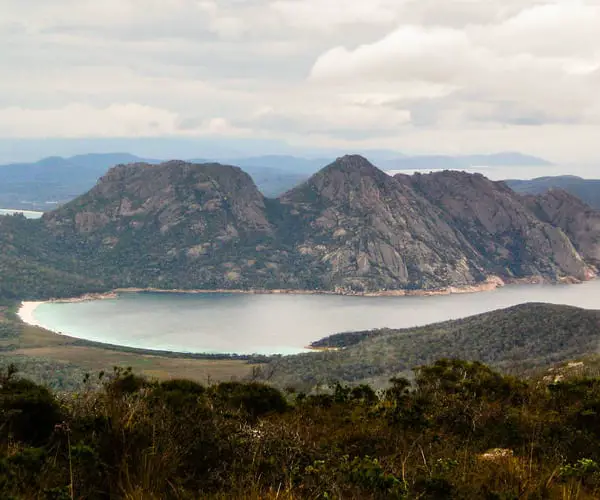 If you feel like you've entered some sort of coastal paradise, it's because you have. This two-three day hike has long, crystal white sandy beaches, mountains that provide expansive views, and beautiful coastal vegetation surroundings. Most people who visit the Freycinet National Park don't verge past the popular day walks such as Wineglass Bay, but those who pack a backpack and take on the multi day hikes are rewarded for their efforts.
This hike starts by walking south down the western side of the Freycinet Peninsula, taking in Hazards Beach and Cooks Beach with the optional side trip to Bryans Beach. As you cross over to the eastern side of the peninsula, you've got a couple of options, both include some steep mountain hiking but excellent views. The standard option is to cross Mount Graham and finish your day at the Wineglass Bay campsite. If you're feeling extra adventurous, you can add a couple of hours in and conquer the Mount Freycinet pinnacle on the way. This is steep, so make sure you've got energy for it.
It's strongly recommended that walkers bring as much water as possible, as the freshwater creeks can often become dry in warmer months. Also bring your own tent and enjoy the great beachside campsites.
South Coast Track
While most overnight hikes require a certain level of fitness, especially when carrying a loaded backpack for days, the South Coast Track is Tasmania's ultimate long distance walk. Don't try this for your first multi-day hike, this is for those who have successfully completed walks of 3-6 days duration beforehand. This hike is 85km and takes 6-8 days hiking through some of Tasmania's most raw, rugged and exposed coastline. It's beautiful and rewarding.
This is a one way walk that most people start from Melaleuca and complete at Cockle Creek. You'll need to take a small plane flight from Par Avion near Hobart. The walk is completed at Cockle Creek where there are public roads and bus tours can be arranged. As this is a long walk with varying conditions, it's not recommended to finish at Melaleuca in case you miss your flight out.
Walls of Jerusalem
This hike is a bit less well-known than the others mentioned, but it's beautiful and rewards those who make the trip with excellent views. It's also got a unique format that gives the walker choice and control over the sites they see and duration of their walking. Most people take the 3-4 hour hike to the Wild Dog Creek campsite where they camp for two nights.
From there, walkers can pick from a number of day walks to sites like Damascus Gate, Dixons Kingdom, Mount Jerusalem, Lake Ball, Trappers Hut and Lake Adelaide. Enjoy a variety of scenery such as eucalypt forests, alpine vegetation and plateaus, dolerite mountains and tranquil lakes.
Frenchmans Cap
We've saved Tasmania's most challenging overnight hike until last.  In the Franklin Gordon Wild Rivers National Park in south west Tasmania, Frenchmans Cap is one of the area's most desired sites.While at 3-5 days and 54km in length, it's not the longest, however the snow, blizzards, low clouds and slipperiness makes this a walk for those who wish to test themselves.
Some sections are so steep that timber ladders are provided. The mountain is 1446 metres tall with a vast white quartzite peak. 
e vegetation and when up high you can see views as far as Macquarie Harbour (not when the clouds are low). There is a variety of native Tasmanian wildlife here including pademelons, wombats, possums, snakes, platypus, echidna and birds.
Fortunately there are basic huts here to help provide shelter in harsh weather conditions. It's recommended that the final section involving reaching the summit of Frenchmans Cap shouldn't be attempted if visibility is compromised or when it's icy or snowy. If you're motivated to complete the hike you may wish to allow some flexibility in your schedule.
It's important that the highest safety precautions are taken here. Prepare yourself with waterproof clothing, backpack and packliner, a sleeping bag that's rated for -10 degrees celsius, proper hiking boots, gaiters, fuel stove, personal locator beacon, map, compass, as well as the usual food, water and first aid kit. Tell someone where you're going and when you expect to return.