The second largest city in Tasmania, and the hub of the north, is Launceston. Forget what those southerners in Hobart tell you, Launceston is a great place to visit. It's got an eclectic mix of exciting new changes, while hanging onto the best parts of it's history.
There are many things to do in Launceston such as outdoor activities, museums, fine dining, festivals, surrounding wineries and golf. It's a great place to spend a few days and explore the city and the surrounding areas in northern Tasmania.
Getting to Launceston
You can fly to Launceston from Melbourne and if you look at the right time you can often catch a good deal with Jetstar. The airport is on the edge of the city, only a 15 minute taxi into the city centre.
If you're already in Tasmania and driving up from Hobart or the east coast, you'll most likely follow the Midlands Highway north into Launceston. This road is easy to navigate and if you continue along it once you reach Launceston, it will take you into the city centre where most of the hotels and attractions are based.
Weather
Typical weather in Launceston is approximately 13 degrees celsius in winter and 25 degrees in summer. Rain and cold winds can occur regularly, so remember to bring a raincoat and warm clothes, even in summer.
Well known for
The Gorge, a rising food and wine culture, the gateway to the Tamar Valley, prominent Victorian architecture.
Launceston Cataract Gorge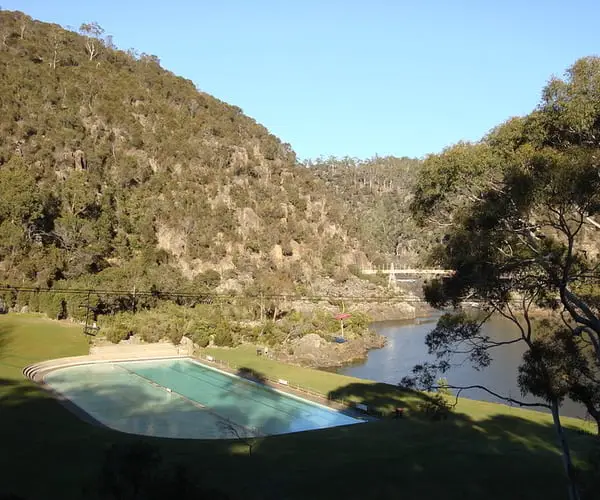 One of the best attractions in Launceston, a right of passage for any visitor, is the Cataract Gorge or "The Gorge" as the locals would say. There's lots to do here for people of all ages and interests.
On the southern side of the gorge is a large open area known as the 'First Basin'. This has a large lawn for picnics, barbeques and relaxing in the sun. There is a large outdoor pool which you must try out on a hot day. Travel doesn't have to be rushed, if you need a lazy place to recharge, this is the place to do it!
Take the chairlift or go for a scenic walk through bush, cliffs and over a suspension bridge (don't worry it's very safe and family friendly) to the northern side of the gorge. Over here you'll see beautiful gardens with lots of shade from the giant trees. Peacocks with long, colourful feathers roam about without care. Wallabies also hop about in the grounds, a rarity so close to the city. There is a nice restaurant as well as a kiosk for quick drinks and snacks.
Location: 74-90 Basin Rd, West Launceston TAS 7250
Admission cost: Entry to the grounds are free, chairlift tickets are extra.
Penny Royal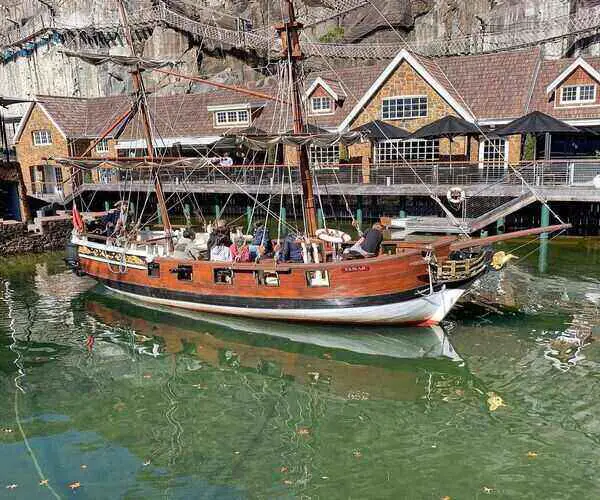 Penny Royal is close to the Cataract Gorge and is another famous and long-running Launceston attraction. In summary, it's a classy, tasteful and educational theme park that both children and parents can enjoy.
There are lots of challenging and fun activities here for children. There is outdoor rock climbing, where children can wear a harness and climb up to 16 metres high in a safe, controlled environment. There are 100 metre long zip lines and several rope bridges suspended high in the air. Travel back in time on an old ship where children can steer the wheel, fire a cannon and learn a bit of history at the same time. There's also gold fossicking and a convict adventure trail.
Adults can have fun here too – there's cellar door wine tasting or enjoy a beer and some pub grub at Brady's Tavern. There's also accommodation available.
Location: 1 Bridge Road Launceston
Admission cost: A park pass which enables all activities costs $39, however if you only want to do one or two activities you can purchase these individually for less.
Launceston City Attractions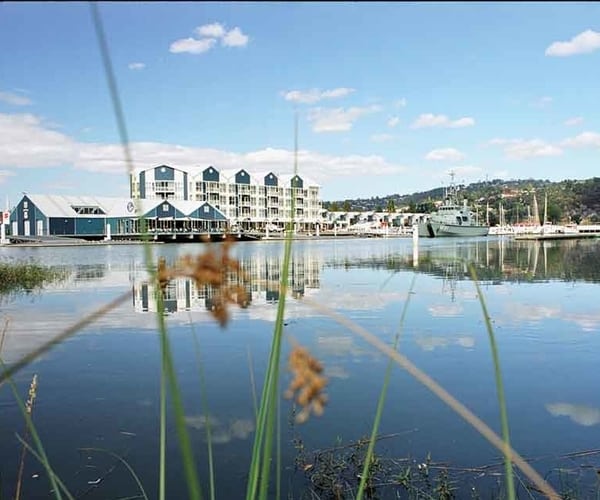 Launceston is a compact and enjoyable city to walk in and see the sights. Enjoy restored colonial and Victorian buildings from the 1800's, as well as beautiful parks on a self-guided walk.
Make time for a quick visit to City Park. It's probably only a short walk from your hotel and you'll be able to see large old elms and oak trees, Macaque monkeys, the City Park Radio Museum and a nice duck pond. 
Royal Park is another great place to walk or relax. It's on the western side of the city centre. Walk along the river edge past a number of old yachts and even hop on a river cruise if you wish.
The new Seaport precinct is another great place to explore. This old shipyard and dry dock has been tastefully converted into one of Launceston's most desirable locations. There's a hotel, cafes, restaurants and many nice yachts to look at.
History buffs will love the Old Umbrella Shop, a National Trust run and protected site. This is a rare place to see what retail was like in the early 1900's. It's cute, quaint and something the curious will love.
On the Merchants Machinery Trail you can explore Launceston's milling and mining history. Visit buildings such as the classy Neoclassical Customs House which was built in 1885, the Batman-Fawkner Inn from 1820, and admire the character of the brick tower from the red brick post office.
Or you may enjoy The Government to Gorge Trail. This leads through the city, past a number of key buildings of key significance in Launceston's history to the beautiful Cataract Gorge.
National Automobile Museum of Tasmania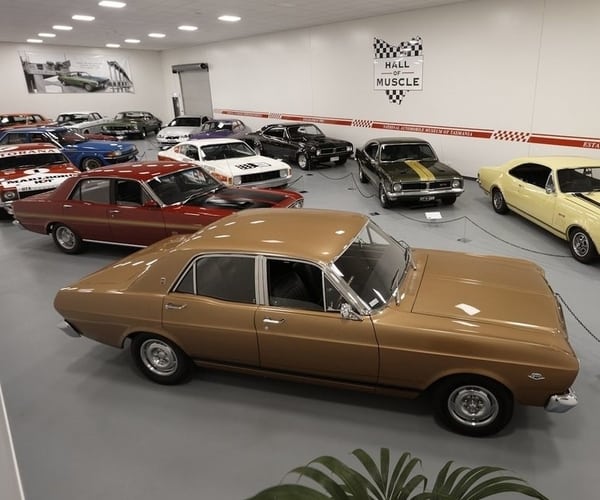 Anyone, absolutely anyone with the slightest interest in cars will find the National Automobile Museum of Tasmania to be fascinating. The depth of this collection will astound you, with vehicles ranging from vintage cars, early European classics such as Jaguars, Porsches and numerous American classics, "The Hall of Muscle" featuring classic Australian Holdens, Fords and Chryslers, as well as modern day supercars. Motorbike fans will also appreciate the fine collection of motorbikes, spanning several decades.
Some of the displays change regularly, so even if you've been in the past, you'll probably see something new next time. The museum has also relocated to a newer, larger site in Invermay.
Location: 84 Lindsay Street, Invermay, Launceston
Admission cost: Adults $14, Seniors $11, Children under 16 $7.50.
Launceston Dining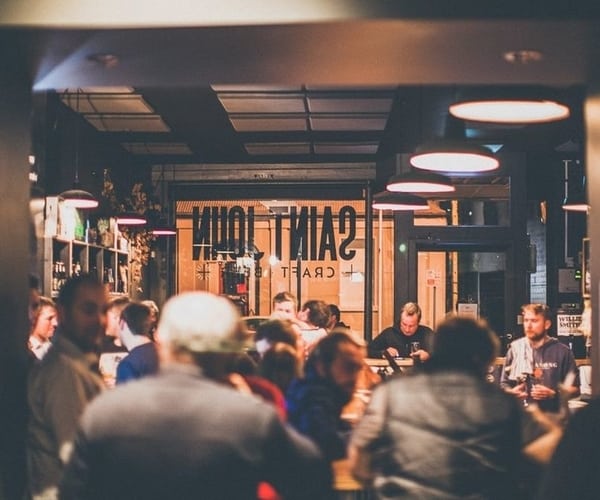 You can be assured that one of the best things to do in Launceston is dining out at their great new restaurants. If you've visited Launceston ten years ago, things are different now, you've got lots of great choices.
Stillwater is one of the newer players that's been filling stomachs and putting smiles on faces. It sits on the edge of the Tamar River, inside an old flour mill. The restaurant often hosts internationally recognised chefs, but one element that remains consistent is the focus on providing the freshest and best Tasmanian food and wine. It's upscale without going overboard.
Rupert and Hound is another one of Launceston's new waterfront options, Situated in the Seaport precinct, this is a great place to sit in a nice, bright restaurant, admire the yachts and share a Tasmanian seafood platter and a bottle of wine.
Geronimo Aperitivo Bar & Restaurant is a longer standing option that's popular with locals and tourists. It serves a range of modern cuisines to a consistently high standard, it'll make you feel comfortable and at home, yet somewhat amazed at the same time.
If you would like some good pub grub and a beer or two, make sure you check out Saint John Craft Beer Bar. This cosy, trendy bar will lure you in for a feed and convince you to stay all night. There's fried chicken, beef, vegan options, something for those looking for a quick feed or a full on feast. Beer lovers will enjoy the selection of 14 tap beers and over 170 bottled beers, ciders, wines and high class spirits.
A brunch or lunch option you can't go past is Bread & Butter. It's a slice of Melbourne in Tasmania, based in a converted warehouse that's been made trendy and inviting with a sense of atmosphere. There's an open-front bakery and kitchen which ads to the buzz. Try the croissants, pastries and great coffee.
Launceston Bars, Breweries & Nightlife
The Ciderhouse is a fun place to have a drink (not just cider, they have great Tasmanian beer, wine and whisky as well), listen to music and mingle with the locals. It's open to midnight most nights and there's often something exciting like a comedy night.
Tandy's Alehouse is another cosy and relaxed place to grab a drink. There's a great selection of Tasmanian and European beers and ciders on tap. Sit back in a cosy booth or chat with the locals at the bar. Without trying to be a British pub, it's got the best parts of a British pub atmosphere, something you're bound to find welcoming.
There's nothing like finding that hidden bar down an alleyway that makes your night complete. If you'd like to stumble across something like this, look out for Kingsway Bar. Perch yourself on a stool with a Tasmanian whisky, gin, or an espresso martini, and take in the paintings on the wall. There's often a band or 'man and a guitar' playing some relaxed bar tunes.
If you're out late or you're keen to hit the dancefloor, it would be a shame to miss out on what's become a Launceston late night right of passage, Lonnies Nightclub. 
Country Club Casino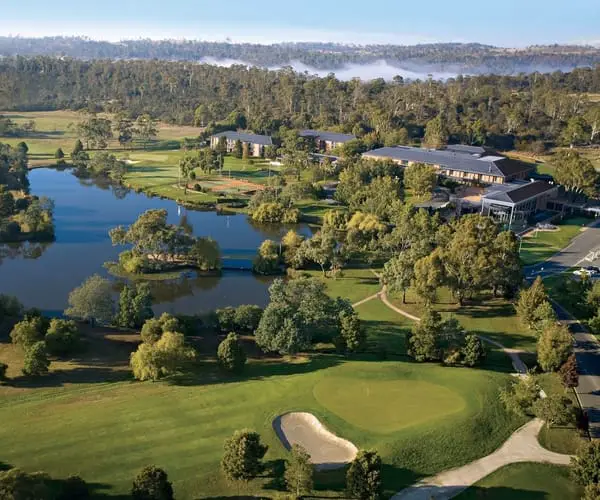 Blackjack, roulette, restaurants, golf, and a place to rest your head at night. The Country Club Casino is another great institution of Launceston. Situated on spacious, luxurious grounds on the edge of Launceston and surrounded by a golf course, the Country Club is a great place to relax with an adult family group or friends. Don't be put off if you've got children, there are nice villa units to stay in and restaurants to enjoy which are separated from the gaming floor.
Festivals & Events
Launceston also has a number of festivals and events worth checking out if you're in the area at the right time. Festivale, Junction Arts Festival, Launceston Beerfest, Mona Foma, to name a few. Those looking for something a little more wholesome can enjoy Harvest Launceston, the farmers market for foodies, which is on each Saturday morning.
Launceston also hosts AFL games several times a year, with the popular Hawthorn Hawks from Melbourne playing a number of their home games at the University of Tasmania Stadium.
Queen Victoria Museum & Art Gallery
Fans of the arts will love the Queen Victoria Museum & Art Gallery. This stunning venue is held in one of Launceston's older heritage listed buildings and comprises several different sections with historical photos from Tasmania's convict days, railway history, the mysterious Tasmanian Tiger, fine arts, natural sciences, international paintings, a planetarium and fun science displays for children.
The facility spans across two sites, with the museum based in Inveresk and the art gallery based at Royal Park. There are permanent and short term exhibitions, so even if you've visited before you might see something new on your next visit.
Location:
Museum – 2 Invermay Road, Launceston
Art Gallery – 2 Wellington Street, Launceston
Admission cost: Entry to both the museum and art gallery is free. There is a small fee to enter the planetarium.
Day Trips from Launceston
Just a short drive north of Launceston is the Tamar Valley, a highly regarded winery region. Enjoy the beautiful scenery on both sides of the river and visit some of Tasmania's best wineries for a cellar door tasting or lunch. Some big names to look out for include Josef Chromy, Ninth Island Vineyard, Tamar Ridge Cellar Door and Moores Hill Estate.
Another nice day trip just outside of Launceston is the beautiful village of Evandale. This picture-perfect town has many historic buildings, cute cottage gardens, and is a great place to walk through the quiet village and have lunch. Look out for the Sunday morning market or visit Clarendon House, one of Tasmania's grandest estates. Other close villages to visit include Longford and Deloraine.