Bruny Island is a special part of Tasmania that's been popular with locals for decades and is now becoming more well known by tourists. It's the fourth largest island in Tasmania; it feels like it is its own little world, but easily accessible from Hobart. Get on the boat and make a visit, you'll never want to leave!
There are many things to do on Bruny Island such as bushwalking, visiting gourmet food and beverage producers, surfing, fishing, admiring unique wildlife, and appreciating history. While there are many outdoor opportunities, it's beauty can be appreciated and enjoyed all year round.
Bruny Island Key Visitor Information
Directions to Bruny Island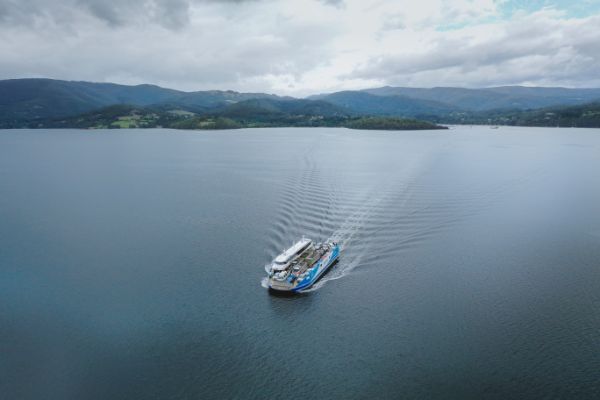 Bruny Island is a 53km drive from Hobart. Unless you take a tour, you'll need to take your own vehicle. It's an easy drive along the Southern Outlet, then the Channel Highway to the small scenic town of Kettering. At Kettering catch the ferry, it takes about 40 minutes to cross the D'Entrecasteaux Channel. Arrive at the ferry terminal early on summer weekends, and public holidays, as plenty of locals have holiday homes here.
Weather on Bruny Island
The weather here is nice, sometimes a little colder than Hobart but not very noticeable. Being a somewhat small island it can be exposed to coastal winds from time to time. However these winds can often be avoided by going to one of the sheltered bays or visiting the opposite side of the island.
Average Autumn Temperature: 17 degrees celsius
Average Winter Temperature: 12 degrees celsius
Average Spring Temperature: 16 degrees celsius
Average Summer Temperature: 20 degrees celsius
Things to Know Before Visiting Bruny Island
Bruny Island, like many remote parts of Tasmania, has poor mobile phone reception with most networks. Telstra has the most reliable reception here, Telstra pre-paid sim cards can be purchased from the Alonnah store if necessary.
It's also a good idea to bring most of your essential needs as shopping here is limited. There are very small, basic supermarkets, and a pharmacy. Fortunately if you like gourmet food such as cheese, chocolate, wine and craft beer you're in luck – you'll find lots on Bruny Island.
History of Bruny Island
Tasman partially surveyed Bruny Island in 1642, a year when the southern waters were still being explored. The South East tribe of Australian Aborigines' Nuenonne band called it home. Between 1773 and 1794 there were brief visits to the island from explorers such as ​​Furneaux, Cook, William Bligh who visited four times and planted the first grapevine and apple tree in Tasmania, as well as the island's namesake, French explorer Bruny d'Entrecasteaux.
Captain James Kelly's grant of land on North Bruny in 1818 marked the beginning of early settlement, which was quickly followed by shore-based whaling operations in the 1820s. From 1831 until 1846, convict labour was employed to develop a pilot station in Variety Bay, and in 1846, St. Peter's church was constructed nearby. The Cape Bruny Lighthouse was built in 1836 with the assistance of prisoners. A sandstone quarry gave stone for structures like the Melbourne Post Office while fruit orchards and sawmills supplied lumber as far away as Europe. Land was cleared to develop sheep and cattle farms. In the late 1880s, a coal mine was in operation, and oil prospecting was done in 1915 and the 1930s.
Nowadays Bruny Island is a popular tourist destination. It has progressed from an island mostly visited from the locals of southern Tasmania who enjoyed the beaches, fishing and walking, to interstate and overseas travellers who enjoy these attractions as well as the booming gourmet food, winery and brewery scene.
Things to do on Bruny Island
Bruny Island Neck Lookout & Beach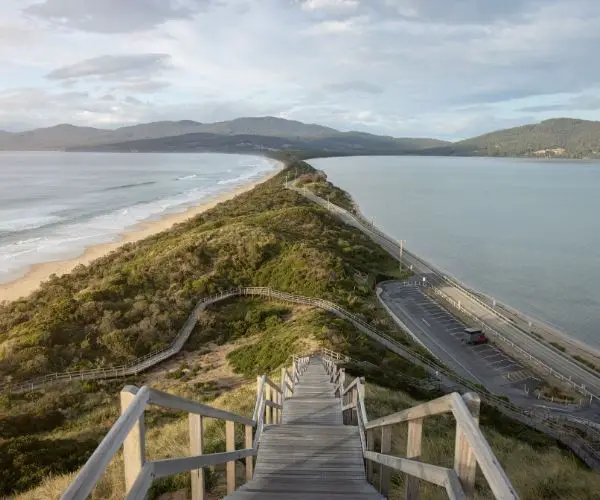 An almost compulsory thing to do in Bruny Island is visit The Neck Lookout. The Neck is a narrow, long isthmus connecting the north and south ends of Bruny Island. Park your car and take the steps up the dunes to the lookout. From here you can see amazing 360 degree views of the water on both sides of the neck, as well as the rest of the island and mainland Tasmania.
At the neck lookout you might be lucky enough to catch a glimpse of the rare local birdlife that resides here, including small penguins and short-tailed shearwaters. On the east side is a long, wide, sandy beach that's great for walking, lazing in the sun or swimming.
Fishing on Bruny Island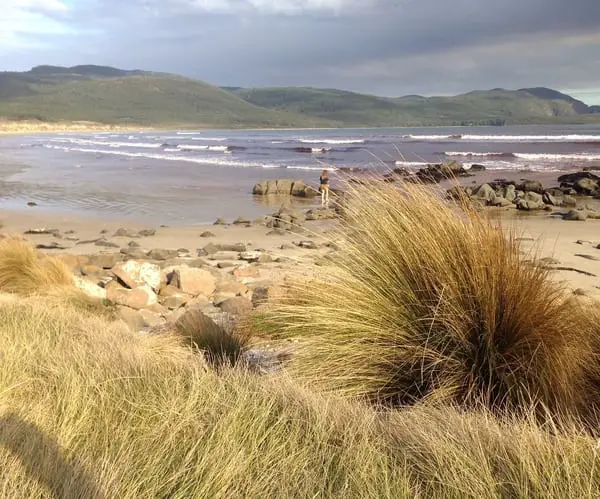 Bruny Island also offers excellent fishing opportunities. The neck beach is one of the more reliable places for catching flathead and gummy shark, with Adventure Bay also providing good opportunities. If you're there at the right time you could also come across a school of Australian Salmon.
Cloudy Bay Lagoon is a hidden gem that will take a bit of effort to get to. Once you're there you can tap into a good supply of Leatherjacket and Flathead. Towards the mouth you can find Australian Salmon and Bream, the Bream will challenge you however!
The wharf at Allonah is another good place to fish, and if you don't catch anything you can always retreat to the pub! Flathead, Squid, Wrasse and Leatherjacket are regularly caught here.
Barnes Bay is a great fishing location that's a bit more sheltered, ideal when it's windy and rainy. The old wharf is a good place to fish for Flathead, Morwong, Mackerel, Mullet and Cod. 
Adventure Bay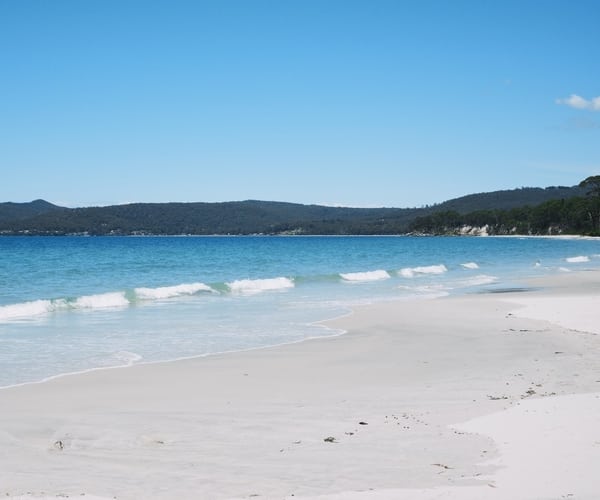 Adventure Bay on the east side of South Bruny is a great place for some kayaking, stand up paddleboarding or swimming. It's a calm beach that's popular with families and has many accommodation options.
Cloudy Bay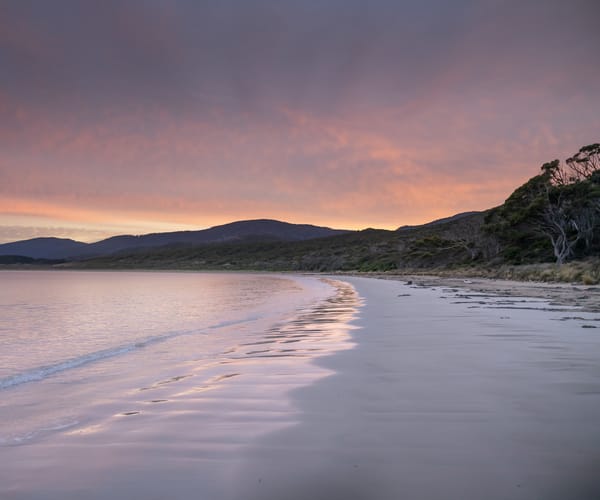 Cloudy Bay is a peaceful, natural spot with stunning scenery of bush and water views. The number of buildings or other signs of human civilisation is minimal. Cloudy Bay, Bruny Island is a popular place for residents of Tasmania's capital city Hobart to visit, with many things to do for nature lovers such as camping or surfing.
The beach here is known for providing consistent conditions for beginner to intermediate level surfing except for a decline in waves during summer. There's usually good surf at all stages of the tide, with consistent rideable swell and light offshore winds.
Alonnah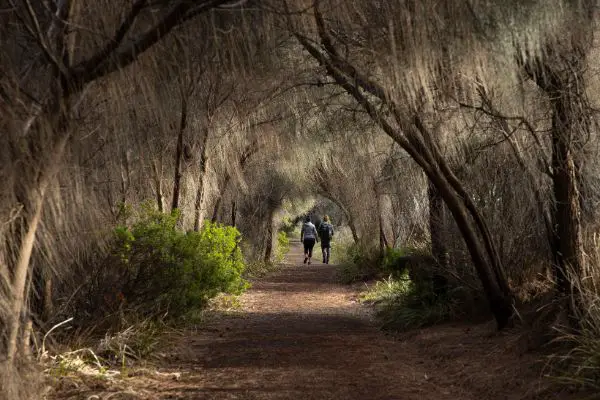 Alonnah is a nice small locality in the south west part of Bruny Island. There are some great views here across the D'Entrecasteaux Channel, there are some good accommodation options here which take advantage of this.
Learn more about the islands history and see some great photos at the Bruny Island History Room. If you would like a nice walk that's not too difficult, take a look at the Sheepwash Bay Track.
The island's pub, Hotel Bruny, is in Alonnah. This pub does a great job of serving traditional pub favourite food and fresh seafood, all using high quality local ingredients that leave you feeling satisfied. There's a warm fire to sit by in winter with a hot cider and on warmer days there is a deck with great water views to admire.
Scuba Diving & Snorkelling
The northern part of the D'Entrecasteaux Channel in which Bruny Island lies is rather sheltered and in some parts offers great diving and snorkelling. These areas include the cliffs of Cape Labillardiere and in the north east of the island, where you can see sea cucumbers, bottom-dwelling fish and scallops.
Bruny Island Walks
Bruny Island walks let you come close and enjoy amazing, untouched scenery and walking tracks that let you experience this up close. Tall cliffs, sandy beaches, native forest and wildlife are in abundance.
Fluted Cape Walk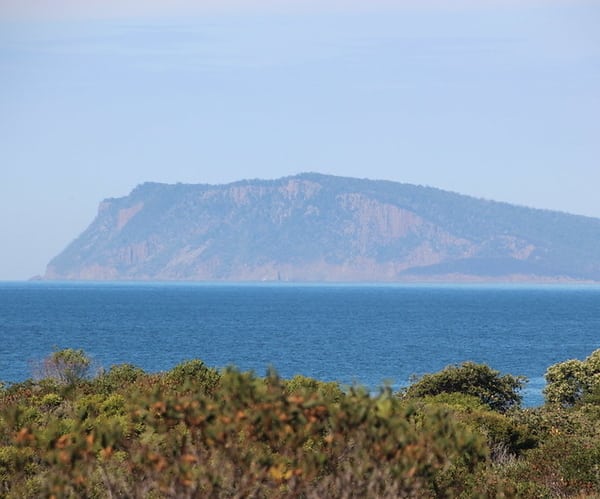 At the east end of Adventure Bay there are some high cliffs where you can enjoy the Fluted Cape Walk. This is a 4km, 2.5 hour circuit walk is located within the South Bruny National Park. You'll start on the sandy beach walk through a dry eucalyptus forest, a thicker Sheok forest to Grass Point where you'll see relics from where the area was used for whaling in the early 1800's. The trail then becomes steeper and you can enjoy the views of the tall dolerite cliffs and views across the water.
Labillardiere Peninsula Walk
Another scenic walk for those keen for adventure is the Labillardiere Peninsula Walk. It's a 5 hour, 14km circuit walk around the perimeter of the scenic Labillardiere Peninsula. On the east side you can admire the calm, tranquil Great Taylors Bay  The halfway point of the walk is a great place to have lunch on the wide, deserted beaches. Return on the west side and enjoy the more open coastal views of the D'Entrecasteaux Channel as you walk through some semi-dense ferns and vegetation. Look out, you may see some echidna's if you're lucky! The diversity of this walk makes you feel truly spoiled at the end.
East Cloudy Head Track
Another excellent coastal panorama is the East Cloudy Head Track. It's a 4 hour return walk, along 12km of South Bruny coastline. The first part of the walk is along the sandy Cloudy Bay beach. At the south end of the beach you will take a track along a number of small dips and mounds in light bird-filled bush. This track will lead you to Cloudy Head where you can enjoy stunning views all across South Bruny. On the clearest of days if you look north-west you can catch a glimpse of Mount Wellington.
Places to Eat & Drink on Bruny Island
Spread out throughout the island are a number of small-scale, gourmet food producers. You're able to visit their properties and enjoy their offerings in a boutique setting. 
Get Shucked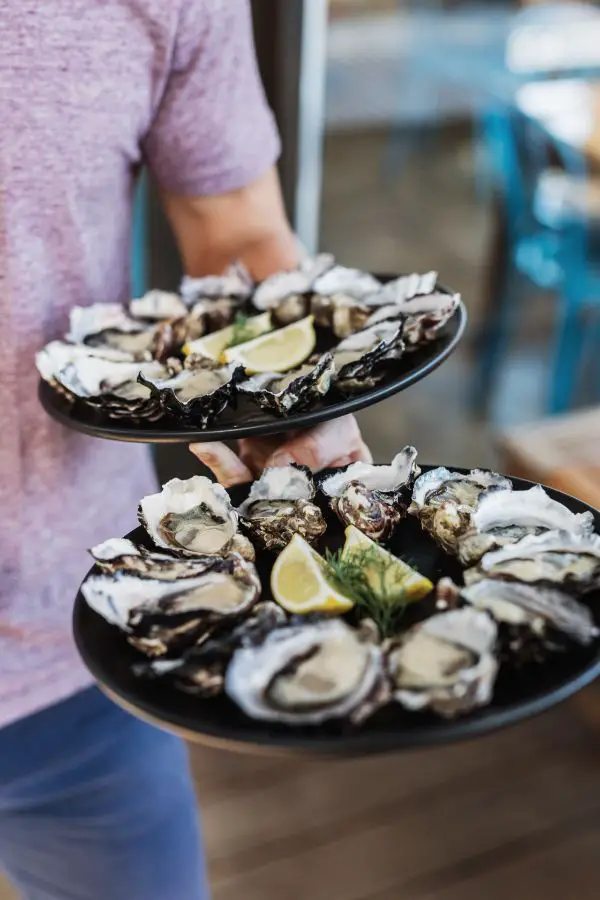 Seafood lovers it's time to go get shucked at Get Shucked Oysters! Next to the farm is a beautiful oyster bar with large windows allowing you to look out over the water and enjoy the view. Enjoy fresh, local oysters natural or cooked, with a glass of Tasmanian wine, beer or cider. There's even an oyster drive-through if you want to take a few fresh ones home with you.
Bruny Island Cheese Company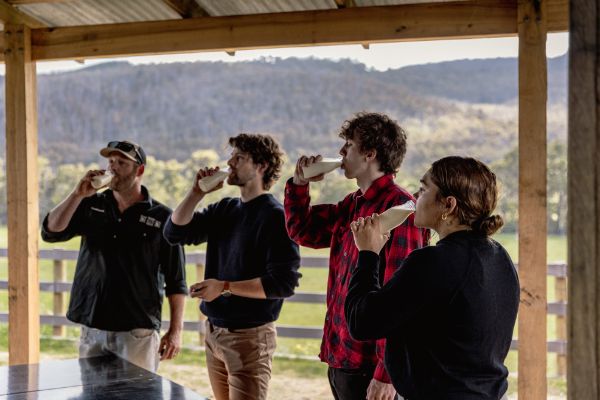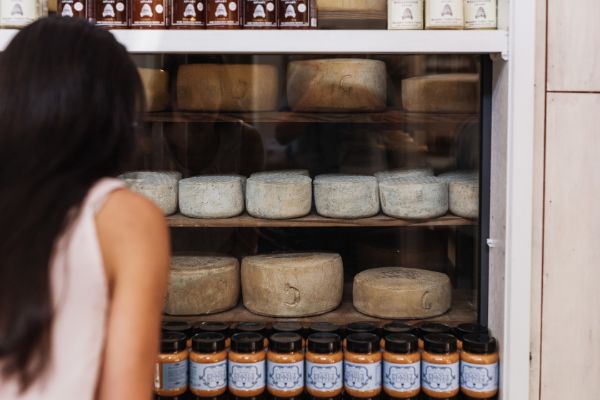 Enjoy visiting a cheesemaker with a twist of fun at the Bruny Island Cheese Company. Founder Nick Haddow has experience in the great cheese making regions of Europe and the US. Nick has taken this experience and fondness of traditional techniques and mixed it with some Tasmanian freshness and charm. Visit and sit under the gum trees, and enjoy a cheese board and some sourdough bread, wine or beer.
Bruny Island Beer Company
On the same property as Bruny Island Cheese Company you can also enjoy the Bruny Island Beer company. Enjoy quality microbrewed dark ales, IPA's, pale ales and stouts. Beer and cheese, can't go wrong!
Jetty Cafe

At the very northern end of the island at Dennes Point you have Jetty Cafe at Bruny Island Wild. This is an amazing venue with lots of natural timber, a high ceiling, huge windows for natural light and outdoor decking where you can enjoy the views. It's a great place to enjoy breakfast, lunch or dinner. Check trading days/hours and book beforehand, at the time of writing Jetty Cafe only opens on Fridays, Saturdays and Sundays.
Bruny Island Premium Wines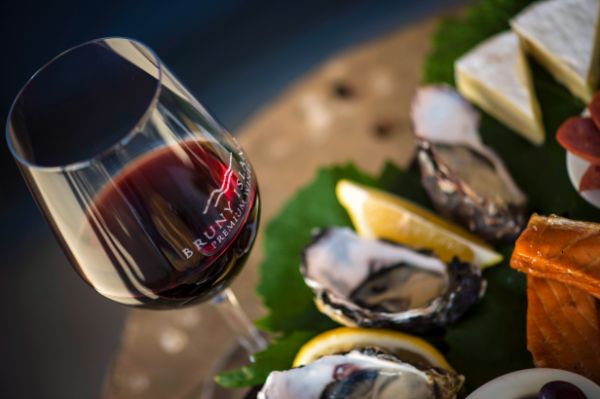 Visit Australia's most southern vineyard – Bruny Island Premium Wines. On gentle slopes overlooking the water outside of Lunawanna, you can visit a family-run vineyard producing exceptional Pinot Noir and Chardonnay. It's a great place to drop in for lunch, with the food created under a farm-to-fork, nose-to-tail philosophy.
Bruny Island House of Whisky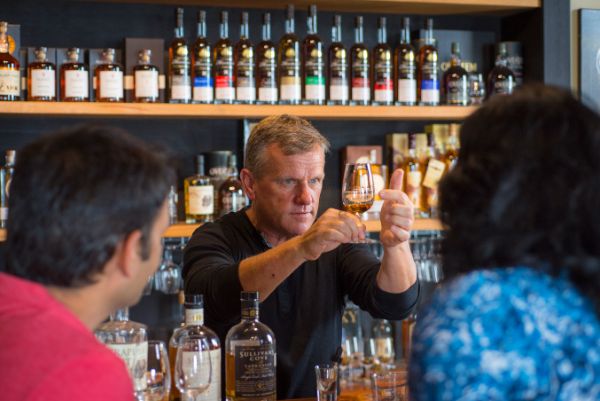 True Whisky fans will be impressed with the Bruny Island House of Whisky. Visit and enjoy fine whisky in front of a log fire with stunning water views. This place is highly regarded for producing fine single malt whisky, including the Trapper's Hut single cask range, with some bottles retailing at over $1500 Australian dollars.
Hotel Bruny
If all this sounds a little too fancy, don't worry. Hotel Bruny in Allonah is known for great seafood, steaks, parmas and other traditional pub meals done well. There's a warm fire to sit by in winter with a hot cider and on warmer days there is a deck with great water views to admire.
Bruny Island Accommodation
While Bruny Island isn't far from Hobart, we would recommend staying a couple of nights here so you can enjoy the scenery and destinations on offer. If you're staying in warmer weather and are keen to enjoy outdoor activities such as the beach, kayaking, surfing, fishing or diving, you could easily spend a week here and not get bored.
Check Bruny Island Accommodation availability.
Cabins & Caravan Parks
There are nice cabins to suit all budgets located throughout Bruny Island, these can be booked through the main booking websites and AIrBNB. Adventure Bay is a great all-round location, and a destination where you could spend most of your trip. However Cloudy Bay and Allonah have some great locations on offer with stunning views. These may be more suited towards those looking for somewhere quiet and cosy.
Camping
There are a number of public camping grounds available in some of the most brilliant beachside locations. No bookings are available here, it's first come, first served for anyone with a tent or caravan. Most public campsites require cash payment to be left in a locked box. As of November 2020, the cost is $10 per night for 2 people, additional adult or child $5 each per night. Park entry fees also apply.
Jetty Beach is a great spot for families, being set up in a sheltered part of Great Taylors Bay, with good facilities setup in shelter. It's a great place to relax on the beach or for families to get in a kayak, play beach cricket or swim in sheltered water.
Cloudy Bay offers two campsites at this stunning beach. The Pines is a small campsite that's often used by surfers and bushwalkers. At the far end of Cloudy Bay beach is the second and larger campsite, Cloudy Corner. This is a stunning location that's away from towns, buildings and anything that resembles civilisation, perfect! However to access this campsite you do need to drive along the 3km beach at low tide, so it's only suitable for those with a four-wheel drive.
The Neck also provides a campsite for those who want to enjoy the stunning beach and views for a little bit longer. It's situated at the southern end in a sheltered spot in the sand dunes.
If you'd prefer somewhere that can be booked, or offers a few more facilities (kitchen, shower, laundry etc) take a look at Captain Cook Holiday Park at Adventure Bay.