Cloudy Bay is a highly rated beach at the very southern end of Bruny Island in Tasmania. Due to its accessibility it doesn't receive the higher visitor numbers of Adventure Bay, but those who do make the effort are truly rewarded.
It's a peaceful, natural spot with stunning scenery of bush and water views. The number of buildings or other signs of human civilization is minimal. Cloudy Bay, Bruny Island is a popular place for residents of Tasmania's capital city Hobart to visit, with many things to do for nature lovers such as camping or surfing.
Key Travel Information
Directions to Cloudy Bay
Region: South-East Tasmania
If you're driving from Hobart, you'll need to drive 53 kilometres south to the Bruny Island ferry terminal in Kettering. A 40 minute ferry ride will take you and your vehicle across the  D'Entrecasteaux Channel. Then drive for 49 kilometres along Lennon Road which turns into Bruny Island Main Road.
If you're planning on camping at the Cloudy Bay campsite, it's important to note that there are no sealed or gravel roads to the campsite. Access is via driving for 5 kilometres along the beach or walking. While the beach has firm sand in parts, which does enable some two-wheel drive vehicles to make the drive, there is a risk you could get stuck. It's recommended that you make this journey using a four wheel drive vehicle.
Weather
The weather here is some of the best in Tasmania, avoiding the extremes of the more southern parts of the state. If the northern end of the beach is a bit windy, the southern end is often calmer.
You can get sunburn here if you're not careful so remember to use sunscreen and protective clothing. Most people will find the water nice to swim in during summer, outside of this many will prefer to use a wetsuit.
Average temperature in summer is 20 degrees celsius
Average temperature in autumn is 17 degrees celsius
Average temperature in winter is 12 degrees celsius
Average temperature in spring is 16 degrees celsius
Best Known for
Being your own piece of paradise. A great place to go camping that feels like it's isolated but really isn't!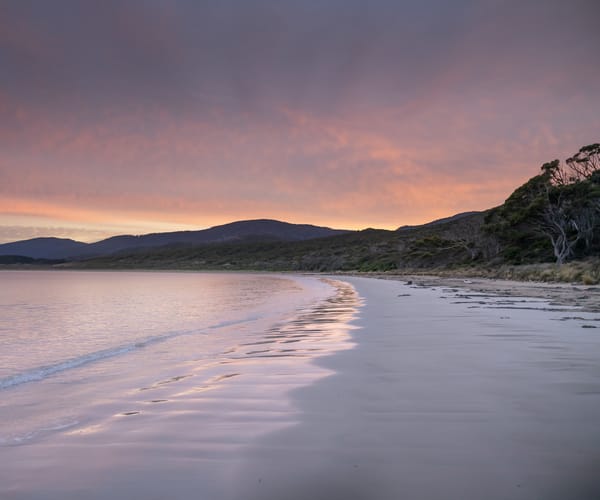 Things to do at Cloudy Bay, Bruny Island
Cloudy Bay Beach & Surfing
Cloudy Bay Beach offers a range of diverse conditions for everyone. At the northern end where you enter the beach, the water is wavy and popular for surfing. Many people from Hobart visit Bruny Island just to surf here. Cloudy Bay hosts the annual 'Bruny Island Surf Classic' event.
At the southern end the water is mostly calm. It's great for more leisurely swimming, kayaking and stand-up paddle boarding.
Cloudy Bay Camping
You've got two options for camping at Cloudy Bay. The first is at The Pines, which is situated at the northern end of Cloudy Bay. This is popular with surfers due to its proximity to the waves as well as those without a suitable vehicle to reach the southern camp site. This is a basic, free campsite behind the dunes.
At the south end of Cloudy Bay is what we'd call the better of the two camping grounds. We'd even say it's one of the best camping grounds in Tasmania! You can camp close behind the beach in a spread-out campsite that's sheltered by large gum trees. It's a great place to spend the day swimming, fishing or lying on the beach, then sitting back and watching the sunset in the evening.
Both campsites have pit toilets and a limited supply of non-treated water. Fires are permitted in the fireplaces setup there only. However during warmer months there will often be fire bans in place to avoid bushfires. For these reasons it's ideal to bring a camp stove.
No bookings are required, it's first in best dressed. The campsite at the southern end has a small fee which is payable in cash via a deposit box.
The fees as of May 2021 are:
1-2 people: $10.00 per night
Additional adults: $5.00 per night per additional adult
Additional children: (5-17) $2.50 per night
Family: (2 adults, 3 children) $15.00​ per night
Children under 5: no charge
Cloudy Bay Beach House
For those who prefer a solid roof over their heads, Cloudy Bay Beach house is an amazing modern 5 star luxury property with unspoilt views of Cloudy Bay. It's a modern masterpiece with floor to ceiling windows which flood the living area with natural light and beautiful views. There are large couches and an open kitchen dining so you and your guests can enjoy uninterrupted views of the scenery. Despite the large windows, it's incredibly private. You're on one of the very few properties in the area.
Other Cloudy Bay Accommodation
For those wanting something in between camping and five star luxury, there's a small selection of other accommodation options at Cloudy Bay. Cloudy Bay Cabin is a nice property with a real Australian beach shack feel. This property sleeps six people and is situated not far behind the dunes about half way along the beach. It's great for couples, families, surfers or those who just want to getaway for a few days and enjoy everything that Cloudy Bay has to offer.
Cloudy Bay Villa is a large comfortable property sleeping 10, situated at the northern end of the beach. This is a great property for large families and groups. 
Cloudy Bay Lagoon Estate is similar alternative to Cloudy Bay Beach House. It's a large, modern property with expansive space, big windows with plenty of natural light yet lots of privacy. It sleeps 12, another option for large groups or families travelling together.
Banner image source: Jess Bonde