We're going to try and tell you all the things to do in Coles Bay and the Freycinet National Park, but really there's so many attractions here. Please forgive us if we miss one or two!
There's everything you need here for sunny day fun, from beaches, boating, fishing, camping, short walks, long walks, lookouts, mountains, amazing seafood and more. There's walks, activities and relaxation opportunities here for the adventurous and those looking to take it easy.
Getting to Coles Bay & Freycinet National Park
Coles Bay is a village situated on Tasmania's east coast, approximately a 2.5 hour drive from Hobart and a 2 hour drive from Launceston. As you drive between Swansea and Bicheno, you'll notice some large granite mountains in the distance and then you'll turn off onto Coles Bay Road where you'll start getting closer to these mountains and the Freycinet National Park.
Weather
Coles Bay and Freycinet National Park have some of Tasmania's best weather. Temperature is usually 1-2 degrees warmer than Hobart. Like most coastal regions of Tasmania, it can sometimes be be windy, however the bay protects the beaches from this more than other areas of the east coast. As there are beaches facing different directions, if the wind is blowing hard in one beach, you can usually find shelter in another.
Winter (June – August): 14 degrees celsius
Spring (September – November): 17 degrees celsius
Summer (December – February): 23 degrees celsius
Autumn (March – May): 19 degrees celsius
Well known for
Wineglass Bay. Being a place where everyone, young to old, relaxes and enjoys the beach. Great bushwalking. Sunny skies. A very natural feel, no high-rises, concrete jungles or other forms of over-development.
Wineglass Bay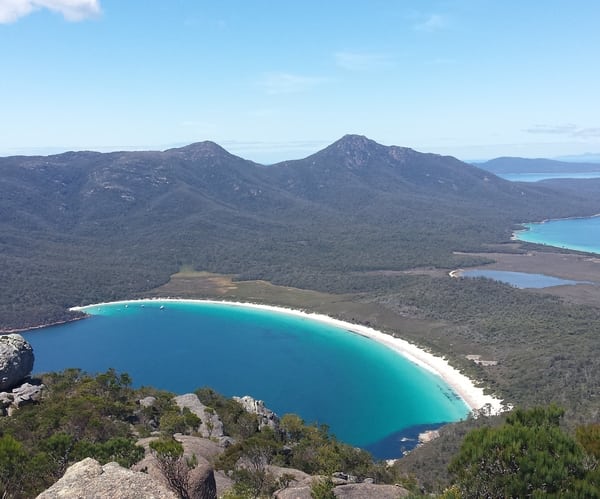 You've probably seen photos of the shiny white sands of Wineglass Bay and decided that you must see this destination. Rightly so, it's even more amazing in real life!
As the name suggests, the bay is shaped like a wine glass, with rich blue water, and a large beach with the whitest sands. As Wineglass Bay is well-and-truly inside the national park, this beach hasn't been spoiled by development. In fact all you'll see beyond the beach is beautiful, natie bush.
The walk to Wineglass Bay takes about 1.5 – 2 hours return, but realistically you should allow for longer times so you can take a couple of breaks and enjoy the scenery. The first half of the track is uphill but has been improved over the years and is now rather easy for those of moderate fitness and ability. At the halfway point you can catch your first glimpse of Wineglass Bay at the lookout. Walk downhill for another 20 minutes you've made it. Relax on one of the nicest beaches you've ever seen, or continue walking along to the other end of the beach on a 40 minute return walk.
Complete the walk the same way you came or take the longer route home via Hazards Beach.
Mount Amos
The Wineglass Bay lookout is impressive, but if you want to see the Freycinet National Park from the highest point, take the longer walk to the highest mountain in the Hazards range, Mount Amos. This is the highest mountain in the Hazards range, you've probably been eyeing it off from your campsite or hotel room.
It's a steep walk that'll see you climbing on your hands and knees over large rocky boulders in sections. For this reason we strongly recommend that you don't attempt this walk during or after rain when it's slippery, or if you're not comfortable with your physical fitness and abilities. We recommend preparing yourself well with grippy footwear, warm and rain resistant clothing, as well as food and water – there's no shops or taps here.
If you're adventurous, these challenges probably make you want to tackle Mount Amos even more. And you should, it's amazing, rewarding and the summit is truly spectacular. You're given a certain degree of freedom at the top to explore the giant boulders, so you can perch yourself somewhere interesting and really enjoy the scenery. As you would expect, less people attempt this walk so the track is quieter and you're really able to enjoy the experience without people taking selfies in your way!
Other Walks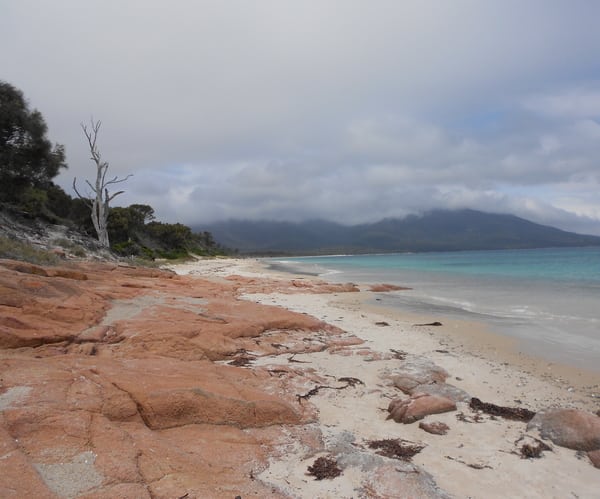 A good all-round day walk for those visiting Wineglass Bay is to take the isthmus track and walk half an hour through flat, coastal bush to Hazards Beach. Here you'll see another beautiful white sandy beach with large brown/red boulders at the northern end.
If you want to explore deep into the Freycinet National Park and go beyond the popular day-walk sites, there are a number of walks and campsites that you'll love. Spend three nights (or longer if you want some beach time) camping at either Wineglass Bay, Hazards Beach, Cooks Beach or Bryans Beach.
Enjoy the Best Beaches on the East Coast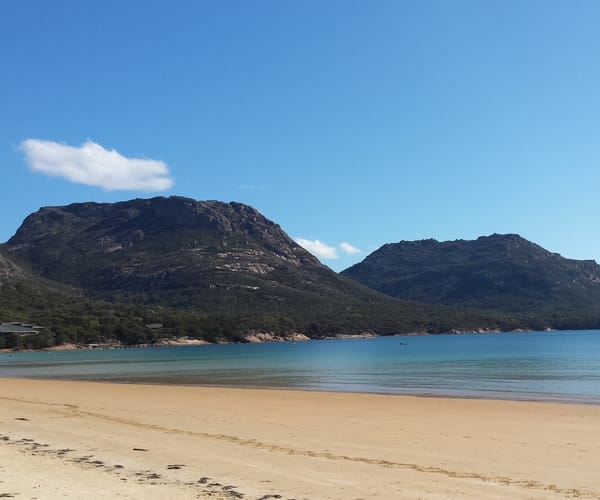 Most coastal holiday destinations offer one beach, maybe two. Coles Bay and the Freycinet National Park offers more than ten beaches. In Coles Bay you'll find Mures Beach on one side and Richardsons Beach on the other side of the village. Usually if one of these beaches is a bit windy, the other will be calm. These beaches are long, sandy and a great place to walk, relax, swim or spend time with the family.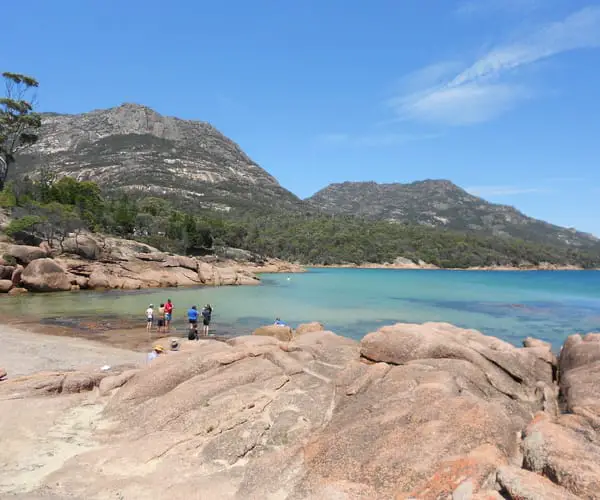 Near Richardsons Beach in the national park is Honeymoon Bay, a very small sheltered beach with large granite boulders on each side. This is a great place to explore with children, bring a picnic and relax, spot a wallaby or two, or watch a sunset.
If you're a surfer, you're best option is the Friendly Beaches, just outside of the Coles Bay village. Don't let the name fool you, there are often some big waves here, the biggest in the area. That's because most Coles Bay beaches are sheltered by the bay, but the Friendly Beaches faces east, directly facing the ocean.
Recreational Activities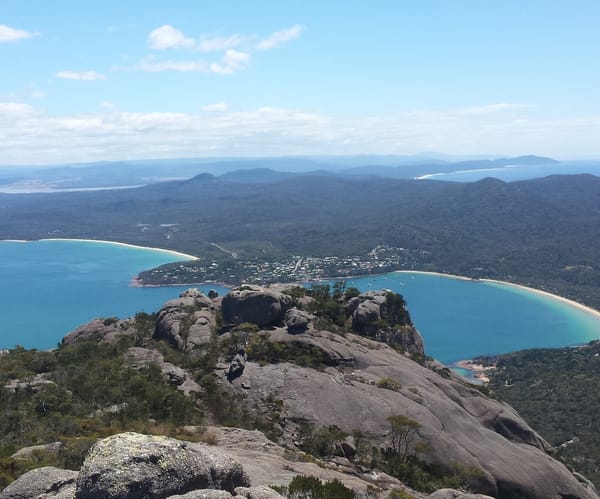 Many holiday makers spend several days, even a week at Coles Bay, mixing their beach and bushwalking with a range of recreational activities. Fishing is popular, with Flathead the most commonly caught fish in the area, and great to cook on the barbeque. If you're lucky you might catch one or two off the rocks or jetty. The best way to fish here is to use a boat and find a good spot in the bay. There are boat ramps just off Garnet Avenue and at Mures Beach. If you don't have a boat, you can hire a dinghy with a small outboard motor from the supermarket in Garnet Avenue.
Kayaking, and on windy days, windsurfing are also great options as well, particularly around the Coles Bay village, Richardsons Beach and Honeymoon Bay areas. If you don't want to go out too deep you can stay close to the shore and explore rock pools, beaches and enjoy the great scenery. There are also guided kayak tours where the local experts will show you all the best sites.
Another fun guided tour option is a quad bike tour. These take you to secluded parts of the Freycinet National Park including Bluestone Bay, the cliffs close to the Cape Tourville Lighthouse and out as far as the Friendly Beaches.
If you'd like to experience your own beautiful island for a day (or an island with only a handful of people), arrange for a boat to drop you off at Schouten Island. This island is just off the bottom of the Freycinet Peninsula and offers beautiful crowd-free beaches, nice hiking and if you camp and stay the night, you could spot a penguin or two.
Accommodation
If possible we recommend spending a few days in Coles Bay. It's a great place to base yourself and either relax at one of the many beaches, enjoy the variety of activities on offer or explore the entire east coast of Tasmania.
There are a number of holiday homes which are available for accommodation throughout the year. There are also some brilliant options, right inside the Freycinet National Park. Camp inside the sand dunes of Richardsons Beach and Honeymoon Bay, or enjoy some eco-comfort at the Freycinet Lodge. 
Those looking for something a little upscale; the best accommodation that Tasmania has to offer, will love Saffire Freycinet, situated just outside Coles Bay.