Arthur River is a wonderful base for exploring the Tarkine wilderness, Tasmania's biggest tract of temperate rainforest, and is named after the wild river that runs from the highlands to the sea. During the summer, when shack users return to take advantage of the nice weather, the population explodes. The location is popular with bushwalkers, anglers, and four-wheel drives since it allows them to get off the beaten path and into the wild. For many, Arthur River serves as the northern gateway to the Western Explorer (roadway) that connects the coast to the stunning Tarkine wilderness area.
Take a boat through the Arthur-Pieman River Protected Area or enjoy the beach scenery or bushwalk along the coast, where you can see white-bellied sea eagles, platypus, orange-bellied parrots, kingfishers, and Tasmanian devils.
You can also do it yourself by renting a canoe or boat and exploring at your leisure.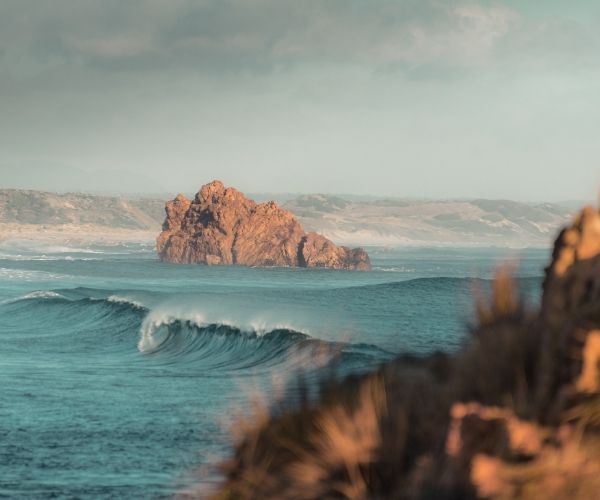 The Edge of the World is a symbol of the area's raw beauty on the shoreline near the Arthur River's mouth, and it certainly feels like it at times. The churning effect created by the combination of ocean currents and river flow near the river's mouth deposits ancient logs on the beach. This beach is beautiful, secluded, and frequently battered by Roaring Forties winds.
The Western Explorer, which leads to Corinna and the Pieman River to the south, is popular with four-wheel drivers. Even when the holiday shack dwellers arrive in the summer, there is plenty of peace and quiet with a regular population of only about 25 people. There are a variety of accommodations available, from good campsites to holiday homes.
Key Travel Information
Getting to Arthur River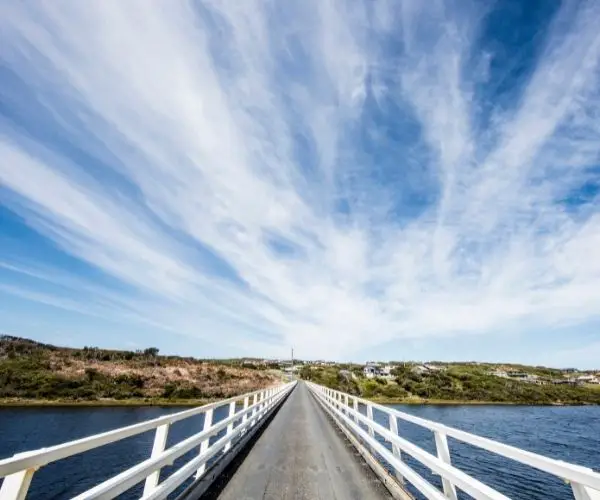 Arthur River is a 471km drive (5 hours and 15 minutes) from Hobart. This is the shorter route, taken if you drive north on the Midlands Highway to Launceston, then following the north-west coast. Some people may choose to drive through Queenstown to Strahan and follow the west coast in a northern direction, which will take longer. Whichever option you choose, we recommend doing the trip over at least two days and enjoying the variety of things to do along the way.
Arthur River is a 291km drive (3 hours and 15 minutes) from Launceston. Follow the Bass Highway
Weather
Arthur River, like most parts of Tasmania's West Coast, is often vulnerable to cold winds and rainfall throughout the year. Take that into account, the average temperatures listed below don't paint a complete picture!
The average temperature in summer is 21 degrees celsius
The average temperature in autumn is 17 degrees celsius
The average temperature in winter is 13 degrees celsius
The average temperature in spring is 16 degrees celsius
Best Known for
A place for the rugged outdoors.
Attractions at Arthur River
Arthur River Cruises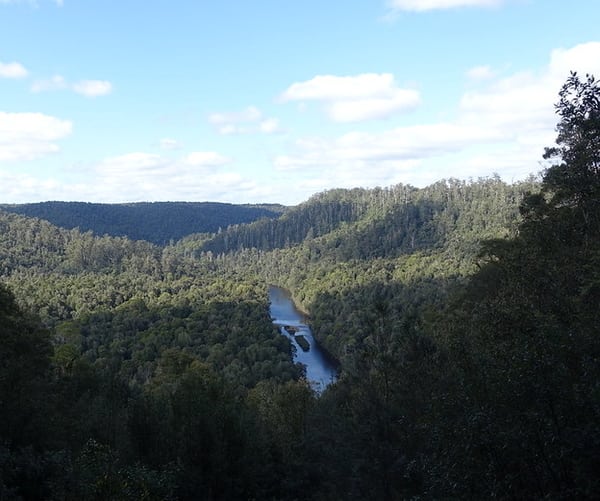 A R Reflections River Cruises offers a six-hour Arthur River eco-cruise into the Tarkine region, which passes through stunning terrain. The attractions of this Tasmanian tour include pristine nature, waterfalls, platypus, native quoll, blue kingfishers, and the feeding of white-bellied sea-eagles. The river tour, which leaves at 1015 and returns at 1615, is a must-do activity for everyone visiting Tasmania.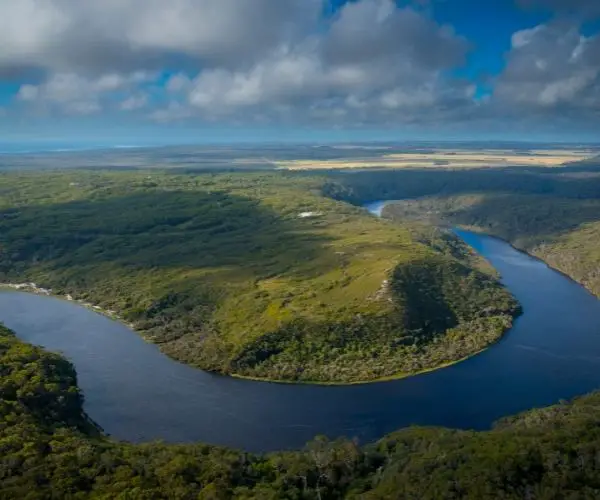 The boat will take you to the river mouth and the surrounding Arthur River town, then 14 kilometres upstream to the Arthur/Frankland river junction before returning to Warra Landing for lunch. The yacht includes a full flybridge deck with 360-degree views and excellent photo opportunities. At Warra Landing, a delectable lunch is served hidden in the rainforest, followed by a spectacular rainforest stroll to the Warra Waterfalls. Warm clothing and appropriate footwear should be worn. This cruise includes all food and beverages. River cruises are not available during the summer months of June, July, and August.
The Edge of the World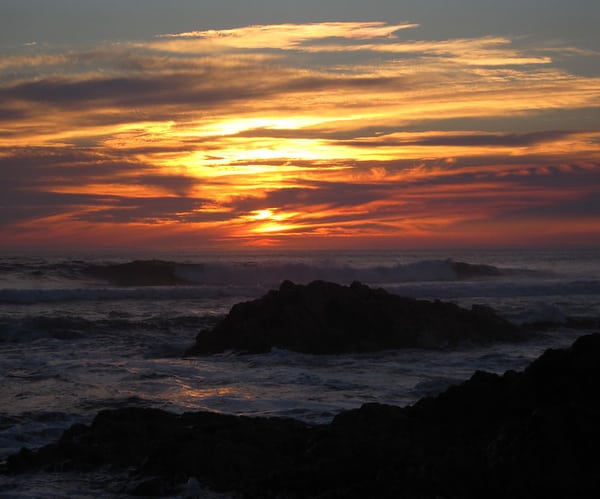 At Gardiner Point, the Arthur River meets the Indian Ocean, which runs along the west coast of Tasmania. The edge of the world, as this stretch of shoreline is known, is marked by a plaque. Most visitors would agree with this assessment, since this is where Tasmanian wilderness comes to life. The two currents collide near the river's mouth, and anything that has been directed down the river (including massive logs) is flung onto the shore in the ensuing mayhem. The Roaring Forties (Tasmania's area of severe winds at 40 degrees south) serve as a constant reminder of the coastline's remoteness.
Elver Falls
Elver Falls, a modest and picturesque waterfall with an approximate height of 4 – 5 metres, is located on Richardsons Creek, near to Arthur River, and about 1 – 2 kilometres from the municipality of Arthur River. Elver Falls is surrounded by a medium to heavy Eucalyptus forest and nestled between two steep hills, providing a lovely reward for the work required to reach there. When travelling from Smithton, the road to this waterfall is easy to find, having a bitumen road all the way to Arthur River.
Elver Falls can be accessed by foot or on water.
Access by foot
On foot, the path follows an established fence line between the forest and farmland until veering off into the forest in the direction of Elver Falls. In the wilderness, there are no defined paths or visual clues (such as pink ribbons or metallic marks on trees) to help you go in the right direction. In addition, the forest is dense in places, requiring a lot of effort to get to the falls. This walk is not recommended unless you are confident in your hiking abilities and have a dedicated GPS on hand. It is not advisable to utilise your phone's GPS.
You'll have to drop sharply to the base of the falls after scrambling through the bush towards Richardsons Creek. It's easier to descend by heading towards Arthur River from the top of the slope on the western side of Elver Falls, then gradually descending as you walk (walking away from Elver Falls). You then go back upstream to the Falls after working your way down to creek level.
By boat or kayak
An alternate route to Elver Falls is a well-defined path marked with ribbons. This path, on the other hand, begins at the point where Richardsons Creek meets the Arthur River. You'll need a boat or a kayak for this track. You paddle 1km upstream from the township to reach Richardsons Creek. The hike to the falls takes roughly 10 to 20 minutes once you arrive. The trail is overgrown in some areas, but it's easy to travel because to the abundance of ribbon attached to trees to serve as a guide.
Four Wheel Driving
Explore more than 80 kilometres of spectacular coastline landscape and untamed terrain on the Arthur-Pieman recreational vehicle trail network. It's a voyage across ancient territories carved by the Southern Ocean's massive swells and managed by the hands of thousands of Aboriginal people over years. Middens, hut depression sites, artefacts, and rock art can all be found throughout the region as signs of their history. This history, combined with the area's breathtaking natural beauty, makes this one of Tasmania's most popular 4WD destinations.
Rare Aboriginal Carvings at Sundown Point
The value of the Aboriginal sites in the area cannot be overstated. "Engravings on 40 separate rock slabs of laminated mudstone…many have clearly defined motifs…" according to the National Register entry for Sundown Point, some 8 km south of the Arthur River's mouth. Circles, including concentric and overlapping circles, grooves or pit lines running just within a rock slab's edge, crosses, and other linear motifs are among the designs.
Engraving sites are uncommon in Tasmania, and at least one panel exhibits the same level of sophistication as Mt Cameron West, which is located further up the coast.
Accommodation
Arthur River Spa Cottage
With direct access to 15 kilometres of the mirror-like Arthur River flanked by Australia's largest temperate rain forest, park your boat at the river's edge in the beach house's front yard.
With absolute river frontage and easy access to the river for fishing and kayaking, you can enjoy amazing wildlife just outside your door. All of the units offer fully furnished kitchens, satellite television and radio, as well as electric or log fireplaces. All linens are provided, and a continental breakfast is provided. Guests can utilise the wood and gas barbeques located in the beautiful grounds. Off-street parking is provided. 
Sunset Holiday Villas
Sunset Holiday Villas consists of two two-bedroom totally self-contained villas and a three-bedroom modern house, all of which are elevated and have spectacular river and ocean views. The "Edge of the World" and river cruises are both within walking distance. There is one queen room and one twin room in each villa. There are two queen rooms and one twin room in the residence. The only way to book the house is by email or phone. All linens are provided. Excellent rates. BBQ area with a roof.
Arthur River Holiday Units
The Arthur River Holiday Units are located on the banks of the scenic Arthur River on Tasmania's rocky far north west coast and offer a warm welcome. Tasmanian devils, spotted quolls, wombats, pademelons, wallabies, sea eagles, black swans, rosella parrots, and more can be found in these modest one and two bedroom holiday units.
Camping at Arthur River
Manuka, Arthur River is a huge camping ground and camping spot located on the right just before the Arthur River Ranger Station. Parks and Wildlife Tasmania operates three camping grounds: Manuka, Peppermint, and Prickly Wattle.
It's a vast grassy area with a plethora of excellent campsites that provide decent shelter from the high winds that can be found in this location. Campervans, RVs, and caravans are all excellent for families.
Both the Manuka and Prickly Wattle campgrounds are located just outside of the Arthur River hamlet and offer great quiet sites with river water (which must be boiled) and pit toilets.
Although fire drums are provided, wood should be used carefully, and fire restrictions are frequently in force during the summer months.
If the office is closed, there is a self-service facility at the Temma and Rebecca Rd intersection or at the Arthur River Parks and Wildlife Service Office that is open 24 hours a day, seven days a week. For a total of $120, two adults can stay at the Manuka campground in a serviced site for 30 nights.
Please keep in mind that the Arthur River serviced campgrounds are basic, with only water and toilet facilities; campers are urged to bring their own camp showers. There are no garbage cans available, therefore campers must bring their own garbage.
Fires are allowed, except when there is a total fire ban during high risk conditions. There are no powered sites available in Manuka campground, therefore firewood can be collected from beaches or purchased locally. Dogs are permitted, but they must always be under supervision.