Tasmania is known as the most southern and coldest state of Australia, facts which are entirely correct. It's known for being cold and the vast areas of bush give an added sense of coldness. But does it snow in Tasmania?
Yes it does snow in Tasmania, but not as frequently as you would think. That's because the altitude of Tasmania's mountains isn't very high in comparison to other mountains which receive frequent snowfall. To put things in perspective, the highest mountain in Tasmania, Mount Ossa, reaches a height of 1617 metres above sea level, which in comparison to other mountains across the world is somewhat small.
Highest Mountain in Australia, Mount Kosciuszko (New South Wales) is 2228 metres above sea level.
Highest Mountain in New Zealand, Mount Cook, is 3724 metres above sea level.
Highest Mountain in the world, Mount Everest is 8848 metres above sea level.
When Does it Snow in Tasmania?
The snow in Tasmania mostly occurs during winter and the surrounding months, usually between April and October. Snow between November and March would only occur in the most irregular of weather events and would be unlikely to settle for more than 48 hours.
Where Does it Snow in Tasmania?
Now that we've put things into perspective, let's talk about the great places where it does snow in Tasmania. What's really special is that many of these places are easily accessible. One example of this is Mount Wellington, which is only a 30 minute drive from the centre of Hobart. Many of these locations are also in National Parks and World Heritage Areas, so you're able to enjoy the snow within amazing scenery. Despite the lower altitudes, there are still skiing and snowboarding opportunities during winter.
Ben Lomond
Ben Lomond is Tasmania's second highest peak and it's highest regions have consistent snow during most of winter, with snow also regularly found during autumn and early spring. Walkers, skiers, snowboarders and nature lovers will enjoy the spectacular views and snowy alpine vegetation at Ben Lomond. When driving up the steep mountainous drive, you can enjoy the high dolerite cliffs and long spanning views across north-east Tasmania. The mountain road is known as Jacob's Ladder, vehicles without four-wheel drive capabilities will require snow chains.
Ben Lomond National Park also offers one of the two ski fields in Tasmania and is a popular place for local skiers and snowboarders in Winter. Keep your eyes open, there's plenty of wildlife to see such as the Bennets Wallaby, Eastern Quolls, Wedge-Tailed Eagles and Wombats.
Ben Lomond is only a one hour drive from Launceston and a three hour drive from Hobart.
Cradle Mountain Lake St Clair National Park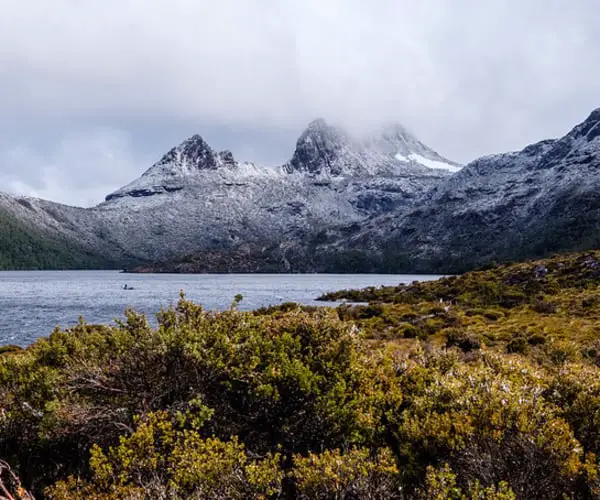 If you're not looking for a ski field, and want to enjoy the snow with some amazing scenery and bushwalking, the Cradle Mountain Lake St Clair National Park is a must see destination. The Cradle Mountain end of the national park is the favourite for most tourists. It's picturesque and amazing as the sun glows on Dove Lake while snow and luscious alpine vegetation surround you.
This entire region is at a semi-high altitude and during winter you can see a thin layer of snow around the lakes, with thicker snow as you climb the peaks.
Several of the tracks here, including the popular 5.7 kilometre Dove Lake circuit, are set on a timber boardwalk which makes walking during snow and wet weather easier. When snow is present or likely to fall, the more challenging walks such as the Cradle Mountain peak should be avoided or only tackled by the most experienced walkers.
Mount Field National Park
There are also great opportunities to see snow in the south of Tasmania such as Mount Field National Park, a little over a one hour drive from Hobart. This national park is best known for Russell Falls, which is at a lower altitude near the park entrance. However, keep driving past the main visitor centre and you'll come across a whole new environment.
The top of Mount Field National Park is vastly different to the lower altitudes. It's much more open, with alpine vegetation that's much lower in height than the tall trees surrounding Russell Falls. You'll see snow here almost entirely throughout winter and often during autumn and early spring. The second of Tasmania's two ski fields is found here, this one being smaller than Ben Lomond.
Does it Snow in Hobart?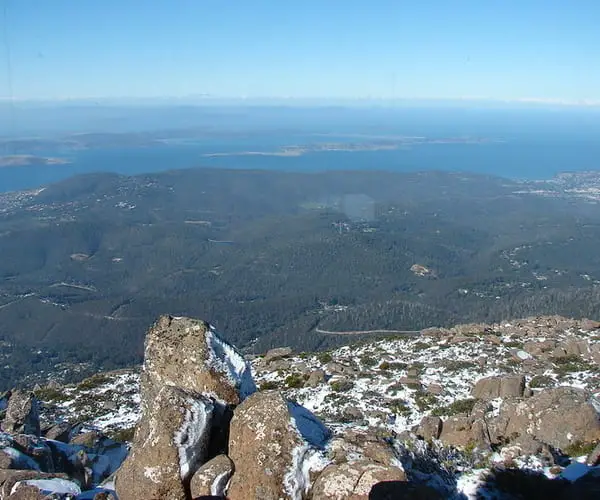 It very rarely snows in Hobart city, as the altitude here is too low. However snow is a regular sight on Mount Wellington, the 1271 metre mountain that towers behind Hobart. It's only a 30 minute drive from Hobart city to the top of Mount Wellington, making it a great destination for snow lovers.
Snow is found here constantly during winter and often during autumn and spring. In all except the coldest winter conditions you're able to drive to the top of Mount Wellington where you can walk out of your car and be in the snow straight away. Unfortunately there are no ski fields here, but there are excellent walks and lookout points, which when not cloudy or foggy will provide expansive and outstanding views across south-east Tasmania.