Located on the rugged east side of the Tasman Peninsula, you'll see Devils Kitchen, a dramatic piece of coastline. Devils Kitchen is a deep trench that has been carved out by the crashing waves of the Tasman Sea. It started as a cave which has gradually been eroded away into a narrow, tall gap with steep cliffs. It looks like a giant has swung an axe into the side of a cliff, with an almost perfect cut being made.
However the Devils Kitchen is more than steep cliffs and crashing water. There are beautiful rock formations which have taken shape as a result of the erosion. There's also an area of flat rock with deep mosaic tile like lines, resembling a miniature version of the nearby Tessellated Pavement.
This attraction is part of a close group of three stunning, natural formations Devils Kitchen, Tasman Arch and Blow Hole, which are all worth visiting.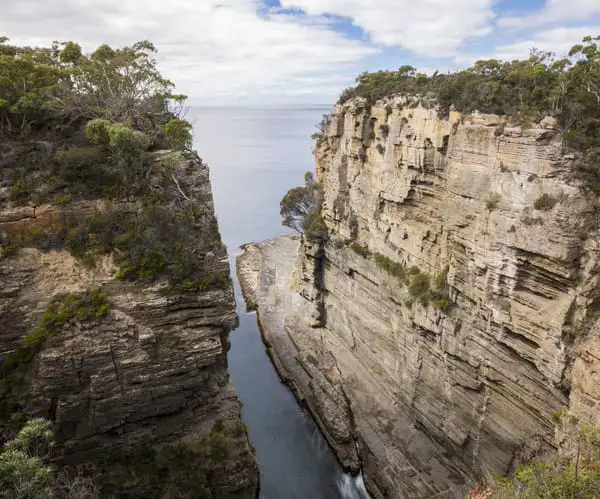 How was Devils Kitchen Formed?
Devils Kitchen started out as a small cave which from millions of years of strong waves from the Tasman Sea, has become a deep trench. While erosion is common at many ocean cliff faces, it's rare to see the effects as dramatic as they are at Devils Kitchen and other parts of the Tasman Peninsula.
Why was it named Devils Kitchen?
There are a couple of theories on how the name Devils Kitchen was chosen. The first is due to the higher than normal number of sharks in the area. The sharks would prey on sea lions and seals, which get caught in the narrow passage of water, with the animal's shrieks echoing between the cliff faces.
The second theory is that pirates had killed and abandoned bodies there which were eaten by Tasmanian Devils.
But don't let these gruesome tales deter you from visiting! Fortunately you don't have to worry about pirates anymore, and the chances of hearing or seeing shark attacks are low.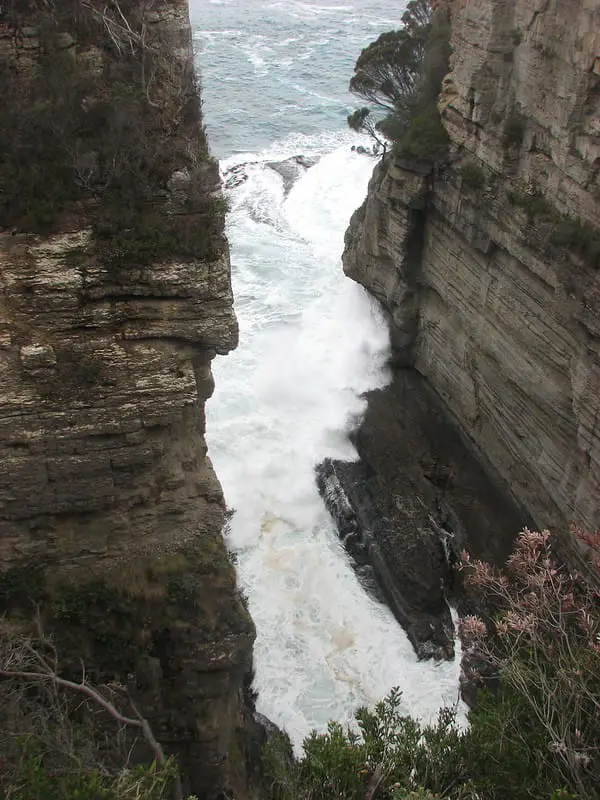 Is it Worth Visiting Devils Kitchen?
Yes, if you're interested in beautiful outdoor attractions, witnessing the forces of nature at work, hiking or into nature photography, Devils Kitchen is worth visiting. Throw in Tasman Arch, Blow Hole, Tessellated Pavement and maybe a hike to Waterfall Bay and you've got an excellent day planned. Or if you're driving to Port Arthur like many visitors to the Tasman Peninsula, it's worth stopping in on your way.
Devils Kitchen is free to enter and is open 365 days a year. Despite its location on an exposed and sometimes wild coastline, this attraction offers value to those who visit it in stormy weather as well as calm conditions. The stormy conditions enable you to witness the large waves crashing into the Devils Kitchen trench and against the cliffs. On calm, sunny days you can enjoy admiring the coastline and may feel more enthusiastic about doing the Waterfall Bay walk. 
Devils Kitchen Walk
The walk from the car park to Devils Kitchen only takes a few minutes, but if you want to explore the beautiful coastal scenery a bit more, there's a longer walk from Devils Kitchen to Waterfall Bay. The walk is a moderate 8.2 kilometres, which follows the cliffs south, giving walkers excellent coastal views as well as sights of stunning wildflowers.
Just before you reach Waterfall Bay you can enjoy the lookout, taking in the steep cliffs and depending on recent rainfall you may get to see the waterfall, with water flowing off the cliff directly into the sea below.
Directions to Devils Kitchen
Devils Kitchen is an 80 kilometre drive (one hour and fifteen minutes) from Hobart. Drive over the Tasman Bridge, following the Tasman Highway to Sorell, then turn right and take the Arthur Highway the rest of the way. As you arrive at Eaglehawk Neck, turn left at Blowhole Road Drive. You'' drive for 5 minutes through Doo Town where you'll turn right into Tasmans Arch Road. Drive for 2 minutes and the road will end. Look out for the signs for Devils Kitchen, Tasman Arch and Blow Hole.
Nearby Attractions
Tasman Arch is only 150 metres away; if you're interested in Devils Kitchen you'll probably like this too. Tessellated Pavement at the northern end of Eaglehawk Neck offers a fascinating flat rock feature with great sea views.
On some days there will be a food truck at the Devils Kitchen carpark selling fish and chips. If you're not in luck, the Blue Seal Cafe in Eaglehawk Neck is worth stopping into for food, or the Lufra Hotel if you're looking for a nice meal with great views.
For nearby accommodation, see here.