Sisters Beach on Tasmania's north-west coast is a spot where you may relax and enjoy the natural surroundings. Swim and play on the undeveloped beaches, hike along the Rocky Cape National Park's local trails, or simply relax and watch the waves flow in.
Sisters Beach is situated in a unique location, surrounded on three sides by the spectacular Rocky Cape National Park, and on the north by Bass Strait. Residents and visitors flock here for the unspoilt beaches, pure unpolluted waterways, spectacular coastline scenery, and quiet bush area.
The spectacular Rocky Cape National Park is known for its diverse native flora and animals, as well as its important Aboriginal legacy. Rocky Cape, also known as Tangdimmaa, was the home of the Raverloihenna people. There is evidence of Aboriginal occupation dating back 8,000 years, with middens and caves aplenty. The Paterson spider orchid, which is categorised as a vulnerable species, and the saw-toothed banksia (Banksia serrata), which is only known to occur naturally here, are among the stunning native flora found here.
Pademelons (wallabies), Bennetts wallabies, Eastern grey kangaroos, Tasmanian devils, Eastern barred bandicoots, echidnas, spotted quolls, ringtail possums, and brushtail possums all dwell in Rocky Cape National Park, and it is not uncommon for some to come to visit!
There are numerous wonderful treks that begin at Sisters Beach Retreat and lead to caves, beaches, waterfalls, and beautiful coastal and inland scenery. Beginner and experienced bush walkers will find walks ranging in length from twenty minutes to eight hours.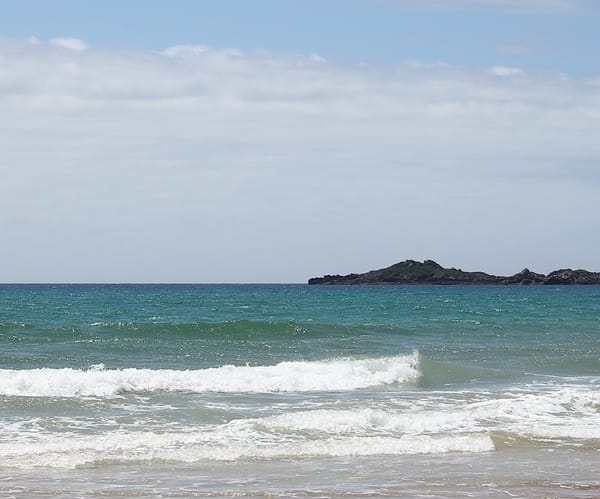 The main white sand beach is around three kilometres long and is home to a variety of marine life, thus boating, fishing, swimming, diving, and snorkelling are all popular activities, with dolphins, seals, and whales occasionally spotted.
For short-term tourists, a number of private rentals are available, providing a perfect spot to stay while you explore neighbouring Boat Harbour Beach, Wynyard, Stanley, and Burnie, or day-trip to Cradle Mountain and Sheffield, or Arthur River and the West Coast.
Sisters Beach and nearby Boat Harbour offer a variety of food and entertainment opportunities.
Visit the Pear Tree Cafe, located in the Sisters Beach General Store, for meals, curries, and wood-fired pizza. Plus, during the summer, there's live music.
Sisters Beach Key Travel Information
Getting to Sisters Beach
Sisters Beach is located in Tasmania's north west, on the northern coastline. If you're traveling from the closest city Devonport, Sisters Beach is a 1 hour 85km drive west along the Bass Highway. Getting to Sisters Beach from Launceston is a 2 hour 184km drive.
Weather
Sisters Beach is a nice sunny spot, to enjoy the beach. But in true Tasmania style, the weather can turn at any time of the year.
Average summer temperature is 21 degrees celsius
Average autumn temperature is 18 degrees celsius
Average winter temperature is 13 degrees celsius
Average spring temperature is 17 degrees celsius
Best Known for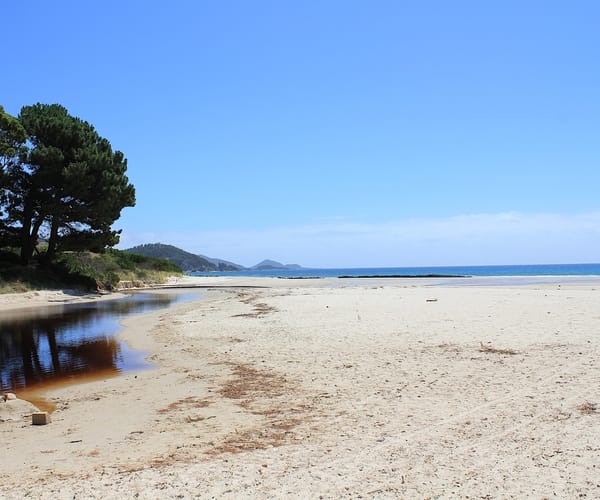 A nice, friendly beach town without too many crowds. Great place to enjoy the beach, suitable for families as well as couples looking for a weekend escape from the city. A great place to base yourself while exploring the northwest Tasmania attractions.
History of Sisters Beach
One of the Aboriginal names for this area is Tang Dim Mer. Rocky Cape's human history dates back thousands of years, even before Tasmania was split from the mainland. These hills would have been travelled by those who initially arrived in the southernmost areas of Australia around 35,000 years ago. The accumulated materials of 8,000 years of continuous habitation of the area are shown in vast caves of middens.
Sisters Beach Accommodation
Sisters Beach House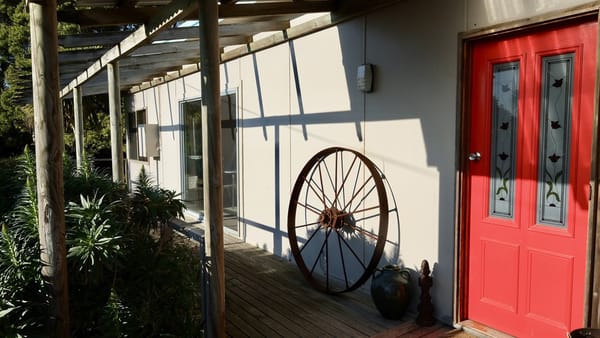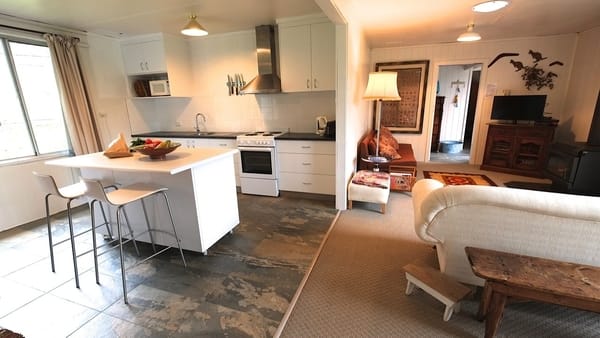 Sisters Beach House in Sisters Beach, Tasmania, is one of the few historic beach cottages still standing. Built in 1969, this owner-built beach hut has been transformed into a stylish eclectic beach house, perfect for a quiet getaway, a romantic retreat, or a lo-fi getaway with friends and family. The house is completely outfitted for a long-term stay or a weekend getaway.
The north-facing property, which is across the road from the beach and surrounded by a native garden, is bathed in sunlight during the day and warmed by a wood fire heater at night. There is no passing traffic because the property is located at the calm end of Sisters Beach, so just the sound of the waves and birds can be heard.
Something real unique and fun about this place is the collection of vinyl records which you're allowed and encouraged to play. Enjoy some Bowie, ABBA, AC/DC, Johnny Cash, Neil Diamond or Wham.
Sisters Beach Retreat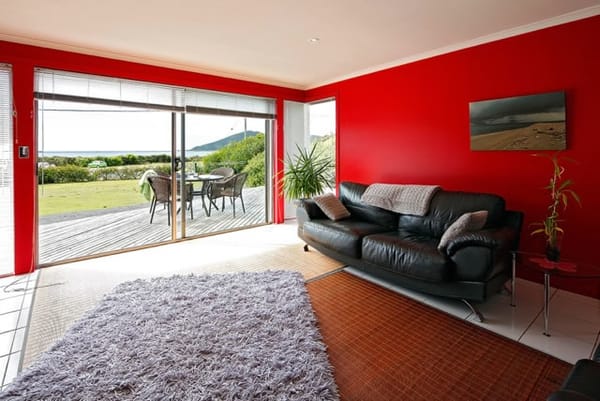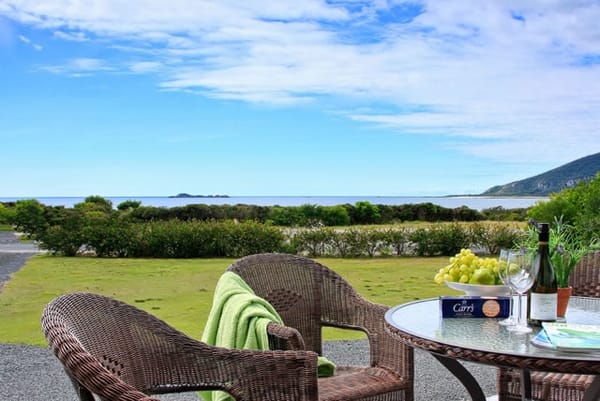 Sisters Beach Retreat is a stylish three-bedroom vacation rental that is ideal for a family vacation. You can't help but relax when you're surrounded by the Rocky Cape National Park and looking out at the lovely sea views. Fish and squid are often caught from the boat dock, which is only 50 metres away, and the walking trails that begin on the property lead to caverns, waterfalls, and Anniversary Bay's lovely beach.  This property is also pet friendly.
Places to Eat & Drink at Sisters Beach
Sisters Beach is a small town with a small range of dining options. If you're looking for more options, the nearby larger beach village of Boat Harbour has more options. The Boat Harbour Beach Surf Club Cafe and Thistle Hut are two worth visiting.
Pear Tree Cafe Bar
Pear Tree Cafe Bar is more than just a great place to eat, it's often the heart and atmosphere of Sisters Beach. There's a large outdoor eating area and on some Saturday nights there is an open mic night. Locals and tourists enjoy coming here to enjoy a pizza or Thai curry.