Mathinna Falls is a sequence of four spectacular waterfalls totalling over 100 metres in height. You can see this beautiful attraction in the Mathinna Falls Forest Reserve, roughly 10 kilometres north of Mathinna, Tasmania. The first and most accessible waterfall is a 15-minute return walk from the carpark along an established woodland route that leads right to the base of the waterfall. Mathinna Falls is a beautiful waterfall, with the one depicted above standing at a height of about 25 metres.
The higher tiers of Mathinna Falls are not easily accessible and are not on the main trail. A steep ascent to the right of the lower falls leads to the second waterfall, however getting beyond the second falls is exceedingly difficult and potentially dangerous. The third and fourth waterfalls take much research and extreme caution to locate, as accessing them necessitates scrambling up unstable, near-vertical granite sides.
If you only want to view the main waterfall, Evercreech Falls is only 15 kilometres distant, and the two together make for a fantastic day of touring and exploring.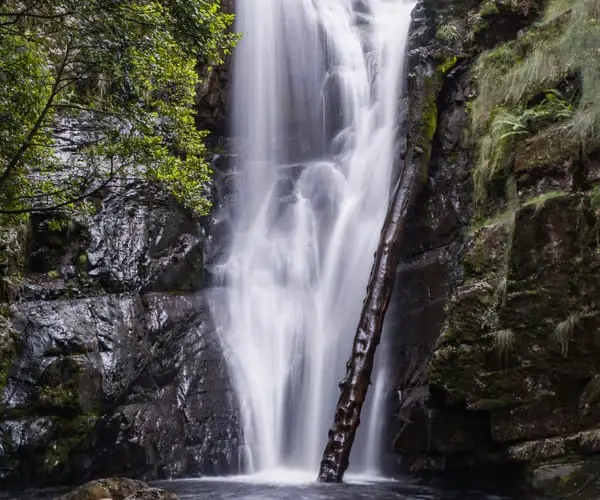 Directions to Mathinna Falls
Most tourists will be visiting from the closest city, Launceston, or from the east coast. From Launceston, Mathinna Falls is a 88km 1.5 hour drive. Follow Blessington Road which takes you out of Launceston in a south east direction. Once you reach Blessington this road becomes Roses Tier Road. Follow this road until you reach a T intersection where you'll turn right onto Gunns Road (which becomes Upper Esk Road). In the small locality of Mathinna, turn left onto Mathinna Plains Road, right onto Claytons Road and left onto Mathinna Falls Road. The Mathinna Falls Forest Reserve is at the end of this road.
This road is in poor conditions, driving here should be taken with caution, especially in wet weather. Although smaller cars can visit the falls, SUVs or 4WDs are prefered.
The reserve itself is modest, with limited parking, bench seats and tables, and an outdated grill that runs out of gas (you will need kindling and a fire to use it). Eco toilets are offered on the premises. There are no other trails available from the reserve, thus the climb to the waterfall is only a 15-minute return walk from the carpark.