Richmond is a charming historic village not far from Hobart, that's filled with charm, character and warmth. It's one of the oldest parts of Tasmania, with many convict-built buildings and landmarks still present and viewable today. The village goes out of it's way to welcome visitors with a number of places to eat, stay and enjoy your time, even if you're only in Richmond for a couple of hours.
There are many things to do in Richmond and the Coal River Valley such as seeing historic sites including the Richmond Bridge and Richmond Gaol, explore the old buildings and shops, and do a cheese or wine tasting.
Key Travel Facts
How to Get to Richmond
Region: South-East Tasmania
Richmond is only a 25 minute drive from Hobart, follow the Tasman Bridge and Tasman Highway and turn off at Cambridge, then take the left turn onto Richmond Road which will take you through the Coal River Valley winery region and into Richmond Village.
Richmond is only 15 minutes from Hobart International Airport. Follow the Tasman Highway to the Cambridge turnoff, and follow Cambridge Road until you turn right into Richmond Road.
If you're coming from the north of the state, you'll most likely be coming from the Midlands Highway. Turn off on Mud Walls Road and follow this through Colebrook, Campania and into Richmond.
Richmond is Well-Known For
Beautiful old convict-built sandstone historic buildings, the Richmond Bridge, the "lolly shop", Richmond Bakery, and being close to some of Tasmania's best wineries.
Richmond Bridge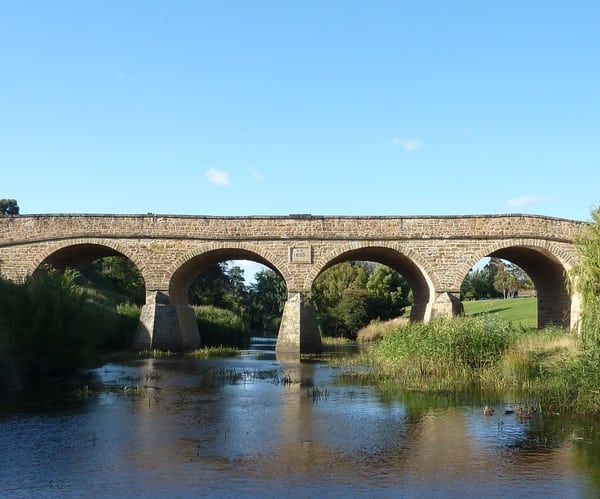 One of Tasmania's most photographed sites, the Richmond Bridge is a spectacle to behold. It's got character, style, history and mystery. Furthermore it's a testament to the strength of colonial architecture. If you visit Richmond and don't stop at the Richmond Bridge, did you really see Richmond at all?
Like many buildings in Richmond, this was built by convicts between 1823 and 1825. It was built not long after Richmond was founded, to help wheat farmers cross the river with their fully loaded carts. It is in fact the oldest sandstone bridge still standing and in use in Australia.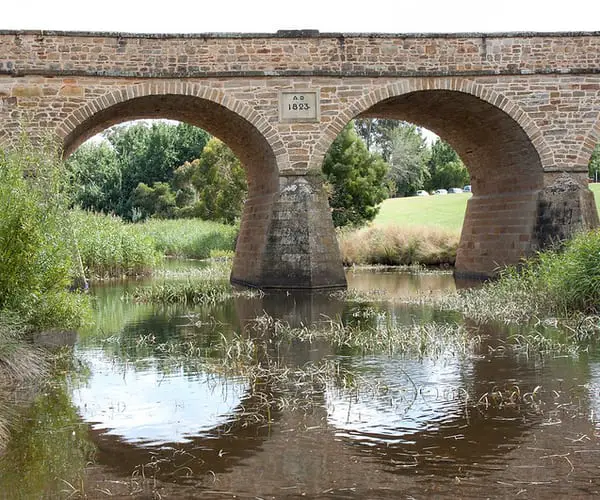 As mentioned earlier, there's a sense of mystery and intrigue behind the Richmond Bridge. Many say there it's haunted. The ghost is that of George Grover, a flagellator, drunk and unlikable character of the village. History says that George fell asleep on the bridge while waking home drunk and was thrown off the side, coming to his demise. At night you may see the ghost of George looking out over the bridge from the western side.
But don't let that put you off, Richmond Bridge is a great place to visit. Sit on the grassy riverbank on either side and admire the view, take photos and say hi to the ducks.
Richmond Gaol
Richmond Gaol is another key part of Richmond and Tasmania's convict history. It's a beautifully preserved property where you can walk through the rooms, observing and learning about the harsh existence these often petty criminals lived.
The solitary confinement cells are a popular attraction here. At one metre by two metres, with no window and not even a bed to lay on, they're pretty grim! Word on the street is that the third cell in the men's block is haunted. Some people report hearing moaning and deep sighing, others report feeling cold shivers when approaching the cell. Despite this, it's still a common right of passage for many tourists to step inside the cells and shut the door for a minute, briefly experiencing the darkness and isolation felt by convict prisoners.
Other interesting sites here include the flogging yard where convicts regularly received a whipping for their indiscretions. There are also other artefacts from when convicts worked as slaves in 'chain gangs' to build Richmond village, such as handcuffs, chains, tools and clothes.
While this may all sound pretty bleak, it's actually a nice place to visit for the whole family, and for that reason is one of top things to do in Richmond.
St John's Church & St Luke's Church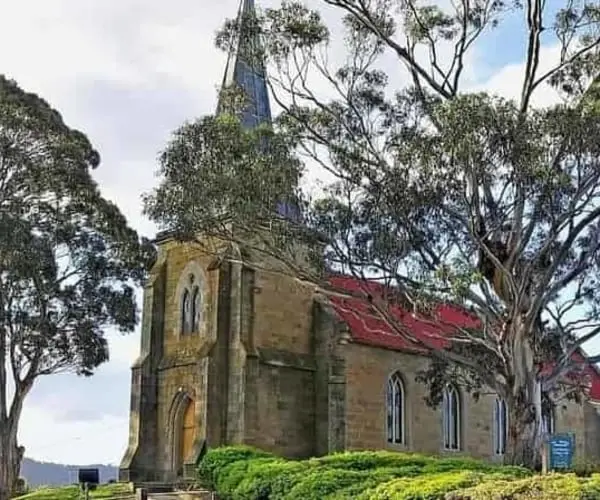 These two are no ordinary churches. They stand tall, grand and their beautiful colonial sandstone architecture and tall spire roofs add character to the village. Both were constructed in the 1830's with only minimal changes during this period; they're both excellent examples of Tasmanian history. You'll have no problem spotting St John's Church in the background of Richmond Bridge. St Lukes Church in Church St has a beautiful large clock outside and inside has a timber roof built impressively that the convict responsible was freed. 
Richmond Bakery
If you've had pies before you might be thinking "so what?". Trust us, the pies from the Richmond Bakery are chunky, filling and full of rich flavour. A popular variety of pie in Tasmania and especially from the Richmond Bakery, is the Curried Scallop Pie. It's not a hot indian style curry, more of a comforting old-fashioned Australian-style curry that your parents make. If curry or seafood isn't your thing the steak pies and sausage rolls are amazing as well.
There are also sandwiches, pastries and coffee to enjoy. The Richmond Bakery has a great location in the centre of the village, close to the shops, attractions and the Richmond village green. There is outdoor seating under umbrellas in a nice sandstone-paved courtyard.
Sweets & Treats
Anyone who tells you about Richmond will tell you about "the lolly shop", more formally known as Sweets and Treats. While some attractions come and go, this lolly shop has been popular with tourists for decades, and with the recent extension into the neighbouring shop, we can't see that changing.
Sweets and Treats is one of those old-fashioned style lolly shops with wall-to-ceiling shelves filled with glass jars of every style of lolly you can think of. It's bound to bring back a few nostalgic memories and introduce you to a few new style lollies you've never tried before. Think old fashioned boiled sweets, jellies, fudge, musk sticks, sherbet, giant lollies and those rare American lollies like Warheads.
There's also a range of equally impressive ice creams, milkshakes and coffees. Buy an ice cream and a bag of sweets to munch on while exploring the village.
Check out the Fine Local Produce
Richmond and the Coal River Valley are a hub for fresh, high-quality food and cool climate wines. If you're in town on a saturday morning, visit the Richmond Village Farmers and Makers Market at the town hall. There are some good old-fashioned delights here, real fruit and veg with flavour. Other great foodie opportunities on offer include strawberry picking at Littlewood Berry Farm (young children love it here) and Coaldale Walnuts.
Admire the Historic Buildings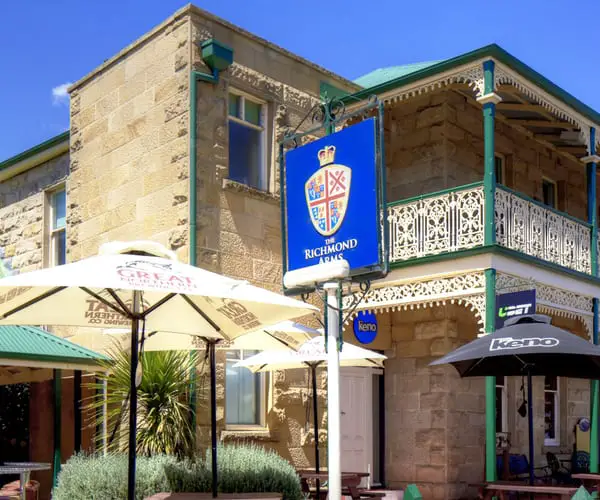 Many of the buildings you'll see in Bridge Street and the side streets such as Henry Street, Edward Street and Church Street, date back to the early 1800's. They've been well looked after and kept in as close to original condition as possible.
Some of these landmarks you should look out for include the Richmond Granary & Post Office (circa 1832), Richmond Arms Hotel – may as well drop in for a beer while you're here (originally 1830, rebuilt after fire in 1888), The Old Rectory (1829), and Oak Lodge (1831). Oak Lodge is a particularly interesting building, having been owned by a number of interesting international individuals during its history and is open for you to visit. There are many artefacts inside to not only tell you about the house and it's previous residents, you can learn a lot about life during the 1800's.
Old Hobart Town Model Village
In Richmond we're lucky to be able to walk down the street and see well-preserved colonial buildings and historic sites. A number of these can still be seen in Hobart, but being the capital city there's also a lot of newer development which has popped up. So basically, to really picture what life was like in the 1800's, you have to use your imagination.
The Old Hobart Town Model Village provides an accurate visualisation of what architecture and life was like during this time. It's situated outside and you're able to walk through it and with the help of accompanying reading material you can see what the people and places were like.
The attention to detail here is impressive, what's equally impressive is that they're not just delivering a visualisation of the architecture, it's an informative history lesson on the people and their lives as well. This attraction is suitable for all ages and is well worth the time.
Explore the Shops
Richmond is a rewarding destination for those with a bit of time on their hands. One of the best things to do in Richmond is to walk through the streets and see which shops grab your attention. There are a number of antique shops, galleries with locally made scenery paintings, sculptures and Tasmanian timber furniture, and cute craft shops. There are also some great foodie shops with locally produced chocolate, wine, spirits and cheese.
Enjoy a Wicked Cheese Tasting
We gave this shop a separate listing because it's all about cheese! But really, Wicked Cheese is more than just a cheese shop. It's a producer of some of Tasmania's best cheese. Head cheese maker Ashley McCoy brings a wealth of experience from France, Italy, UK and the also popular Tasmanian King Island Dairy and Cheese.
They've got award winning cheeses, with specialties including triple cream brie, chilli camembert, waxed blue cheese, as well as a number of great cheddars. For this reason you'd be mad not to put this on your things to do list.
Zoodoo
Lions, meerkats, marmosets and some local heroes including the Tasmanian Devil. Zoodoo is a great blend of a zoo and wildlife park, with a key focus on animal welfare and happiness. If you just want to see animals, that's fine. But if you want to get up close in a small group encounter and learn more about the animals, Zoodoo can cater for that too. There are animal presentations where guides tell you more about the animals, and safari walk and talk tours where you can hand feed emus, camels and zebras. It's very family friendly and encourages children to get involved and learn about animals. Zoodoo is always constantly evolving and improving, so if you've been a few years ago, be sure to visit again and you'll see something new.
Historic Cottage Accommodation
If you walked past a historic cottage and thought it looked cosy and inviting, you might be lucky! A number of Richmond's nicest properties from the early 1800's are available for accommodation. This is a great way to get a real feel for these properties and stay somewhere unique. Most holidays involve staying in hotels which are often very similar and a bit bland, this is your opportunity to treat yourself. Richmond is a great place to stay for a couple of nights to enjoy the many things to do, or can be a great place to base yourself in south-east Tasmania while you enjoy other attractions such as Hobart, Mount Wellington and Port Arthur. Popular properties include Laurel Cottage, Bridge Cottage, The Mill House Cottage, and if you want the absolute luxury experience, consider Prospect House Private Hotel.
Wine Tasting or Lunch in the Coal River Valley
In the Coal River Valley, just outside of Richmond village, you'll find some of Tasmania, even Australia's best cool-climate wine producers. Drop in, have lunch and try the fresh local produce, enjoy amazing views and do a wine tasting of local wines including sauvignon blanc and pinot noir. These aren't overly mass produced wines, they're produced in smaller numbers to higher standards.
Highly regarded vineyards with excellent wine tasting and dining experiences include Coal Valley Vineyard, Frogmore Creek and Pooley Wines.