Cape Raoul is the third of Tasmania's Three Capes Track's three capes. However, you will need to drive to the bottom of the Tasman Peninsula to hike to the Cape Raoul Lookout, which is not accessible on the island's famous multi-day trip.
There are several walks here for people who want to customise their adventure. Those who want a shorter walk can do the Cape Raoul Lookout walk which takes you to a high lookout with impressive views of Cape Raoul and steep drops looking into the ocean. This is a 4.4 kilometre walk which takes approximately 1 hour and 10 minutes. However you'll probably want to take longer so you can admire the views.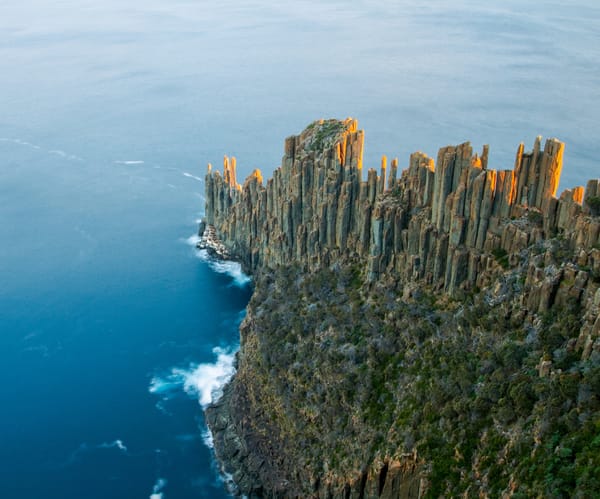 Those who don't mind a longer trek and can handle some moderate elevation can tackle the full Cape Raoul walk. This is a 16.4 kilometre walk, taking you to the end of Cape Raoul, a narrow, steep piece of land sticking out from the Tasman Peninsula. It's a rewarding hike with a variety of sights and many enjoyable moments along the way.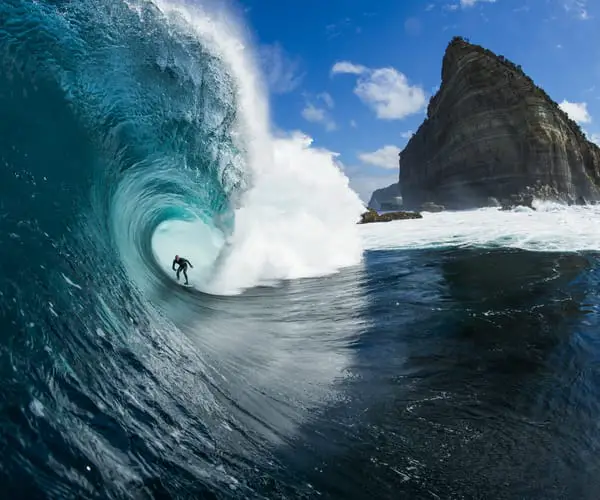 If this isn't enough, you can also add on a side trip, a detour onto the Shipstern Bluff walk. This beach attracts surfers from all over the world who are drawn to the amazing waves and often perfect surfing conditions on offer. If you don't make this side trip you can still admire the views of Shipstern Bluff from a short distance at Cape Raoul.
Directions to Cape Raoul
Unfortunately, if you don't have your own transport, you're out of luck. There aren't any tours or public transport options for this one. If you're set on seeing the Tasman Peninsula, you can instead book a walking tour to Cape Hauy instead.
The best directions for how to get to the Cape Raoul walking track is to head towards Port Arthur on Arthur Highway. Next, you'll want to continue past the Historic Site turnoff and follow the highway (it becomes Nubeena Road).
Follow Nubeena road until you see a left turn onto Stormlea Road. Follow this road all the way to the end and don't take any forks. The road is sealed except for the last kilometre or so. However, don't worry too much, we managed without any issues in our big campervan.
The trailhead carpark for the Cape Raoul walk is at the end of the road. Here, you'll find a huge car park, toilets and information boards about the hikes.
Cape Raoul Lookout & Walk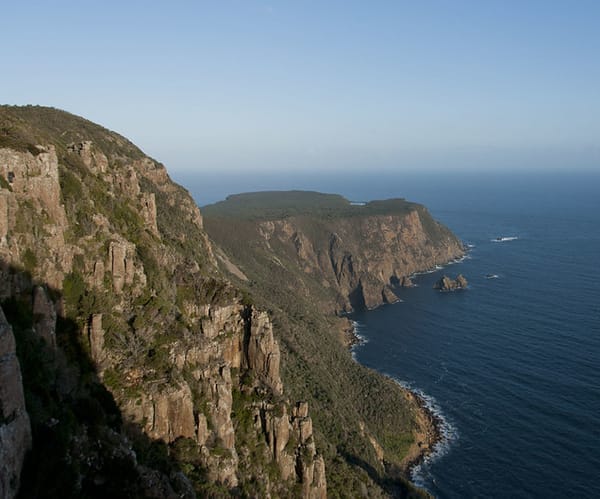 The hike starts with a gentle ascent through a dry, open eucalypt woodland. The track is well-kept here and throughout, indicating the walk's popularity.
After a nice 2.2 kilometre walk, you'll arrive at Cape Raoul Lookout. This is a popular site for those who don't want to go on a long hike and would rather call it a day.
With tremendous cliff fall and bright blue Tasman Sea water below, the vistas are pretty stunning. Don't let young children get too close to the edge.
The terrain shifts to a more temperate rainforest vibe after reaching the top of the bluff. With enormous trees and lush ferns dominating the sides of the trail, this was one of the most gorgeous areas of the trail, despite the lack of vistas.
The track then descends on a winding road to the flat plateau reaching out to Cape Raoul. The descent is moderately easy and not too steep in this segment. But be aware that you'll have to face this stretch again on your way back up.
In pockets of forest opening down the descent, there are lots of amazing seaside views. These provided a fantastic opportunity to take a break and take some shots. Once you're at the bottom of this descent there is a 2.8 kilometre walk to the end of Cape Raoul. This is mostly easy walking.
A big tarn can be found just before the Cape Raoul Viewpoint on Raoul Rock. Aside from that, there are some spectacular coastline cliff structures worth photographing. This portion also includes wooden boardwalks that have been created to safeguard the railway. The entire flat part leading out to the cape is primarily low lying shrubbery and coastal heathland, a sharp contrast to the wet forests only an hour before.
The Tasman Sea is visible from the Cape Raoul Viewpoint. It's a collection of enormous pillared rock formations that appear to reach as far as they can.
Nearby Attractions
There's plenty to see on the way to Cape Raoul. In and near Eaglehawk Neck, there are amazing cliff, blowhole and geological attractions such as Tessellated Pavement and Devils Kitchen. There is a quirky little village called Doo Town, the name signs in front of their homes being the result of a long running joke since the 1930's.
For nearby accommodation, see here.