Stanley is a cute, picture-perfect little village in the north-west of Tasmania. It's got history, character and reminds people of something quaint they would see in regional Ireland or England.
Stanley is most well known for "The Nut", a giant volcanic plug, kind of like a flat-topped mountain that overlooks the village. Along with The Nut, there are many things to do in Stanley such as the museums, galleries, food, beaches, penguins, fishing, and excellent day trip opportunities outside the region.
Getting to Stanley
Positioned in the north-west corner of Tasmania, Stanley is a little further than many attractions in Tasmania, but it's worth the drive. It's a 2.5 hour drive from Launceston and 1.5 hour drive from Devonport. Or if you're driving up from the west coast, Stanley is a 3 hour drive from Strahan.
Stanley's position makes it an ideal place to book accommodation and base yourself while exploring north-west Tasmania. There's plenty of things to do in Stanley and the surrounding areas, for those of all interests.
Stanley is Well-Known for
The Nut, charming colonial village, fresh seafood and grass-fed beef. Amazing coastal views. A charming, slightly quirky and very uncommercialised place – an experience that's genuine.
The Nut & Chairlift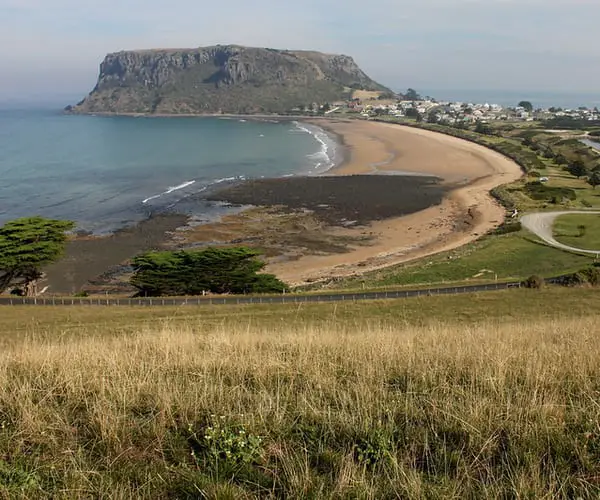 You'd be nuts if you visited Stanley without seeing The Nut! This icon and well-known landmark is remnants of a giant volcanic plug. In appearance, The Nut looks like a flat-topped mountain, with water surrounding most sides, and on one side lies the overlooked Stanley village.
There is a walking track up the side, taking those who don't mind a minor challenge about 15 minutes to walk. Or you can take a chairlift and enjoy a slow, relaxing with lots of opportunities to admire the view and take photos. Remember that the chairlift is closed for most of winter and during windy weather, but don't let this deter you from visiting.
On top of The Nut you're free to walk around and admire the 360 degree views. Enjoy unspoilt views of Stanley village, the beaches, Bass Strait, Rocky Cape National Park, and the luscious green farms in the distance.
Highfield House Stanley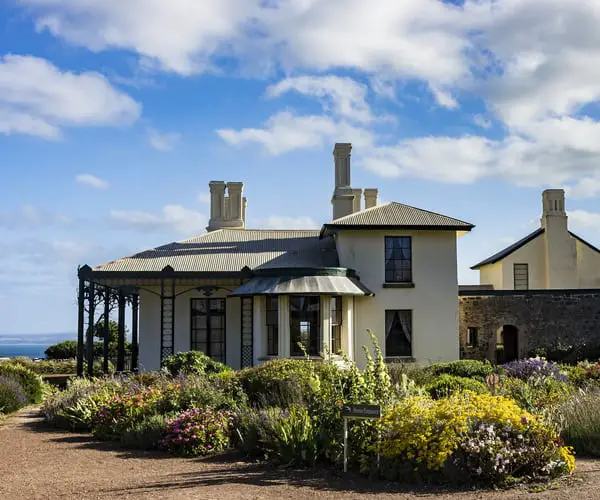 Highfield House is a beautiful venue to relax and enjoy the beauty of Stanley and the historical significance it carries. Highfield house was constructed by convicts, a long process which commenced in 1826 and marks the first European occupation in north-west Tasmania. This was overseen by Edward Curr, the chief agent of the Van Diemen's Land Company. This company originated in London in 1824, by several wealthy businessmen and politicians with the aim of boosting their wealth from Merino wool. The property once occupied 350,000 acres of farmland, but this has now been reduced to 9.5 acres.
Situated on a slight rise just south of Stanley village, you'll be able to enjoy fantastic views of the beach, village and The Nut. In true style for a grand colonial property, there are convict barracks, barns, a chapel, and beautifully restored gardens which visitors are able to explore and enjoy.
Joe Lyons Cottage
Joe Lyons lays claim to being Tasmania's first Prime Minister of Australia (1932-1939). This property has been lovingly maintained and is run by a team of dedicated volunteers. It offers visitors plenty of insight into the history of Stanley, life in the early 1900's, and the journey which Joe took to make it in politics. Also included are the achievements of Joe's wife Dame Edit Lyons, who became the first female minister of parliament in Australia.
See Penguins at Godfrey's Beach
It's rare that you get to see penguins in real-life, especially in their natural habitat. At Godfrey's Beach on the edge of Stanley you can. Small penguins can be seen here at night when they arrive on the shore. There is a purpose built viewing platform where you're able to catch a great view of the penguins. Remember not to disturb them by getting too close or shining lights. Also where warm clothes, you'll probably be exposed to some sort of cold sea breeze!
Stanley Heritage Walk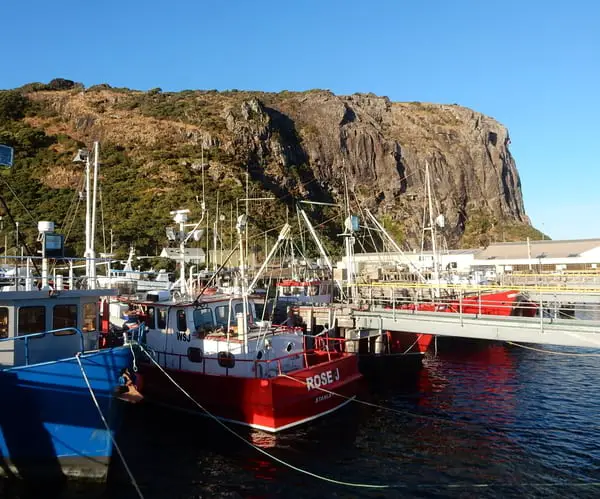 The Stanley Heritage Walk uses modern technology to give you more insights into Stanley's past. The tour explores the history, architecture and culture of Stanley, including 15 key sites in the village. These sites include the local hotels, churches, cemeteries and notable residences including Joe Lyon's house. The walk is a 'self guided' tour, meaning you guide yourself using your smartphone or you can receive a paper tour guide from the Stanley Visitor Information Centre if you prefer.
Stanley Seal Cruises
This 75 minute eco-tour cruise takes you just off Stanley to Bull Rock where you will see Australian Fur Seals. The adult seals can vary in weight from 180 – 350 kilograms and use this as a safe place to breed, eat, give birth and rest. There are two cruises each day (depending on weather conditions), with small numbers which helps you to enjoy getting close to nature.
Stanley Discover Museum & Genealogy Centre
The Stanley Discovery Museum & Genealogy Centre is a great place to research your potential family history in the area. Even for those who don't have Tasmanian family history, it's a great way to gain insights into the history of the area, European settlement and learn how the area was developed and grew. The record keeping and commitment to preserving history is to be admired, with great detail on the original 113 allotments and the families who lived on them. You can also gain insights into colonial life from displays of original antique items, photos, household items, farming tools, an 1850 wedding gown and relics from passing-by ships.
Places to Eat & Drink in Stanley
Hursey's Seafood is a well-known local legend amongst Tasmanians, and something you must add to your things to do in Stanley list. You can't miss it, there's a giant southern rock lobster on the roof! View the large lobsters in tanks and order some fresh fish and chips or dine in for an extensive and impressive seafood platter. 
The Stanley Hotel will change the way you view pub food. Stanley and north-west Tasmania provides some of Tasmania's best gourmet food and you can eat it here while admiring some great views in a relaxed atmosphere. Southern rock lobster, fresh oysters, grass-fed Cape Grim beef and the famous north-west potatoes from the green hills overlooking Stanley.
Touchwood Gallery & Cafe offers amazing panoramic views of Stanley while you eat. Enjoy 'The Nut' scones and a range of other cakes and coffee or sit down and enjoy a meal of fresh, local seafood.
Provenance Kitchen Cooking School
This is more than just a cooking school! It's an experience for those interested not only in making great-tasting food, but in developing and sourcing the best ingredients, sustainable farming and the environment.
These classes are lead by Emma Bruce, cook and veterinarian, and John Bruce, grass-fed beef farmer. Depending on your class you'll forage for herbs, get up close and learn about grass-fed beef and abalone farming, and cook options including abalone, handmade pasta, Cape-Grim Beef and seasonal desserts.
These classes are suitable for those of all levels and are a great way to learn about the local area and gain some great cooking skills to take home with you.
Stanley Golf Club
Stanley Golf Club is a nine hole, par 66, 4706m in length,links-style golf course that's set only ten metres back from the ocean. This provides players with stunning views of the beaches and the Nut. It also provides some varying challenges from the powerful Bass Strait wind, as well as the more predictable bunker and dam hazards.
Visitors are welcome and there is a bar you can relax at after your game. There are frequent competitions held each week, we recommend checking this with the golf club directly.
Fishing at Stanley Wharf
During the warmer months, Stanley wharf is widely popular with both locals and tourists who flock to hook the abundant supply of Snotty Trevally. Unlike many other things to do in Stanley, this attraction is free and could even supply your dinner.
Best conditions for catching Trevally normally start in October and run to May. The main determinant is water temperature, anything over 16 degrees is a sign of good conditions. The best way to catch Trevally here is to use a 7-10ft rod with a strong reel and chicken bait. Be ready to reel in your fish quickly or the person next to you will end up catching it.
Other fish which are caught here all year round include Flathead and Gummy Shark.
Day Trips from Stanley
Stanley is the north-west corner of Tasmania, and is a great place to stay while you explore attractions to the east or south. Drive about 40km south and spend a day enjoying the Tarkine drive. Enjoy over twenty stunning attractions including inland forest destinations such as Trowutta Arch, Milkshake Hills and Sinkhole, and wind your way to the coast to enjoy Edge of the World, Arthur River Coastal Reserve and Arthur Pieman Conservation area.
Or if you're driving east of Stanley you must take a look at Table Cape at Wynyard. Enjoy the amazing view over the bright colors of the tulip farm with the water in the background. You can't go wrong up here, the scenery is amazing, there's variety and plenty of things to do.