Devils Gullet Lookout is a great natural attraction in central Tasmania. Located in the heart of the Central Plateau, it offers breathtaking panoramic views of the Great Western Tiers, the Central Highlands, and the Tasmanian Wilderness World Heritage Area. With its dramatic cliffs, deep valleys, and rugged terrain, this lookout is a paradise for hikers, photographers, and anyone who loves nature at its best.
In this article, we will explore the key visitor information, history, attractions, and things to do near Devils Gullet Lookout.
Key Visitor Information for Devils Gullet Lookout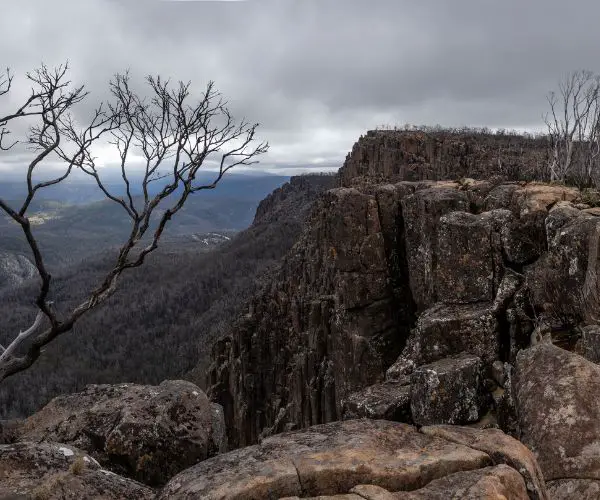 Weather
Devils Gullet Lookout is located in an alpine region, and the weather can be unpredictable at times. The average temperature in summer (December-February) is around 20°C, but it can drop to 0°C at night. Autumn (March-May) brings cooler temperatures, with an average of 14°C. Winter (June-August) is the coldest season, with temperatures dropping below freezing point and snowfall being common. Spring (September-November) sees an increase in temperatures, with an average of 16°C.
Directions
Devils Gullet Lookout is located around 150 km from Hobart, 70 km from Launceston, and 290 km from Devonport. The most convenient way to reach the lookout is by car. From Hobart, take the A1 highway and then the B51 to Miena, from where you can access the lookout via Arthurs Lake Road. From Launceston, take the A5 highway and then the B51 to Miena. From Devonport, take the A1 highway and then the B13 to Deloraine, from where you can access the lookout via Highland Lakes Road.
Best Known for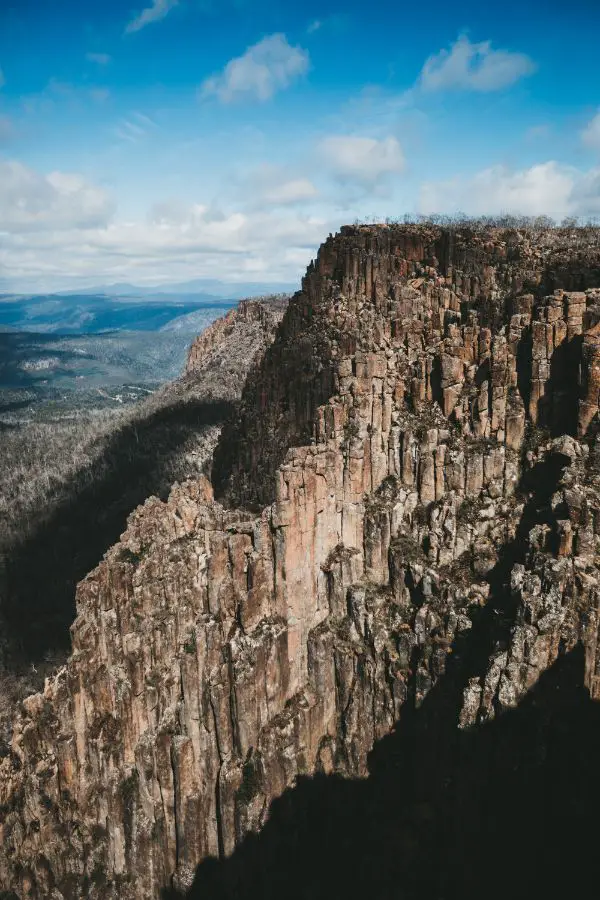 Devils Gullet Lookout is best known for its stunning natural beauty, which includes the towering cliffs, deep valleys, and unique vegetation. It is also known for its challenging hiking trails, which offer a thrilling adventure to visitors.
Things to See and Do at Devils Gullet Lookout
Located on a dolerite cliff in the Central Highlands of Tasmania, Devil's Gullet Lookout provides unobstructed views of Tasmania's World Heritage Area. The entire alpine plateau is safeguarded and the viewing platform offers no sign of human activity. This emphasizes Tasmania's dedication to preserving the natural environment, earning it the nickname 'The Natural State.'
The rugged landscape was formed by a glacier that carved its way through the alpine highland, leaving the 220-metre dolerite cliff exposed, while the surrounding areas are now covered in alpine forests. From the lookout's viewing platform, visitors can see the entire eastern boundary of the Cradle Mountain-Lake St. Clair World Heritage Area, including Mount Ossa, Tasmania's highest peak at 1617 metres, as well as the remote Walls of Jerusalem National Park and the Fisher and Mercy Rivers on a clear day.
To reach the lookout, visitors must take a 20-minute return walk from the carpark, which is easy and consists of a boardwalk. No facilities are available at the site, so visitors should plan and bring their own supplies.
While visiting Devils Gullet Lookout, you may be interested in visiting another great outdoor attraction that is nearby, Bastion Cascades.