Bastion Cascades, located at Meander in the Tasmanian wilderness, is a beautiful natural wonder that offers visitors the opportunity to experience the pristine beauty of Tasmania. The cascades are surrounded by lush green forests and crystal clear waters, making it the perfect place to escape the hustle and bustle of city life.
Key Visitor Information for Bastion Cascades
Bastion Cascades Weather
The weather in Tasmania is known for being unpredictable, so it's important to pack accordingly. In general, the summers are mild, and the winters are chilly. The average temperature in summer is around 20-25 degrees celsius, while in autumn it is around 15-20 degrees celsius. The winter months can get quite cold, with an average temperature of around 5-10 degrees celsius, and spring is typically cool with an average temperature of around 10-15 degrees celsius. It's important to note that weather conditions can change quickly, so it's best to check the forecast before your visit.
Directions to Bastion Cascades
Bastion Cascades is located approximately 1 hour and 30 minutes from Hobart, 2 hours and 30 minutes from Launceston, and 3 hours and 30 minutes from Devonport. If you are driving from Hobart, head north on the A1 highway towards Launceston, and then take the B71 highway towards the town of St Marys. From there, follow signs to Bastion Cascades. If you are coming from Launceston, take the A3 highway towards Hobart and then turn onto the B71 highway towards St Marys. From there, follow signs to Bastion Cascades.
Best Known for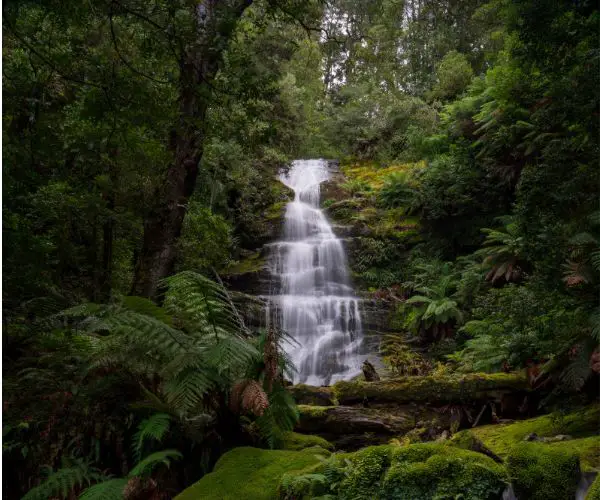 Bastion Cascades is best known for its stunning waterfalls, which cascade down the rocky cliffs into crystal clear pools below. Visitors can enjoy hiking, swimming, and picnicking in the surrounding areas.
What to See & Do at Bastion Cascades
The main attraction at Bastion Cascades is the cascading waterfalls, which are breathtaking to behold. Visitors can hike to the top of the falls to get a better view or swim in the refreshing pools at the bottom. There are also several picnic areas located throughout the park where visitors can relax and enjoy the scenery.
The Bastion Cascades 8.5-km loop trail is generally perceived as moderately challenging. This 5 hour return hike is suitable for experienced walkers, the track is rough, markings limited and it can be slippery and sometimes covered with fallen and overgrown branches.
During quieter periods of the day, you can still find moments of seclusion. This hike is moderate, but it can be difficult to follow the path at times. Nevertheless, by using offline maps, it is manageable. The trail traverses through dense woodland, and certain sections may be overgrown. The duration of this trek depends on your fitness level and the weather conditions, and it can be slow-paced. Hence, commencing the journey early is highly recommended.
On your trip to Bastion Cascades, it's worth checking out other nice nearby outdoor attractions such as Devils Gullet Lookout and Parsons Falls.