When approaching the Tasman Peninsula from the Arthur Highway, you'll soon notice as you drive down the hill that there are incredible views to take in. At once you're surrounded with several high quality attractions to view. We recommend making your first stop the Tasman National Park Lookout.
Spending a few minutes at the Tasman National Park gives visitors an overview of what is available in the national park and Tasman Peninsula region and start planning your itinerary for the day. It's a free site to visit, easy parking and on most days there is even a coffee van and seating. After driving from Hobart for an hour most visitors appreciate being able to recharge with a coffee, stretch their legs and get excited by the views.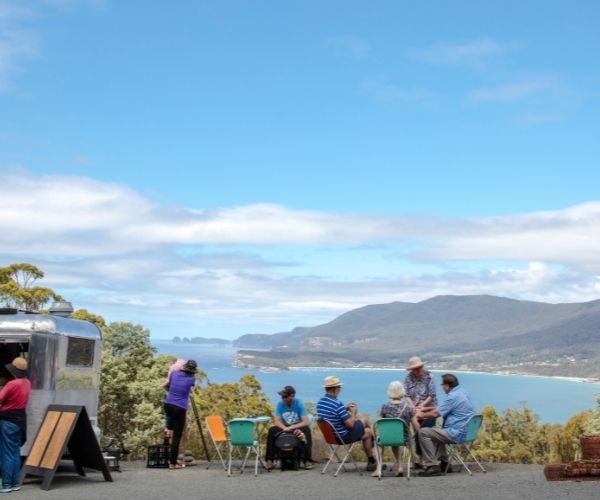 What You Can See
Attractions you can see or walk to from the Tasman National Park Lookout include:
Tessellated Pavement
Tessellated Pavement is a rare geological formation, one of Tasmania's most photographed attractions and one of only a few tessellated pavements in the world. The flat surface and straight lines can be mistaken for large pavers or floor tiles, however it's entirely natural.
Eaglehawk Neck
This thin isthmus contains a great sandy beach on the eastern side that's great for surfing or just walking and relaxing after driving from Hobart. The most narrow part of the neck is about 30 metres wide and in convict times was known as 'The Dogline'. This geographic feature was fiercely guarded to catch any convicts who escaped from the Port Arthur penal settlement.
Pirates Bay
A stunning image is a white stretch of sand flowing along a circle of rocky outcrops and cliffs.
The turquoise waters flow into the Tasman Sea and on to the Southern and Pacific Oceans. Between here and New Zealand, which is 2000 kilometres away, there is nothing. Antarctica's crisp winds sweep in from the south.
This spot is popular with surfers, and the best swell is found in the bay's northern part, near Tessellated Pavement. The protected areas surrounding the Blowhole, particularly where Blowhole Creek meets the ocean, are particularly popular with families.
The mid-section of the beach is ideal for sunbathers, swimmers, and picnickers, with broad open spaces set against high cliffs.
Directions to Tasman National Park Lookout
Address: 138 Pirates Bay Dr, Eaglehawk Neck TAS 7179
Tasman National Park Lookout is a one hour 74km drive from Hobart. Drive over the Tasman Bridge, following the Tasman Highway to Sorell, then turn right and take the Arthur Highway the rest of the way. As you arrive at Eaglehawk Neck, turn left at Pirates Bay Drive and follow this road for one minute. You can't miss it!