Ben Lomond is Tasmania's second highest peak and it's highest regions have consistent snow during most of winter, with snow also regularly found during autumn and early spring. Walkers, skiers, snowboarders and nature lovers will enjoy the spectacular views and snowy alpine vegetation at Ben Lomond National Park. When driving up the steep mountainous drive, you can enjoy the high dolerite cliffs and long spanning views across north-east Tasmania. The mountain road is known as Jacobs Ladder, vehicles without four-wheel drive capabilities will require snow chains.
Ben Lomond National Park also offers one of the two ski fields in Tasmania and is a popular place for local skiers and snowboarders in Winter. Keep your eyes open, there's plenty of wildlife to see such as the Bennets Wallaby, Eastern Quolls, Wedge-Tailed Eagles and Wombats.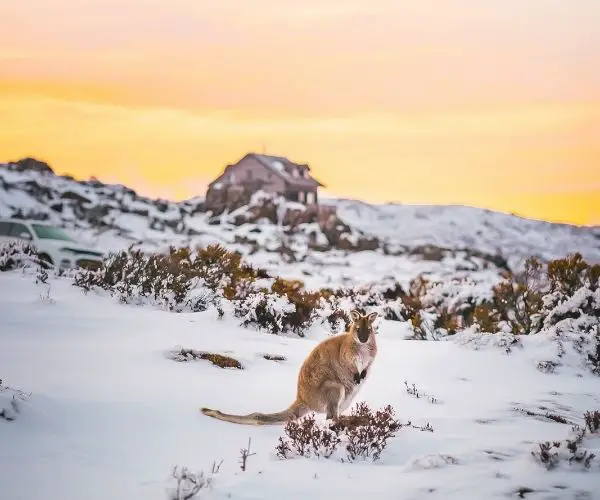 Key Visitor Information
Directions to Ben Lomond National Park
Ben Lomond is only a one hour drive from Launceston and a three hour drive from Hobart.
Weather at Ben Lomond
As you would expect, Ben Lomond is cold during winter. However, if you're interested in skiing or snowboarding it's best to check the weather in the lead up to your visit to ensure there is a good coverage of snow. While Ben Lomond is cold, it's not the highest or coldest snow sports destination so slightly unusual weather patterns may cause a change to your plans.
During summer Ben Lomond has excellent weather for hiking, with nice 18 degree days providing weather which is pleasant but won't leave you feeling fried in the sun.
Average summer temperature is 18 degrees celsius with a low of 4.
Average autumn temperature is 12 degrees celsius with a low of -1.
Average winter temperature is 6 degrees celsius with a low of -6.
Average spring temperature is 10 degrees celsius with a low -2.
Things to Know When Visiting Ben Lomond
Visitors must first climb Jacobs Ladder, a steep and narrow piece of road, to reach the summit. Between June and September, snow chains must be carried; they are not offered on the mountain, but can be rented or bought at outlets in large cities. It's important for visitors to ensure their vehicle is suitably equipped for the snowy and slippery roads. Parks and Wildlife are unable to assist in helping vehicles in trouble except for emergency circumstances.
Attractions & Things to do at Ben Lomond
Jacobs Ladder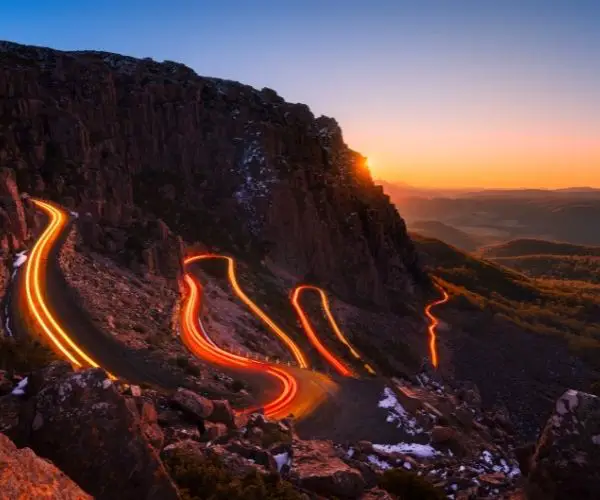 The best views of Ben Lomond are from the top of Jacobs Ladder, a twisting route that leads to Ben Lomond's summit. The Jacobs Ladder route to the summit of Ben Lomond is reputed to be one of Australia's most terrifying journeys, when covered in snow. Climbing this road in the winter without a local guide, 4WD, and snow chains is not recommended. Even if your vehicle has 4WD, it's still a good idea to have snow chains on hand just in case. These can be obtained from Launceston's Autobarn. If your chains are not used and uponened, they will accept returns.
Skiing and Snowboarding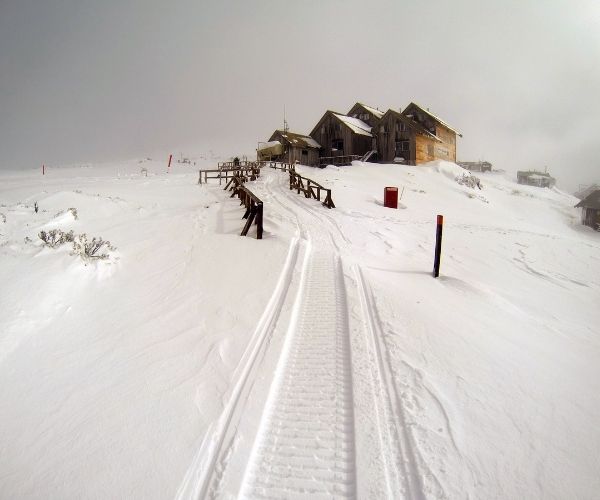 The official snow season runs from June's Queen's Birthday weekend through to the last weekend in Septembers. July and August are traditionally the coolest months, and this is when the majority of snow occurs. It's difficult to say when the snow will fall because it depends on meteorological conditions and might occur at any time of year.
Hiking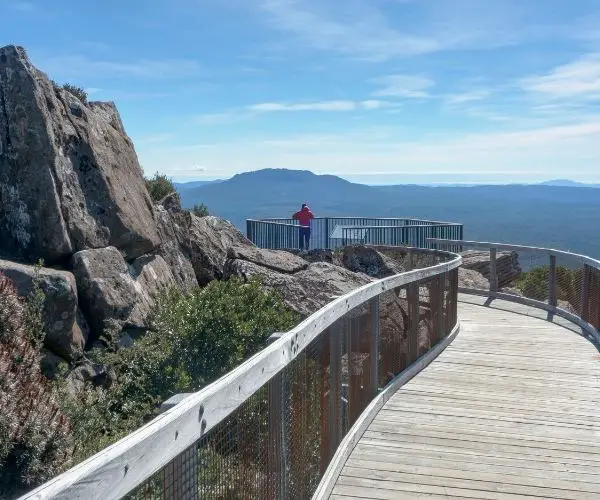 Ben Lomond Summit Pass Track
The Summit Link Track in Ben Lomond National Park is a one-kilometer hike that connects the alpine settlement to the steeper and more difficult Summit Pass Track. ​​
It's an easy to moderate trek that takes you through a combination of alpine plants and rock scree on a well-built trail.
Alpine Village to Little Hell
This hike takes roughly 1.5 hours round trip from the Ben Lomond Car Park. It follows a cross-country ski trail, so even if the path isn't clearly defined, the ski poles make it easy to follow.
Early on in the trip, there are a few small boulder fields that will need some rock-hopping. After about 20 minutes, you'll reach a fork in the road. Go straight ahead to continue to Little Hell.
The route gets easier to walk as it flattens out, and the approach to Little Hell is gentle, enabling you to appreciate the colourful wildflowers that grow close.
Views across the southern section of the plateau, including Lake Baker and Lake Youl in the distance, and all the way to Stacks Bluff, are spectacular from the summit of Little Hell.
To complete the circuit and return to the ski village, take another track across the western end of Surprise Valley, which is also indicated with ski poles.
Carr Villa to Alpine Village Track
With steep grades up the side of the Ben Lomond Plateau, this hike begins at Carr Villa and takes around 1.5 hours one way.
The track ascends through the last small area of eucalypt woodland and onto the plateau, then continues along to Legges Tor, the highest point on the plateau, before dropping back to the Ben Lomond Road.
To get to the Alpine Village, go on the road and follow for about 1 kilometre. Walkers can either arrange for a vehicle pickup or return along the same path. Because of the considerable risk of injury, walking along Jacobs Ladder is not permitted.
In the summer, the trail provides stunning views of the majestic scenery as well as rare alpine plants. The vibrant wildflower displays are a sight to behold.
Accommodation at Ben Lomond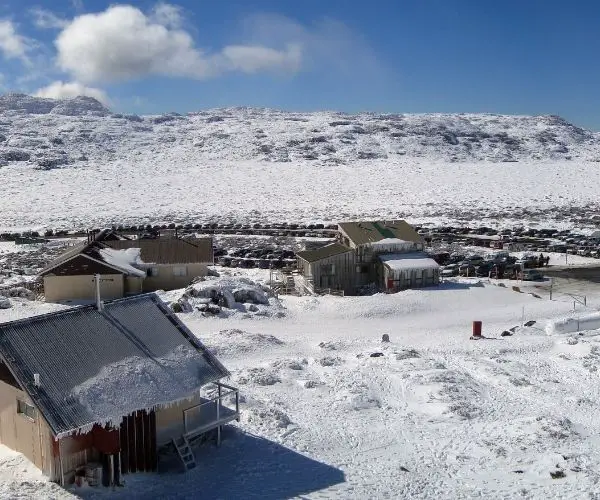 Camping
Several kilometres below the top, in a magnificent area of lowland gums and mountain pepper shrubs, is a tiny camping spot in the Ben Lomond National Park.
It has six unpowered campsites that are ideal for tents or campervans, and they are assigned on a first-come, first-served basis.
A bathroom, drinking water, and a lookout are all available at the campground.
Within the park, remote bush camping is permitted, although campers must not set up within 500 metres of any road. Stoves that burn fuel should be used.
Tas Rover Ski Club
The Tas Rover Ski Club is perfect if you're looking for somewhere no-frills that will get you as close to the Ben Lomond ski slopes as possible. Most of the rooms take 5 people and have an ensuite. The kitchen and communal areas are all shared. This venue is usually only open during ski season (first weekend in July till the third weekend in September), however large groups may be accommodated for outside of this period with prior notice.
Northern Tasmanian Alpine Club
The Northern Tasmanian Alpine Club has two lodges which are perfectly situated overlooking the ski slopes. There are bunk rooms which sleep 8 people and communal kitchen, dining, lounge, ski storage and drying room facilities.
There is also a smaller lodge known as 'The Fred', which is made up of 4 self contained units.