Philosopher Falls, located 9 kilometres from Waratah, is a magnificent multi-tiered waterfall surrounded by lush rain forest. The signs pointing you to Philosopher Falls is plainly visible as you drive towards Savage River from Waratah. The parking lot is around 400-500 metres up the dirt road.
Follow an easily accessible walking road that leads to a view of Philosopher Falls, which is named after James "Philosopher" Smith, the man who changed the fortunes of the entire state of Tasmania by discovering tin at Mt Bischoff, near Waratah.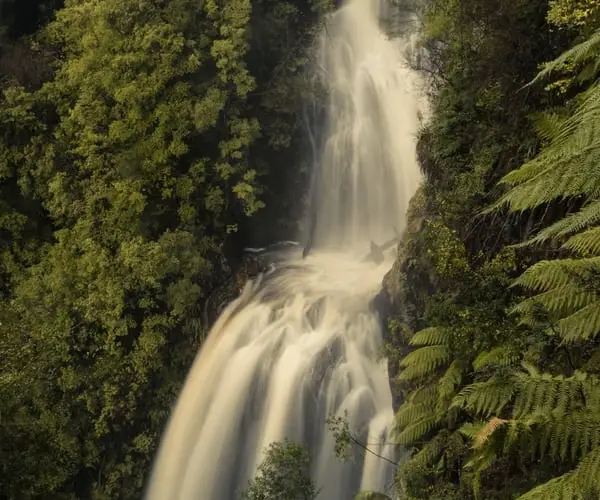 The trail is a large gravel/stone path that winds its way through the woodland before arriving at a specially constructed footbridge that spans the Arthur River. The hike continues along the river's northwestern bank until you reach a 210-step staircase that leads to a view of Philosopher Falls.
The ideal time to see the cartoon-like mushrooms strewn all along the track is in the autumn, but this is an experience you don't want to miss at any time of year. The Falls overlook is at the end of a 45-minute trek into the forest (there is a stairway down to the foot of the falls), but even a ten-minute walk in from the parking lot will reward you with a spectacular 'Alice in Wonderland' experience.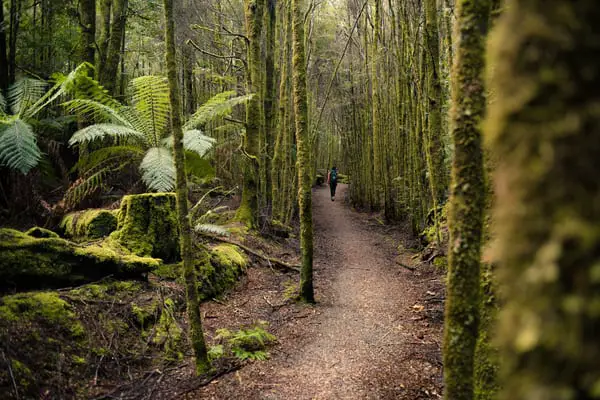 Philosopher Falls walk is a 2 kilometre walk with a duration of 1.5 hours return. The walk is considered a grade 3 hike, meaning that it is of moderate ability. In 2010 there was extensive work done to the track, bridges and carpark. However like many bushwalking tracks there are still a couple of obstacles and things can change during periods of continuous wet weather. Dogs are not allowed.
Directions to Philosopher Falls
Philosopher Falls is in the very inner-part of North West Tasmania. Many will visit from the north coast from places like Devonport, Burnie and Wynyard. However, if you're traveling on the west coast it's also a nice side trip to take.
From Devonport, Philosopher Falls is a 1.5 hour 117km drive. Follow the Bass Highway west and follow the north coast to Burnie, then take a left and head south on Massy Greene Drive, which becomes Old Surrey Road, then Ridgley Highway. When you reach Waratah, take a left onto William Street which becomes Waratah Road, then not long out of Waratah you'll take a right onto Butlers Road.