Region: South-East Tasmania
Hobart's waterfront docks, once built for more practical purposes of managing shipping, are now the liveliest part of Hobart. A key attraction for visitors wanting to take in some nice views, dine and drink and take in some interesting history.
Constitution Dock is a central hub in Hobart's waterfront, where yachts, fishing vessels and those seeking the best dining and bars all congregate. The dock comprises of a marina with rock walls, with a drawbridge allowing boats inside the sheltered dock. The outer perimeter includes an eclectic mix of restaurants, bars and museums. While the geographic area is fairly small, there's a lot to see and do here, you could spend half a day at least here!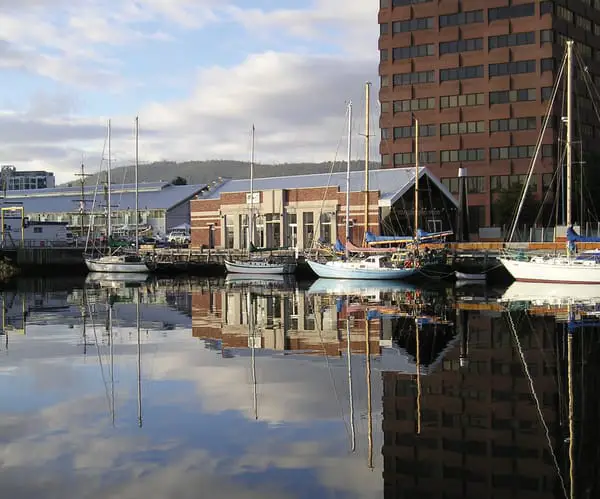 Is it Worth Visiting Constitution Dock?
Yes, it's picturesque, lively and has something for almost everyone. A visit to Hobart wouldn't be complete without a visit to the docks. An iconic Hobart experience is visiting Constitution Dock for fish and chips.
There's also many surrounding attractions so you can visit the nearby Victoria Dock, Elizabeth Street Pier, Salamanca and Battery Point on your visit.
History of Constitution Dock
Since the arrival of the first British settlers in 1804, the Hobart waterfront quickly became a busy place. The need to accommodate numerous convict ships, supply ships and whaling vessels had led to infilling in parts of Hobart's waterfront to better meet the needs of these boats.
Work started on Constitution Dock in 1847 under the orders of Governer Denison who had overseen construction of docks in Portsmouth, Woolwich and Bermuda. Convicts were used to excavate dirt and rocks and build walls in the water. Constitution Dock was completed in 1850 with a grand opening on December 3rd that year. The name for Constitution Dock was chosen after the Australian Constitutions Act 1850 was also introduced that year. 
Things to Do at Constitution Dock
The Yachts
Sometimes it's the simple pleasures which are the best. Constitution Dock is a great place to walk around and admire the many views at this amazing waterfront. There's always an interesting selection of boats, from small yachts to high-end race yachts. There's old fashioned style ships, as well as fishing vessels.
The architecture is also intriguing, particularly the heritage buildings of the Henry Jones Art Hotel on the north-east side. It's the kind of place you could visit many times and see something different each time.
Mures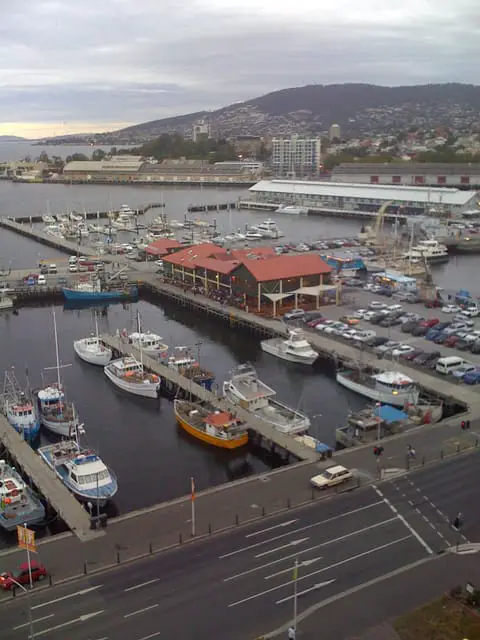 With many restaurants coming and going over the years, Mures has stood the test of time and is a firm favourite with locals and tourists alike. The green two-story building is situated in prime position right in the middle of Constitution Dock, making it a great place to catch a meal and admire the scenery.
The specialty here is seafood, fresh seafood that's caught that day and comes straight off the fishing boats to your plate. The selection is diverse, many people enjoy the regular style fish and chips and an ice cream or beer. There is also the award winning Mures Upper Deck a la carte restaurant where you can enjoy Tasmanian Rock Lobster and Trevalla and many more options.
Pearl + Co
In the Mures building you can also find Pearl + Co, a small, contemporary and intimate venue, offering a cosy little hideaway to relax and enjoy fine dining and drinks. This venue serves fresh oysters, modern seafood cuisine, wine and cocktails. There's an all day menu so if you're walking through Constitution Dock and feel hungry, you can drop in for oysters and a drink, or plan an evening and indulge.
The Fish Punts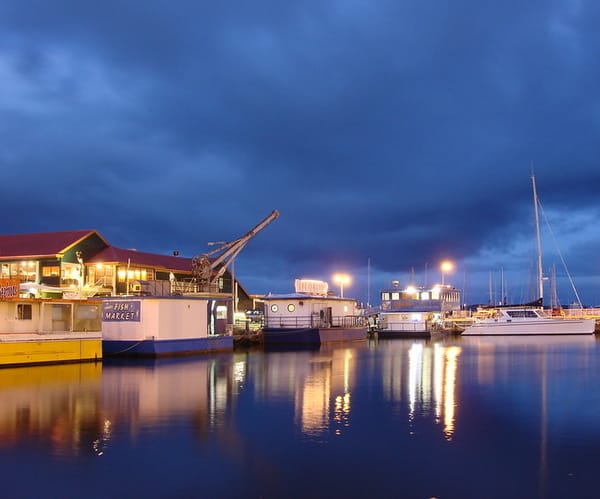 The Fish Punts are small fishing boats which park alongside the dock, offering fish and chips from fish caught fresh off the boat that morning. Tasmania is known for the freshest seafood and this is as fresh as it gets! The Fish Punts can be found alongside Constitution Dock facing south-west off Mures. Popular options include the Flippers Fish Punt and the Van Diemen's Land Creamery for a nice ice cream after.
Tasmanian Museum and Art Gallery
The Tasmanian Museum and Art Gallery offers a highly regarded collection of permanent and feature exhibits and offers something exciting for everyone. The museum regularly hosts detailed exhibits on Tasmania's convict history, the history of Hobart, Tasmania's Aboriginal history, and Tasmania's animals including the extinct Tasmanian Tiger. There's always limited-run exhibitions on a range of topics, drop in and enjoy.
Maritime Museum of Tasmania
If you're remotely interested in sailing or early Tasmanian history, you'll be impressed at the extensive collection on display at the Maritime Museum of Tasmania. This museum holds an array of memorabilia highlighting Tasmania's nautical history leads onto other interesting parts of the state's history such as whaling, early settlers, the gold rush and world war two.
Mawson's Huts Replica Museum
The Mawson's Huts Replica Museum provides and insightful look into the achievements of one of Australia's greatest explorers of Antarctica, Sir Douglas Mawson. Having led two expeditions to Antarctica in 1911-1914 and 1929-1931, his work led to Australia's claim of 42% of Antarctica and some significant scientific research. Visit the lifesize replica museum of Mawson's wooden huts. These are brilliant and insightful, a lot of effort has been made to make this interesting and educational.
Sydney to Hobart Yacht Race
Constitution Dock really comes alive during the Sydney to Hobart Yacht Race, held from Boxing Day till New Years Day each year. This race sees a range of yachts from high end maxi yachts build for racing all the way to smaller, older yachts who race in their own class. This race sees yachts start in Sydney and brave the often rough Bass Strait to reach Tasmania and finish in Hobart's Derwent River.
Many of these yachts dock in Constitution Dock or the nearby Kings Pier Marina or Elizabeth Street Pier. The streets of Constitution Dock are closed during this busy period, and additional food stalls and music and setup. The area really comes alive as tourists and locals flock to Constitution Dock to see the yachts, enjoy the sun and soak up the atmosphere.
Attractions Near Constitution Dock
Heading South Statues
In the north-east corner of Constitution Dock, you'll find the Heading South Statues, a stunning tribute to the early explorers of Antarctica. In 1898, Louis Bernacchi was the first Australian to venture to Antarctica, these bronze statues commemorate his bravery as well as other notable explorers. Their plaques describe their brave expeditions into the cold in greater detail.
Elizabeth Street Pier
At the bottom of Constitution Dock is Elizabeth Street Pier. Once an old shipping warehouse lodged over the water, this pier has been tastefully brought back to life and has become one of Hobart's popular dining and entertainment venues. It's a great place to grab lunch, dinner or a drink and look out over the water and admire the yachts. Two stand outs here are Fish Frenzy and T42.
Fish Frenzy is known for doing fresh and great tasting fish and chips which are wrapped in a huge paper cone. They also do great salads, scallops and Tasmanian wines.
One of the most versatile yet classy venues is T42, a place which is really a great answer for brunch, lunch, dinner or drinks with friends. Sit inside or outside at a table, or relax in a booth or comfy couch. This place oozes style and sophistication without going over the top.
Accommodation Near Constitution Dock
The closest accommodation options are at the eastern-adjacent Victoria Dock. These are all great options, some rooms with water views, and all offering restaurants. These are there is the Henry Jones Art Hotel, The Hotel Grand Chancellor and the recently built Macq 01 Hotel.
If these options are unavailable there are others to choose from in the Hobart city centre and Salamanca, which are all walking distance from Constitution Dock.
Banner Image Source: Tourism Tasmania & Kathryn Leahy