Strahan is a beautiful little fishing village on the west coast of Tasmania. Despite it's isolated location, Strahan is a town full of multi-layered depth. It's been a key part of Tasmania's convict, timber and fishing history. You'll find lots of intriguing attractions in Strahan, exploring it's interesting and sometimes dark past, with it's fresh and friendly sense of new life.
There are many things to do in Strahan such as the Gordon River Cruise, Macquarie Harbour, West Coast Wilderness Railway and exploring the beautiful Strahan village and port. Strahan is also a great place to base yourself for several days while exploring other villages and attractions on the west coast.
Key Travel Information
Getting to Strahan
Unless you can access a helicopter, there are no shortcuts! Strahan is a 4 hour drive from Hobart and a 3.5 hour. There's lots to see on the way so take your time and enjoy the scenery. If you're driving from Hobart, stop on the way at Lake St Clair. If you're driving from Launceston, stop at Cradle Mountain.
Weather
Strahan, like the majority of the west coast, is cold, wet and exposed to a variety of weather conditions. Expect rain, even January has an average of 12 days of rain.
Winter: 12 degrees celsius
Spring: 16 degrees celsius
Summer: 21 degrees celsius
Autumn: 17 degrees celsius
Well known for
Boat cruises with lots of beautiful, peaceful bush to see. No high-rises or crowds, just yourself and the world heritage area at your fingertips. High-quality tourism done well, somewhere you can explore and enjoy without excessive crowds.
Attraction in Strahan
Strahan Village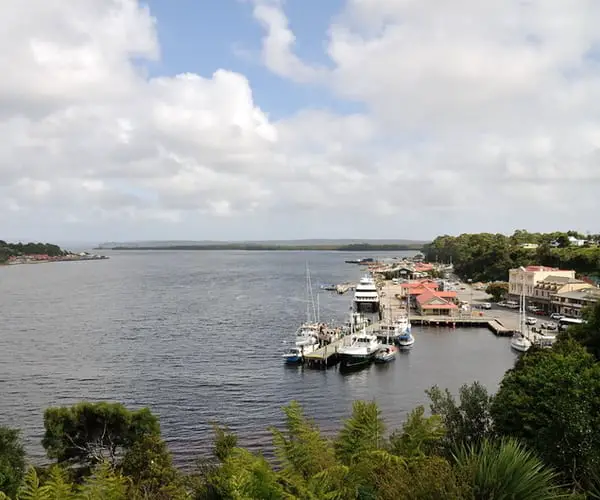 There's lots of things to see in Strahan village, this beautiful little port is a great place to walk, explore, and enjoy. For many of us, this quiet little fishing village is so different from our regular home life, so look around, breathe in the fresh air and enjoy it.
There's a well-preserved old-fashioned feel here with sweet shops, ice cream shops and hearty fish and chip shops for a feed. Hire a bike and explore the streets and port.
If the weather is a little too wild for your liking, stop by the Richard Davey Amphitheatre and enjoy 'The Ship That Never Was'. This play is based on a true story back in 1834 of ten local convicts who set sail from Sarah Island to Port Arthur, encountering a yogage filled with twist and drama. It's the longest running play in Australia, which is an incredible feat in itself!
Another great way to learn about Strahan is by visiting the West Coast Reflections exhibition at the West Coast Visitor Information and Booking Centre. Experience tales and stories spanning across Aboriginal, convict, mining and forestry eras which have all shaped the area into what it is now.
Also on the Strahan Esplanade, you'll find Morrison's Huon Pine Sawmill. This fourth-generation family run sawmill offers great insights into the once thriving Huon Pine logging industry. The beautiful wafting aroma of Huon Pine will greet you as you approach the sawmill. Once you step inside you'll see that there's lots to see here. There's fascinating antique machinery, and in the Morrison family history room you'll see arguably the best photo collection of Strahan's past.
Macquarie Harbour & Sarah Island on a Gordon River Cruise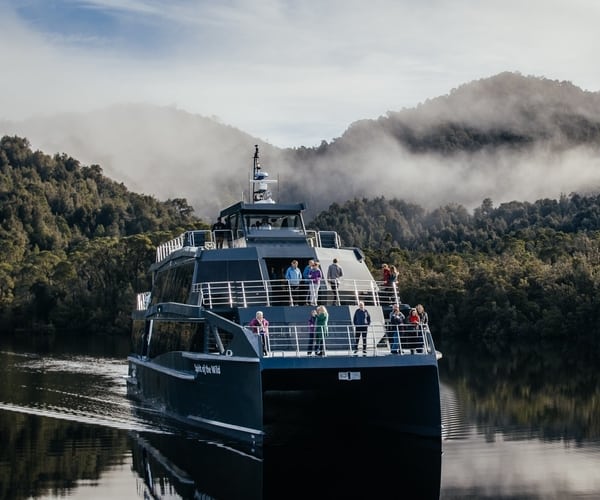 If you didn't do the Gordon River cruise, you didn't really see Strahan! This cruise is your gateway to reaching the best things to do in Strahan. It's not any old cruise though, it's a masterclass in how a well put together tourism experience should be conducted.
Situated just below the port of Strahan is the World Heritage Area Franklin–Gordon Wild Rivers National Park. Take a boat cruise to view a number of excellent tourist attractions in the Macquarie Harbour and Gordon River.
Every effort has been made to make these cruises a high standard in tourism. The boats have hybrid-electric motors which enables you to enjoy the sounds of nature with greater ease. There is a chef prepared buffet lunch for your enjoyment, with a premier upper-deck option for those looking for the most exclusive experience.
As the boat quietly glides through historically significant areas in convict history such as Macquarie Harbour, Hells Gates and Sarah Island, guides will inform you about the sites and history of the area.
One of the first attractions at the mouth of Macquarie Harbour is Hells Gates. Following this you'll pass through Macquarie Harbour, viewing the salmon and trout farms. Of course the chef will give you a sample of the fresh, local seafood.
The cruise will stop at two locations, to show you a couple of places which are truly unique to the area. The first stop is at Heritage Landing on Gordon River, where you'll walk on an elevated boardwalk through the rainforest. Admire the raw, natural beauty of the ancient Huon Pine trees.
The second stop is Sarah Island. This small island was used to hold convicts, forcing them to clear Huon Pine to build boats. Convict settlements in general were harsh, but this was known as the harshest in Tasmania. It's geographic boundaries made it almost impossible to escape, with convicts having to cross the passage of water and make their way through the densest, often horizontal growing trees to have a chance of freedom. You'll see ruins here and appreciate the beauty of the location, but also the brutality of what convict life here entailed.
This cruise departs early in the morning and takes approximately six hours.
Henty Dunes & Ocean Beach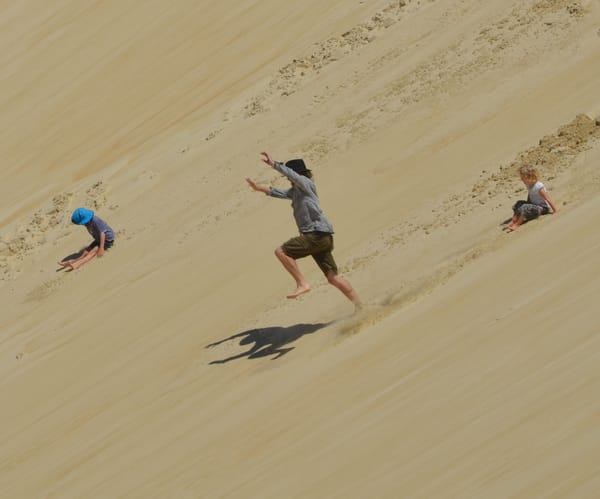 Slightly north of Strahan you'll find the expansive Henty Dunes. These sand dunes span 15 kilometres along the west coast, but what's more impressive is that they also span several kilometres inland. Parts reach up to 30 metres in height. The desert-like similarities are a real contrast to the surrounding areas of dense forest.
These dunes are a result of the wind from the Roaring Forties which blows in from South America, directly hitting Tasmania's west coast and making it an often windy place.
This is a great place to explore, bring a picnic and relax, or try some tobogganing. A number of businesses in Strahan offer toboggans for hire for this very purpose. There's also a 1.5 hour return walk, which takes you through Henty Dunes to Ocean beach.
While you're here you should also spend some time admiring Ocean Beach. Starting only a few kilometres west of Strahan village, this beach spans some 30 kilometres north along the coast, partly being alongside Ocean Beach. This beach is known for its wild waves and stunning sunsets. Pick an evening when the wind and waves are a little gentler and sit and admire the beautiful scenery. Apart from the beautiful sunsets, you can see some rare birdlife. This includes the Short-tailed Shearwaters, who fly here from the Arctic and spend the summer months nesting and raising their chicks.
West Coast Wilderness Railway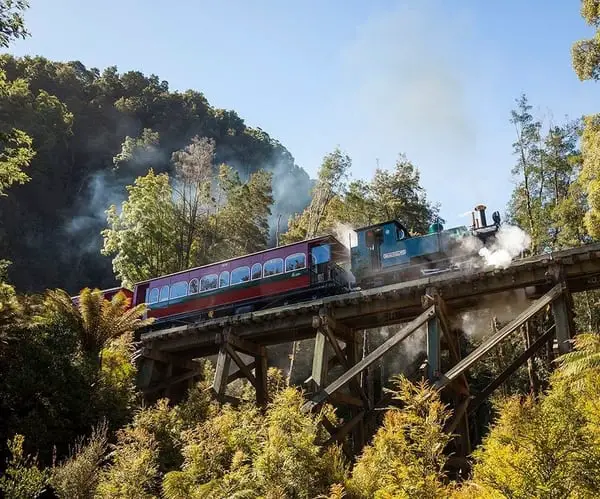 The West Coast Wilderness Railway enables you to step back in time and appreciate the history and natural beauty of the rugged west coast wilderness. The track takes you on a 35 kilometre journey through beautiful temperate rainforest from Strahan to Queenstown. On the journey you'll learn a lot about the history of the area and the remarkable efforts of those who built the train line.
There are different tours available which incorporate a number of activities with the train ride such as gold panning, bush walks, rafting, admiring the King River Gorge, and sampling Tasmanian sparkling wine and produce. If you're a real train enthusiast, you can even don a cap and overalls and work alongside the crew on the footplate.
Hogarth Falls
Not all the natural attractions involve hopping on a boat or train. Hogarth Falls is beautiful, impressive and you can walk there from Strahan village. Visit the 'People's Park' on the Esplanade and take the track for 25 minutes each way. This track is gentle, suitable for most abilities including young children.