Want to travel to Tasmania and spend time at one of the most stunning beach locations? Fortescue Bay might be the best place for you! Fortescue Bay also known as Baje Dolomein is an exquisite place where you can reconnect and be at one with nature. Located in the southeast part of Tasmania 10km east of Port Arthur. You might not want to lose the opportunity to take a peek at Tasmania one of the best places to visit. So what are you waiting for? Pack your bags and start exploring Fortescue Bay, a must-go-to place!
Key Visitor Information for Fortescue Bay
Directions to Fortescue Bay
Fortescue Bay is located within Tasman National Park in Tasmania. It is an accessible national park with abundant wildlife and truly a breathtaking and picturesque coastline. Fortescue Bay is one of the great places to explore the Tasman peninsula. The best way to visit Fortescue Bay is by riding a bus from Hobart. The park is approximately 56 kilometres east of Hobart. It is a 1 hour and 42 minutes trip. The park has a lot of attractions to offer for you to visit and explore.
Weather at Fortescue Bay
If you are looking for an interesting place to travel to, Fortescue Bay is the best for you! The primary wildness blended with the Beach's sand; both feel restful, and at the same time, comfortable. The best time to go to Fortescue Bay of Tasmania for a beach holiday is during their warm season. Fortescue Bay's warm season is from December to March. Fortescue Bay's warm seasons are cozy and comfortable. Their warm-season temperature typically varies from 42 degrees Fahrenheit to 71 degrees Fahrenheit, it is only rare for their warm-season temperature to be below 36 degrees Fahrenheit or above 82 degrees Fahrenheit. If you also like to travel to Fortescue Bay during its cool season you can visit the Park between May to August. Fortescue Bay's cool season has an average temperature below 57 degrees Fahrenheit.
Best known for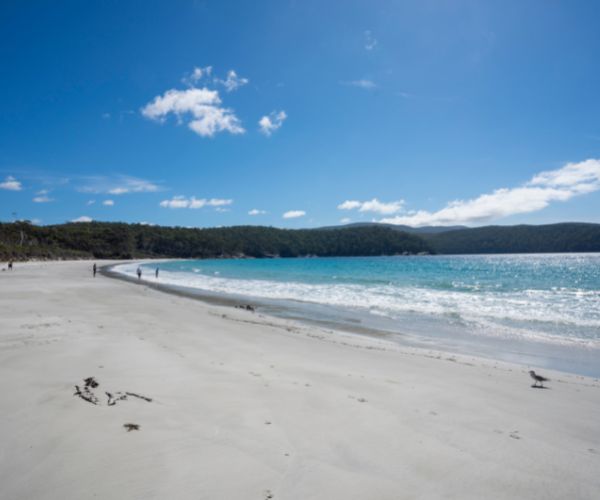 Fortescue Bay is popular among the locals in Tasmania. It has a large campground where you could catch a glimpse of the forest and meets the sea. It also has an amazing coastal bush walk and it has stunning scenery that hasn't failed anyone to impress. Along with it are well-formed tracks. Fortescue Bay is also known for its impressive white sandy beaches.  It's like a less well known but equally impressive version of Wineglass Bay.
History of Fortescue Bay
Fortescue Bay is a site planned and prepared by the Tasman National Park Management Plan 2001. The draft of the Fortescue Bay site plan was released in December year 2002 for public comment until February year 2003. Fortescue Bay site plan was only approved by the Branch Manager, Planning and Visitor Services, Parks and Wildlife Service in August year 2003. The site plan of Fortescue Bay has an objective to maximize Fortescue Bay's visitors' experiences and enjoy different kinds of activities but, at the same time, minimize any adverse environmental impacts. 
Attractions and Things to do in Fortescue Bay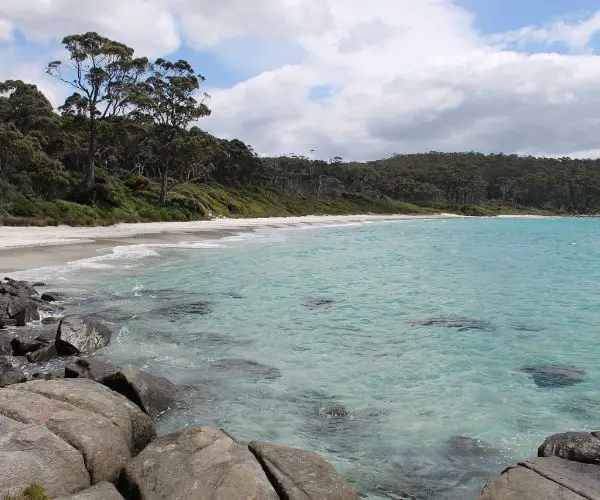 Cape Hauy
Be pleased by the beauty of Cape Hauy Fortescue Bay, Tasmania's moderately challenging out-and-back trail. The trail itself has a 10.1 km route that will take an average of 3 hours to complete, it starts from Fortescue Bay and passes through incredible woodlands that would lead you out to the opening where you could enjoy the view of cliffs with an amazing view of the coastal. The trail is around the southeast Tasman Peninsula. Along the way, you could appreciate the spectacular breathtaking views with their remarkable world heritage sites, sea cliffs, and must-see caves. 
Tasman National Park, Tasmania
A must-visit tourist spot where you could get a glimpse of where the ocean meets the land. Enjoy the breathtaking view of the Southern Ocean waters that crashes the towering sea cliffs in Tasman National Park. Get a sight of Tasman National Park worth seeing and exceptional caves, arches, and distinctive rock formations. Verdure that grows precarious in the coastal are close to the edge of the cliffs. The bough creates a blanket of green where it could perfectly fit a contrasting sight along with the stream and cascade surf below.
Things to do Near Fortescue Bay
Port Arthur Lavender
One of Tasmania's amazing places to reconnect with nature, Port Arthur Lavender is one of nature's finest sweet-smelling diversity of lavender. The fragrance and taste of Tasmania's diversity of Lavender is not to be missed! Cuddled up within 18 acres of the lavender rainforest while enjoying the breathtaking overlooking view of the ocean. Port Arthur Lavender also offers the visitor a lavender-inspired cafe showcasing a millennia-old use of fragrant flowers, where you could enjoy their ocean view. Along with it is a modern cuisine and a fully functioning essential oil distillery. You could enjoy and stroll the lavender trail or take in their coastal views.
Accommodation at Fortescue Bay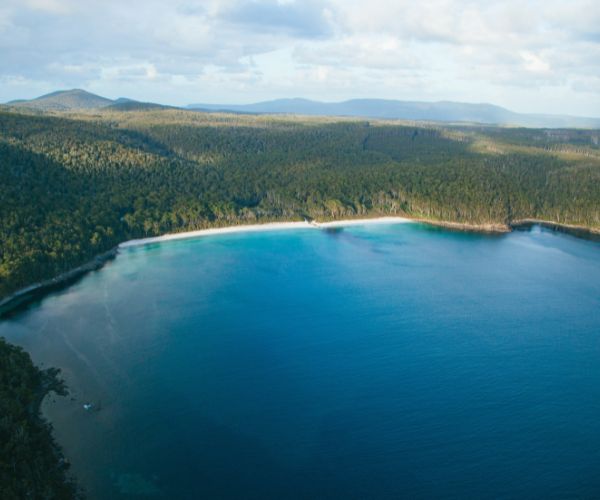 Camping at Fortescue Bay
Fortescue Bay is a great place to camp and spend a few days relaxing on the beach with family or friends. It is also a great place to camp and relax after spending several days doing the Cape Huay track.
Banksia and Mill Creek are the two campgrounds to choose from. Both campgrounds have tank water, although it is recommended that you boil it for 3 minutes or sterilise it.
During the seasonal campfire limitations, no campfires are allowed. Campfires are only permitted in designated fireplaces inside the Banksia and Mill Creek campgrounds when no restrictions are in effect. Bring your own firewood if possible. Cooking using a fuel burner is suggested, especially when there are seasonal fire restrictions. At the day use area shelter, gas barbeques are provided.
Basic camping goods, such as ice and basic camping equipment, are available for purchase at the campground site office.
Accommodation at Little Possum Shack
If you are looking for an ideal place to stay where you can get free and escape, Little Possum Shack is the best place for you! A cottage will cost you about 200 Australian dollars per night. Located at the Tasman Peninsula on Turrakana. The place has a great view across Carnarvon Bay to Point Puer, Tasman National Park in Tasmania, and the Isle of the Dead. Little Possum Shack is one of the places to stay with your family. Along the Little Possum Beach, modern extensions are providing bright and sunny spaces. The main bedroom and bunk room has open access onto the back deck where you can enjoy outdoor seating with a BBQ. A view across the bay to Point Puer and Tasman National Park can also be provided by Little Possum Shack's other deck at the front.
Accommodation at Carnarvon Bay Beach House
An Entire house that will only cost you about 200 Australian Dollars per night. If you are looking for a perfect refreshing getaway place, Carnarvon Bay Beach House is the place that you might be looking for! Carnarvon Bay Beach House is a fully furnished beach house where you can relax and admire the spectacular views of Carnarvon Bay and Point Puer. The place offers full access to 2 queens sized bedrooms; one overlooking the bay, 2 bunked bedrooms; both having trundles, and a family room with a double bed. The beach house also offers full access to a complete and well-appointed kitchen, a living area with comfy lounges where you can sit back and relax, and a large outdoor entertainment deck with a bbq area.