Pelverata Falls, located in the Snug Tiers Nature Reserve south of Hobart, is a spectacular waterfall that plunges from a height of roughly 100 metres. The hike to the falls takes about 1.5 hours and is accessible by a 5.2km return trail.  though more time is needed to fully appreciate the environment.
The falls can be a little dry after prolonged periods without rain, but can be especially stunning after a period of heavy rain. Time your visit right and you could really be rewarded with an amazing sight.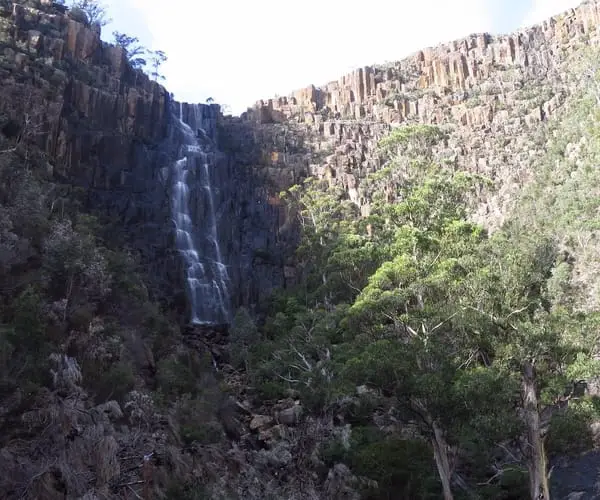 The Pelverata Falls walk begins by following the perimeter of farmland farms before branching off into dense eucalyptus woodland. The trail gently undulates for the following kilometre, passing through an area of jungle. After rain, the trail here can become fairly muddy, necessitating careful treading.
Following the jungle part, the trail climbs around a massive rocky outcropping before descending abruptly and briefly to the Pelverata Falls viewpoint platform. Slippery Falls can be seen on the distant slope to the right. The lookout platform at the end of the track offers the best views of Pelverata Falls and the creek below. Return to the carpark by following the same path.
The rough track below the overlook that leads to the brook will be visible to more experienced hikers. We do not encourage inexperienced walkers or children venture beyond the overlook, especially if the rocks are wet, because they are exceedingly treacherous. You walk beyond your comfort zone at your own risk.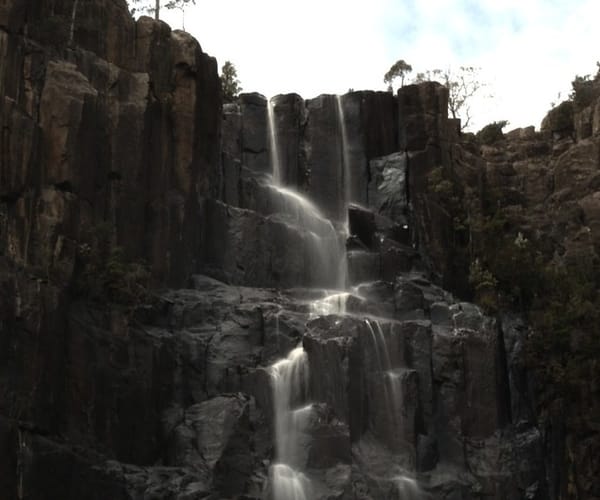 Pelverata Falls Walk – Key Facts
Difficulty level: Grade 3 (medium)
Distance: 5.2 kilometres
Duration: An average of 3 hours return
Dogs: Dogs are allowed if on a leash
Directions to Pelverata Falls
Pelverata Falls is approximately a one hour drive south of Hobart. Take the Channel Highway south towards Kingston and at the approach to Kingston, take a right onto the Huon Highway. At Sandfly take a left onto Sandfly Road, then shortly after a right onto Pelverata Road. Turn left onto Umfrevilles Road. Follow this road until you reach the Snug Tiers Nature Recreation Area.