Separating Calverts and Hope Beach, you'll find Goat Bluff Lookout, a 500-meter-long piece of 30-meter-high cliffed sandstone cliffs. Goat Bluff Lookout is great for those who want to see a variety of sites and attractions in one visit. Situated only 40 minutes (33 kilometres) from Hobart, depending on when you visit you can see large waves, bioluminescence, birdlife and coastal vegetation.
On the peak of the bluff, there is a lookout with views south to Black Jack Rocks and the larger Betsey Island. The beach below the lookout is a 60 metre long enclave of rocks and sand located in the bluffs centre, just below the overlook. The beach is made up of high-tide cobbles and boulders against the foot of the cliffs, followed by a 100-meter-long sandy bar with granite outcrops that fill the gap.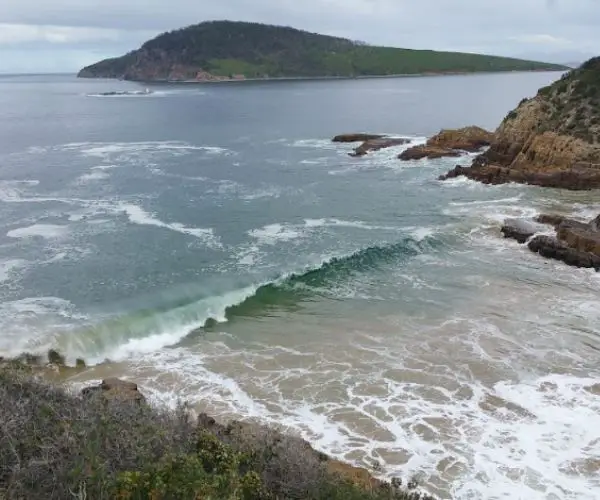 Due to the island and rocks providing shelter, waves at the bluff are reduced to 1 m and break over the bar with a minor rip that normally flows out against the western cliffs. There is no way to get to this dangerous coastline in a safe manner. Surfers go to the viewpoint to check out the waves on both sides. Rebound is located along the bluffs to the east, while Goats and the Wedge are located along Hope Beach to the west.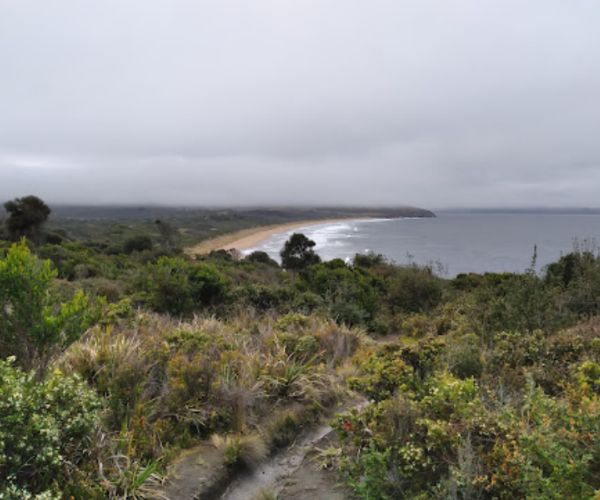 After visiting Goat Bluff Lookout, spend some time walking Calverts Beach and if you're a keen surfer, give the waves a go on the western end of the beach. This is a popular surf spot amongst locals and surfers in the Hobart area.
Directions to Goat Bluff Lookout
From Hobart, go over the Tasman Bridge and follow the Tasman Highway. Exit off the highway onto the Flagstaff Gully Link/South Arm Highway. Follow South Arm Highway (which turns into South Arm Road) for 22 kilometres. Lookout for signage on your left.