One of the main reasons for visiting Queenstown is to look around and see the unique landscape and history of the region. The mining history in itself is interesting, but the environmental impact it has caused is something not seen in many other parts of Australia or the rest of the world.
Spion Kopf Lookout is the best viewing point in Queenstown to view the unique landscape and history of this special town. The lookout is on a small but steep hill, enabling 360 degree views without having to travel far out of town. The trek is 300 metres round trip and takes around 15 minutes (leave more time to soak in the views). Some may find it a little steep, however the concrete path makes it easy for most people. There are handrails throughout the walk, as well as textured steps for wet days. There are old Queenstown mining relics located along the walk including a pneumatic bogger, a cast cannon, crotty smelters, and an underground loco with a fitted dump truck.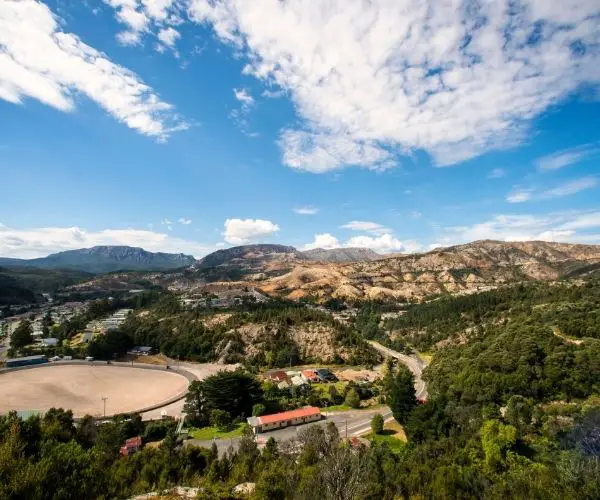 The summit of the hill provides panoramic views of the town and its strange surroundings. Look out for sights like the Empire Hotel and the gravel football field. The vestiges of this mining history can still be found in Queenstown. There's a posh hotel and the ruins of an aristocratic heydey, all situated in bizarre surroundings.
Directions to Spion Kopf Lookout
If you would like to park your vehicle close by, there is free parking at the top of Bowes Street. Alternatively, Spion Kopf Lookout can be walked to from most parts of Queenstown. Simply follow Bowes Street until you reach the T junction, then take a left onto Latrobe Street. You'll reach Spion Kopf Lookout at the end of the street.
Nearby Attractions
There's lots to see in Queenstown and the surrounding area including The Empire Hotel, Eric Thomas Galley Museum, Copper Mines Tour, Horsetail Falls and Iron Blow Lookout.