Cygnet is a cute, green and pretty village and farming area in the Huon Valley, south of Hobart. It's location snuggled between the Huon River and D'Entrecasteaux Channel provides the area with rich, fertile soil and ready access to water which has made it a key farming and agriculture area.
Cygnet played a key role in the Huon Valley's apple industry boom, particularly during the 1960's. Nowadays you'll still see apple orchards, however Cygnet has evolved into a more alternative, bohemian attraction.
For those looking to explore and enjoy a location that tickles the senses, you'll find many things to do in Cygnet. Don't eat beforehand, the cider and winery cellar doors, fresh fruit, and gourmet food providers mean you'll leave here with a full stomach. If you visit during November, you can experience the famous snail race.
History of Cygnet Tasmania
After observing a significant quantity of black swans in the area, French explorer Rear Admiral Bruni D'Entrecasteaux sailed up the Huon River in 1793 and dubbed the narrow harbour that extends up to Cygnet Port des Cygnes Noir (the Port of Black Swans). The first European settler in the area, William Nichols, arrived in 1834. John Wilson, Nichols' grandson, founded the first shipbuilding enterprise in Port Cygnet.
The district's first orchard was established near Petchey's Bay in 1836, and Port Cygnet was surveyed four years later. Convict probation stations were established in 1845 at Port Cygnet, Lymington, and Nicholls Rivulet (a misspelling of William Nichols' name), and the population grew substantially, albeit the convict stations declined three years later, in 1848. With the closure of the convict probation station, the land became more open to free settlers. Cygnet had a school by 1850 and a post office by 1854. Lovett was given its official name in 1862. It was still known as Port Cygnet until 1915, when Lovett was formally renamed to Cygnet.
During the early & mid 1900's Cygnet and the surrounding areas was involved in the fruit growing industry with orchard growring apples, pears, gooseberries, blackcurrants, raspberries and strawberries.
Cygnet is still a thriving agricultural area today, but the influx of people looking for a peaceful, alternative lifestyle has boosted the local economy.
Key Travel Information
Getting to Cygnet
Region: South-East Tasmania
Hobart to Cygnet is an easy and enjoyable 45 minute (54km) drive. Follow the Southern Outlet south of Hobart and continue along the Huon Highway and Channel Highway, where you'll start to leave the hustle and bustle (well hustle and bustle by Tasmanian standards) and enjoy some greenery and country driving.
Weather
Like most parts of south-east Tasmania, the weather here isn't too extreme. It's comfortable in summer, but can still experience rain or the occasional cold periods. During winter Cygnet experiences an average of 11 days with rain, but really you should bring clothing to prepare you for the cold and wet at any time of year.
Average temperature in summer is 16 degrees celsius
Average temperature in autumn is 17 degrees celsius
Average temperature in winter is 12 degrees celsius
Average temperature in spring is 17 degrees celsius
Best Known for
Cygnet is best known for being the small, artisan and slightly eccentric craft and foodie village south of Hobart.
There used to be an annual snail race known as The Cygnet Cup, or "The Royal Ascot of the Southern Hemisphere". Let's hope we can see a return of this in the future!
Attractions in Cygnet
Explore Cygnet Village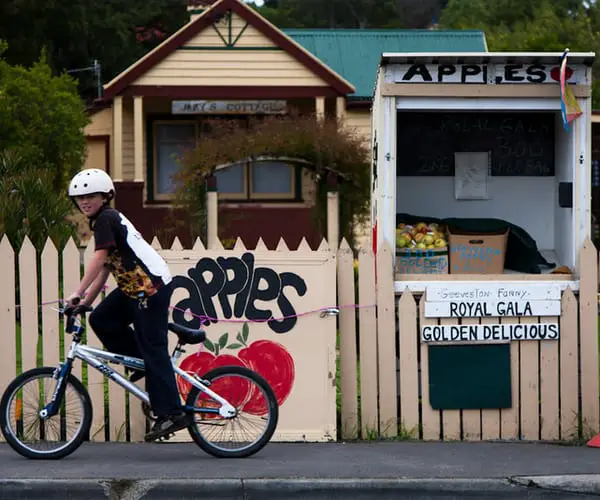 Stroll through the village and explore a variety of craft shops, artist studios and galleries with local goods. Cygnet is a home to a number of artists who make unique and beautiful pottery, paintings and photographic art.
Highlights include Lovett Gallery which is operated by the Huon Art Exhibition Group, with approximately 120 members who provide amazing paintings, photos, sculpture, pottery and jewellery.
Another great attraction is Art of Richard Stanley, an art gallery in the historically significant building of Cygnet's first general store from 1905. This has been converted into a large open space for local artist Richard Stanley. His gallery is a relaxing place to explore, with mellow music and a vast collection of paintings and prints. Most of the work is done by Richard himself on site. As you'll see he's surrounded by inspiration with stunning views of mountains, farms and water.
Pagan Cider Cellar Door
The apple industry boom may have come and gone, but Cygnet is still a prime location to grow amazing fruit and locals are coming up with new ways to leverage this. Pagan Cider use locally grown apples to make a real, cloudy cider with no artificial flavours or sugar added. The apple cider uses a blend of four apple varieties, and there are other stunning varieties using seasonally available fruit such as pear, cherries, quince, strawberry, apricot.
Pagan Cider offers more than a cider factory, it's a nice relaxing place to visit. Try a free cider tasting, pick up a few bottles to take home or stay for some food, perhaps some turkish toasties or a cheese board. You don't have to be a regular cider drinker to enjoy the venue or their products. Come here with an open mind and you'll leave with a smile on your face.
The Cygnet Living History Museum
The Cygnet Living History Museum is a fascinating collection of historical items relevant to the Cygnet area. The museum includes items from eras such as the Aborinal heritage, French occupation, convicts and English settlement, wooden boat building, apple industry and more.
It's location in the former Methodist church has a direct association to the Aboriginal heritage here from benefactor Fanny Cochrane Smith. Fanny was recognised by the government as the last survivor of the Tasmanian Aboriginals. She was granted 305 acres of land, with half an acre used to construct the church which commenced services in 1901.
Fat Pig Farm
Fat Pig Farm is the latest project by celebrity chef Matthew Evans, a chef by trade who is known for hosting the Gourmet Farmer television show. Matthew is a passionate advocate of sustainable food and knowing exactly what you're eating. With the help of his family, Matthew created this 70 acre farm to create a dining experience exactly how he sees dining should be done. As much of the food as possible is grown and reared on this property.
A favourite at the farm are Wessex Saddleback pigs as well as chooks, cows and a market garden.
Come and have lunch at the restaurant, enjoy Friday Feasts and if you're there at the right time you an even enjoy a Saturday Feast. There is also a cookery school, where you can learn not only how to cook but about the entire concept of growing, rearing and cooking great tasting foods sustainably.
Cygnet Old Bank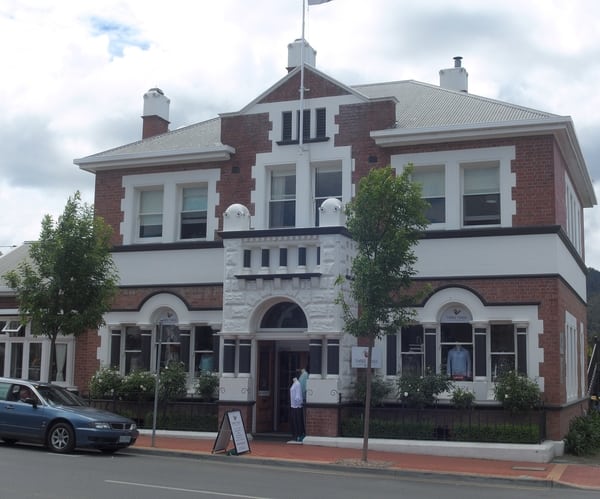 The Cygnet Old Bank will capture your attention while walking down Mary Street, the main street of Cygnet. The beautifully restored victorian architecture and bold romanesque street front provide a sense of prominence and style. No short-cuts have been made to make this building an enjoyable and admirable luxury experience. There are a number of ways you can enjoy this place, such as a cafe/restaurant, shop, bed and breakfast accommodation, fitness studio and remedial massage therapist.
Visit the conservatory cafe and taste seasonal local Huon Valley local produce. There are also freshly baked savoury items, pastries and cakes. On saturdays from 2pm you can enjoy high tea; the classic English-style conservatory provides the class and experience necessary to really enjoy high tea properly.
The Three Twigs shop provides a stylish range of clothing, homewares and gifts. The clothing has an emphasis on natural fibres such as linen, rayon, wool, cotton and other breathable and comfortable clothes which make you look and feel great.
Conservatory Cafe
Luxury Bed and Breakfast offers a choice of three elegant rooms with spacious living areas, log fires and bay windows which provide a view of the village. Enjoy complimentary port, sherry and local produce.
The Farmhouse Kitchen
The Farmhouse Kitchen is another place where you can come and learn how to cook. The theme here is amazing southern Italian dishes from the Puglia region. Gain knowledge, insights and inspiration from Guiliana who has 45 years' experience in the kitchen and brings knowledge passed down from generation before her, as well as her daughter Genevieve.
There are a range of classes here with a broad focus as well as specific classes on favourites such as pasta rustica, vegetarian, pizza and Italian bread, meat, lunch, al fresco, Italian feast, gnocchi, artichokes, cannoli and chiacchiere, tomato bottling and more.
Other nearby things to do
The Hartzview Vineyard and Heritage Pickers Hut Village Historic Museum at Gardners Bay is worth a visit on your way to or from Cygnet. There are cellar door tastings of wine, port, liqueurs and mead, and a vineyard cafe.
The Heritage Pickers Hut Village is worth a visit, where you can take a self-guided tour of 7 restored fruit pickers huts. These huts were homes to those picking apples but were also used to hold Italian prisoners of war during world war two.
The nearby village of Franklin is also worth a visit, where you can enjoy a cider tasting and lunch at Frank's cider bar and cellar door and enjoy the Wooden Boat Centre.
Ranelagh, slightly inland from Huonville is another great destination to visit, with the highly acclaimed Home Hill Winery and The Taste of the Huon in March.