Tasmania is often seen as a mystery from those who visit from interstate or overseas. The state is well known for being green, quiet and pretty. But there's a lot more to Tasmania than meets the eye. There's also a considerable variety of attractions, enough to keep tourists of all interests happy.
There are many things to do in Tasmania such as bushwalking, trying amazing food and wine, impressive beaches, fishing and enjoying the rich history that's mostly been well preserved. Tasmania isn't a destination with one, two or even a handful of attractions. Some would say dozens, some would say there's hundreds of great attractions in Tasmania. In this guide we've listed the key destinations in all regions of the state. There's something for everyone, have a read and plan your ideal day trip or holiday.
Read through this extensive guide or jump to a specific area of Tasmania in the contents below:
Key Tips Before You Visit
How to get to Tasmania
The main commercial airlines (Jetstar, Qantas, Virgin and Tiger) fly into Hobart and Launceston airports. Most flights arrive from Melbourne, however a smaller number of flights can be caught from Sydney, and Brisbane. King Island also receives light airplane flights from Melbourne's Moorabbin Airport.
If you're bringing a vehicle, you can travel on boat via the Spirit of Tasmania, which does overnight sailings from Melbourne to Devonport and a limited offering of daytime sailings throughout summer. 
Getting Around
Tasmania is a low density state with a low and spread out population of about 500,000. Because of this, there is little in the way of public transport, with no public train system. It's best to hire a car, this way you can visit the multitude of great coastal, forest, winery and small village sites outside of Hobart and Launceston.
If you are unable to or prefer not to drive, there are coach tour services available.
Weather
People from the northern parts of Australia will say that Tasmania is cold, but really when compared to other countries which experience snow in winter and extreme heat in summer, the temperature in Tasmania is pretty moderate.
Expect average daytime temperatures of about 13 degrees celsius in winter and about 21 degrees during summer. However it's important to note that the weather conditions in Tasmania can change quickly and sometimes unexpectedly. Being so close to the ocean you can often experience harsh cold winds. Rain is also common. If you're visiting mountains, particularly higher mountains like Mount Field or Cradle Mountain, you'll need warm jackets, beanies, scarf, gloves, hiking boots etc even in summer.
That being said, in spring and summer you should also be prepared for the occasional hot day above 30 degrees celsius. Tourists should also be prepared for sunburn and wear hats and sunscreen.
Things to do in South East Tasmania
When visiting south-east Tasmania, don't just spend your holiday in Hobart. While Hobart has many attractions and is a great place to base yourself, many of the best things to do in Tasmania are outside of the city. There are historic villages and convict settlements. You can visit many wineries, gourmet food producers, beaches, rainforests and mountains within a one hour drive of Hobart.
See Hobart – The Capital City of Tasmania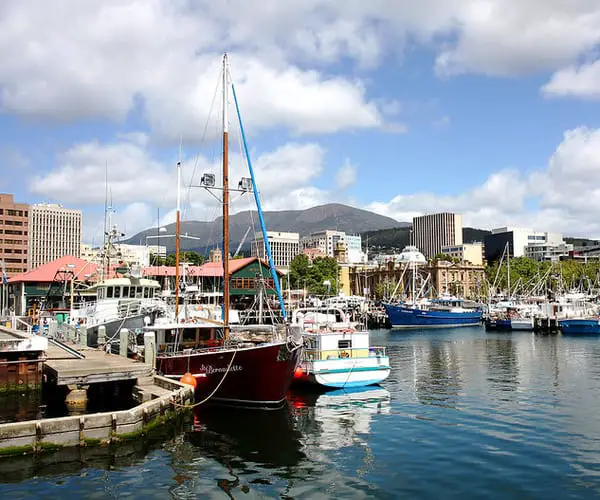 We're not saying you should visit Hobart just because it's the capital of Tasmania. Hobart is an amazing destination in it's own right! There's lots of things to see and do, and if you're flying into Tasmania it's a great place to start your trip and spend a few days before venturing out across the state.
Hobart is one of the oldest cities in Australia, and unlike most other parts of Australia, there are still many buildings from the early 1800's which you can see and visit. They look stunning and add to the warmth, character and sense of intrigue.
These buildings can be easily seen near the docks at Salamanca. The row of georgian-style sandstone buildings holds fine restaurants, cosy pubs, art galleries and more. Have lunch at the casual restaurant Cargo, or a Cascade Draught at the Tasmanian landmark pub 'The Whaler' and take a stroll down to the docks and see the stunning array of yachts.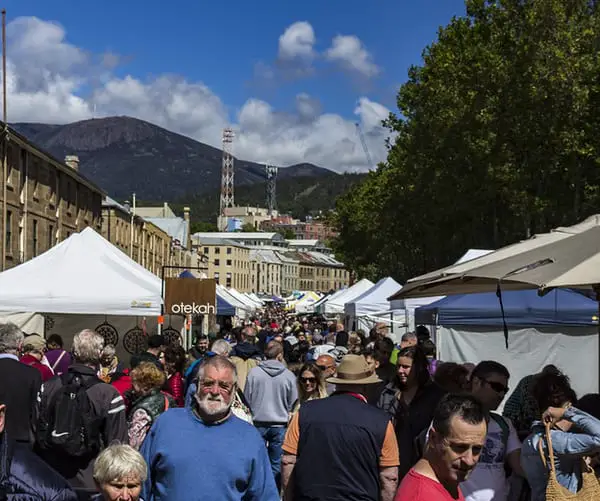 At the docks you'll find another of Tasmania's best attractions, fresh seafood. Enjoy Tasmanian seafood such as Blue-Eye Trevalla and Scallops which have been caught that day and served straight to you. Enjoy fish and chips wrapped in a jumbo cone at Fish Frenzy or enjoy a fine experience at Mures Upper-Deck.
From the docks you can also take a cruise up the Derwent River to MONA, the Museum of Old and New Art. You don't have to be an art connoisseur to enjoy this place, it's interesting for people of all ages, tastes and backgrounds. It's not all paintings and statues, it'll surprise, shock and delight you.
Nearby Salamanca is Battery Point, one of Hobart's oldest and most fascinating suburbs to explore. Enjoy narrow streets, quaint narrow two-story cottage-looking buildings, and Arthur Circus and it's cute little park in the middle.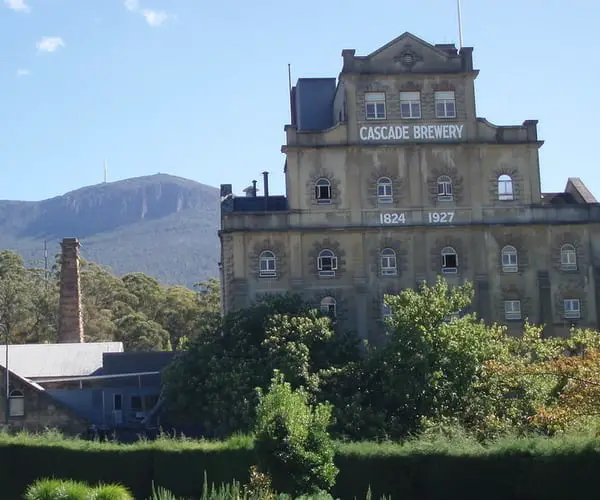 In South Hobart, at the foothills of the mountain you'll find the stunning Cascade Brewery. This grand facility is still the principal brewery for the Cascade beers, but there's lots more to it than this. The property is oozing with history and elegance from it's expansive, and beautifully manicured gardens. There's a restaurant where you can enjoy lunch or you can enjoy a quick tasting.
Pack a picnic and head to the Royal Tasmanian Botanical Gardens. Explore a collection of unique gardens or lay a picnic rug and relax on the lawns.
Hobart has a lively festivals and events scene, and is often visited by people from Melbourne and Sydney who wish to enjoy these. If you visit between Christmas and early January you can enjoy The Taste of Tasmania, the Sydney to Hobart Yacht Race and The Falls Festival. If you're visiting during the middle of the year, there's Dark Mofo. Like MONA, it's an eyeopener, with many events held in Salamanca and throughout Hobart.
Mount Wellington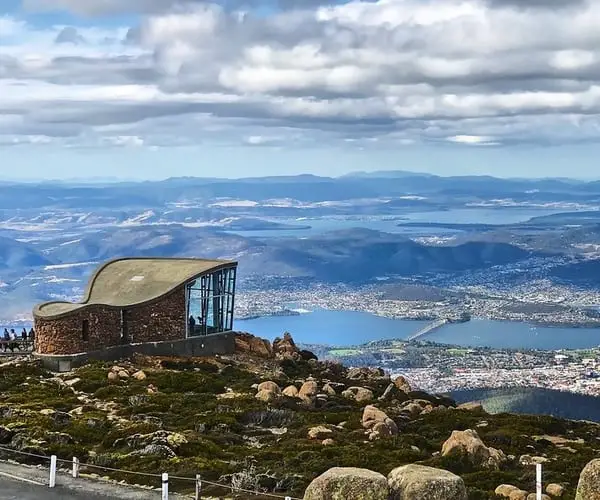 How many capital cities can you name where you can drive half an hour and be on top of a 1271 metre high mountain? The people of Hobart are so lucky to have Mount Wellington in their backyard.
In winter there's often snow. In spring and summer there's great bushwalking. But what makes it really special is the views. Most days you can see close to 100km away! Even if you don't have much time it's well worth driving to the top and spending a few minutes at the lookout. A visit to the top of this mountain is one of the best things to do in Tasmania for nature lovers, photographers and anyone who wants to see one of the longest views.
Bruny Island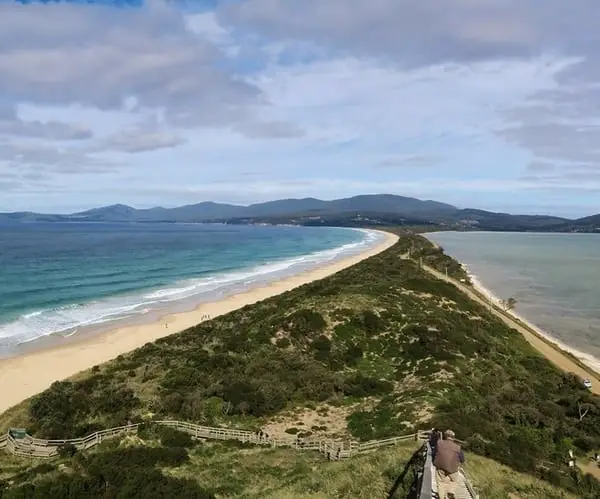 Where letting you in on a bit of a secret here! Bruny Island is amazing but until recent years it's kind of flown under the radar a bit. It's always been a popular holiday spot with Tasmanians, many aspire to own a holiday home here near one of the many beaches. But nowadays it's getting a name for itself on the tourist trail.
Drive half an hour from Hobart to Kettering, where you can bring your car on the ferry to Bruny Island. Walk the stunning beach and lookout steps at the Bruny Island Neck and stay a night at Adventure Bay or the delightful, hidden Cloudy Bay. Bruny Island has recently become a real gourmet foodie destination with amazing artisan whiskey, cheese, oysters, honey, berries and chocolate.
Huon Valley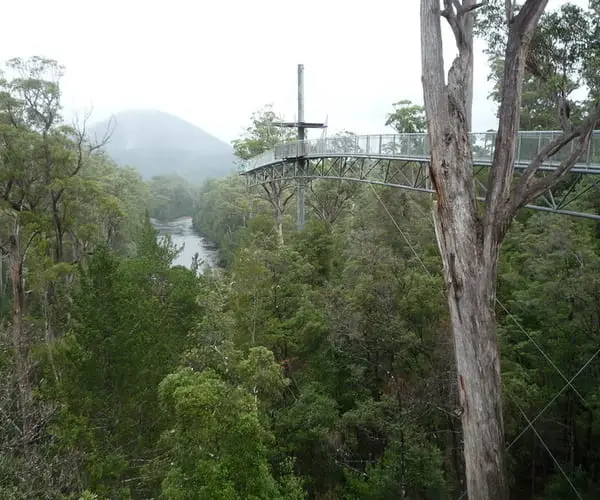 The Huon Valley offers some of the greatest south-east scenery in Tasmania. Starting about half an hour south from Hobart this land of greenery, pristine clean rivers, history and mystery, extends to the very bottom of the state.
The Huon Valley once held a booming apple and wooden boatbuilding industries. Nowadays there's still plenty to see such as the Wooden Boatbuilding Centre in Franklin, Home Hill Winery in Ranelagh, take a jet boat ride on the picturesque Huon River or get high up in the trees at the Tahune Airwalk near Geeveston.
Try the gourmet local produce including salmon, oysters, trout, mushrooms, and cider. Celebrity chef and television presenter Matthew Evans has Fat Pig Farm, a sustainable farming and dining project at Cygnet. Visit Willie Smith's Cider and try cider with a gourmet meal with local produce.
If you love nature and hiking, the stunning glacial lakes at the Hartz Mountains National Park are sure to amaze you. Or take a 3 hour walk to South East Cape at the bottom of Tasmania. The beach has a wild, rugged beautiful allure, and has sheltered campgrounds in the massive sand dunes for those who wish to stay the night and take it all in.
Tasman Peninsula & Port Arthur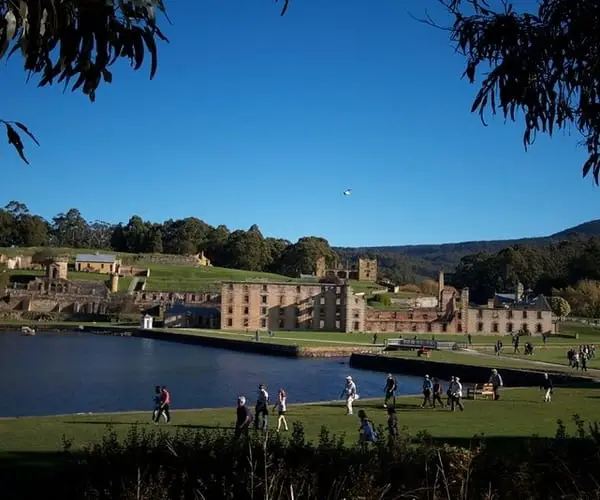 About a one hour drive south-east of Hobart is the beautiful Tasman Peninsula. This place is full of natural beauty and raw, preserved history. From blowholes and stunning cliffs, wild animals and a convict penal settlement, there's lots to see here.
You'll enter the Tasman Peninsula at Eaglehawk Neck. This thin isthmus contains a great sandy beach on the eastern side and at the northern end of this you'll see the Tessellated Pavement. Be amazed at how this large, flat, paved-looking sheet of rock was formed from salt crystals. See the waves crashing at the sides and take in the great views.
If you're into bad puns, take a detour off the Tasman Highway and visit Doo Town. Most of the houses and holiday homes have some clever variation of the word 'Doo' in their name, a cheeky in-joke with the locals which has captured the imagination of tourists and put the little town on the map.
Just past Doo-Town you'll see some amazing natural formations at the Tasman Arch and Devils Kitchen. Walk up close to these and see the strong waves crashing through the naturally formed arch and blowhole. The power of the waves crashing is a site to behold. This is part of the Tasman National Park, which protects much of the peninsula's greatest nature.
Another amazing part of the Tasman National Park is Fortescue Bay. See the amazing blue water, a mix of white sandy and sheltered rocky beaches and even camp the night.
Keen bushwalkers and photographers should take the Cape Huay Track, a 2 hour walk which starts at Fortescue Bay and takes walkers to the stunning totem pole – a tall, thin rock formation between two cliffs (words don't do it justice).
The Tasman Peninsula is fortunate enough to host one of the few places where you can be guaranteed to see a Tasmanian Devil at Tasmanian Devil Unzoo. Time your trip to see the devils at feeding time!
Those who love the garden will enjoy the Port Arthur Lavender Farm. It's free to enter and walk through the beautiful, aromatic property. Enjoy lunch here and enjoy some lavender ice-cream or drinks.
At the bottom of the Tasman Peninsula you'll find the Port Arthur Historic Site. Port Arthur is close to the top of many people's things to do in Tasmania lists, and for good reason. This is a UNESCO World Heritage-listed site and arguably the best preserved convict sites in Australia. Walk through the expansive grounds and see inside a number of convict ruins and restored sandstone buildings. It's a great place to learn the harsh life of a convict and the challenges faced by early settlers in Tasmania. If you're there at night, take the famous ghost tour.
Richmond and the Coal River Valley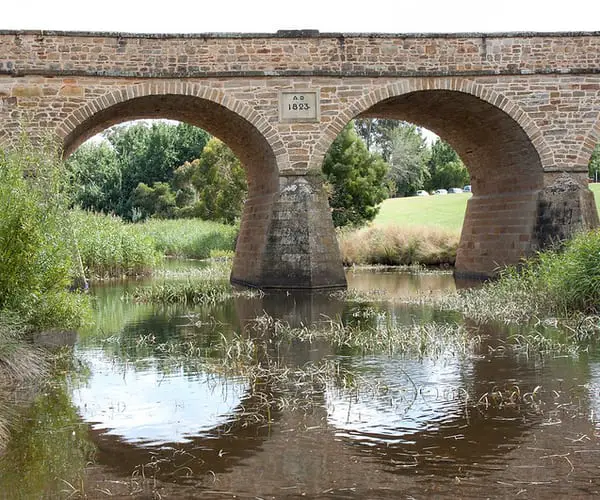 Richmond is another one of Tasmania's well-preserved historic gems that's well worth a visit. There's something for the whole family here with beautiful picnic areas, a famous lolly shop, world-class wineries and a historic gaol. It's a small village that's a 25 minute drive from Hobart and even less from the airport.
Richmond is most famous for the Richmond Bridge, the oldest stone arch bridge in Australia that's still in existence. Construction was completed in 1825 and like most of the village's historic buildings it was constructed by convicts. While you're at the river admiring the bridge, take a look at St John's Catholic Church, have a picnic on the riverbank or up the hill on the village green with a Tasmanian Scallop Pie from the Richmond Bakery. Take the kids for an ice cream at the old fashioned style lolly shop Sweets and Treats and stroll down Bridge Street and visit the craft shops, antique stores and galleries.
Catch a glimpse of what convicts experienced by being locked in a cell at the Richmond Gaol and take a stroll through the Old Hobart Town Model Village and feel like you were there when it all began.
Make sure on your way in or out of Richmond that you drive through the Coal River Valley along Richmond Road and stop at some of the wineries. Taste some of the world-famous cool climate Sauvignon Blanc or Pinot Noir.
Russell Falls & Mount Field National Park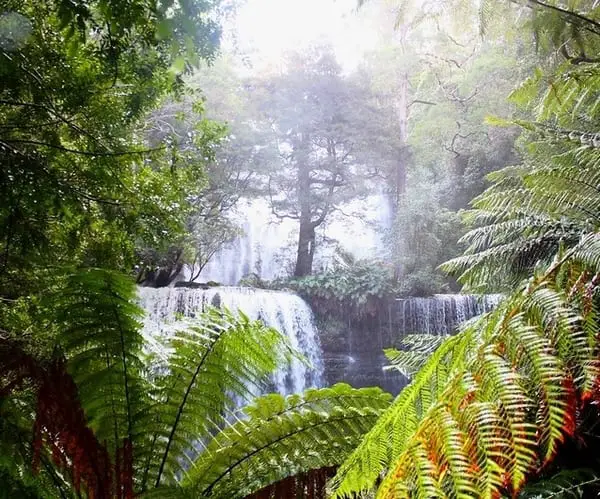 Rainforest, tall trees and some of the highest waterfalls you'll see in Tasmania, even Australia. Mount Field National Park is a favourite amongst locals and tourists, with things to do for those who want to occupy a few hours or a few days.
Bring a packed lunch and have a picnic on the lush open fields at the basem enjoying the company of a wallaby or two. Enter the rainforest and walk through some of the tallest and oldest trees in Australia. Ten minutes later you'll be at the base of Russell Falls – get ready for that amazing photo opportunity!
Continue walking up the mountain and stop at various points of Russell Falls and some other smaller waterfalls.
Hop back in your car and drive for 20 minutes up the mountain where you'll be close to the top of Mount Field. You'll feel like you're on top of the world here, walking through the less dense alpine vegetation. If you're here during winter, this is one of the two places in Tasmania with slopes for skiing and snowboarding.
Things to do in South West Tasmania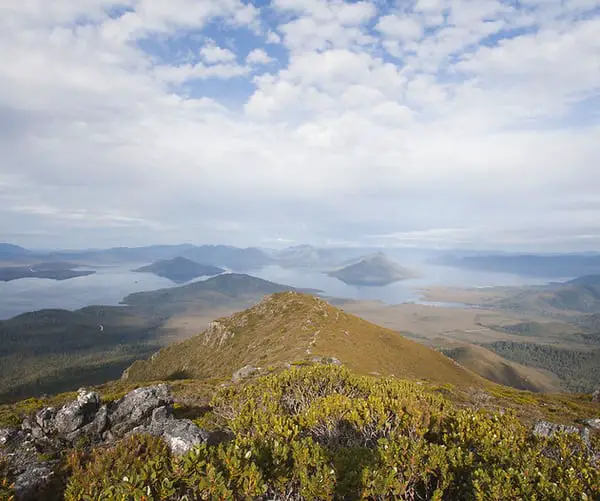 South West Tasmania is a truly unique place, especially in how the majority of it remains untouched. A significant area of 600,000 hectares is protected in the Southwest National Park, part of Tasmania's UNESCO World Heritage Area. It's natural, raw and as real as it gets. Yet only a 3 hour drive from Hobart.
Take a scenic bush drive on Gordon River Road to the northern end of the park, where you can enjoy kayaking trips on Lake Pedder and Lake Gordon, bushwalks and if you're adventurous, give the world's highest commercial abseiling a go at Gordon Dam.
For serious bushwalkers and campers, there are some long walks where you can really immerse yourself in nature. Take a look at the walks to Arthur Plains and Port Davey, or catch a plane to Melaleuca and do the 84 kilometre walk to Cockle Creek.
If you enjoy freshwater fishing, you'll find some of the best trout fishing at both Lake Pedder and Lake Gordon.
Things to do in Tasmania's Remote West Coast
Tasmania's west coast is a little remote from the rest of the state, but it's well worth the drive. It's got beauty, nature, an intriguing dark past from it's convict and mining past. All of this is presented in a way that's genuine. While there is tourism, you're not presented with a made-for-tourists facade. It's gritty and you'll love it! Add the west coast to your things to do in Tasmania list if you really want to see what this great state is about.
Strahan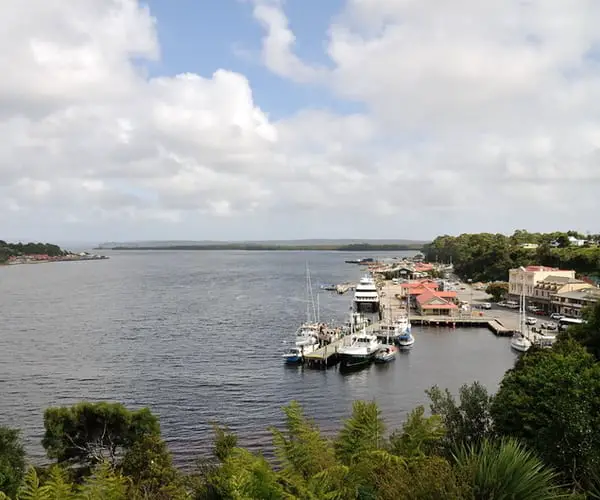 The favourite place to see on the west coast is Strahan, a beautiful harbour-side village. This village has some fine dining and beautiful hotels, but there's still some well-preserved remnants of it's dark convict past.
Just below Strahan is the World Heritage Area Franklin–Gordon Wild Rivers National Park. Take a boat cruise through the river and into the rainforest of Gordon River. Along the way, stop at Sarah Island, a harsh convict settlement in Macquarie Harbour. While convict penitentiaries were always depressing places, Sarah Island was made to be one of the harshest and incredibly difficult to escape. There are still ruins there, enough to paint a picture of the struggles faced.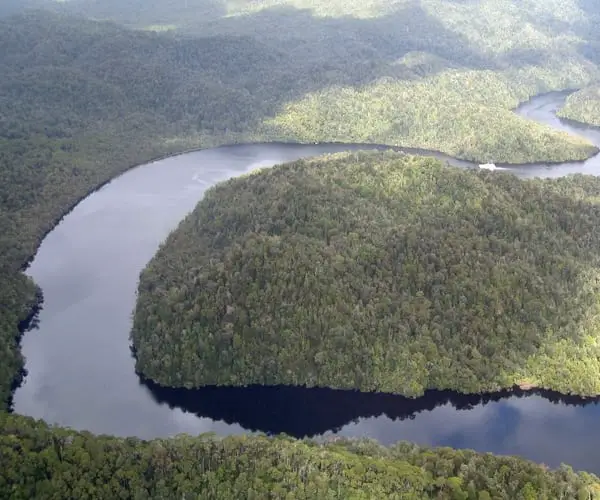 Just out of Strahan are the massive Henty Dunes, made from wind from the Roaring Forties which blows in from South America.
Hop on the West Coast Wilderness Railway and take a half day trip into the stunning forest or a full day trip to Queenstown and return.
Queenstown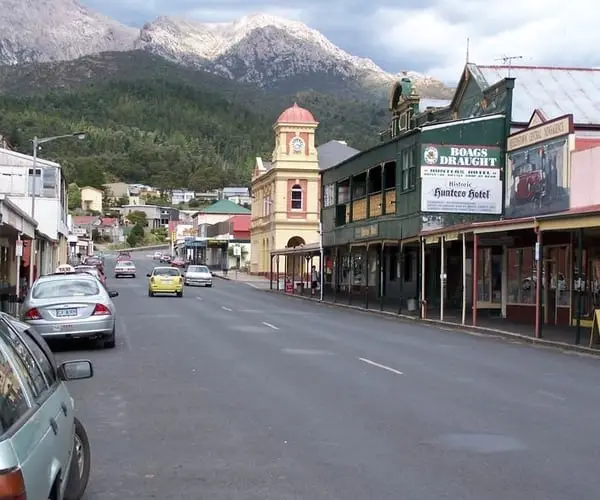 Queenstown is a true eye opener, like nowhere else in Tasmania or the rest of Australia. The town was built from copper mining and logging in the early 1900's, which has resulted in a 'moonscape' of rocky, bare hills. You'll particularly notice this will undertaking the '90 bends' drive in and out of the town. The town is raw, unpretentious and has a sense of intrigue. There is an underground mine tour, and some excellent lakes for fishing. Just outside of Queenstown you'll see the Iron Blow Lookout, where you'll see the effects of the mining at high level.
Zeehan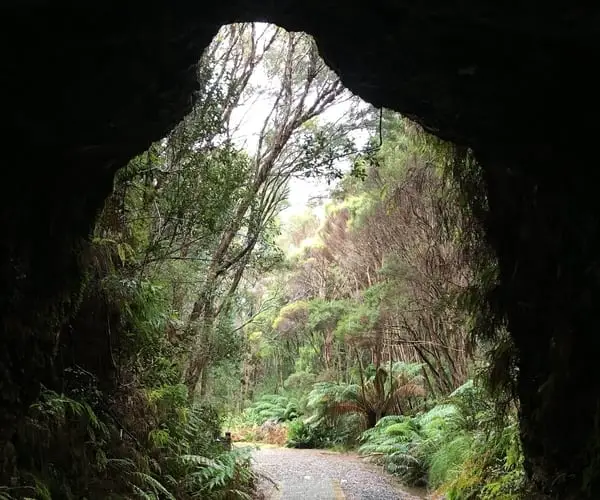 History buffs will enjoy visiting the town of Zeehan. Learn about the area's rich mining heritage at the West Coast Heritage Centre, as well as earlier history dating back to before white settlement. Also take a look at the The Gaiety Theatre and Grand Hotel. There was once a point in time during the mining boom that this theatre was the biggest in Australia! Take a walk through the Spray Tunnel, a 100m long glowworm lit tunnel that was used for silver mining in the very early 1900's.
Rosebery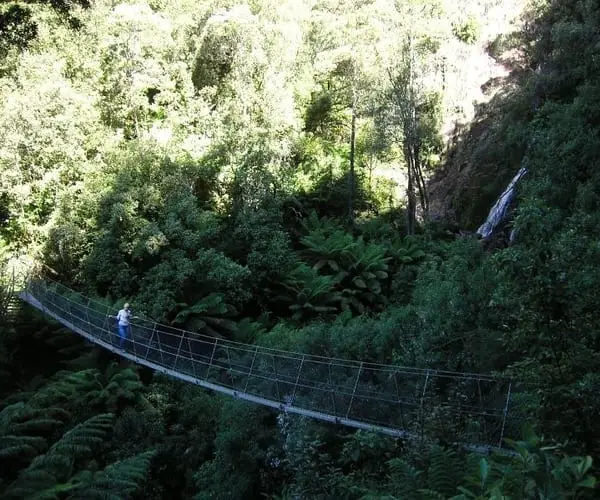 Drive down into a secluded and luscious valley and you'll find Rosebery. It's another former mining town, however the surrounding setting is an amazing natural forest. Here you'll find Montezuma Falls. Take a nice short walk along a rustic wooden timber train line and you'll find one of the tallest waterfalls in Tasmania. If you want to see amazing views of the village, try walking up Mount Read.
Tullah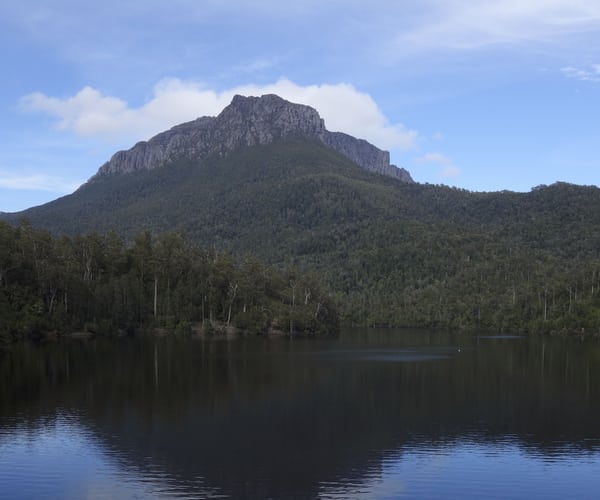 Heading further north and inland from Rosebery is Tullah, the real nature lovers destination in west coast Tasmania. There are walks with amazing views and stunning glacial lakes such as Mt Farrell, Lake Herbert and Mount Murchison. Visit nearby Lake Rosebery and Lake Mackintosh for boating, waterskiing, and great trout and salmon fishing.
Arthur River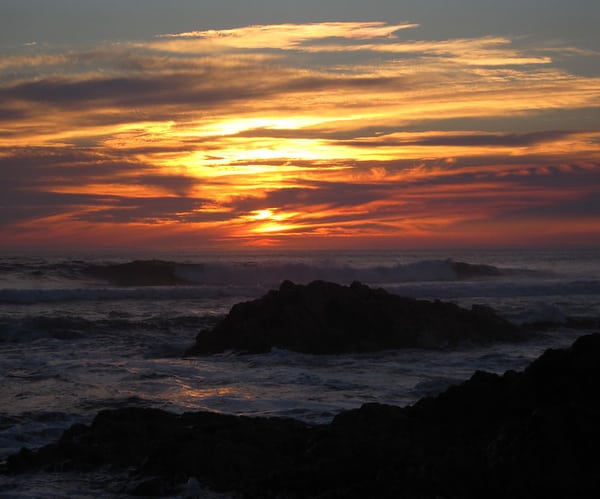 You're really in the wilderness when you get to Arthur River! This attraction will amaze nature lovers. The sea is raw, with waves blowing in from the roaring forties. The rainforest is quiet, unspoilt and feels endless.
Explore the Tarkine Wilderness area, Tasmania's largest area of temperate rainforest. Take a cruise on the Pieman River or hire a canoe or boat and catch a glimpse of white-bellied sea eagles, orange-bellied parrots and platypus's. If you're interested in fishing, four -wheel driving and bushwalking, you'll want to spend a few days at Arthur River.
Things to do in East Coast Tasmania
There are so many things to do in East Coast Tasmania for people of all ages and interests. In spring and summer it's popular with both locals and tourists who flock to the many long, white sandy beaches. Swimming, surfing, fishing, kayaking, boating, there's lots of opportunities to get on the water.
But there's more to the east coast than water. Some of Tasmania's best national parks are located here. In recent years there's been a boom in wineries and gourmet food. Pick your accommodation well and you'll be able to sit back on your deck overlooking the beach with a bottle of Tasmanian wine, seafood and cheese, and relax after a day of sightseeing.
If you're camping in Tasmania you'll be spoilt for choice, with camping spots dotted all the way along the coastline, however make sure you book ahead in the warmer months.
Orford & Maria Island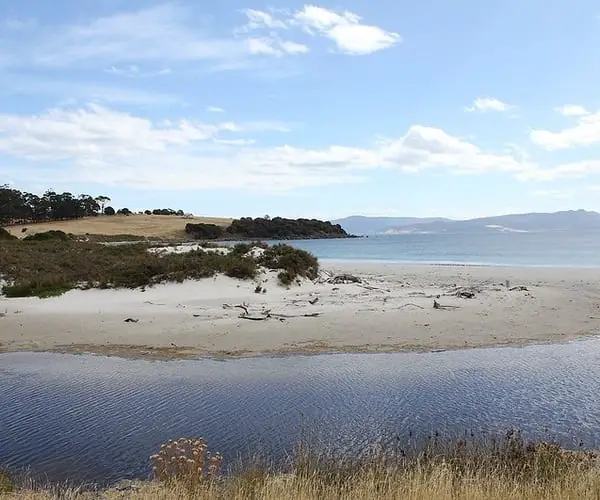 Starting from the southern end is Orford, a laid-back town only an hour from Hobart with stunning long, white beaches including Raspins Beach, Spring Beach and Rheban Beach.
Just outside Orford you can catch a ferry to Maria Island. The Maria Island National Park is a great place for the curious person who wants to avoid the crowds and experience something tranquil and interesting. The almost unpopulated island has an incredibly raw feel which provides visitors with a genuine, uncommercialised experience. See convict ruins, nice beaches, mountain walks and fossil cliffs.
Maria Island is also known as a native animal sanctuary with rare breeds of wallabies, an abundance of wallabies and even a larger than average population of Tasmanian Devils.
Swansea
Further up the coast is the town of Swansea. It's always a good feeling when you drive into Swansea and look out at the water and the mountains of the Freycinet National Park on the other side. Spend some time on Nine Mile Beach, and if you've got a boat, get it out and do some fishing. This is a great place for even the rookie fisherman/woman to catch a Flathead or two and cook them on the barbeque for dinner.
While in Swansea, visit Kate's Berry Farm for some amazing berries and old-fashioned style ice cream, country style produce, chocolate and scones with cream and crepes.
Keep your eyes peeled as you drive north from Swansea – there are some amazing wineries here that are worth a visit for a tasting and to purchase some wine for your holiday or to take home as a memento. Devils Corner offers a contemporary and stylish outdoor setup where you can eat a wood-fired pizza and drink some wine while admiring the expansive views over Great Oyster Bay.
Coles Bay & Freycinet National Park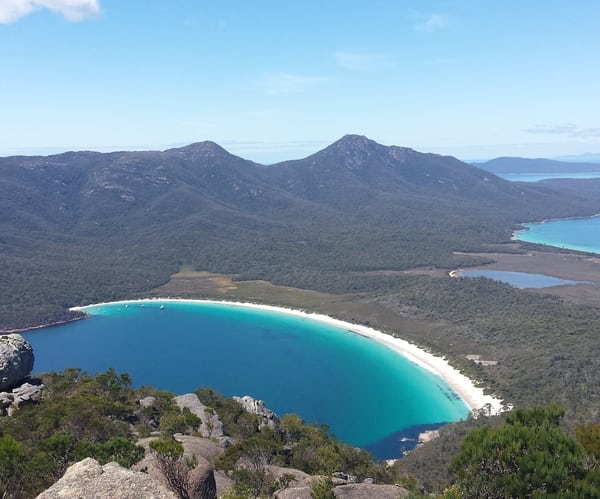 An absolute gem, one of the best places to visit in Tasmania is the Freycinet National Park and the adjacent village of Coles Bay. There's everything you need here for sunny day fun, from beaches, boating, fishing, camping, short walks, long walks, lookouts, mountains, amazing seafood and more.
If you only have a limited amount of time, make sure you do the walk to Wineglass Bay. At the halfway point of this walk you'll see amazing views at the lookout, and when you arrive at Wineglass Bay you'll be able to relax on the stunning pure white sand and you might see a wallaby or two. Or for a complete view of absolutely everything, take the longer walk to the highest mountain in the Hazards range, Mount Amos. For a quiet, secluded beach to relax at, check out Honeymoon Bay.
If possible we recommend spending a few days here at either one of the holiday homes, or campgrounds. It's a great place to base yourself and either relax at one of the many beaches or enjoy the variety of activities on offer.
Those looking for something a little upscale; the best accommodation that Tasmania has to offer, will love Saffire Freycinet, situated just outside the township of Coles Bay. 
Bicheno to Bay of Fires – The Northern End of the East Coast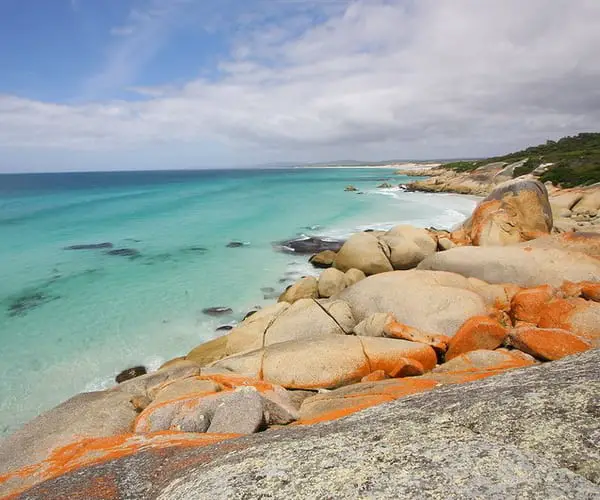 Further up the coast is Bicheno, another great beachside village that's popular with families and those who love spending time near the water. At night you can often see penguins at the beach, but please don't get too close! The Bicheno Blowhole is worth a visit, get ready for unexpected water shooting up in the air!
The coast drive north of Bicheno follows the long white sandy beaches of Beaumaris and Scamander. It's a stunning view and is also a great place to stay if you're keen to spend some time at the beach somewhere that's slightly less busy.
Further north the coast road divides into two, giving you the option to veer left and drive up a tight mountainous road known as the Elephant Pass. It's an interesting road and those who have a sense of adventure can reward themselves at the top with a visit to the famous Mount Elephant Pancakes.
Head back towards the coast and visit St Helens. See the spectacular Peron Dunes, take in a spot of surfing, and for those into fishing there's deep sea fishing, lobster, albacore tuna, yellowfin tuna on offer. It's a great place to stay to base yourself in the northern end of the east coast.
Only a few minutes north of St Helens is Binalong Bay and the Bay of Fires National Park. These beaches are like no other, with unique white granite boulders which splashes of orange lichen on top. The sand is clear white and the water is the bluest you'll see in Tasmania. It's no surprise this place was named the hottest travel destination for 2009 by Lonely Planet.
Towards the top end of Bay of Fires, you'll come across a nice, quiet area known as Ansons Bay. This is a great spot to go fishing for Bream or Salmon, do the multi-day Bay of Fires Walk or check out Eddystone Point Lighthouse.
Things to do in Northern Tasmania
Northern Tasmania is packing a punch and competing strongly with its southern sibling to offer a variety of enthralling experiences for tourists. Check out food festivals, wineries, snowy mountains, beach towns, a beer drinking pig, "the nut" and a couple of windswept islands so remote they'll make the main island of Tasmania look like a metropolis.
Launceston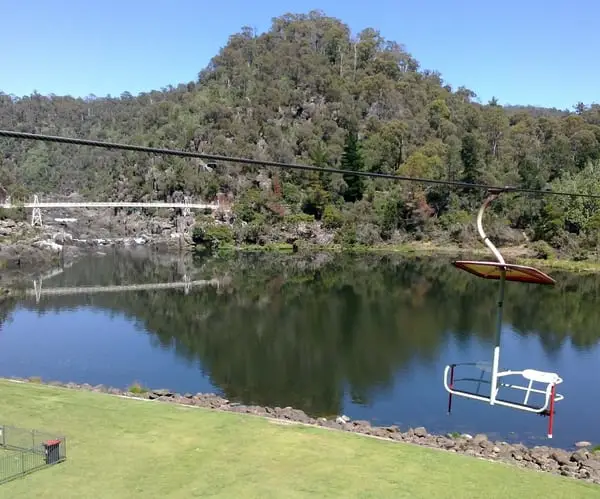 The second largest city in Tasmania, and the hub of the north, is Launceston. Forget what those southerners in Hobart tell you, Launceston is a great place to visit. It's got an eclectic mix of exciting new changes, while hanging onto the best parts of it's history.
Speaking about it's best parts, the Cataract Gorge or "The Gorge" is one of these classics that's a right of passage for anyone who visits Launceston. There's lots to do here from walks, swimming, picnics on the lawn, lunch in the restaurant, or take the chairlift from one side of the Gorge to the other. You'll see plenty of wildlife including wallabies and peacocks, a rarity so close to the city.
Penny Royal is close by to the Cataract Gorge and is another attraction worth putting on your things to do in Tasmania list. In a nutshell, it's a classy, tasteful and educational theme park that both children and parents can enjoy. Enjoy activities such as rock climbing, rope bridges courses, cruises on an old fashioned ship, gold fossicking and a convict adventure trail, as well as dining, cellar doors and bars, and accommodation.
Make time for a quick visit to City Park. It's probably a short walk from your hotel and you'll be able to see large old elms and oak trees, Macaque monkeys, the City Park Radio Museum and a nice duck pond.
Launceston also has a number of festivals and events worth checking out if you're in the area at the right time. Festivale, Junction Arts Festival, Launceston Beerfest, Mona Foma, to name a few. Those looking for something a little more wholesome can enjoy Harvest Launceston, the farmers market for foodies, which is on each Saturday morning.
Launceston also hosts AFL games several times a year, with the popular Hawthorn Hawks from Melbourne playing a number of their home games at the University of Tasmania Stadium.
Fans of the arts will love the Queen Victoria Museum & Art Gallery. This stunning venue is held in one of Launceston's older heritage listed buildings and comprises several different sections with historical photos from Tasmania's convict days, fine arts, international paintings, and a planetarium and fun science displays for children.
Tamar Valley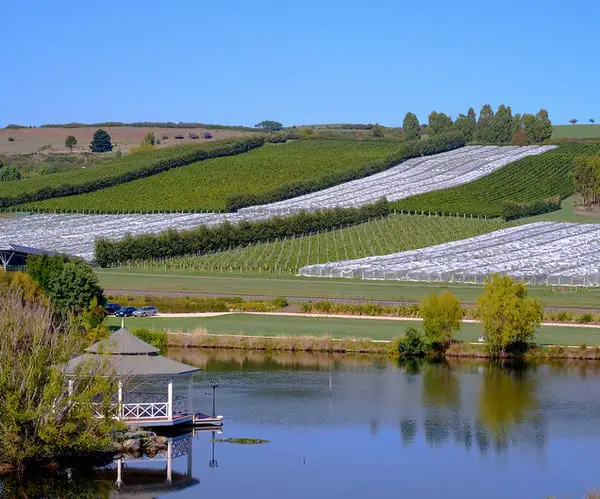 The Tamar Valley is a cosy, gourmet hideaway where you can slow down, enjoy the scenery and relax. The area starts at Launceston and runs along the Tamar River and it's winery-filled riverbanks to Bass Strait and Tasmania's northern coastline.
The area can be admired at large from Brady's Lookout on the western shore or Mount George Lookout on the eastern shore.
Some of Tasmania's best wineries are located in the Tamar Valley. They're well worth visiting, even if you're not a wine aficionado. These aren't large high production facilities, they're full of rustic charm; a place where you can drink a glass of wine, eat some cheese and enjoy great views of the vineyard, rolling hills and the Tamar River.
Some great wineries include Ninth Island Vineyard, Tamar Ridge Cellar Door and Moores Hill Estate, however there are so many other highly rated wineries to choose from.
Low Head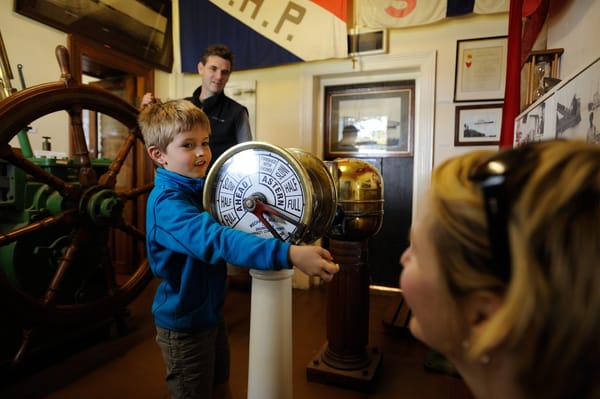 On the northern coast, where the Tamar River meets Bass Strait, you'll find the quiet and scenic coastal town of Low Head. Spend some time exploring attractions such as the Low Head Lighthouse, take a penguin tour, walk East Beach, and brush up on your history knowledge at the Low Head Pilot Station Maritime Museum.
Evandale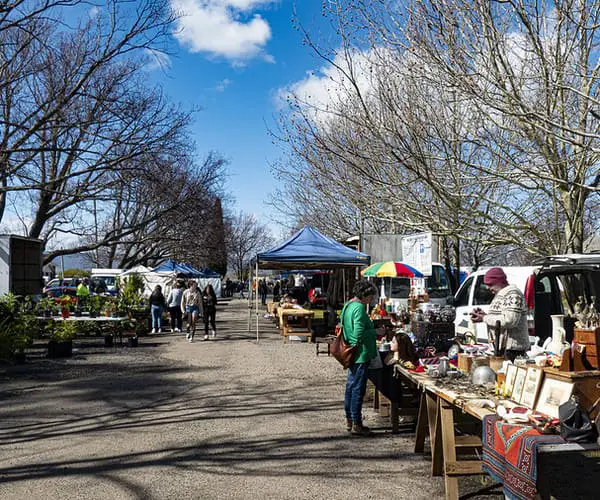 Evandale is a cute, incredibly well preserved colonial village only five kilometres south of Launceston. It's a great place to spend the day and even stay for a night or two as an alternative to staying in Launceston. Visiting this village is like stepping back in time, in a good way of course!
The village is a great place to stroll and check out the antique shops and the old-fashioned bakery. Visit on a sunday morning and you can also enjoy the village market. Evandale is also well-known for its annual Penny Farthing Race, which is held in the village in February each year. Another popular attraction is Clarendon House, one of Tasmania, even Australia's, grandest estates. This georgian-style with Italian facade manor has seven hectares of stunning gardens, with accompanying outbuildings, tall elms and other beautiful gardens, a fly fishing museum and a costume museum.
Ben Lomond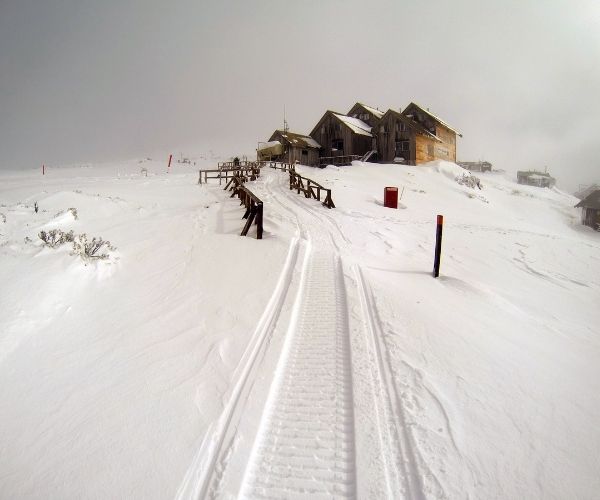 It might be the pick of the ski mountains in Tasmania, but there's more to Ben Lomond National Park than skiing and snowboarding. You can visit this mountain all year round and enjoy the attractions, there's amazing hiking and cycling, even the drive up the windy road (Jacobs Ladder) is a great experience, with views . The summit is the second highest peak in Tasmania, at 1572 metres. Keep your eyes open, there's plenty of wildlife to see such as the Bennets Wallaby, Eastern Quolls, Wedge-Tailed Eagles and Wombats. There is a camping ground for use in the summer and ski lodges during the winter ski season. If these are fully booked, Ben Lomond is only a one hour drive from Launceston.
The Beer Drinking Pig at The Pub in the Paddock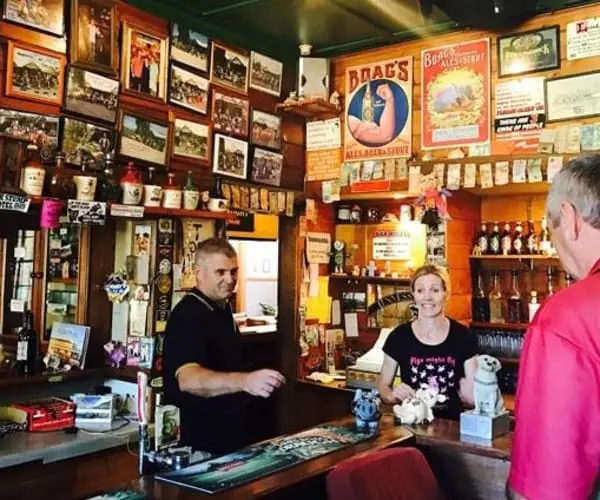 Priscilla the beer drinking pig is a bit of a local legend in these parts. This attraction really sums up the laid-back larrikin, likable country-boy sense of humour that you'll find plenty of in Tasmania.
Even without a beer drinking pig, the Pub in the Paddock at Pyengana is well worth the visit. It's one of Tasmania's oldest pubs, being licenced since 1880. After you've had a beer with Priscilla, enjoy a hearty meal and enjoy the quiet country scenery.
Derby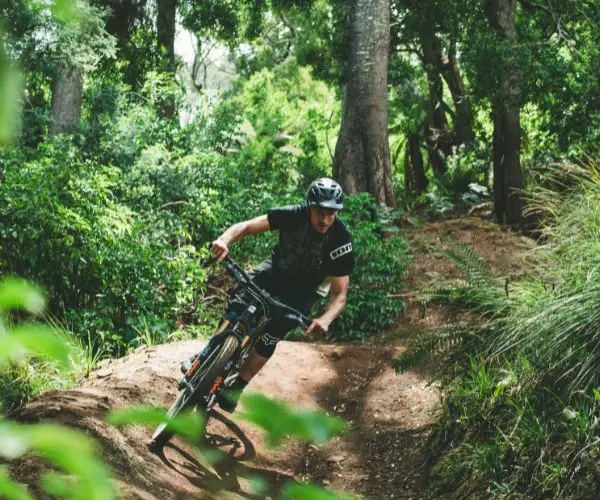 Derby is a nice little historic town in the north-east of Tasmania, with a few different recreational activities for you to do. If you enjoy riding mountain bike trails, you'll love the Blue Derby Mountain Bike Trails. This is an 80km network of trails that's purpose built for mountain bikes, so no walkers getting in your way.
After a day of bike riding, take your sore legs to the Floating Sauna at Lake Derby. This isn't like the sauna at your local pool. It's a traditional Finnish wood-fired sauna, seating up to ten people, in a stunning, natural setting.
If you're in the area during October, you'll be able to see the annual Derby River Derby. It's a fun event where locals and anyone else who's crazy enough to do it, puts together a raft and races to see who can get down the river the quickest. You don't have to be an athlete, you just have to have an adventurous spirit, and decent swimming ability in case you fall out of your raft.
Lulworth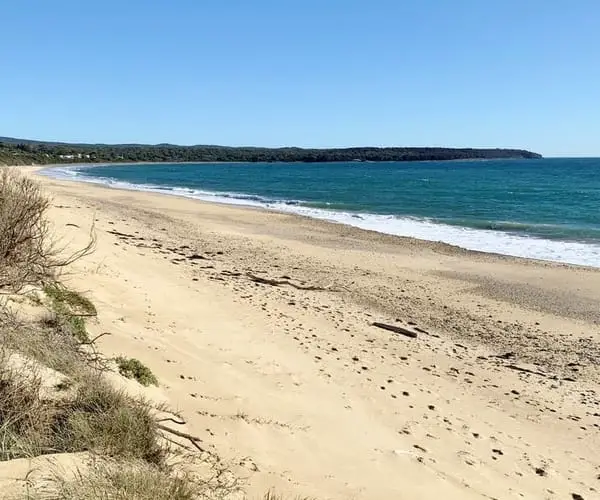 If you're looking for a beautiful, yet ultra-quiet and casual beach town, Lulworth will be a great place for you to visit. Enjoy great beaches, surfing, fishing and whisky tasting.
Bridport
Golf, fishing, boat and quad-bike lovers will find lots of things to do in Bridport. Bridport is home to the best public golf course in Australia and the fifth best of any golf course in Australia, the eighteen hole Barnbougle Dunes Golf Links. Even if you're not a diehard gold player, you'll appreciate the beauty of this scenic place, with greens carved into the sand dunes and stunning beaches only a few metres behind. If you're staying for a few days you may as well play a round on the sister course, Lost Farm, as well.
Boating and fishing enthusiasts can bring their boat or hire a sports fishing charter boat and enjoy a day out on the water. Relax after on one of the many beaches. Or go on a fuel-filled adventure through the bush at the highly rated Kookaburra Ridge Quad Bike Tours. Bridport is great, you'll never want to leave!
Longford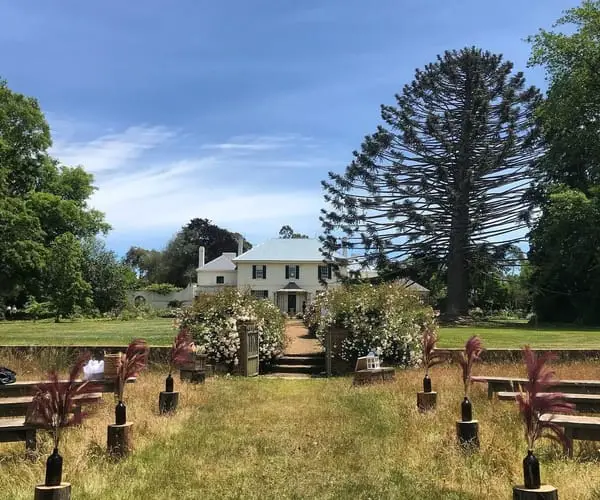 If you're keen to enjoy a bit of class with a hint of historic charm, come to Longford. Take a walk through Longford's historic village and admire 34 beautifully maintained colonial properties, some of these are cafes, antique shops and hotels.
You can also visit two of Tasmania's grandest country home estates, Woolmers Estate and Brickendon Estate. Woolmers Estate lies on 82ha and has history dating back to 1817. It comprises of a two-part manor house with outhouses and cottages formerly used by convicts, as well as gardens and farmland. Drop in and look around yourself, or take a guided tour, have a meal, view the gallery or even stay the night.
Brickendon Estate dates back to 1824 and is basically a small village and working farm which has been preserved and labelled a UNESCO World Heritage Site. The farm has been owned and operated by the same family for seven generations. The historical significance of Brickendon and Woolmers is incredible – anyone with an interest in early settlement, or with family history which includes convicts and early settlers would find this place fascinating. Brickendon also offers tours and accommodation.
Deloraine
Deloraine is a peaceful village west of Launceston that is great to stroll through and explore. Do a cheese tasting at the acclaimed Ashgrove Tasmanian Farm. Try a truffle tasting at Tasmanian Truffles and even partake in an interactive hunt with the trained truffle sniffer dogs.
Deloraine is surrounded by some of Tasmania's most stunning mountains and bushwalking tracks. Those looking for a full day walk will enjoy Quamby Bluff in the Great Western Tiers. There are a variety of conditions on this walk including rainforest, large rock areas, Myrtle forests, alpine vegetation and stunning long views at the top. Lobster Falls is a somewhat challenging but rewarding two hour walk west of Deloraine.
Mole Creek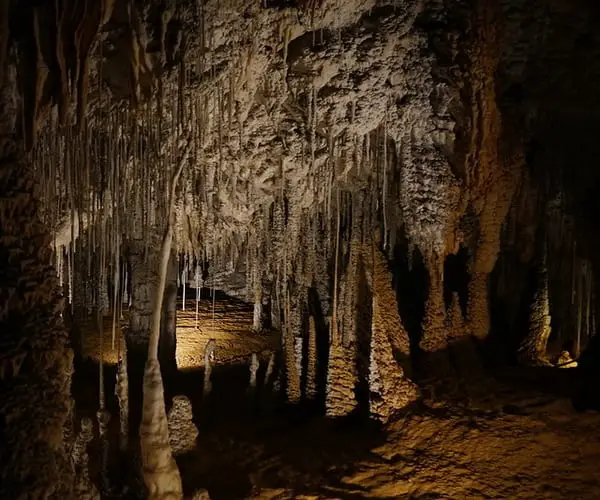 There's plenty of nature's beauty to see at Mole Creek – above and below ground. Make sure you take a tour of at least one of the famous caves in the area, such as Marakoopa Cave or King Solomons Cave. There are several tours a day where you can see crystals, stalactites, stalagmites, you can listen to underground water streams and in parts you can listen to complete silence. Back above the ground there is Trowunna Wildlife Sanctuary, and the short walk to see great views at Alum Cliffs Lookout.
Cradle Mountain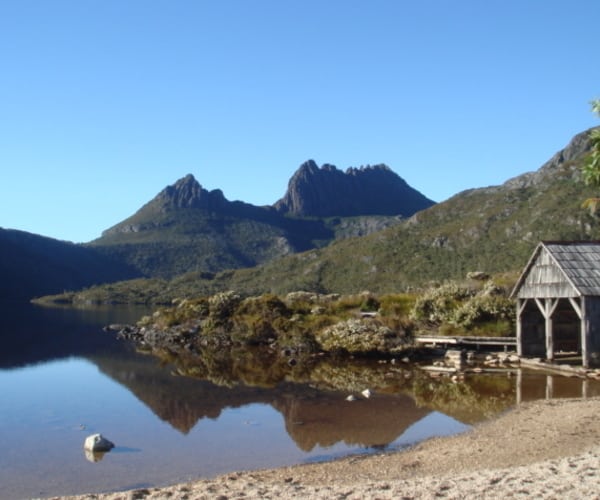 While there's many parts of Tasmania that look outstanding, the Cradle Mountain – Lake St Clair National Park is considered by many to be the jewel in the crown. Drive through a rugged mountain road for two hours from Launceston or one and a half hours from Devonport, you'll find this destination in high, rugged alpine country. You can drive into the national park and in only a couple of minutes from your car you'll see the main attraction – the view of Dove Lake with Cradle Mountain in the background. Spend two hours doing the 5.7 kilometre long boardwalk circuit track of Dove Lake. If you're feeling more adventurous there are more walks to adjacent lakes, mountains, or the famous Cradle Mountain pinnacle.
And if you're really, really adventurous there is the Overland Track – this cuts through the centre of Tasmania's most rugged and unspoilt wilderness, taking walkers about 7 days to complete.
Near the entrance to the national park you'll find accommodation options such as the Cradle Mountain Lodge. As this destination is rather remote, and there's lots to do, we recommend spending at least two nights here. You won't have time to appreciate this place on a day trip. It's also one of the coldest places to visit in Tasmania, even in the summer you'll want to dress for the cold and rain.
Port Sorell
Port Sorell is a great coastal getaway located between the Tamar Valley and Devonport. The beaches are incredibly flat, long and wide. When the tide is out you can often walk to Penguin Island. Think of this area as a collection of fine beaches, including Hawley Beach, Shearwater Beach and the Narawntapu National Park with it's collection of inlets, dunes and abundance of wildlife (it's often referred to as the 'Tasmanian Serengeti').
Enjoy horse riding, boating, fishing or simply relaxing on the beach. You can also enjoy being close to many of northern Tasmania's gourmet producers, including wineries, orchards, chocolatiers and fine dining restaurants.
Narawntapu National Park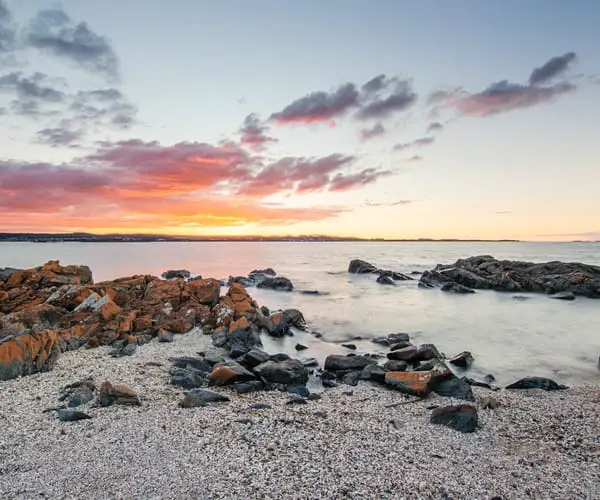 With inlets, small islands, wetlands, sand dunes, lagoons, and an astounding variety of plants and animals, Narawntapu National Park is a calm coastal haven.
Narawntapu, on Tasmania's central north coast, spans from Greens Beach at the Tamar River's mouth to Bakers Beach in the west, and is one of the greatest areas in the state to see free-ranging species.
Many shell middens and artefacts may be viewed on walking routes throughout Narawntapu National Park, which is rich in Aboriginal heritage.
Full-day treks offer spectacular coastline vistas, dramatic terrain changes, and a diverse range of wildflowers and unusual plants including club moss and prickly tree fern.
Take the long and accessible climb to Point Vision for the best views of the surrounding area. There's also a 26-kilometre horseback riding track with overnight holding yards.
Devonport
If you're entering or departing Tasmania via the Spirit of Tasmania (boat) Devonport will be the first or last Tasmanian destination you'll see. Train fans or those with young children will love the Don River Railway. This attraction holds Australia's largest collection of steam engines, with trains running to Coles Beach on the hour.
Boating fans can enjoy the Bass Strait Maritime Centre, a museum with an extensive collection of sea history. You can also enjoy a two hour trip on a 64-foot Julie Burgess ketch.
Home Hill offers a glimpse into the early 20th century life political pressures faced by Joseph Lyons, the only Australian prime minister to have come from Tasmania.
Wynyard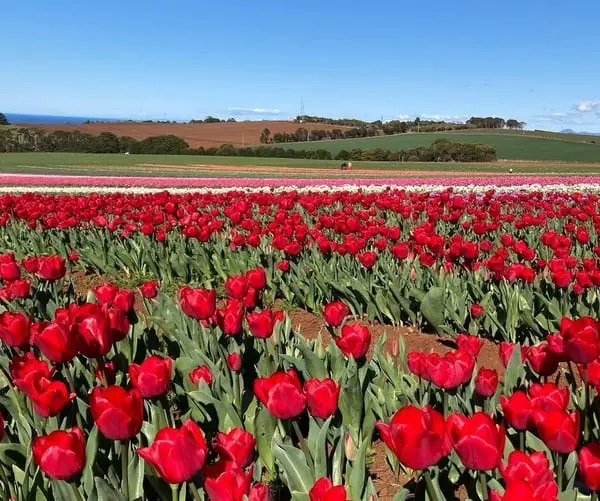 Wynyard is home to Table Cape, one of Tasmania's most spectacular agricultural attractions. This plateau sits at 180 metres high, where you'll see the remains of a 12 million year old volcano, a beautiful tulip farm with rows of rich, bright colours and views all across Tasmania's north-west coast. It's a rare sight you won't see elsewhere, where man and nature combine to make the most picture-perfect scenery.
We also recommend taking a look at the Wynyard Penguin Tours and visiting the great beaches at the nearby Boat Harbour, or the rugged coastline, caves and bushwalks at Rocky Cape National Park.
Sisters Beach
Some of the widest beaches in the state here, you'll love the beautiful open spaces. The nature, surrounding national parks and lack of crowds make Sisters Beach a great little gem in north-west Tasmania. It's a great place to escape the crowds who often end up at Boat Harbour!
Stanley and The Nut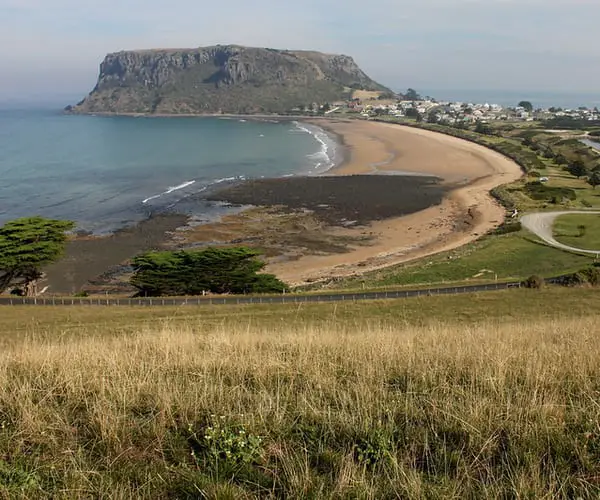 Stanley is a quaint colonial fishing village situated on an isthmus which is overlooked by a flat topped, former-volcanic mountain known as 'The Nut'. It's one of Tasmania's most unique villages, with a similar look and feel to parts of Ireland's west coast.
Stroll through the village on the self-guided Stanley Heritage Walk. Grab lunch at the famous fish and chip shop and walk or take the chairlift to the top of The Nut. As The Nut sticks out from mainland Tasmania, on a clear day you'll see excellent views of the northern coastline.
King Island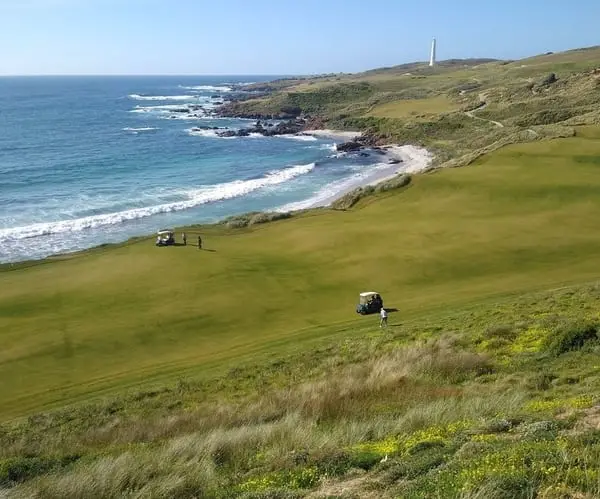 There's something exciting about visiting a small remote island. It invokes curiosity and a sense of adventure. If you really want to get off the beaten track, put King Island on your things to do in Tasmania list.
King Island is situated 80 kilometres north-west of mainland Tasmania. Fly in on a small plane Burnie, Wynyard, Launceston or Melbourne. Enjoy sites such as the nationally popular King Island Cheese, and also try the island's gourmet seafood, beef and fresh produce. Play golf at Cape Wickham (24th best golf course in the world) or Ocean Dunes, two great courses with stunning views, designed in Scottish links traditional design.
Experienced surfers will be keen to surf some of the largest waves in Tasmania, as they crash in from Bass Strait. Other attractions include horse riding, the King Island Arts & Cultural Centre and the King Island Historical Museum.
Flinders Island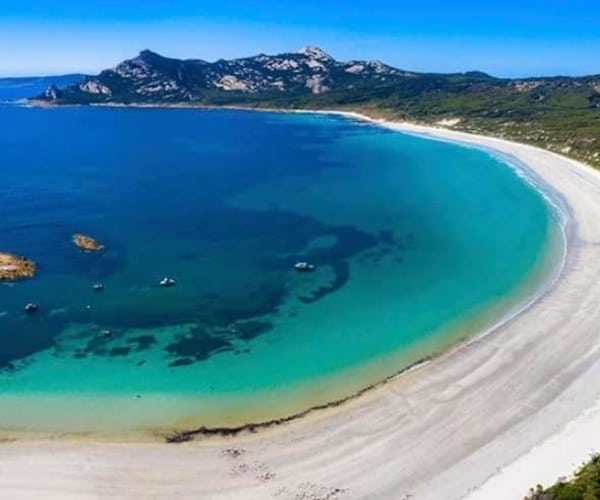 In the north-east corner, 54km north of mainland Tasmania, you'll find Flinders Island, the largest of 52 islands in the Furneux group. While Tasmania is known for being relatively untouched and not overly-developed, Flinders Island will impress you in how untouched it is. It's like entering a movie set for a movie based before European settlers arrived.
Things to do in this remote part of Tasmania include a visit to the Furneux Museum, where you can see shipwrecks dating back to explorers in late 1700's, artefacts, and remnants from early European settler history. Flinders Island is also a great place for Marlin fishing, or to catch abalone and crayfish, scuba diving, snorkelling, fossicking, quiet beaches, big rocky hills and mountains to explore. It's a real ecotourism destination, you can enjoy the beautiful scenery and wildlife by foot, kayak, and even via air in a chartered plane  or helicopter flight.
The Midlands
The Midlands region is like the name suggests, in middle in Tasmania (but slightly to the right). You'll probably drive through here on your way from Hobart to Launceston (or vice-versa). There's a lot of history along this route, if you drive past you might miss out. Curious travellers are often the best rewarded, make sure you get out of your car and take a look at these great attractions.
Oatlands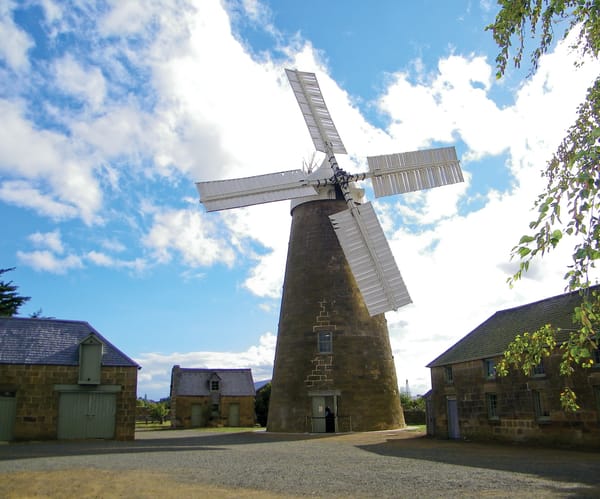 Oatlands is sometimes referred to as the town of sandstone buildings. There's about 150 of them, many you can easily explore as they operate as shops, cafes and accommodation. The history of this village is on display for all to see, there's even signs dotted throughout the village detailing stories about reckless bushrangers, convicts and the most vicious hangman Tasmania had ever seen.
Things to see in Oatlands include The Callington Mill, a flour mill which was built in 1836 and is still in operation. Walk through the streets admiring historic buildings such as the court house, the old gaol and Holyrood House. Take a look at Lake Dulverton and the native birdlife. Oatlands is bypassed by the Midlands Highway, so make sure you drop in on your way through.
Ross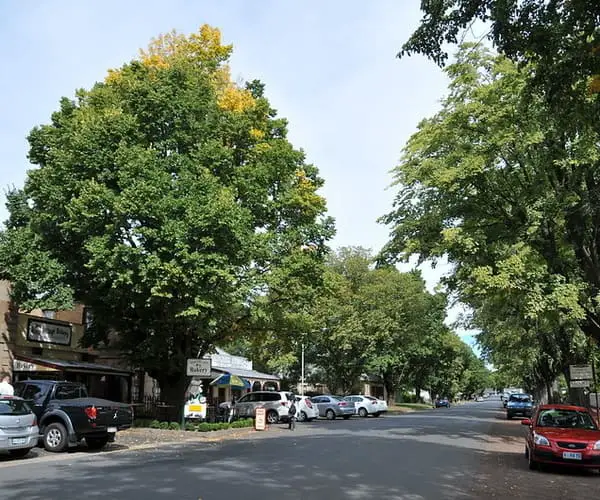 A visit to Ross is like stepping back in time almost 200 years. It's also one of Tasmania's prettiest villages. Even though it's more than just somewhere to stop in while travelling to Hobart or Launceston, it's one of the best things to do in Tasmania.
The streets are wide with gigantic elm trees providing shade for you while you walk down the cobble-style paths. Enjoy the Ross Bridge, the third oldest bridge in Australia still standing, the Ross Female Factory, Tasmanian Wool Centre and the antique shops. The Ross Bakery is a great place to grab a quick lunch, make sure you take a look at the original brick wood-fired oven.
Don't just stop here for lunch, spend a day here and hire a vintage bike from Dinki Bike Hire. It's a great way to explore the history and beauty of this town at your own pace. Ross village would probably be one of the most romantic villages in Tasmania and would be great for those looking for a quiet getaway.
Like Oatlands, Ross is a bypassed town, but it only takes a couple of minutes to reach from the Midlands Highway. It's well worth the visit.
Campbell Town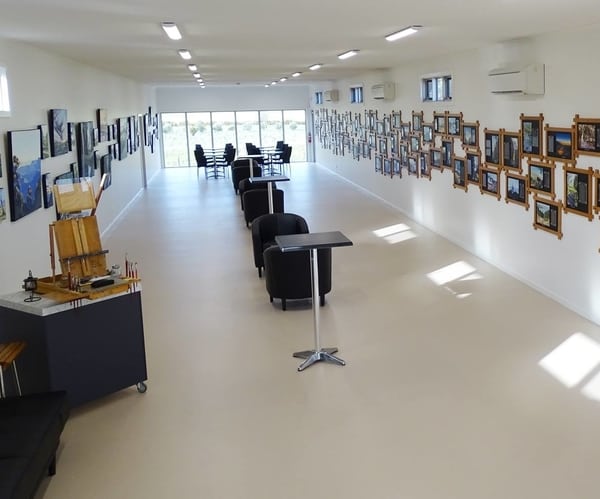 Campbell Town is the largest town in the Midlands and a popular place to stop for lunch and stretch your legs on the drive between Hobart and Launceston. Like most towns, there's a convict history here, but in Campbell Town, the farming history of the town is also very evident.
Take a self guided tour following the Convict Brick Trail along the High Street and read different background stories of many convicts who were sent to Tasmania. If you're keen for some more reading you'll find what the reviews say is one of Tasmania's best book shops, The Book Cellar. It's one of those cosy little hideaways where you can have a coffee and a cookie and find the kind of interesting book you wouldn't normally find in a regular book store.
Another great attraction is Gallery 81. Here you can admire 81 beautiful paintings with accompanying reflections, all painted by local artist in residence Luke Harvey. It's a nice relaxing environment where you can enjoy a glass of wine, craft beer or some Tasmanian cheese, talk to the artist and escape the world.
If you enjoy trout fishing, veer east from Campbell Town and spend a day at Lake Leake. You'll be spoilt by some of the best trout fishing in Tasmania.
Central Tasmania
You're getting into a remote part of Tasmania here and you're going to love it. In the past, Central Tasmania was mostly only visited by keen bushwalkers and trout fishing enthusiasts. Nowadays more people are turning off the main roads and visiting this area to enjoy the history, golf, fine Tasmanian food and whisky and stunning world heritage forest.
Bothwell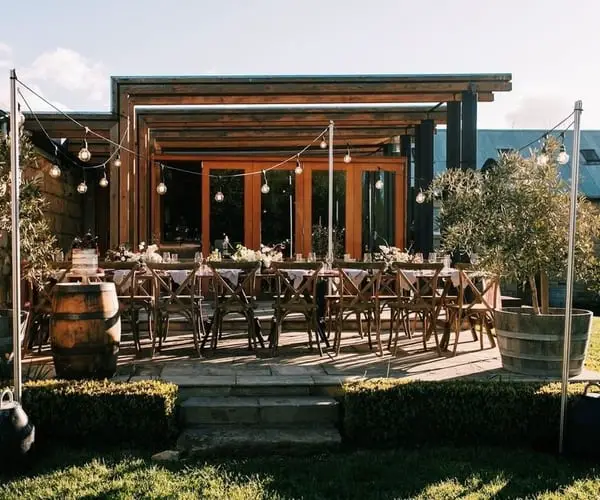 Not far off the Midlands Highway is the historic country town of Bothwell. It's location off the main highway makes it a little quieter which means there's more for you to enjoy!
The village has 18 buildings protected by the National trust and about 50 buildings of interest. These include the Thorpe Watermill, Nant Whisky Distillery and numerous buildings on Alexander Street.
You can also play a round of golf at Ratho Farm, Australia's oldest golf course. 
Great Lake & Miena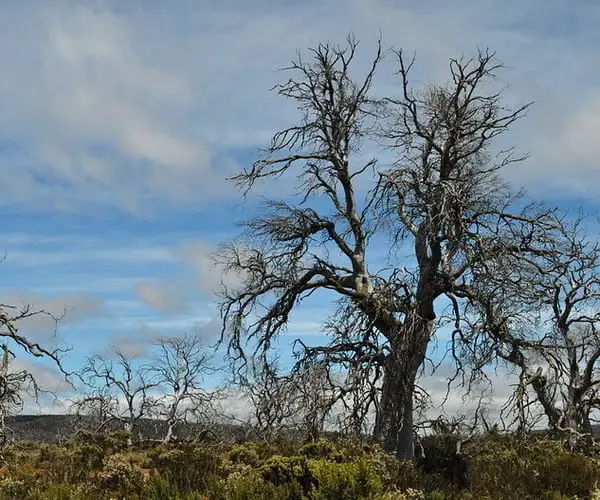 After driving through some of Tasmania's most raw, untouched countryside you'll come across Great Lake. At approximately 1000 metres above sea level in Tasmania's Central Highlands, this lake is one of the coldest parts of Tasmania, but don't let that put you off. Great Lake is one of the best trout fishing locations in Tasmania. Stay in the town of Miena near the lake and enjoy a day of fishing, bushwalking, or simply relaxing with a good book, and curl up at night in front of the fire. If you're new to fly fishing, there are local guides who can take you out for a day and have you reeling in fish like a local. 
Lake St Clair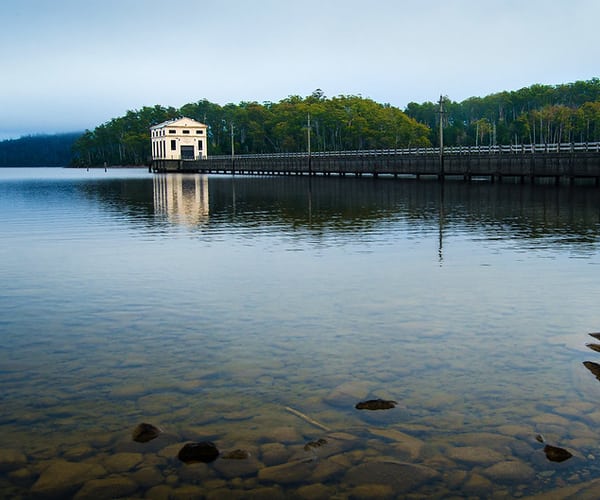 In the centre of Tasmania you'll find the bottom end of the Cradle Mountain – Lake St Clair National Park World Heritage Area, otherwise known as Lake St Clair.
The main attraction is the lake itself which is the deepest freshwater lake in Australia (167 metres deep) and provides water for the Derwent River which flows all the way into Hobart.
There's a number of walks here from short day walks to the Overland Track, a journey which takes about seven days, finishing at Cradle Mountain or vice versa. Other options include fly fishing, exploring the lake in a dinghy or riding a bike, meeting the local wildlife or simply admiring the views.
If you'd like to treat yourself to some cosy, classy and romantic accommodation, spend a couple of nights at Pumphouse Point. This boutique hotel is located inside the national park, with one of the buildings based on top of the water in a former water pump house, a Tasmanian Heritage Register listed building from Lake St Clair's former hydroelectricity days. There's a no children policy here, this is one for the adults to enjoy.
Tarraleah
The cute little village of Tarraleah high up in central Tasmania is a unique place with an industrial, hardworking past. Don't just drive by on your way to or from Lake St Clair, drop in and spend some time here!
Tarraleah once played a key role in the state's hydroelectricity scheme, with the gigantic steel water pipes still present. The restored colourful homes were once home to the workers, but are now available for tourist accommodation.
The Tarraleah Lodge is also a popular place to stay and relax for a few days. It's been beautifully restored to it's art deco prime and is a great place to relax, try the local wine and whiskey, and enjoy a spa treatment.
There are a number of outdoor activities including trout fishing, golf, bushwalking, kayaking, four wheel driving and visiting Tarraleah Falls.