Fancy a seaside holiday with wide white sandy beaches and breath-taking views? Then a visit to the stunning coastal town of Scamander is a must. This gorgeous town is situated at the entry point of the Scamander River, between St Helens and St Marys on the North-Eastern coast of Tasmania.
 A popular holiday destination and is it's easy to see why, with its striking beauty quietly stretching the North-Eastern coastline of Tasmania. It offers unimaginable scenery where you can relax your mind & body and escape from the hustles and bustles of everyday life. 
This unmissable destination is the hotspot for surfers and fishing enthusiasts. Expect nothing but idyllic surroundings, beautiful crystal-clear Sapphire waters, clean fresh air, and white sandy beaches.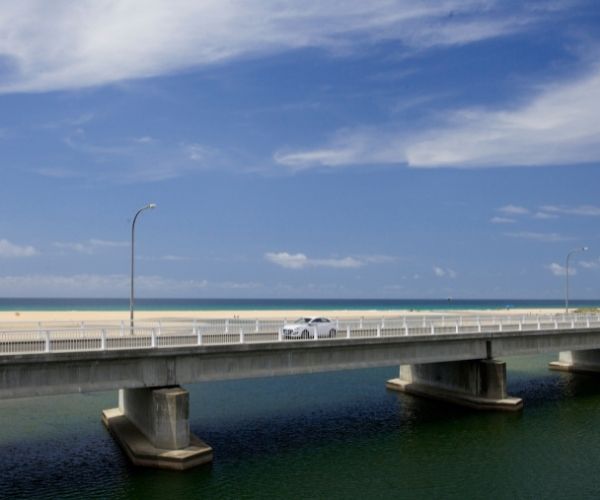 You'll be spoiled for choice on things to do like surfing, paddleboarding, bream fishing, bushwalking, and exploring the abundance of wildlife Scamander has to offer from native birds to rock wallabies. But if you prefer a day on the beach soaking up the sun and admiring the stunning views with a glass of pinot noir, expect a place that will stay with you even after you have left.
Key Visitor Information for Scamander
Directions to Scamander
The best way to get to Scamander is by car, the journey from Launceston will take about 2 hours (148km) and 3 hours from Hobart (235km).
If you're travelling from Launceston, follow National Highway 1 and keep right to stay on the highway for 18km, then at the roundabout take the 2nd to exit and stay on National Highway 1 for 37km. Turn left onto ESK Highway (A4) for 82km, continue onto Tasman Highway (A3) for 8km, turn left to Bridge Esplanade for 12 metres and you're at Scamander.
From Hobart, you will need to head straight onto Tasman Highway (A3) for 24.6km. Turn left onto Cole St and continue to follow Tasman Highway (A3), turn right to stay on the highway then left onto Bridge Esplanade for 12 metres until you arrive at Scamander. 
Weather at Scamander
Scamander has an oceanic climate, and the winters are generally cool, so it is unlikely that you'll experience any snow or freezing temperatures. The coldest month of the year is August which has an average temperature of 14 degrees Celsius. October experiences the most rainfall, with an average of 4 days.
The hottest month of the year is January when the average maximum temperature is 23 degrees Celsius. These pleasant temperatures continue till March but fall 19-20 degrees Celsius.
Average Autumn temperature: 17 degrees Celsius 
Average Winter temperature: 12 degrees Celsius
Average Spring temperatures: 15 degrees Celsius 
Average Summer temperature: 21 degrees Celsius
 Best Known For
 It's bream fish and a popular hotspot for surfing and fishing enthusiasts. 
The History of Scamander
The town wasn't always called Scamander, its historical name had an unusual link to an English town. This linked back to 1825 when the surveyor John Helder Wedge named it after the town Yarmouth and River Scamander as is known today was called River Borthwick. Tasmanian Governor, Sir John Franklin then changed it to Scamander after the Greek mythical god – the river god, because of his love for classical Greek culture. 
Even more interesting is Scamander's infamous history of multiple failing bridges. The Scamander's popular town bridge.
The first bridge built was made with flimsy pylons no thicker than the average telegraph post, which eventually collapsed under the weight of a herd of cows. It was then later reconstructed by ironbark and bluegum but sadly heavy floods washed it away.
The third attempt built by Grubb Bros. was made from ironbark for £4,500. It lasted for 22 years before another flood caused repeated pressures of crashing trees forcing the bridge to collapse.
The cycle of failed timber bridges continued until a new truss bridge was constructed in 1936 but was unfortunately demolished recently but its memories will certainly live on in the hearts of many locals and holidaymakers alike. 
Things To Do At Scamander
Scamander Beach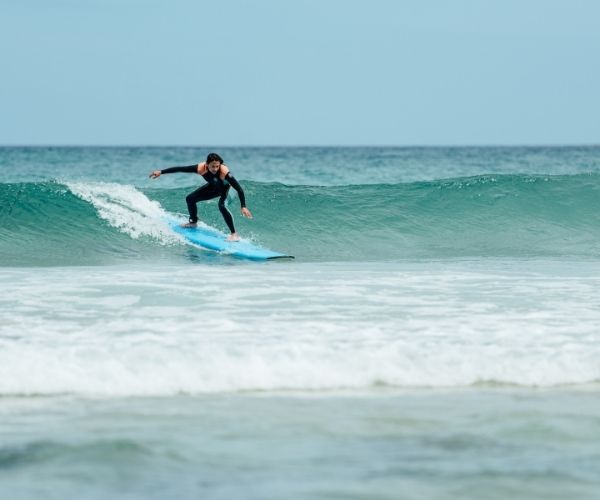 Scamander beach makes for a calm, peaceful, and tranquil spot to relax & unwind. Take a walk along the long white sandy beach and immerse yourself in the magnificent views. You may be lucky and spot dolphins and whales. There are many activities to enjoy and get excited about like swimming or trying surfing at one of the most well-known surfing spots which Tasmanians proudly call their surf coast. For the quieter surfing spots head down to the coast between Scamander and Bicheno; this is the stretch of coast known as the surf coast.
Fishing
Equally popular, particularly with Anglers is one of Tasmania's great bream locations, Scamander's River, located at the mouth of Scamander's beach. The most common fish caught here is the southern black bream, Australian salmon, and surf bream. If you're feeling more adventurous, try camping at the Scamander Forest Reserve situated just inland from Scamander's beach, you can catch & cook fish on many barbeque pits offered at the camping facilities. 
Henderson Lagoon
Be at one with the earth and explore seven kilometers of well-marked trails, clear transparent waters, and 80 species of woodland and marshland birds. It is the perfect place to see whales and dolphins and many holidays will agree this is a jewel of location that cannot be missed if your visiting Scamander.
Things To Do Near Scamander
Winifred Curtis Reserve is about 25 minutes away (2.6km) from Scamander beach. This lovely reserve stretches to 75-hectares and has an abundance of wildlife and trails to explore. If you're a nature lover you'll be rewarded immensely with the variety of trees, flowers, and birdlife. Expect to see birds like the Eastern spine ball, Tasmanian scrub wren, and the Yellow-tailed black – cockatoo. The reserve includes dry sclerophyll bushland, marshland, wetland, and duneland.
Take a short drive (approximately 30 minutes or 2.9km) drive away to Eureka farm where you can feed animals and pick fruits like raspberries, and plums or buy some of the farm's prize-winning jams and chutneys.
Accommodation at Scamander
If you want a place to stay that doesn't compromise the iconic scenery. There are many options available across Scamander, from luxury homes to low-budget-friendly stays.  
Beach Haven 
Wake up to the spectacular scenery of sapphire waters and various uncrowded surfing breaks the region has to offer, just a few minutes away from your doorstep! This holiday home is perfectly situated within a short walking distance from Scamander's River mouth, beach, golf club, café, pub, and a local supermarket. 
Inspired by New Scandinavian furniture and décor, this open-plan home breathes luxury with rooms open to balconies, a garden, fireplace, and barbeque grill. This makes Beach Haven a great choice for couples and families alike.
Scamander Beach Resort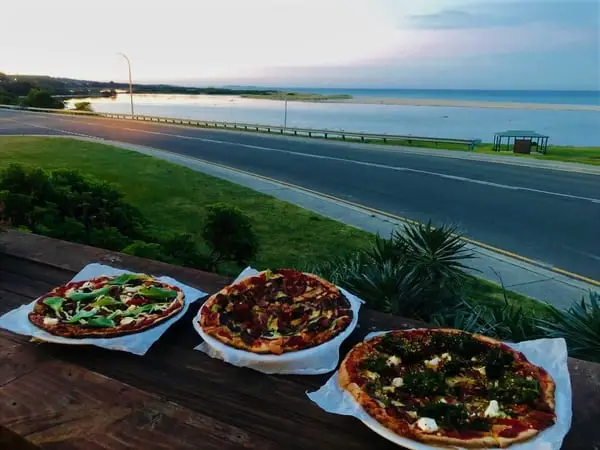 Enjoy ocean & river view rooms, and watch the sunrise above Tasmania's beach and river! The garden view rooms are great for families and provide direct access to a fenced children's playing area, so parents can relax in the pool and have peace of mind. This resort has all of this as well as the bonus of a tennis court too if you want to get active with the family or your other half.
Scamander Tourist Park
If you want a great location for sightseeing, recreational activities, and dining without spending too much, then this is an excellent choice. Only a short walk away from Scamander beach, the river mouth, and a 10-minute drive to the Winifred Curtis reserve where you can enjoy the wildlife and flowering plants.