Mount Wellington is full of great scenic lookouts and walks of varying distances to suit all ages and abilities. Even though you're only about half an hour from Hobart, these locations will place you in stunning bush environments with views looking out over Hobart and well beyond. One of our favourite short walks is to Sphinx Rock Lookout.
Sphinx Rock, a small sandstone outcrop accessible from The Springs day use area, is a nice quick stroll for the whole family. The 1 hour return voyage is well worth it for the spectacular views of Mount Wellington, Hobart, and the eastern shore. In good conditions you can even see as far as Bruny and Betsey Islands.
The stroll is little under 3 kilometres round trip on a well-maintained flat walking path. When access to The Springs is open and the weather is clear, Sphinx Rock is a great place for a family winter hike. The entrance to the rock has a childproof gate which is ideal in helping to protect young children from falling.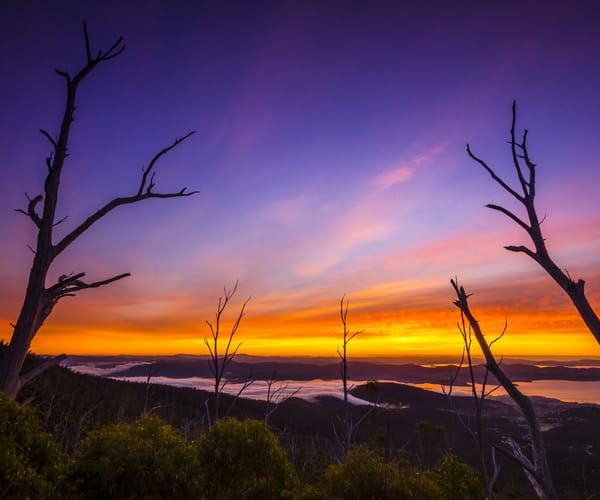 Lookout for steep drops at the side of the track, slipperiness after rain and snow, and snakes on warm sunny days.
Walkers who want to go a little further might carry on to Junction Cabin, which is 3 kilometres away.
One of the great things about Sphinx Rock Lookout and walk is that there are no national park fees and no admission hours to adhere to. Come and go at your leisure.
Directions to Sphinx Rock
The Springs parking in Wellington Park is where the trek begins. There is plenty of parking, shelters, restrooms, grill, and picnic facilities there. To avoid the Southern Outlet turnoff, stay in the right lane on Davey Road out of Hobart and go another 6 kilometres. Take Pinnacle Road to the right. The Springs parking is about 3.5 kilometres away. The well-marked trail begins behind the restrooms.