Hansons Peak is a beautiful attraction and one of the great day walks at Cradle Mountain, Tasmania. Those who make the trek are rewarded with unparalleled views of the surrounding landscape.
Situated in the northern end of Cradle Mountain – Lake St Clair National Park, just off the south-eastern end of Dove Lake, Hansons Peak is approximately 1,200 metres above sea level and is a popular spot for hikers and mountaineers. The peak is located about 5 kilometres from Dove Lake, which is a popular starting point for many visitors exploring the Cradle Mountain area.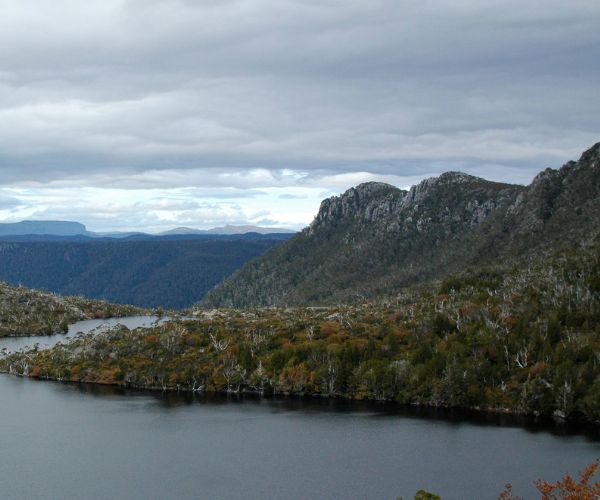 The walk to Hansons Peak is approximately 7 kilometres return and takes about 3-4 hours to complete, depending on your fitness level and pace. The walk starts at Dove Lake car park, where you'll start walking around the east (left) side of the lake. The first part of the walk is relatively flat, passing through beautiful alpine landscapes and showcasing stunning views of Cradle Mountain. As you continue the walk, the terrain becomes steeper and more challenging, but the panoramic views from the top make the effort worthwhile.
The ascent to the summit of Hansons Peak is not easy and requires a moderate level of fitness and experience. At the steepest sections there is a chain hand rail that can be used for support. However, the walk is well-marked and has several viewing platforms along the way, allowing you to take in the breathtaking views of the surrounding landscape. Along the way, you can expect to see a variety of flora and fauna, including wallabies, echidnas, and Tasmanian devils.
At the summit of Hansons Peak, you will be rewarded with uninterrupted views of Cradle Mountain, Dove Lake, Twisted Lakes and the surrounding wilderness. The panoramic views from the summit are simply breathtaking and make the journey to the top completely worth it.